Pastor John's "Through a Glass Darkly"
8.10.2017
This week, Pastor John hands over the TAGD keyboard to Mark Kiker, Northpoint's Elder Chairman.
An Update from Our Elder Chair
Dear Church Family,
As John shared last week via the all-church email, the elders have been crafting a new vision for our music ministry. We have been working on this for some time; it began when we were looking for a Pastor of Worship a few years back. When we continued to have difficulty finding a person that was a good fit, we realized that we needed clarity in our philosophy of worship.
Our worship ministry, like other ministries, must continue to evolve in order to follow the leading that the Lord provides, and so we reviewed, reflected, and clarified our vision while we continued to look for the person who would lead this ministry. Small changes were put in place that made adjustments in our Sunday morning musical offerings, and when the Lord brought us Geoff Grant as Director of Worship, we continued to work through our philosophy. As we refined areas, we pressed forward with modifications in approach, presentation, instrumentation, vocal/choral arrangements and leadership duties.
Most of the changes may have been imperceptible to those outside the worship ministries area and others may have appeared sweeping. Some of you may have questions, so let me give you a brief snapshot of what the new vision entails.
In a word: it involves greater participation. Worship leaders will continue to encourage all to join in. They will arrange the morning to have congregational singing, readings and prayer that will draw our hearts toward Christ. There may be times when the congregation is listening, like during ministry updates, choral singing, and instrumentals during offerings and preaching.
This new vision includes significant changes in the direction and leadership of the choir, which would be brought under the Director of Worship, and as was mentioned in last week's TAGD, Sarah Pate considered these changes and decided to step away from leading our choir. We celebrate the things she has accomplished and the ministry leadership she provided. She increased unity, encouraged serving one another, prayer, discipleship, ministry to our community, selecting music and framing a musical sound, working together to reach common goals and celebrating growth through disciplined practice. We are thankful for her many years of service and she will be missed.
Will we still have a choir? Will it look different? Yes to both. On some Sundays, the choir will be on the stage and will minister to us all, as they sing an anthem to God. On other Sundays, they will worship from the stage without an anthem, using the arrangement and their giftedness to blend and enhance the congregation's adoration of God. Overall, we will sing as believers joining together to offer our voices in praise to the Lord. We have a group of very talented musicians, and by virtue of their skill, preparation, experience and joy, they will help spur on our collective engagement. As for concerts, most will be expanded to include more elements: congregational singing, prayer, ministry focuses, etc. We may think of these as "Nights of Worship." The choir will still be involved with these nights, but not exclusively.
We value choir and the expressions of worship, majesty and rich history they bring to our ministry. It is one instrument among many that God has given His church to promote the unified exaltation of His Name. As the apostle Paul instructs in Ephesians: "Be filled with the Spirit, addressing one another in psalms and hymns and spiritual songs, giving thanks always and for everything to God the Father in the name of our Lord Jesus Christ, submitting to one another out of reverence for Christ" (Ephesians 5:18b-21).
As elders, we welcome your questions. We want you to understand our philosophy and the changes it has brought and might bring. Please feel free to contact any individual elder or staff pastor. If you prefer, you can email all of us at leadershipteam@northtpointcorona.org.
In service to Him,
Mark Kiker – Elder Chairman
8.3.2017
Changing Seasons
Hello Family,
I've been praying for you this week, specifically that God would satisfy the longings of your soul and deliver you from your distress (Psalm 107).
Several years ago, I was counseling a young couple that was struggling in their marriage. The wife in this relationship wrestled regularly with anxiety. Sometimes the weight of her worries would prevent her from even exiting the house. The husband, frustrated by his wife's inability to "conquer" this sin, said to me, "I keep telling her not to be anxious. But she won't move past it. Even though the Bible says explicitly, 'Do not be anxious about anything.'" I gently said to him, "You're not helping her."
What happens when you tell an anxious person to stop being anxious? She becomes more anxious! Her worries are compounded as she thinks: What's wrong with me? Why aren't I like everyone else? Why can't I stop these thoughts? What will this lead to? Will I ever be freed from this torment?
What, then, does help?
Well, let's consider Paul's example in the letter that I just referenced. Indeed, the apostle does tell the Philippians not to be anxious (4:6) but he does not pretend that this command alone has the power to purge their worries and fears. Immediately before this imperative is the beautiful, though often neglected, indicative: "The Lord is near" (verse 5).
In the Scriptures, the word "near" is used both spatially and temporally. That is to say, sometimes it means "present, beside, or close at hand," while other times it refers to the chronological proximity of an event, e.g., "autumn is near." I believe that this is one of the few times in the Scriptures that the word "near" has both connotations. New Testament scholar, Gordon Fee, agrees. He says this might be the closest thing to a double entendre that we have in the Pauline papers.
In other words, before Paul tells these folks at Philippi not to be anxious, he assures them that the risen Jesus is with them, his presence will be their comfort, and he will soon physically return to make all things right. And not only that, Paul reminds them in the same letter (which was intended to be read in one sitting): "Of this I am sure: he who began a good work in you will bring it to completion" (1:6); and, it won't be your goodness or activity that ensures your acceptance by the Father, you are "found in him, not having a righteousness of your own that comes from the law, but that which comes through faith in Jesus" (3:9).
Paul says to those who are anxious, in essence: you are the Lord's, you have been united with Jesus, God has chosen you and lavished his love on you, through no merit of your own, and nothing will come upon you—nothing!—except what God has already planned for the strengthening of your faith, and the completion of the salvation he started in you.
What happens when you tell an anxious person that? What is the result when the Holy Spirit impresses that reality upon a person's heart through the gospel and prayer? In a word: peace. An inexplicable calm. The confidence to go outside again, and the ability to face the unevenness of an ever-changing world. Herein lies the secret to the "peace that passes all understanding" (4:7): a heart rooted and resting in the promises of God, who he is, what he has done in Christ, and what he will continue to do.
With that assurance of God's faithfulness, let me inform you of a few changes at Northpoint's staff level (not that I expect these to make you anxious:)
:: Tamene Mena has begun his one-year stint as our Pastoral Assistant. He will be focusing his efforts on our prayer ministry, missions, visitation, our partnership with ReBuild Fellowship in Riverside, and helping to develop a "discipleship path."
:: Taylor Mendoza has officially dropped the "Interim" tag. He now serves as our Director of Student Ministries, and students (and parents) have responded wonderfully to his leadership.
:: Carolee Jefferson has been promoted to Ministry Associate (from Ministry Assistant). This change simply reflects the outstanding work that she has long been doing, and the responsibility she has borne in making our students feel loved and supported.
:: James Aeschliman will wrap up his duties as the Summer Junior High Intern at the end of August. Taylor and I are working on finding a suitable successor to shepherd our 7th and 8th graders, and we prayerfully expect to enjoy a seamless transition.
:: Finally, on a much sadder note, Sarah Pate has stepped down as our Choir Director. She informed me of her decision earlier this week. The reason was really a philosophical one. When I relayed to Sarah the elders' updated and clarified vision for choir, she humbly concluded that she was not the one to effectively lead in that direction. Sarah has faithfully led this ministry for the last seven years and, without a doubt, our church has benefited because of her passion, devotion, and faithfulness. Sarah will still be a part of our church, just serving in different capacities. That said, the choir ministry will continue, under the leadership of Geoff Grant, our Director of Worship Ministries. Kick-off for the choir's new ministry year is on Wednesday, August 23, at 6:30 p.m., in the Music Room. All are welcome. There are no auditions for inclusion in the choir.
We are blessed with a terrific team and one for which I am very grateful. I have no doubt that you feel the same way.
By his grace,
Pastor John
7.27.2017
Filled with Shame
Hello Family,
I hope your summer is going well. I've been praying for you this week, that God would strengthen your heart and deepen your trust in him so that you will not be afraid of bad news nor the uncertainty of this world (Psalm 112).
According to a report in the newest edition of Christianity Today (July/ August 2017), the feeling that plagues Americans the most these days is shame. Whereas guilt used to be the negative emotion from which most people suffered, now that has been surpassed (at least among the broad category "All Americans") by shame.
Despite the fact that many conflate these two concepts, guilt and shame are actually different experiences. Guilt tends to be the lingering discomfort or spiritual duress we feel when we have wronged someone else. For example, when David sinned by sleeping with Bathsheba and arranging for her husband to be murdered, he was wracked with guilt and confessed to the Lord his anguish of spirit; he writes, "For I know my transgressions, and my sin is ever before me. … Purge me with hyssop, and I shall be clean; wash me, and I shall be whiter than snow. Let me hear joy and gladness; let the bones that you have broken rejoice. Restore to me the joy of your salvation" (Psalm 51).  Guilt is a consequence of behavior.
Shame, however, is an emotion that is self-directed and can be independent of a particular action toward someone else. It reflects how we feel about ourselves. Shame is the belief that for some reason—perhaps a personal trauma, embarrassing experience, or the labeling by someone else—we are inherently undeserving of love and too bad to be accepted. For example, a person who has been abandoned in marriage can feel as though she is too flawed to enjoy meaningful connection with another person. This is the experience of shame.
I've written before about the nature of guilt and how the gospel provides the antidote, but it is also true that the gospel is the only power that can sufficiently eradicate ungodly shame from our lives. The repeated witness of the apostles is that what matters most (and one could argue exclusively) is not how I see myself, but how God sees me. Not how good I think I am, but how good God thinks I am. Not how worthy of love I believe I am, but how worthy of love God thinks I am. And the answer to these questions—how does God see me? How good am I? How worthy does God believe I am?—are answered at the unflinching Mountain of Shame, the hill of the cross.
In his book called, Crucifixion, Martin Hengel says, "The cross was not just any kind of death. It was an utterly offensive affair, 'obscene' in the original sense of the word." It was so obscene that the erudite people of Greek and Roman societies, we're told by historians, would not even utter the word "cross" in the company of other sophisticated people. Even so, while it may not have been the topic of conversation among the socially elite, a crucifixion could certainly attract a crowd. A crucifixion was never a private event. It was staged for the dual purpose of scaring people into submission of authority and bringing shame to the one being punished. The Roman government would often hold crucifixions during major festivals in order to maximize the number of gawkers. It was a way of ensuring the most amount disgrace, scorn, and public contempt.
Jesus endured the shame of the cross so that we could be forever rid of shame. Put more directly: Jesus' shameful death covers our shame. His faithfulness to the Father and obedience unto the cross restore our honor with God.
The same David who lamented over his disobedience and corresponding guilt also felt shame. He, too, wondered if he was worthy of being loved. In Psalm 31, he writes: "In you, O Lord, do I take refuge; let me never be put to shame; in your righteousness deliver me!" It is the righteousness of Jesus that we yearn for. To be reckoned as perfect before God. Approved of. This is a universal longing of all of humanity. And that righteousness and approval are ours by faith in Christ's finished work. When we turn from our sin and believe in Jesus Christ as our Savior, God erases our wicked past, cleanses all our impurities, and stamps us as honorable. Forever free from shame because of Jesus.
Are you worthy of being loved? The answer at the cross is a resounding, "Yes." In fact, you are so worthy of being loved that God gave his best to bring you to himself. While shame may encroach with the message, "You will never be loved. You're too broken," at the cross the Father bellows, "I have loved you with an everlasting love. Here is the indisputable evidence."
For his glory,
Pastor John
7.20.2017
This week, Pastor John hands over the TAGD keyboard to Pastor Kimani Gathere of Northpoint's church plant, ReBuild Fellowship-IE, in Riverside.
ReBuilding Broken People, One Person at a Time
Hello Northpoint Family,
As a young believer in high school, I was exposed to many missionary biographies, which I read more out of a lack of options than a choice. I did not have access to many books and so I read whatever I could find. This led me to the biography of Adoniram Judson, whom I later found out, was the first American missionary to foreign lands. His "audacious faith" and prayers held me captive then and to the present.
As a student at Rhode Island College (Brown University), he lost his faith and through a series of events, ended up at Andover Seminary, and there came back to his father's faith. (His dad was a pastor in New England.) As he prepared for missions in India, he met and fell in love with 19-year-old Anne Hesseltine, the daughter of a church elder. He then wrote a letter to her dad, seeking permission to marry her. Here is part of that letter:
"I have now to ask whether you can consent to part with your daughter early next spring, to see her no more in this world? Whether you can consent to her departure to a heathen land, and her subjection to the hardships and sufferings of a missionary life? Whether you can consent to her exposure to the dangers of the ocean; to the fatal influence of the southern climate of India; to every kind of want and distress; to degradation, insult, persecution, and perhaps a violent death? Can you consent to all this, for the sake of Him who left His heavenly home and died for her and for you; for the sake of perishing, immortal souls; for the sake of Zion and the glory of God? Can you consent to all this, in hope of soon meeting your daughter in the world of glory, with a crown of righteousness brightened by the acclamations of praise which shall resound to her Saviour from heathens saved, through her means, from eternal woe and despair?"
Both the dad and the daughter were crazy enough to say, "Yes," and Adoniram and Anne were married, and in 1812 left for India. I confess that as a dad, this scares me to death. Would I have the courage to consent to this obvious death sentence for my daughter? Anne's work with Adoniram resulted in the multiple Bible translations in Burmese. Adoniram Judson lost two wives, six children, and left 100 churches and 8,000 believers in Myanmar and India. Today, there are over 
seven million
 Christians in Myanmar alone! Audacious faith. Heavenly mathematics.
Riverside and the hinterlands of Moreno Valley are not a source of "every kind of want and distress; degradation, insult, persecution, and perhaps a violent death," but neither offers any hope to Dani, a homeless woman who shared her story of brokenness with me last Sunday. Our team at ReBuild continues this conversation with I***, a Muslim refugee from Sudan; Tony, who walked away from faith; Fabian, dealing with the occult (Santeria); and many other broken people seeking to be rebuilt by the gospel of Jesus. We have given about 50 Bibles in our outreach in Riverside alone. We meet on Sundays at University Heights Middle School at 11:00 a.m. for worship.
You do not have to go to India. Indio is 90 minutes away and desperately needs the gospel. Riverside is even closer. Our Sunday school teachers are exhausted; we need substitutes at least once a month. We need help with the sound board. The worship team needs voices or guitar players. Are you ready to brave the challenges of SR 91 on Sundays and some Saturdays? Can you spare one Sunday a month? Come see what is happening. Encourage us and then ask God some hard questions. He can take it. Pray for ReBuild Fellowship to remain focused on the gospel. Read John Piper's ebook on Judson here.
In him,
Pastor Kimani & Team ReBuild Fellowship-IE
7.13.2017
This week, Pastor John hands over the TAGD keyboard to Scott Williams, Northpoint's Pastor of Adults and Families.
VBS Update 
Hello Family,
Our 2017 VBS has been an absolute blast! This year's theme is Galactic Starveyors. As Galactic Starveyors, our kids are searching the skies and God's Word to uncover the truth etched in his handwork. The teaching is based upon Colossians 1:15-16: "He is the image of the invisible God, the firstborn of all creation. For by him all things were created, in heaven and on earth, visible and invisible, whether thrones or dominions or rulers or authorities—all things were created through him and for him." From these verses, we're learning that God created everything there is—the knowable and unknowable, the visible and invisible, and he wants a relationship with us! From the very beginning, God had a plan to restore the relationship he knew we would break, by sending his Son, Jesus, to be the Savior of the world.
This week has been filled with games, crafts, songs, and a great time building new relationships. We have had over 265 kids each night, many of whom do not attend Northpoint. As one of the teachers, I am encouraged to see all the new faces who have joined us this year. So great to be able to teach them about God being our Creator and Savior!
The kids have had the opportunity to raise money to help our missionary to Costa Rica, Peter Morris and his family, along with Packing Hope, a project they are involved with, that gets Bibles and Christian materials into the hands of local Costa Rican churches and pastors. Our kids have raised $288 so far, but the week isn't over yet, so let's see what they bring in the next couple of days!
There have also been a couple of other special treats for our kids. This year, we've been blessed to have our very own "Mr. Science," Mark Newton, an NP attendee and former CNUSD science teacher, do some pretty hair-raising experiments each night, and the kids are absolutely loving it! Tonight, we are going to be joined by the Riverside Astronomical Society, who will set up some telescopes out on our lawn so we can do some actual stargazing of our own.
I want to thank all of the many people who have helped pull this all together. There are over 170 volunteers who are serving in so many different ways. I want to especially thank Jen Lemen, our VBS coordinator, and Terilyn Brown, our Children's Ministry Director, for doing a truly out-of-this-world job at making VBS a great event for our kids and community.
In him,
Scott
7.6.2016
This week, Pastor John hands over the TAGD keyboard to Geoff Grant, Northpoint's Worship Director.
Pastor John asked me to write a little bit about my recent entrance onto the stage of fatherhood. Our son, August Jasper, was born about three weeks ago and so far he is healthy and happy. Praise God!
We feel really blessed to be close to our respective families in this season and even more so to have a body of believers like Northpoint walking alongside us as we take our first steps as parents. Chelsea and I were driving this past week and she said, "Isn't our life crazy? Here we are living in Corona, a part of Northpoint again." 
Her point was, we could never have foreseen this. 
We had no idea that leading music would be a way God uses us in the church. We could never have foreseen coming back to California to be a part of Northpoint again.
In the same way, we certainly had not planned on having a baby. In fact, this has been a really challenging reality for both Chelsea and me to come to terms with.
I don't want to be misunderstood here; I am overwhelmingly grateful for little Augie and I love him so much. I want to give you a glimpse into my heart that you might be encouraged, not by me, but rather the Spirit—correcting me and forming me into Christ's image, specifically in the area of becoming a father. The point of writing this is not to attempt edgy transparency or countercultural honesty, but rather to display my ugly heart, and more importantly, point to God's grace toward that heart.
Friends, when I found out we were going to have a baby, I was not excited. I understand that sounds cold, heartless, even selfish, but it's the truth.
For nine months I asked myself, "Is it okay to feel like this? What's wrong with me? Everyone else seems so excited to have a baby, why don't I feel like that?" 
More than that, friends and family didn't know how to respond when I'd confess this. 
"Geoff, you're having a baby! Are you just so excited?"
Awkward silence and puzzled nodding would follow my reply. In fact, eventually, I just fabricated a response more to people's liking. I found that people mostly didn't truly want to know how I felt, but rather wanted to share in the excitement they thought I would have.
Fabricated joy, however, did not work in my times of prayer. This last Sunday we read sections out of the 139th Psalm together. David talks so freely to God. He says,
"You have searched me and known me
You know when I sit down and when I rise up 
You discern my thoughts from afar."
David then brings the honesty of his heart before God. He says later in the psalm that he hates some people, and wants God to kill them. He then concludes the psalm saying again, "Search me and know me and lead me in the way everlasting." 
Do you see that? David says, "God you already know my heart, so let me be honest with what's in there. … Is that stuff okay? If not, identify those grievous ways, and lead me to walk with you."
I experienced this in prayer during Chelsea's pregnancy. Like David, God wanted me to bring the junk of my heart and lay it before him. God cared to hear the messy, sinful, selfish things. My temptation was to pray something like, "Just get all the bad stuff out so I can be excited." Instead of, "Lord, this is what is going on in my heart, and it is in there. What are you teaching me in this? What does this tell me about my love for you? Would your Spirit walk with me in this?"
Friends, over the last nine months, I learned that God wants to have a conversation about the state of my heart. I was idolizing the fun and freedom that Chelsea and I have. I saw Augie as the end of that. I was holding onto the freedom I had with my time and when we found out we were pregnant, I was saddened to think now somebody else laid claim to that time.
God used my despondence to open my heart to him. This began a conversation, bringing to the surface idols I hold onto, ways I don't trust him, and fears about being a father. Now I am praying the Holy Spirit walks with me in forming my capacity for fatherhood in the likeness of Christ.
God knows our thoughts and knows our desires. He knows our fears and our sin. By his grace through Christ's sacrifice, we can bring our imperfection to him and be honest about what is in our hearts. When we are in Christ, we are filled with the Spirit, purifying us of the flesh that once ruled our hearts. Let's cooperate with the Spirit's work, for it is only he, not us, who renews us day by day, shaping us into the image of Christ.
6.29.2017
While He Was Young
Hello Family,
I hope you're enjoying a bit of a reprieve from the heat. On this beautiful, 74-degree morning, Pastor Kimani (from ReBuild) and I met and prayed for you, that God would enable you to experience his strength and power in your lives.
I have a friend whose name is Eddie. Eddie lives two thousand miles from here but he continues to be one of my most respected and cherished friends. For several years, Eddie and I met almost weekly to pray and his humility and dependence on God served to encourage me deeply in my faith. As for Eddie's personal spiritual journey, it has been a long one with many toils and snares.
When Eddie was a boy, he was faced with the cruel task of choosing between his mother and father. In the middle of a toxic divorce and bitter custody battle, a judge offered Eddie two options: you can live with mom or dad. It's up to you. Mom was very stoic and intensely interested in her own affairs; dad was alcoholic with a big personality and a flair for disorder. Not surprisingly, Eddie chose the latter.
One problem continued to surface, however: Eddie was given freedom to live how he wanted and to do whatever he pleased. His dad was seldom around and when he was present, he was often recovering from an all-night bender. Occasionally, Eddie's dad would take his teenage son to the bar at night and hand Eddie the keys to drive home after he, the father, had imbibed one too many drinks and instigated more than a few altercations. Eddie didn't have his driving license, but he didn't want to disappoint his father who taught him that being a man was about taking risks, being true to yourself, defending your honor, and hooking up with as many ladies as possible.
By God's grace, Eddie lived in a neighborhood with a couple of Christian families. From the time he was nine or ten, these families welcomed Eddie into their homes and poured into his life. They actually listened when he shared his thoughts with them. They even invited him to their church's Vacation Bible School (VBS) and AWANA ministries. Eddie took them up on their repeated invitations, hiding God's Word in his heart even when he thought he had no use for it.
When Eddie was eighteen, he joined the Marines. The unbending structure helped with some of his distractions, but it did nothing for his soul. The rules gave him a sense of safety, but no peace.
One evening, after a particularly rousing weekend, God brought to the surface some of those Scriptures that lay deep in Eddie's heart. He was desperate to know if God was there. And what would it be like to know this God? Incredibly, Eddie recalled lines he  had learned in VBS; he even remembered the old English cadence: "Greater love hath no man than this, that a man lay down his life for his friends." Over the ensuing days, God would capture Eddie's heart and bring this young, hard-hearted Marine to repentance and faith in Jesus Christ, the very one who demonstrated the life-surrendering love that Eddie recalled reading about.
Eddie was never the same. Like every Christian, he continued to struggle with sin but the burning desire of his heart was to please and exalt his Savior. As an adult, Eddie has led mission trips, taught in AWANA, counseled hurting couples, volunteered in his church's VBS, served as a life group leader and coach, and been a vessel of God's grace (1 Peter 4) to many. His life has been testimony of God's mercy and faithfulness.
Here are my questions for you: Could there be an Eddie in your neighborhood? Is it possible that there's a boy or girl just a few houses down who doesn't know Jesus Christ, and still stands separated from the God who made him or her? Might God use your invitation to our VBS to bring someone to saving faith?
Northpoint's VBS, Galactic Starveyors, runs from July 10-14 (5:30 p.m.-8:30 p.m.). Registration is simple; you can sign up HERE.
The Apostle Paul calls the gospel "the power of God unto salvation" (Romans 1:16). The gospel will be clearly explained and presented in its glorious fullness throughout our VBS. Who will you invite to hear it?
In him,
Pastor John
6.22.2017
This week, Pastor John hands over the TAGD keyboard to Pastor Brent Whitefield, Northpoint's Pastor of Missions and Outreach.
Summer Bodybuilding Challenge
 "The physical presence of other Christians is a source of incomparable joy and strength to the believer. … The believer feels no shame, as though he were still living too much in the flesh, when he yearns for the physical presence of other Christians. … But if there is so much blessing and joy even in a single encounter of brother with brother, how inexhaustible are the riches that open up for those who by God's will are privileged to live in the daily fellowship of life with other Christians!" – Dietrich Bonhoeffer
Do you recognize what a privilege it is that, as a Christian, you are a member of a body? This is no ordinary body but is the body of Christ himself. This is a fact that is easy to neglect, especially in light of our indoctrination into the rugged individualism of Western society. We speak of our relationship with God as a personal one. Increasingly, we are expected to exercise our faith in a private manner, so as not to offend the sensibilities of those who do not share it. But the Scriptures are quite clear that we are meant to see ourselves as a body and function as such, recognizing the need for and benefit of each member of the body working and contributing. And the love that the members of the body show one another is the means by which the world will know that we are Christ-followers.
This body of Christ is not a theoretical one, but a real one and requires real physical presence to sustain itself. The bottom line is that we as Christians need to be with one another, often. There are many things today which make this more difficult: time-intensive jobs, competitive educational atmospheres, 400+ channels of television, the collapse of the concept of "Sabbath" or even "weekend," and the iPhones and other devices that have morphed from conveniences into slave masters. Most Christians bemoan these realities but resign themselves to them as if they are inevitable and immutable. The result is that many people are busy but desperately lonely; they have thousands of Facebook friends but no real friends, connected virtually to thousands but physically to no one. 
Most believers I know wish that they had more time to spend with other Christians. I certainly do. However, we often fail to recognize that having time to spend with others is a matter of priorities and sacrifices. I will ask each of you to consider this question honestly: How important a priority is it for you to be with other believers? There are practical things that can be done to take on these barriers listed above: when given an occupational choice between time and money, how about choosing time? It is possible to cut the satellite or cable cord. We can try to set aside one day as a day of rest, worship, and fellowship, eschewing temptations like shopping or sports on that day. Most of us could benefit from greater discipline in our use of phones and computers. We need to look up from our screens and give as much time to those around us as to those miles away. Any of these steps, some (but not all) of which I have taken, can be helpful but are no substitute for a heart that is inclined to love, care for, and desire to be with our brothers and sisters.
May I be so bold as to issue the following challenge? This summer, when the days are longer, time off is possible, and school is out, seek out ways to be with other believers. It doesn't need to be formal times for prayer or Bible study or an organized event, but rather time merely to be in one another's presence, over a meal or a day at the beach. Be willing to set aside your normal routine, stay up later, enjoy languid hours together where no one is looking at their watch. If you can't miss Shark Week on the Discovery Channel, have some friends over to watch with you. Be spontaneous, invite someone to lunch after church, allow others into your normally family-only rituals (after all they are your family), put aside your solo woodworking project and take on a task that requires more hands. While the enjoyment of community can feel effortless, we need to fight for the time to do this against the all-consuming demands of our society. Fight that fight. You won't regret it and the body of Christ will be stronger because of it. 
Important Announcement

Hello Family,
I hope you've experienced rest in Christ this week. My prayer has been that you would be "grounded firm and deep in the Savior's love, fastened to the Rock which cannot move." (Owens)
I've got exciting news for you on this Thursday. After much prayer and a thorough vetting process, my fellow elders and I were thrilled to offer Taylor Mendoza the position of full-time Director of Student Ministries. (He accepted our offer.)
Not only is it a sweet pleasure to see someone from our own ranks—a member of Northpoint since he was four years old—desire to serve God in vocational ministry and demonstrate such faithfulness in his calling, but Taylor's development over the last few years as a leader, theologian, teacher, and shepherd of students has been remarkable. In the words of CBU's Dean of Christian Studies program, "Guys like Taylor don't come along very often."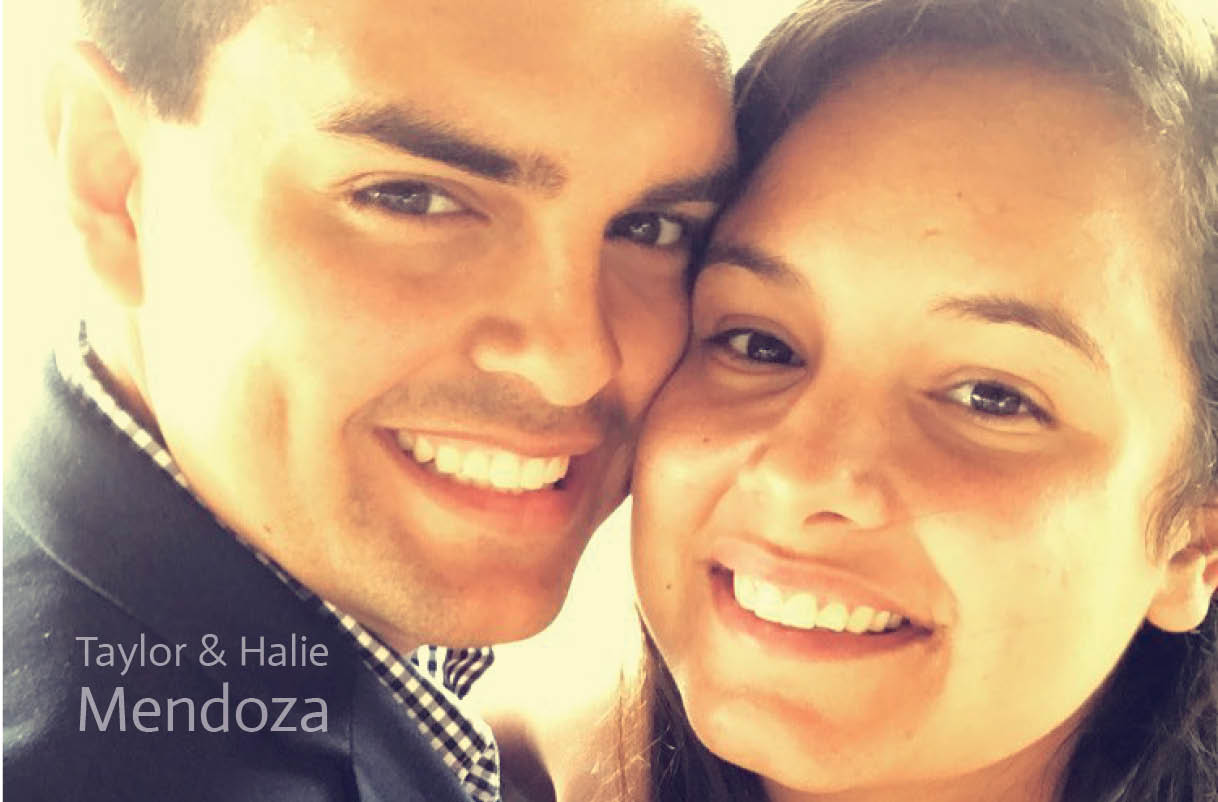 Taylor doesn't just love the Church; he loves this church. And he doesn't just love students; he loves our students. The evidence of this is overwhelming. I've never once had a parent say to me, "I just don't know if Taylor really cares about my son/daughter." His passion is just one reason that I am excited to welcome him to our team.
Taylor will continue to work on his seminary degree (he's completed one-third of his Master of Divinity requirements), although he will be reducing his semester hours significantly. Taylor will personally lead the high school and Revolve ministries while overseeing the junior high intern. Taylor will be the Director of Student Ministries rather than the Pastor of Student Ministries. This just means that while Taylor continues his education, there are a few responsibilities (e.g., crisis counseling, hospital visits, funerals) that he will likely "grow into" rather than assume right away. But he is more than ready to shepherd our students in a way that leads them into a greater knowledge of the grace and love of God.
Many of you already know Taylor. However, some of you, I'm sure, have not met him. So, in order for you to become better acquainted with Taylor, here are eight (very random) questions that I posed to him, along with his brief responses.
1. Why do you enjoy spending hours each week working with teenagers … seriously, we don't get it? Three words: fun, energetic, and serious. Teenagers are like sponges who desire rich community, purpose, and a life that is not wasted. When I can preach Christ and cast a God-glorifying vision to them they are ready to soak it up.
2. Outside of ministry stuff, what energizes you? A date with Halie, baseball, a good movie, Sherlock Holmes, and family time.
3. You've been married a year now … what's the most surprising thing that you've learned about your new bride? Apart from learning that Halie is the most patient and loving person I have ever known, she has an incredible knack for making things messy. Granted, I can be messy at times too. God help our kids!
4. What sounds do you love to hear? What noises drive you crazy? I love classical music. Rushing water. The crack of a bat making contact with a baseball. It drives me crazy when a dog barks, the toilet constantly filling up with water, and a Nazgul's screech (i.e. Peter Jackson's version of Lord of the Rings).
5. If you lie awake in the middle of the night, what are you most likely going to be thinking about? I am most likely thinking about my next sermon. Outline, flow, illustrations, application, etc.
6. What inspires you? Suffering and steadfast brothers and sisters in Christ (i.e. the persecuted Church). Reading missionary biographies. A good missionary knows how to take risks, has incredible faith, and is used mightily for God's kingdom. I also am inspired each time I hear my wife's personal testimony. She is a living example of God's grace and faithfulness.
7. Why do people of all ages and backgrounds need the gospel, even after they put their faith in Jesus? A disciple is someone who is currently being transformed by the gospel. The gospel is not only my greatest motivation for holiness but is the fountain that I must drink from each day. Through the gospel, God is currently bringing others to saving faith, is calling a people to himself, and is using his Bride (the Church) to display his plan of cosmic reconciliation. I believe that God is most glorified when we (as believers) are resting firmly in the gospel of Jesus Christ.
8. What's the last gift you gave someone? The last gift I gave was on May 29th to my wife on our 1st wedding anniversary. A card, and a nice dinner at Las Brisas.
As you can see, Taylor is wise beyond his years. As the parent of three teenagers, I am thrilled to have him assist me in shepherding the hearts of my children. Please pray for Taylor and Halie, and if you feel compelled, send them a note of encouragement. They (and I) would greatly appreciate it.
By his grace,
Pastor John
A few weeks ago, I was sitting in the living room of longtime Northpoint member Glenn Davidson (who went to be with the Lord on April 26, at age 83). As I put my arm around Glenn to pray with him, his energy was so depleted and his body was so frail that I could feel the outline of his ribs as he struggled to lift his head to make eye contact. Cancer had reduced this once-strong man and paragon of resolve to a walker-dependent, nearly immobile sufferer.
What do you say to someone who has all but reached the end of his days on earth?
I listened as Glenn's precious wife, Amy, shared some beautiful stories of her husband's graciousness and quiet strength. For example, it grieved Glenn so deeply to discipline his kids that he would often wait until Amy had left the room and then loudly "spank" the couch instead of his children, thus seemingly fulfilling his wife's (very fair) wish for a measure of justice, while actually sparing his children the punishment they deserved. In between reflections, I opened the Scriptures and read Psalm 121, the same Song of Ascent that Amy asked me to read at Glenn's memorial service: "I lift up my eyes to the hills. From where does my help come? My help comes from the Lord, who made heaven and earth." There is no greater comfort for the Christian than in knowing that the one who created all things will also preserve and keep those who are his, and ensure that they will be with him for all eternity. Where God dwells with his people there will be no cancer. Neither will there be tear ducts, for crying will be a thing of the past.
That said, in my estimation, one of the most neglected aspects of the Christian faith—and I am certainly guilty, myself—is the return of Jesus Christ. The Scriptures make it clear that Jesus is going to return in great power and glory. "For the Lord himself will come down from heaven, with a loud command," the apostle Paul reminds, "with the voice of the archangel and with the trumpet call of God, and the dead in Christ will rise first. After that, we who are still alive and are left will be caught up together with them in the clouds to meet the Lord in the air. And so we will be with the Lord forever. Therefore encourage each other with these words." (1 Thessalonians 4:16-18)
In his essay, "The World's Last Night," C.S. Lewis cautions: "It seems to me impossible to retain in any recognisable form our belief in the Divinity of Christ and the truth of the Christian revelation while abandoning, or even persistently neglecting, the promised, and threatened, Return. 'He shall come again to judge the quick and the dead,' says the Apostles' Creed. 'This same Jesus,' said the angels in Acts, 'shall so come in like manner as ye have seen him go into heaven.' 'Hereafter,' said our Lord himself (by those words inviting crucifixion), 'shall ye see the Son of Man . . . coming in the clouds of heaven.' If this is not an integral part of the faith once given to the saints, I do not know what is."
Perhaps one reason the return of Jesus is often ignored is that there are so many aspects to it that are mysterious and unknown. When will Jesus come? No one knows but the Father. What will the Son of Man look like when he pierces the clouds? We simply don't have the details. One thing we know for certain, though, is that we should be praying for Christ's return.
This Sunday, Dr. Stefanos Mihalios, our missionary to Greece and a renown Johannine scholar, will be preaching on Revelation 22:20: "He who testifies to these things says, 'Surely, I am coming soon.' Amen. Come, Lord Jesus." Stefanos will set up the context and explain why this prayer serves as a tremendous hope for broken people like us.
We will also celebrate the Lord's Table together. Are you looking forward with anticipation to what God may do in and through you on the Lord's Day? I'll see you in a few days, should Christ delay.
6.1.2017
This week, Pastor John hands over the TAGD keyboard to Pastor Brent Whitefield, Northpoint's Pastor of Missions and Outreach.
Summer Missions Update
Hello Family,
I want to take this space this week to give you an update on some of the overseas missionary endeavors and summer activities with which we are involved, to keep in your prayers.
Next week, I will be in Botswana, visiting our church plant partnership there and encouraging Pastor Lamaz in his ongoing work. Our formal partnership with Gaborone Community Chapel will be coming to an end in a few months. Our agreement stipulated two years of support for the church, after which time they would function on their own. I am happy to report that the church plant is going very well and they are prepared to move toward self-sufficiency. The church has achieved many of the milestones that it established for itself in terms of leadership development, evangelism, and numbers. They will soon be starting a second worship service in the local language. This is a very important and encouraging development. They have been able to engage in youth and college ministry on a larger scale and see young people come to Christ through the ministry. I want to thank all of you who have given up a few dollars a week to support this ministry, and encourage you to help us see it through to the end. By God's grace, we have been able to achieve much with little.
While in Africa, I will be meeting with Pastor Oscar and Nairobi Chapel to discuss our next partnership possibilities. The more I have a chance to observe it, the more impressed I am with the church planting model that they have pioneered. It is allowing for rapid church planting progress without creating unhelpful dependencies on Western money and input. They have established church plants in most of the larger African capitals and are moving on to other important world cities such as London and Sydney. I am anxious to see what God has in store for us as we continue to pursue these partnerships.
'Greece' is the word at Northpoint this summer. It is our privilege to host our missionaries to Greece, Stefanos and Manon Mihalios, as they spend a portion of their furlough with us this year. They will be here ministering and interacting with us until the end of June. Please make it a point to seek them out and get to know them if you haven't had a chance already.
On July 5, we have a team of twenty leaving from Northpoint to minister in Greece for ten days. The trip will have two main purposes: first is to support the church planting ministry in downtown Athens by hosting two street festivals that help create awareness for the church in the community. And second, after a few days in Athens, the team will make its way to the island of Lesbos where they will spend a week working with refugees from the Middle East and Africa who are there in the largest refugee camp in Europe. The team will have many opportunities to share the good news about Jesus Christ while helping people with their basic needs for food, clothing, etc. You can be praying that in both places where they will minister, hearts will be prepared to open to the gospel, as many hear it for the first time.
If you are interested in learning more about what our team will be doing, mark your calendar to join us Friday night, June 16, at 7:00 p.m., in Heritage Hall for a Greek-themed dessert night. You will have a chance to hear from our missionaries and from the team that is going out, and to find out how to pray for, and support them.
Those are just a couple of updates from the twenty or so different cross-cultural fields in which we are engaged. As a church, God has given us a unique set of talents and opportunities to use in service of his kingdom. Pray that whether we do evangelism, plant churches, or train leaders, we will maximize our effectiveness and faithfulness to his glory.
In him,
Pastor Brent 
5.25.2017
This week, Pastor John hands over the TAGD keyboard to Marti Wiegman, Northpoint's Director of Women's Ministries.
Vacation Plans
"So do you have any plans for the summer?"
It's a question you hear a lot this time of year. The kids will be out of school in a matter of days and summer is just around the corner.
One sure sign of summer at Northpoint is the string of celebration events as many of our weekly ministries wrap up the ministry year and take a much-needed break—just in time for us to fill our calendars with graduation parties, trips to visit family, and outings to the beach. (I suddenly have the soundtrack from the movie Jaws running through my head!)
Most of us start making our summer vacation plans months in advance. We search the internet for possible locations, hunt for the cheapest airfare, coordinate schedules, and book early to ensure the best deals. Then we plan our itinerary for each and every day. My family is no exception: Tom and I leave in nine days (but who's counting?) for a cruise that we booked back in January.
But there are other summer plans we need to be making that often get overlooked. I'm thinking of plans to be in the Word, to be growing spiritually, and deepening our relationships with the Lord and one another. Because without a plan—without focused effort—it's unlikely these things will just happen.
Every year when Women of the Word resumes in the fall I hear, "I'm so glad WOW is starting up again. I've hardly been in the Word all summer." Just because our ministries take a break from meeting formally during the next few months, doesn't have to mean our spiritual lives have to go stagnant. With a little planning, it can actually be a rich season of spiritual refreshment.
Here are just a few ideas. (Warning: These are really basic, like eat right and exercise more. But these fundamental things provide a vital foundation.)
PLAN TO BE IN THE WORD—
Is there a book of the Bible you've been wanting to know more about, one you've never studied at all, or maybe a favorite you haven't returned to in a long while? This is a perfect time to feast on the Word in the places where you are hungering most. Pastor John's sermon series through the book of Proverbs has given me a thirst to read through these wise words again. And the ladies of WOW have been challenged to read through the Gospel of Luke in preparation for our study next year.
The toughest part of staying in the Word during the summer months isn't deciding what to read, but determining when to do it—and then sticking with your plan. It's a strange thing: the more free we are of the rigorous routines we live in most of the year, the more difficult it is to make time to be in the Word. That's where having a plan can make all the difference.
PLAN TO SPEND TIME WITH OTHER BELIEVERS—
Have you ever been at church and thought, I would really like to get to know so-and-so better, but then never find the time to make it happen? Summer is a perfect opportunity to build and deepen relationships. Think about those blocks of time you usually devote to regular weekly ministries. Set a goal to use this time to meet someone for coffee. Or invite a couple to lunch after church, or schedule an outing with another family.
PLAN TO READ A GOOD BOOK—
Before picking up that bestselling murder mystery this summer, choose a spiritually strengthening book. I just downloaded a book on my Kindle that I can't wait to read titled If I Had Two Lives: The Extraordinary Life and Faith of Costas Macris. Costas Macris is the father of our very own Northpoint missionary, Manon Mahalios.
Costas has been described as "an ordinary man who abandoned himself, without reservation, to an extraordinary God." A pioneer Greek missionary, Costas was used by God to bring the gospel to cannibalistic headhunters in Indonesia and later return home to launch a bold evangelistic work in Greece. If you are interested in learning more, check it out at ifihadtwolives.com.
With some planning and God's great grace, we can stay strong in the Word, grow in our relationships with one another, and be challenged in our spiritual lives. It is our joy as his workmanship to use every day for his glory.
Serving him together,
Marti
Truth [Not Greater Than] Grace
Recently, I was sitting in a gigantic ballroom listening to a (very good) preacher share his personal testimony of being rescued by God's Spirit from a life of debauchery and rebellion. It was pretty powerful stuff. Even so, among the 1,800 of us who crowded around tables surveying this man's movements and gestures on two cinema-style screens, there was an eerie quiet. Frankly, I couldn't tell if people had mentally checked out or if they were that riveted.
As the saying goes, you could've heard a pin drop. Until, that is, the preacher changed directions with his message. Moving away from his personal story, he implored us to learn to dwell in the tension between grace and truth. "We must not be people who are all grace or all truth," he argued, "but those who live in the middle." When he said this, the room became electric. People started cheering and applauding. Some even gave him a standing ovation.
It was at that point, however, that he lost me.
On some level, I get it: sometimes the truth hurts and we need to temper our truth-telling with the requisite level of graciousness. That makes total sense (and was probably the point the aforementioned speaker was trying to get across). But I hear all the time about the need to balance grace and truth, as if somehow they are at odds with each other. "Let's not err too much on one side," it's often said. But my question is: Since when did grace become untrue? And at what point did truth become ungracious?
Grace is simply undeserved favor. A gift to those who don't deserve it. Performance-free acceptance, we could say. Truth, though, is just as rich: it gives account of the way things really are. Not just at the surface but beneath it, where clichés meet their bitter end.
It is sometimes argued that if not balanced by truth, grace will make you lazy and apathetic. But the apostle Paul says it's grace that teaches us to renounce ungodliness and worldly passions (Titus 2:12). Others contend that, if not balanced by grace, truth will lead to legalistic rule-keeping. But Jesus says the opposite: he says "the truth will set you free" (John 8).
What was the context for the latter statement? In John 8, Jesus is rebuffed by the Jewish religious leaders who don't believe they need anything from him. They've never been enslaved to anyone, they argue. Which is a pretty ridiculous notion. At this point in redemptive history, the Jewish people had been tyrannized by just about every powerhouse nation in the world: the Egyptians, the Assyrians, the Babylonians, the Greeks. And even at the time of John's writing, they were under the oppression of Rome.
How could they make such an argument? Well, what they were boasting of was their perceived spiritual status. They believed that they were spiritually free and consequently had no need for a savior, especially a carpenter from Nazareth. After all, they were descendants of Abraham, the great father of the faith. They were so puffed up with ethnic, familial, and religious pride that they failed to understand the truth, the one thing Jesus says offers liberty.
That truth is that they were enslaved, under the curse of sin. But that's what Jesus came to deliver them from. Like we, they were broken, sinful, and helpless people in need of a Savior, a Savior who forgives us despite our varied faults and independent of our ethnic heritage and very best moral efforts. This truth is we are all saved by faith alone in Christ alone and through no merit of our own … and this is also the greatest news of grace.
My friends, don't ever worry about being too gracious. That's impossible. And don't ever fear that when you tell someone the truth you've somehow dealt gracelessly with them (unless, of course, you were callous or unloving with your tone). Grace never affirms the practice of sin, nor does truth present hopeless condemnation. Grace and truth work together in beautiful symmetry. In fact, the two are inseparably joined together in the person of Jesus Christ. He was all grace and all truth. All the time.
"For from his fullness," says John the Evangelist, "we have all received, grace upon grace. For the law was given through Moses; grace and truth came through Jesus Christ."
Make no mistake: truth and grace are not at odds with each other. When we assure a fellow believer of God's one-way love for them in Christ we are simply telling them the truth. Likewise, when we offer a gentle word of correction to an erring spiritual sibling, we are showing him or her tremendous grace. We are loving them enough to remind them of what they don't deserve but receive by faith: God's immediate and sin-canceling forgiveness in Jesus Christ. How gracious and how true!
5.11.2017
The Danger of Skipping Church
Hello Friends,
I have been praying for you this week, that "the Lord would be your portion … and that your hope would be in him" (Lamentations 3:24).
In October 2015, I was in Raleigh, North Carolina at a conference for church planters and pastors who were considering launching a daughter church from an existing ministry. Along with affording me the occasion to learn from some of the brightest and most experienced mobilizers, this also allowed me to worship on the Lord's Day with The Summit Church, led by pastor and author, J.D. Greear.
It was early Sunday morning and I had just finished my Waffle House breakfast, which I enjoyed immensely (though I was a little alarmed that none of the food preparers were wearing gloves, not even the lady who carefully inserted the crispy bacon on my plate while simultaneously and bare-handedly washing the dirty dishes.) Nevertheless, I tried to look only at my food, persuading myself that gloves in restaurants were superfluous. Then I made my way to the worship center, plopped down in the second row, and I prepared myself for a morning of music worship, communion, and the Word.
The music was wonderful and the spirit of God was evident. The joy was effusive. Perhaps that's why I was a little surprised when Pastor J.D. took the stage and immediately chastised the congregation for their fickleness in attendance. "This is a church that more than 9,000 people call home, and yet on some Sundays, hundreds of you opt to hike, bike, boat or do other things rather than join us in corporate worship."
What I realized in that moment was that sporadic church attendance at corporate gatherings is a nationwide phenomenon.
To be sure, there are good reasons to occasionally miss out on the church's gatherings: sickness, travel, and work are a few that come to mind. But something tragic happens when we "skip church." And it's not simply a consequence that we suffer. When we elevate ourselves and our preferences we do harm to the spiritual welfare of our brothers and sisters in Christ.
In a post last week, popular blogger, Tim Challies made an excellent point; he wrote:
"We are a culture of convenience, of personalization, of individualism. We have a million ways of customizing our lives to perfectly suit our every preference. When things are difficult, we think little of pulling away from responsibilities, of reorienting our lives away from whatever causes inconvenience. This can even extend to something as good and as central as our commitment to the local church.
Here is what Hebrews 10:24-25 says: 'And let us consider how to stir up one another to love and good works, not neglecting to meet together, as is the habit of some, but encouraging one another, and all the more as you see the Day drawing near.' This passage does, indeed, warn of the serious consequences of skipping church, but its focus is not what we might expect through our Western, individualized eyes. This passage does not warn us that when we skip church we put ourselves at risk. Rather, it warns us that when we skip church we put other people at risk. The first sin of skipping church is the sin of failing to love others.
As we prepare to worship on Sunday morning … we should approach [the gathering] deliberately, eager to do good to others, to be a blessing to them. In those times we feel our zeal waning, when we feel the temptation to skip out on a Sunday or withdraw altogether, we should consider our God-given responsibility to encourage 'one another, and all the more as you see the Day drawing near. …' And, of course, our commitment to the local church is far more than a commitment to Sunday morning services. It is a commitment to other people through all of life. It is a commitment to worship with them once or twice a week, then to fellowship with them, to serve them, and to pray for them all throughout the week. It is to bind ourselves together in a covenant in which we promise to do good to them, to make them the special object of our attention and encouragement. It is to promise that we will identify and deploy our spiritual gifts for their benefit so we can serve them, strengthen them, and bless them."
That's well said. And I would hasten to add that when we consider our participation in the corporate gathering not only should we reflect on our "responsibility to others," but we should also take this to heart: God loves us and delights in "showing up" in a powerful way when we gather. While God's affection for us doesn't wane when we take a Sunday to hike, he does lament, in a sense, the missed opportunity to stir our hearts afresh through the Spirit's application of the Word, the public confession of the faith, and the one-voice declaration of our Father's goodness.
I know that you're already excited about Sunday—especially you baby-lovers since it's our Parent-Child Dedication day—but if you're still deciding if you're going to join us on Sunday, please know this: your absence will detrimental to those of us who look to you for encouragement.
Grace and peace,
Pastor John
5.4.2017
I hope you've found comfort in God's grace this week. My prayer for you has been that the Almighty would uphold you, satisfy you, and preserve you (Psalm 145) by his power and mercy.
Among those who know me well, it's no secret that I despise boredom. Since I was a little kid, I have paced relentlessly when I have nothing to do. "You're wearing out the carpet by your pacing," I was chastised by my parents. Early in our marriage, when Jenine and I would host folks at our home for dinner, I would often ask her beforehand, "What's on the agenda for the evening?" "Agenda?" she would reply with some incredulity. "The only agenda is to enjoy our friends." Seemed a little unproductive to me, but over time, I've grown to appreciate my wife's wisdom. And, by God's grace, I have matured (slightly) in this area.
At a conference I attended last week in Nashville, participants were encouraged by one presenter to embrace inactivity as a gift. Andy Crouch, author of the recently released, The Tech-Wise Family, issued a call to a radically counter-cultural lifestyle, one that includes moments (even days) of intentional, tech-free human engagement. (Seems strange that such an injunctive would be necessary, but to anyone who has a smartphone—and is there anyone anywhere who doesn't?—the need is obvious.) While Crouch did not plead for an end to the use of technology, he did offer a vision for a life of beauty, relationships, and creativity not enslaved by our iPads, iPods and Surface Pros. Here's how he began his argument:
"We are continually being nudged by our devices toward a set of choices … [but] are those choices leading us to the life we actually want? I want a life of conversation and friendship, not distraction and entertainment; but every day, many times a day, I'm nudged in the wrong direction. One key part of the art of living faithfully with technology is setting up better nudges for ourselves."
As a "better way," Crouch offers Ten Tech-Wise Commitments that he and his family have embraced (though not without tremendous pushback from his teenagers, he adds). For example, "#7: Car time is conversation time." When the Crouch family rides together, all devices must be powered down. No headphones or SpongBob. If you want to read Crouch's nine other recommendations, you can pick up his book for $12.50 at Amazon.com, but let me relay one of the more thought-provoking statements from his conference talk; he said: "Technology is robbing us of our ability to be present."
I absolutely agree. In point of fact, it's possible to be surrounded by people and yet feel totally alone. It's possible to sit on a crowded couch with six peers and yet remain eerily … absent. Devices captivate our imaginations, yet allow us to experience an escapism that neither helps us in our relationships nor facilitates our enjoyment of our Creator.
Perhaps this is why God instructs us to "be still and know that I am God" (Psalm 46:10). Not so much so that he can impart answers to our deepest questions. Or even provide guidance for some of our upcoming decisions. Maybe God wants us to be still so that we can learn what it means to be present with our Father. Devoid of distractions. Absent of anxieties. Enthralled with his goodness. Trusting his provisions.
The Songwriter tells us that in the presence of God there is "sheer delight" (Psalm 16:11) and "great joy" (Psalm 21:6), but these benefits cannot be realized in competition with a touch screen.
Please know: this is not an argument for the abandonment of our devices. That would be foolish. There's so much good that comes from technological advances, particularly in the fields of healthcare and communication. Likewise, I don't believe that there's a particular perspective on technology that must be legalistically adhered to by everyone. Certainly, there's room for grace and freedom in the use of technology.
However, in keeping with Crouch's talk, I'm asking myself the questions (and encouraging you to do the same): Do we even think about how technology is being used in our home? By us? By our children? And furthermore, what consequences might we ultimately suffer if we continue down the path we're on? Could our efforts to ensure that our children never encounter inactivity backfire against us? What sort of creativity might be birthed if we embraced the beauty of boredom?
If we're ever going to know what it means to be present with God (and others), it won't be because we've eliminated technology, but because we finally decided to seriously consider what joys we're missing out on because of our uncompromising devotion to technology's glow.
4.27.2017
Hello Church Family,
With Pastor John away at a conference, we want to use his column to highlight a few things happening over the next two weeks at Northpoint:
The Clubbs' Last Sunday at Northpoint
For the last six years, Jonathan Clubb has overseen our junior high, high school, and college ministries, and we are grateful for the investment that he has made in the spiritual development of our students. Many have been impacted by his leadership, particularly his love for preaching the Word. Jonathan and Kelly are moving on to another ministry position, and THIS Sunday, April 30, will be their last with us. Though he was not searching for a new place to minister, when this opportunity presented itself, he had no doubt that it was from the Lord.
We will be honoring Jonathan and Kelly in both services to express to them our deep gratitude for their ministry. Also, we will be having a cookie reception for them on the Heritage Patio between services. There will be a basket for cards and notes for all those who want to express their appreciation.
What's Next for Student Ministries
Speaking of student ministries … the Leadership Team is pleased to announce that Taylor Mendoza (our Junior High Intern) will serve as the full-time Interim Director of Student Ministries through the summer (May 1- August 31), while James Aeschliman will move into the part-time Junior High Intern position through August. Taylor will lead high school and Revolve and oversee junior high.
For the long-term, the Leadership Team is working to prayerfully discern the next leader for Student Ministries.
Congregational Meeting
There will be a special Congregational Meeting happening THIS Sunday, April 30, at 12:30 p.m., in the Auditorium. The only item on the agenda will be the sale of an adjacent piece of property.
Discovering Membership
Not a Northpoint member? Perhaps you have been a part of our body for years, but have never pursued membership. Could it be that God is calling you to make the commitment to the Northpoint body and strengthen your connection to your sisters and brothers in Christ? Or maybe you have recently started attending Northpoint and would like more information about what we believe, teach, and do. If you are interested in learning more about the privileges and expectations of membership at Northpoint, please plan to join us NEXT Sunday, May 7, at 12:30 p.m., in the Tower Room for our next no-obligation Discovering Membership class. A light lunch and child care will be provided.
You may sign up to attend the class at the Information Center in the Foyer this Sunday. Or for more information, please contact Teri Vaughn at tvaughn@northpointcorona.org.
4.20.2017
Get Wisdom
Hello Family,
What an incredible weekend we just enjoyed! Through a total of five services over three days, we were able to linger at the cross and then appropriately move to the empty tomb where we "rejoiced with great joy" at the resurrection of Jesus Christ.
I was deeply blessed by your service and participation in those gatherings. Most importantly, the Spirit of God was at work. In fact, I have never received such encouraging feedback. For example, one first-time visitor said to me on Friday evening, "That was the most moving service that I've ever been a part of." Praise God.
Since one of my responsibilities as the lead pastor of Northpoint is to oversee the preaching ministry, what I tend to do is plan out the teaching schedule for an entire year. It doesn't always work out this way, but I prefer to stay at least a year ahead in my planning. This helps me in my preparation and gives you a sense of where we're going.
That said, this Sunday marks the beginning of a new series in the book of Proverbs, called From the Streets She Cries Out. I had initially planned this to be a short, post-Easter series of four weeks, and then I started studying, praying over, and wrestling with the text, which prompted me to extend the series to five weeks. Well, just recently I decided to make it six weeks. This stuff is just so rich! And so meaningful.
The book of Proverbs is filled with down-to-earth instructions on matters like marriage, relationships, vocation, money, sex, parenting, and leadership. But it's not a list of expectations meant to drag us down; it's actually a collection of sayings meant to guide us and encourage us. In fact, the counsel comes not in the form of fortune cookie quips; these are the very words of God.
But this book is more than just a collection of directives. It also points to the ultimate solution to this world's brokenness.
In his outstanding commentary on Proverbs, Ray Ortlund Jr. writes: "The Book of Proverbs is practical help from God for weak people like us, stumbling through daily life. It is his counsel for the perplexed, his strength for the defeated, his warning to the proud, his mercy for the broken. In it God does not intend to crush us with layer upon layer of demand. He intends to help us. The book of Proverbs is the gospel—good news for the inept through the wisdom of Another."
Over the next six weeks, we're going to consider the ancient text in its context—historical, cultural, grammatical, and otherwise—and we're going to learn much that will enable us to thrive amid the unevenness of this life. But we're also going to see that there was a divine author to these Proverbs, who desires to drive us to the One who lived perfectly wisely on our behalf. By God's grace, through this study, we'll understand how these beautiful "nuggets" point to the one the apostle Paul calls, "Christ … the Wisdom of God."
I can't wait to see what God does through this series. If you'll commit to reading one chapter of Proverbs a day over the next month, I believe it will deepen your understanding and make your time on the Lord's Day even more enriching.
With gratitude,
Pastor John
4.13.2017
This week, Pastor John hands over the TAGD keyboard to Pastor Brent Whitefield, Northpoint's Pastor of Missions and Outreach.The
Unique Message of Easter
Easter is a wonderful occasion for Christians. Not so much because it is a "holy day." As Protestant Christians, we are not altogether comfortable with the notion of holy days in the first place. There is nothing intrinsically more holy about this Sunday than any of the other 364 days on the calendar. Nor does the importance of Easter lie in the fact that it is a "holiday." Every religion has its holidays, often occasions for revelry that are only thinly connected to the original event that they celebrate. Christians don't do holidays terribly well anyway. Easter is a fairly subdued event in the West. If you like celebrations with gusto, observe Muslims at Eid, Jews at Purim, or Hindus at Holi.
Rather, the significance of Easter is that it calls us to remember and reflect on the one event that sets the Christian faith apart from every other faith. The one historical fact that, if true, renders all competing truth claims about God false: the resurrection of Christ. All other religions in the world are essentially wisdom traditions: organized attempts, through holy men and holy books, to offer prescriptions for living lives that will please the gods. All the faiths ever devised are man's attempt to make their best guess at what God is like and what he requires of us. Christianity is unique in that there is no guesswork: we know who God is and what he requires because we know Jesus and what he has done. And through the resurrection, Jesus proved that he is no holy man pretending to be divine, but that he is indeed a member of the Godhead itself. Therefore the word of God is not the shifting sand of human "wisdom" but is a person, Jesus Christ. We can have confidence that his word never changes, never needs to be updated to suit the times of the spirit of the age.
The resurrection is one of the best-attested facts of the ancient world. So well does the evidence line up in its favor, that were it not a miraculous event, nobody would have any doubt about its historicity. And it is this fact that makes Easter the most significant event in the history of the church and the world. It is the thread that holds the whole sweater together. Because the Christian faith is based on the Word of God in the person of his son, Jesus, its whole validity and significance ride on the truth of the resurrection.
Other faiths do not live or die on the basis of historical facts. They can be molded to suit the evolving human view of God. As those who believe in and have staked their eternal destiny on the resurrection, we do not shape God's Word to suit our tastes. We cannot. Nor do we create our own wisdom, because we have Christ, who is the wisdom of God. As Christians, we do not make up our faith as we go along, because Christ is alive and with us by the Spirit of God.
So as you celebrate Easter this week, remember: Christ's resurrection vindicates all of his claims about himself, it allows us to know, with certainty, who God is and what he expects. Most importantly, it gives us a living hope and an example: proving what Christ has done for us in his victory over sin and death, and showing us how we must then live in light of this truth. Your friends, neighbors, co-workers, and family members who don't know of or believe in the Easter message cannot know God or have a relationship with him. And they may never hear unless they hear it from you. Won't you tell them?
In him,
Pastor Brent
4.6.2017
When Saints Pray
Hello Family,
I want you to know that I have been bringing you before the Lord this week, asking God to "reassure you of his steadfast love" and "lead you onto level ground" (Psalm 143:8,10).
It is often stated that the real benefit of prayer is that we are changed, and not that God is prevailed upon to actually do something. Immanuel Kant, the 18th-century German philosopher, argued that it was "an absurd and presumptuous delusion" to think that one person's prayer might actually cause God to bring about a certain outcome.
Prayer is simply an exercise meant to bring us closer to God, it is argued.
And certainly, there's some truth to that statement. Prayer is the means by which God reminds us of his comforting presence. If you're feeling lost, then pray. Prayer is the way that God enlivens the soul. If your soul is dry, then pray. Prayer is the way God gives us great joy. If you're discouraged and feel hopeless, then pray. God promises to respond.
But we don't pray simply so that we'll be changed. There's something else going on. The biblical witness is overwhelming: God has determined to provide for us in response to our prayers. It's not as though we twist God's arm and bend him into submission, but God gives us what we need through our prayers. As the Scottish preacher Andrew Murray said so beautifully and succinctly: "Prayer is the power by which that comes to pass which otherwise would not take place."
The God who has forever existed, who made the world and everything in it, who is unlimited in his power and wealth, and is dependent upon no one, actually invites us into his presence. This God, who is so majestic and holy, that we cannot even look at him and live, can be approached with incredible intimacy—as we address him as 'Abba, Father'—because of the relationship made possible through Jesus Christ. 
And not only can we approach this God, but he has determined to bless us through our prayers. "This is the confidence which we have before him, that, if we ask anything according to his will, he hears us" (1 John 5:14).
Tonight (7:00 p.m., in Heritage Hall) we will gather and ask, in Christ's name, that God would bring about salvation to our friends, co-workers, and neighbors who don't know Jesus. We will pray that God would bless our Good Friday and Easter services and revive our city. And we will trust that not only will we grow closer to God as a consequence of this exercise, but that God will bring about the very things we ask for.
With expectation,
Pastor John
3.30.2017
Good Friday and Easter
Pastor Brent Whitefield was recently at a one-day conference in Portland for Life Explored, the video series from the creators of Christianity Explored. One of the takeaways of that experience was a challenge to embrace an updated philosophy of evangelism, more specifically, to recognize that non-Christians need to be persuaded to consider Christ rather than simply invited to do so.
And this fits beautifully with the overall biblical witness. Recounting the efforts of the earliest evangelists and apostles, the book of Acts uses a stunning variety of words to describe the church's ministry of extension, e.g., urge (13:43), reason (17:2), explain (17:3), convince (17:4), debate (15:2), describe in detail (15:3), proclaim (16:17), persuade (18:13), testify (23:11), appeal (15:32), and warn (20:31).
In this so-called post-everything world, there is no one-size-fits-all approach to evangelism. We must indeed be "shrewd as serpents and harmless as doves" (Matthew 10:16).
So, as you consider who you might persuade to join you on Easter Sunday, the celebration of Jesus' resurrection, I want to provide a schedule, so you'll know exactly what to expect.
Thursday (4.6): All-Church Prayer Gathering
On the week before Easter (please note: not the week of Easter) we will gather in Heritage Hall for one hour (7:00 p.m.- 8:00 p.m.) and appeal to God to bring salvation to some who will join us over the holiday weekend. The new birth is God's work, but he instructs us to pray for people everywhere and of every background and status (1 Timothy 2:1-4). We may water the ground and cast the seed, as it were, but God is the one who grants life to the spiritually dead. And he has promised to do so through our prayers. Like the all-church prayer gatherings we've held before, the tone will be one of anticipation, as God's children from junior high on up call out to the God who hears.
Friday (4.14): Good Friday Services
On Good Friday, we will have two identical services in the Auditorium (6:00 p.m. and 7:30 p.m.), wherein we'll worship, participate in communion, read the Scriptures, and linger on the death of God's perfect Son. The tone will be somber, but not hopeless. Dark but not defeated. Geoff Grant and I met this week to review the service and I know that it is going to be edifying and faith-strengthening. The music alone will be stirring. We'll even have a harpist from our own church who will help to establish a mood of longing. The brief message for the evening will focus on the benefits we (undeservedly) gain from Jesus' cross-work. The apostle Paul asks the rhetorical question in Romans 7: "Who will deliver us from this body of death?" His answer in the very next verse: Jesus Christ our Lord!
Sunday (4.16): Easter Services
There is a reason that history is divided into B.C. (Before Christ) and A.D. (Anno Domini, "In the Year of Our Lord"). That's because no one else has left a mark on the world like Jesus Christ. Jesus did what no one else has ever done: he really died—every single organ completely shut down and his dead body hung on a tree—he was buried, but then he came back from the dead. He rose again. He conquered death, hell, and the grave so we would no longer have to fear any of the three (or anything else, for that matter). On Easter Sunday, we will look at the resurrection from the apostle Paul's account in 1 Corinthians 15, and we will explore this theme: What Only God Can Do. All three services (7:30 a.m., 9:00 a.m., and 10:45 a.m.) will be triumphant, joyful, and exuberant, as fitting a celebration of the One who scoffed at death and put an end to our guilt and shame.
As you can see, you will not want to miss out on anything we have planned. We're going to exalt Jesus Christ, and revel in the new life he came to provide. Please join me next Thursday at 7:00 p.m., for our prayer gathering. And meanwhile, please be thinking about who you will persuade to join you on Easter weekend.
With joy,
Pastor John
3.16.2017
Who Are You, Really?
Hello Family,
When I first became a pastor, I was pretty stunned at how some people responded when they found out what I did for a living.
There was a sweet couple that lived across the street from us, totally unchurched, that God would eventually bring to faith in Jesus, but when we first moved into the neighborhood, they didn't know what to make of me. One day the lady said to Jenine, "I saw your husband mowing the lawn with shorts on and a hat." Unsure of exactly what point was being made, Jenine answered, "Oh, ok." The lady replied, "I've never seen a pastor mowing his lawn. He looked so … normal." (I guess she thought, being a pastor and all, I would put my suit on and with Scriptures in one hand and an electric trimmer in the other, I would go out and conquer the yard in Jesus' name.)
For many, it's hard to separate what someone does from who they are. To this lady, I was a pastor—that was my identity—and pastors always looked, sounded, and acted a certain way.
At Northpoint, we talk a lot about identity. And what we're talking about is who we really are at the core. At the most fundamental level. And who we believe ourselves to be. Maybe a good way to get to the heart of the issue of identity is by asking the question: what is it that you believe makes you, you?
Any number of things can be regarded as identity-defining: race, education, sexual longings, accomplishments or failures, some aspect of past history. Ask someone the question above and you'll likely get a variety of responses: I am a cancer survivor. I am a recovering alcoholic. I am a widow. Or, a divorcee. I am an African-American. I am a mom. I am a doctor. I am gay. I am a college student. I am an ex-convict.
The answer is determined largely by what "cultural script" we're reading, a phrase sociologists use to refer to the narrative or message that helps us to see and understand the world. And ourselves. We are bombarded with scripts.  Religions offer scripts, Hollywood offers scripts, your parents have provided you with a script.  So have your friends. The list goes on and on. And the script that you appeal to will have a tremendous impact on your happiness, your relationships, your sense of meaning and purpose in life, and, dare I say, your eternal destiny.
But, as I have suggested, one of the most common scripts goes like this: I am what I do.
And I don't mean that strictly in a vocational sense, but in a more active sense. Our culture says that identity is a consequence of actions. If my actions are successful, then I am a success. If my actions are unsuccessful, then I am a failure. If my contributions are valuable, then I am of value.
But the Bible turns that notion on its head and says: actions follow identity. We are not what we do, but what we do flows from who we are.
Paul says this in Colossians 2: "Therefore, as you received Christ Jesus the Lord, so walk in him, rooted and built up in him and established in the faith, just as you were taught, abounding in thanksgiving."
New Testament scholar, Douglas Moo, says verse 6 is the heart of the entire book of Colossians. Before the Apostle Paul instructs these believers to do anything, he reminds them of who they are.
When Paul says, "as you have received Jesus Christ the Lord" he is not simply saying, "as you have accepted some facts about Jesus"; nor is he saying, "as you have invited Jesus into your hearts." He is saying this Jesus that I have presented to you in this letter—Jesus the image of the invisible God (1:15), Jesus the Creator and Sustainer of all things (1:16), Jesus, the One who made peace by his cross (1:20), Jesus, the Wisdom and Mystery of God (2:2)—this Jesus you have received as your Savior and Lord, which has resulted in your turning from sin and idols to faith in him, and through whom you have been re-created into a new person by the power of God.
Paul says: this is now who you are. You have received Jesus. You are a member of Christ's body.
See, who you are right now has nothing to do with what you've done and everything to do with what Someone else has done for you …if you have, as the Apostle Paul says in Colossians 2, "received Christ Jesus as Lord."
The best description, then, for who we are is a simple two-word phrase that Paul uses so often in his letters, even here: we are "in Christ."
It's a phrase that is repeated more than 200 times in the Bible: we are "found in Christ" (Philippians 3), "preserved in Christ" (Romans 8), we are "sanctified in Christ" (1 Corinthians 1), "live in Christ" (Galatians 2), we "walk in Christ" (the passage that I just read).
Theologically speaking, the term for being "in Christ" is our "union with Christ." And our union with Christ is a reference to all the things we are because of Jesus, all the benefits mediated to us through our faith in Jesus Christ.
Michael Horton says this: "Union with Christ is not to be understood as a 'moment' in the application of salvation to believers. Rather it is a way of speaking about the way in which believers share in Christ in eternity (by election), in past history (by redemption), in the present (by effectual calling, justification), and in our future (glorification)."
In other words, if you are "in Christ" this is who you are.
You are forgiven.
You are chosen.
You are redeemed.
You are loved.
You are destined for eternity with God.
And what you do (or don't do) will not change that. What you've already done can never change that—not a single thing in your past. What someone else says about you cannot change that. Where you live, how you earn a living, the color of your skin, how many children you have … none of those define you. You are "in Christ." And that's an identity worth celebrating and resting in.
In Him,
Pastor John
3.9.2017
You Pick Three
Hello Family,
Recently, the famed Barna Group (the research firm behind such studies as The Exploration of Faith in New York Since 9-11) published The State of the Church 2016. While I'm not a devoted student of statistics, nor do I defer to analytics to make my decisions (frankly, 91.4% of statistics are manufactured or fabricated … just like that one I completely made up!), I do see value in observing trends.
In their aforementioned report, the Barna team introduced their findings with this summary: "The Christian church has been a cornerstone of American life for centuries, but much has changed in the last 30 years. Americans are attending church less, and more people are experiencing and practicing their faith outside of its four walls. Millennials, in particular, are coming of age at a time of great skepticism and cynicism toward institutions—particularly the church. Add to this the broader secularizing trend in American culture, and a growing antagonism toward faith claims, and these are uncertain times for the U.S. church."
Uncertain times, to be sure. But not cause for alarm. God has promised to build his church (Matthew 16:18), and the New Testament papers provide compelling evidence that God is in the business of reconciling broken people to himself, even amid persecution, racial and cultural tension, and spiritual indifference.
That said, here's an interesting (and perplexing) statistic from the Barna report: despite a marked decrease in church attendance across America—only 31% of Americans now attend church regularly—73% still claim to be Christians. This means that the majority of folks who call themselves Christians do not attend church even once a month. However, 55% of those same folks still self-identify as not only Christians but "churched." How do we explain this discrepancy?
Well, it makes more sense when we consider this definition from Barna: "Churched adults are active churchgoers who have attended a church service—with varying frequency—within the past six months." What this means is: while there is a significant percentage of people who regularly spend their Sundays apart from the gathered assembly, they do feel compelled to attend church at least once every six months or so, particularly on holidays and during special seasons.
Here's why I'm sharing this information: we are fast-approaching Good Friday and Easter, the time of year when, as Christians, we reflect more intensely on the passion of the Christ and the triumph of Jesus as he conquered death, hell, and the grave. And, for some reason, people who seldom "go to church" are obliged to attend church during this season. Only God knows why. Guilt? Curiosity? Contrition? Regardless, those who would normally say 'no' to our polite invitations to join us for worship are far more likely to say 'yes' at this time of year.
So, with that in mind, would you pray about inviting someone to our services on Easter Sunday?  I'm going to go one step further: would you identify three "unchurched" friends or neighbors that you would ask to join you here at Northpoint on Easter morning. We will have three identical services: 7:30 a.m., 9:00 a.m., and 10:45 a.m. In all three, we will rejoice in our Savior's resurrection, reflect on the Good News, and consider how that affects our lives today. Your invitation might very well serve as the catalyst that God uses to bring someone to a place of forgiveness, freedom, and a restored relationship with their Creator.
In Him,
Pastor John
3.2.2017
This week, Pastor John hands over the TAGD keyboard to Pastor Brent Whitefield, Northpoint's Pastor of Missions and Outreach.
Lent? Think I'll Pass
Hello Family,
For many years, the practice of Lent was confined to the Roman Catholics and other highly liturgical church traditions. But more recently, there has been increased discussion of Lent in mainstream evangelical circles and publications such as Christianity Today, with many commentators approving of some of the rituals associated with Lent, including fasts.
I have read many eloquent defenses of Lenten observance, but none of them have moved me from my conviction that there is no place for Lent if one takes seriously the Biblical understanding of salvation or sanctification. Some Lenten practices such as the imposition of ashes on the foreheads of believers are easily dismissed as silly superstition, unworthy of the thoughtful believer. But what of the staple of Lent observance: the resolve that a believer makes to fast from something for a 40-day period?
Of course, there is a place for fasting in Scripture. Fasting in and of itself is not an unbiblical practice. The fasting that is countenanced in the Bible, however, is the abstinence from all food (and possibly drink) for a brief time and is closely associated with prayer. Fasting is never for the purpose of denying yourself an individual pleasure nor for the sake of healthier living. (If the purpose of a Lenten fast is to give up something unhealthy, say sugar or cigarettes, why do it for only 40 days?) Nor is there Biblical precedent for the kinds of whimsical fasts, from the Internet, talking, driving, credit cards, radio, etc., that many Christians engage in today.
There are several reasons why I cannot advise a serious believer to engage in Lent observance:
Lent is an invention of man and a tradition of some branches of the church. Nowhere is the practice of Lent to be found in the Bible, much less commended therein. Indeed, the argument could be made that Paul warns us against observances such as Lent in his letter to the Colossians concerning passing judgment with regards to food and drink and festivals, and submission to regulations such as "do not handle, do not taste, do not touch." In chapter three, he condemns such things as having "an appearance of wisdom in promoting self-made religion and asceticism and severity to the body but they are of no value in stopping the indulgence of the flesh."
Secondly, there is an association made between Lent fasts and the suffering of Christ. This is why it is practiced during this season. As Christians, we are called upon to suffer according to the example of Christ, that is, to suffer unjust persecution. We are never called to contrive suffering to inflict upon ourselves in imitation of Christ's physical suffering. In any event, there is no way for us to do this. Any attempt to do so becomes an unworthy caricature. The idea that giving up candy for a month somehow draws us into the sufferings of Jesus, is an exercise in trivializing his suffering. At least some of the Filipino Catholics who have themselves literally nailed to a cross (though I do not approve of the practice) are attempting to approximate the sufferings of Christ. Creating suffering for ourselves through deprivation can do nothing to aid in or supplement the suffering of Christ to secure our salvation; though it might tempt us to think that it does. In this connection, I worry about the practice of Lent and its damage to our witness to the watching, unbelieving world. Our uninitiated neighbors might understandably conclude that Christianity is just like all the other religions: a series of religious rituals performed to commend us to the attention of the gods. I shudder to think what a Hindu would conclude observing an ashed-up Christian emerging from an Ash Wednesday service.
Thirdly, if we as Christians engage in some unhealthy or sinful practice or habit, let us give it up once and for all in the name of obedience and pursuit of holiness. If gluttony is our problem, let's forswear it for 365 days and not only 40. On the other hand, what virtue is there in giving up something which is healthy and wholesome, even for a short time?
Finally and most importantly, it is nearly impossible for me to imagine practicing Lent in such a way that it promotes neither pride nor excessive guilt. Those who boast of their faithful abstemiousness demonstrate the former; those who confess to cheating often show the latter. It is nearly inconceivable that a regular Lenten faster does not, at some point, imagine that their disciplined resolve is earning some favor with God. To believe that we earn or supplement our salvation with the performance of religious rituals is to abandon Christian orthodoxy. And more destructively, the spiritual pride thus engendered is an implicit (or even explicit) judgment on those who do not participate or fail to finish the course. Even the act of announcing your Lenten commitments on Facebook is a tacit judgment of those who are sitting it out.
If you do insist on observing a Lent fast, you are not sinning. However, the only way it can be done with integrity is to follow the Biblical admonition concerning fasting: pray daily for a heart of humility and do not share what you are doing with a soul.
For his glory,
Pastor Brent 
2.23.2017
God is Devoted to You
Hello Family,
As I sat across from a man during a recent lunch, he said to me (as he reflected on a terrible trial that he is currently going through): "If you've told us once, you've told us a thousand times, 'God never gives up on his children; he loves us and is working out a plan for our good and his glory. That's my hope.'" He was right. If there's a message that I want Christians to hear repeatedly, it's this: God loves you profoundly, deeply, and unwaveringly.
That's because it is a recognition of God's love for us that stirs our hearts toward love for him, rouses our souls to worship, motivates our broken wills to obey, quells our deepest fears, silences our guilt-riddled consciences, and impresses upon us our inestimable worth.
In his recent address at the National Prayer Breakfast, retired Senate Chaplain Barry Black pointed out that, as a ten-year-old boy living in inner-city Baltimore, it was a Spirit-granted understanding of God's love for him that gave him a sense of confidence and self-worth. After hearing about Jesus' death on the cross—the greatest display of one-way love in history—Dr. Black said, "No one could ever make me feel inferior again." To the redeemed sinner, there is no better news: You are loved by God. The cross is indisputable evidence.
But a question remains: What does it actually mean to be loved by God? We throw around the word "love" a lot. Because we love a lot of things. I love my dog, we say. I love my car. I love my house. I love the Dodgers. I love chocolate. The weight of the word "love" has been hi-jacked by the silliness of our avowals.
In his commentary on Jeremiah 31, the great Dutch Reformer, Geerhardus Vos offers one of the most stunning explanations of God's love that I've ever read. He says:
"The divine declaration 'I have loved thee with an everlasting love' (31:3) is by no means from Jeremiah's standpoint the commonplace which our over-familiarity with that attribute has made it. The prophet means to describe by this term something quite extraordinary, something well-nigh inconceivable, a supreme wonder in a land of wonders. … Love is to him the highest form of the spiritual embrace of person by person. To ascribe it to God in connection with a creature is at the farthest remove from being a figure of speech. It means that in the most literal sense He concentrates all the light and warmth of His affection, all the prodigious wealth of his resources, his endless capacity of delight, upon the heart-to-heart union between the [redeemed] and Himself.
And what God for His part brings into this union has a generosity, a sublime abandon, an absoluteness, that, measured by human analogies, we can only designate as the highest and purest type of devotion. It is named love for this very reason, that God puts into it His heart and soul and mind and strength, and gathers all His concerns with His people into the focus of this one desire. … Were kindness or mercy or longsuffering our reliance, then the perfection of confidence would have to remain hopelessly beyond our reach. Kindness carries the necessity of ever-repeated renewal in itself. It is like a reservoir, full and rich indeed, but not like the fountain except by grace of the fountain's supply. But, since the fathomless tide of divine love rises irresistibly beneath it, we know that it can never fail, but will prove at every point more than equal to our needs."
If you are in Christ, God not only loved you before you were born, but he has the most intense affection for you at this very moment. You are his treasure. He is relentlessly devoted to you.
In a way that is never at odds with his passion for his own glory, God delights in you. Which means that he is deeply concerned about everything you're going through. Not in a passive, I-wish-I-could-do-something way, but in an I've-got-you sort of way. An awareness of this sort of love will cause us to say, with Jeremiah the Prophet, "Give thanks to the Lord of hosts, for the Lord is good, for his steadfast love endures forever," and with Dr. Barry Black, "No one will ever make me feel inferior again."
For his glory,
Pastor John
2.16.2017
This week, Pastor John hands over the TAGD keyboard to Marti Wiegman, Northpoint's Director of Women's Ministries.
Time for "Grace" is Running Out
A Special Message for Our Ladies,
I ran a search on Amazon this morning for "Christian relationship books" and got 59,915 results! Clearly, relationships are an area of high priority, or at least high interest, in our lives.
God himself has put great importance on our relationships with one another. Jesus summarized all the laws of the Old Testament in two commands: "Love the Lord your God with all your heart" and "Love your neighbor as yourself" (from Matthew 12:20-31).
But for all the advice out there on how to be a better spouse, parent, child, friend, coworker, neighbor, committee leader, "pet guardian" . . . we still have hearts that ache. Each one of us has experienced relational pain. Some wounds we bounce back from relatively unscathed. Others leave scars that last a lifetime. Our hearts yearn for the love we so desperately need in all these relationships, because to some degree or other they seem to fall short. And we are tormented by ways we ourselves have failed to show love to others.
The biggest problem with relationships is they always seem to involve sinners—including ourselves. So how can we form strong, resilient bonds with people who, like us, are bound to mess up?
The solution is not more advice or willpower or another checklist of things to do. It is an ever-increasing grasp of God's grace and our Savior's love for us. Focusing on Jesus and the loving way he relates to us has the power to transform the way we relate to each other.
This is the Bible-centered, hope-filled message we women will be hearing throughout our upcoming Women's Conference here at Northpoint:
Everyday Grace
Infusing All Your Relationships with the Love of Jesus
March 11, 9:00 a.m. – 3:00 p.m.
We are so excited to have mother and daughter team ELYSE M. FITZPATRICK and JESSICA THOMPSON as our speakers—two amazing, gospel-centered women who practice living in grace in their own lives. Elyse (Certificate in Biblical Counseling, CCEF; MA, Biblical Counseling, Trinity Theological Seminary) is a frequent conference speaker and the author of more than twenty books. Jessica is a popular speaker and author in her own right, including our theme book, Everyday Grace. She has a bachelor's degree in theology and is a wife and mother of three. Elyse and Jessica coauthored the book Give Them Grace, Dazzling Your Kids with the Love of Jesus.
Everyday Grace is not a marriage conference but instead, will focus on all the relationships we have as women.
Session 1:  Relationships with our Friends—
We will rejoice together that Jesus himself has called us his friend. The knowledge of Jesus' friendship towards us will warm our hearts towards others.
Session 2:  Relationships with Parents and Siblings—
We will focus in on the fact the Jesus has called us his brother and discover how that proclamation can change how we see and relate to our families.
Session 3:  Relationships within the Church—
We'll explore the truth that Jesus is our sympathetic High Priest. As we delve into the way that we have been loved by him, we will see clearly how to love others in the church.
Pre-Conference Event for Moms
Friday night, March 10, 6:30 p.m.-8:30 p.m. in Heritage Hall
Every Christian mother wants to raise good kids and be a good mom. But what does good mean? And is that the point? Together Elyse and Jessica will point us to the one who can comfort our hearts, transform our children, and give us grace—grace to parent, to persevere, to pray, and to rest in God's love for us and our children.
The cost for the conference is:
$38 advance purchase through February 19 (Time is running out!)
$45 general admission
(Cost includes a catered lunch, beverages and snacks)
NOTE:  Tickets purchased after March 5 will not include a catered lunch.
Pre-Conference Event for Moms:
Free with purchase of conference ticket
$10 for Friday only

You can purchase your tickets online at everydaygrace2017.org. Or you can pick up your tickets Sunday after services in the Foyer. Remember, the time to buy your "grace" tickets is running out; prices go up February 20! Scholarships are available—please don't miss out because of financial concerns. Just let us know.
To you ladies who have yet to decide to join us, I want to strongly encourage you to invest in this weekend. It's never easy for us to pull away from our many demands, but I truly believe there is nothing better you can do for your family and all your relationships than to spend a day in the Word under the teaching of two amazing, gospel-centered women who practice living in grace in their own lives. And the fellowship with one another throughout the day just makes it all the sweeter.
For those of you who have already decided to come, I want to ask you to help us spread the word.  Bring a friend, post it on Facebook, pick up some flyers on Sunday to hand out at school or work. Let's share this opportunity with others who need to experience God's transforming grace in their relationships.
Grace to you,
Marti Wiegman
12.2.2017
This week, Pastor John hands over the TAGD keyboard to Scott Williams, Northpoint's Pastor of Adults and Families.
Our Need for Community
Hello Family,
Today we live in a hugely individualistic culture. Our western society loves to champion those who can "pull themselves up by their own bootstraps," those who would consider themselves a "self-made man or woman." Even many of the movies or books that we enjoy laud individuals who have surpassed all the odds and even the opinions of other people to achieve great things on their own. Whether it is the rogue secret agent Jason Bourne, or the stereotype-breaking bunny who wants to be a police officer in Zootopia, we are inundated with the message that if you are true to yourself and set your mind to it, you can achieve anything.
I am afraid this type of thinking has even made its way into the church, where, for the most part, the Christian life is merely up to you and God. It's up to me to become more like Christ, and when I fail, I must merely and privately "pull myself up by my bootstraps and try harder." This, however, is not the picture that Scripture paints for what it means or looks like to become more like Christ. In their wonderful book, How People Change, Paul Tripp and Tim Lane say that change is a community project. They write, "Our fellowship is an essential ingredient for lasting change. The work of redemption involves our individual relationship with Christ alongside our relationship with others." Community is not just an added benefit we have as Christians that defines our friendly relationships or those people who we lean on in troubled times, but Christian community is one of the means by which Christ brings the daily redemption of sin to make us more like him.
In Hebrews 10:24-25 it says, "And let us consider how to stir up one another to love and good works, not neglecting to meet together, as is the habit of some, but encouraging one another, and all the more as you see the Day drawing near." These verses stand as the third of three commands to the church resulting from the salvation we have in Christ and our new relationship with God. Let's take that first phrase, "consider how to stir one another up toward love and good deeds." The words to stir up have the idea to provoke or incite. At first glance, "love and good works" might be taken as simply being charitable, or neighborly. Buy the homeless guy a burrito or give some money to Haiti relief. But I think it is much deeper than that because we don't often have to incite one another to act charitably, but we do have to provoke one another to fight our indwelling sin. This verse is much like the one earlier in Hebrews 3:13: "But exhort one another every day, as long as it is called "today," that none of you may be hardened by the deceitfulness of sin." While exhorting one another to be charitable is part of being in community, it is even more essential that we also stir one another to fight against the sin in our lives so that we can become more like Christ (which, in turn, makes us more charitable!).
That's why I would like to encourage all of you who aren't already in one to join one of our many Growth Groups. A Growth Group is a gathering of 6-16 Christ followers who meet 2-4 times a month, apply the Scriptures together, and pray for and encourage one another. If you are interested in joining one of these groups, please check out our website at http://northpointcorona.org/ministries/adult/growth-groups/. Or you can email Michele Balga at mbalga@northpointcorona.org.
Join a group today!
Scott Williams
1.26.2017
When God's People Give
Hello Family,
I hope you've found rest in the grace of Christ this week. My prayer for you over the last couple of days has come from Psalm 25: "Show us your ways, O Lord, teach us your paths; guide us in your truth and teach us, for you are our God and Savior."
In lieu of a theological or devotional article, this week I just wanted to thank you for your generosity. Next week you'll be receiving your End-of-Year Giving Statements along with a letter from me celebrating some of the (incredible) things that God has done in and through Northpoint over the last twelve months, but for the moment, let me share with you how God has blessed this church financially through your faithful giving.
In October 2016, I sent you a paper letter (yes, those still exist!) in which I informed you that our giving was slightly behind schedule due, in part, to the "sending off" of some mature believers in order to plant ReBuild Church in Riverside. Well, I have been deeply encouraged by how beautifully you responded. As I write this email, our year-to-date giving for this ministry year (August 2016-July 2017) has exceeded both last year's giving and our budgeted income for the same period. Below are the numbers (each through 25 weeks):
'15-'16 Giving: $874,567
'16-'17 Budgeted Giving:   $851,730
'16-'17 Actual Giving: $880,591
There are so many ways that God encourages me through you, and one of those ways is through your faithfulness in giving. Not simply because your generosity reveals your willingness to sacrifice for God's kingdom, but because it shows how deeply you are committed to the gospel of Jesus Christ, and it enables us to continue making disciples who make disciples in cities like Corona, Norco, Riverside, Athens, Gaborone, Barcelona, Pretoria and many others.
May God continue to do more than we ask or imagine, through his mighty power at work within us!
With joy,
Pastor John
1.19.2017
Five Reasons that I Cherish and Champion the Sacredness of Human Life
Hello Family,
I hope you've experienced the richness of God's presence this week. That has been my prayer for you. In three days, we'll celebrate Sanctity of Human Life Sunday (SOHL), a morning on which thousands of churches around the country will consider and reflect on the sacredness and value of human life. And even though I'm not going to preach a message on it, the issue has become so polarizing, separating not just the political left and the right but also members of the same family, that I thought I'd offer a (brief) five-point theological argument for the sacredness of human life at every stage of existence. Here goes:
Every human being is an image-bearer of God.
When God created the world and everything in it, he said to himself, "Let us make man in our image" (Genesis 1:26). The next verse continues: "So God created man in his own image, in the image of God he created them; male and female he created them." But what does that mean?  Does it mean we look like God? That he looks like us? Does God look like what we could consider the perfect human being: muscular, bald, etc.? No, the Scriptures tell us that God is a spirit; he doesn't have a body. But the text is clear: We reflect his likeness. Like God, we are spiritual, emotional, relational, volitional, and imaginative creatures. We bear God's image.  This is a privilege of the human race that is shared by nothing else in creation. Animals don't reflect the image of God. Plants don't. 3D images don't. Computers don't. Human beings alone bear the image of God.
To be an image-bearer of God is to be a person.
Being a divine image-bearer is tantamount to being a person. One leading evangelical ethicist says this: "If we accept the biblical revelation that man is the imago Dei, the image of God, then every human being is a person—a person by nature, a kind of thing different from any other kind, a being whose very existence is a kind of sacrament, a sign of God's grace." Personhood is inextricably tied into being an image-bearer of God.
Personhood begins at conception, not birth.
When Jenine and I were expecting our first child, we went back and forth on names. I wanted John Peery Sloan V. She definitely didn't. And, as leverage for her insistence on having the final say, she reminded me that she was the one experiencing all the discomforts of carrying a very large baby. Oddly enough, it was at our first ultrasound that we spontaneously agreed, "Let's name him John Peery Sloan V, but call him Quinn, Latin for fifth." What was it about that ultrasound that convinced us? We saw this little boy and we thought, he looks like a Quinn. He was clearly a person already, with a unique personality and traits.
Well, that's a cute story, you say, but is there biblical evidence that God views and recognizes human beings as persons before they're born? Actually, there is. In Psalm 139, we have the first-ever, divinely-inspired ultrasound, as it were. David writes: "For you created my inmost being; you knit me together in my mother's womb. I praise you because I am fearfully and wonderfully made. … Your eyes saw my unformed body; all the days ordained for me were written in your book before one of them came to be."
Critical to understanding that song is the Hebrew word golem, which is translated "my unformed body" (verse 16). This is the only time in the Bible this word appears in this way, and language experts contend that it refers to a human embryo, the unshaped mass that has yet to take full bodily form, but in every way is a living person. Dr. John Jefferson Davis comments: "The point to be noted here is that during the earliest stages of human life—when the embryo does not look human—vulnerable human life is seen by God and is the object of divine awareness and concern." To be seen by God, by the way, means more than to just be noticed, it means to be cared for. The eyes of the Lord, the Bible tells us, watch over the ones he loves.  God loves pre-born children and regards them in every way as persons.
4. Thus, all human beings are persons (at conception) and therefore are to be protected, defended, and loved.
The Bible makes it unmistakably clear that God is deeply concerned about those who bear his image. Because God made us in his likeness and breathed life into us, we are of great value and deserving of protection and love. In Genesis chapter 9, in the days following the Great Flood, God himself calls for the fair and honorable treatment of all his image-bearers. He says, "And from each man, too I will demand an accounting for the life of his fellow man. Whoever sheds the blood of man, by man shall his blood be shed; for God made man in his own image." To bring harm to God's image-bearers is to needlessly mar the image of God. And this angers God greatly. Old Testament scholar Henri Blocher says concerning humankind, "God himself has placed his image in his cosmic sanctuary and he wishes due homage to be paid to it by the service of mankind."
Finally, God cares deeply about women.
Cherishing human life naturally also means championing what's best for women. Despite the (often angry) rhetoric that denies the harm suffered by women who undergo abortions, medical evidence, sociological data, and the personal testimonies of many women tell a very different story: Abortion harms women physically, psychologically, relationally, and spiritually. For example, studies show that women who have had abortions are 30% more likely to suffer from anxiety, depression, and suicidal thoughts. On the medical side, women who have abortions are at greater risk for breast, cervical, ovarian, and liver cancer. Because God cares about women, those who reflect his likeness and who are deserving of protection and love, we who also care deeply about women don't want to see any woman go through suffering.
Of course, it must be said that God's grace is sufficient to cover all of our sins, even abortion.  The woman who has undergone an abortion and has run in faith to Jesus is totally and completely cleansed and need not ever be concerned that God is against her or is looking to punish her. She is a daughter of the Most High King. And she is beloved.
On Sunday, we will only briefly mention that it is SOHL Sunday. But that's only because we believe that our chief priority as a gathered church is to lift up the glory of Jesus. Nevertheless, we care much about safeguarding the sacredness of human life and protecting the pre-born for the five reasons I mentioned and more. If you would like to find out how you can assist us in doing so, please email Pastor Brent at bwhitefield@northpointcorona.org.
By his grace,
Pastor John
1.12.2017
The Meaning of Life
Hello Family,
I hope you're having a great week. I have been praying for you, that God would respond to you when you seek him and deliver you from all your fears (Psalm 34:4).
On Tuesday evening, I was on my way to Chick-fil-A with my wife and two of our kids, when I started thinking about something other than getting to our destination (which was no surprise to the rest of my family). In other words, I completely spaced out. After we pulled into a parking lot and I started to turn off the engine, my teenage daughter abruptly asked, "Dad, where are we going?" I said, "We're going to Chick-fil-A for dinner." To which she replied, "This looks like Kohl's." She was being a smart-aleck. It didn't look like Kohl's; it was Kohl's. The bright lights of the K-O-H-L-S sign shone through the windshield like a gibbous moon.
There's an old story about a Middle-eastern rabbi named, Akiva, who decides one afternoon to venture into his village to gather some food and supplies. After a long spell, as dusk sets in and he heads in the direction of his cottage, his mind starts to wander, he gets distracted, and he ends up taking the wrong path.
Suddenly, he hears a voice through the darkness, asking: "Who are you, and why are you here?"
Surprised by the interrogation, Akiva realized he had strayed from his path and gone into a Roman military post, and the voice had come from a young soldier keeping guard from a tower up above. Nevertheless, being a rabbi, as rabbis often do, Akiva answered the question with another question: "How much do they pay you to stand guard and ask that question of all who approach?" The soldier, comforted by the fact that this was not an intruder but a rabbi, answered humbly, "Four drachmas a week." At that point, Akiva said to him, "Young man, I will double your pay if you come with me, stand in front of my house, and ask me that question each morning as I begin my day: 'Who are you, and why are you here?'"
There is a longing in the human heart for a sense of purpose. Who are we? Why are we here? And what have we been placed here to do? Without an answer to those questions, we lose focus.  We drift. And we can easily go astray.
Thankfully, the Bible actually answers that question. "Bring my sons from afar and my daughters from the end of the earth," the Lord says, "everyone who is called by my name, whom I created for my glory, whom I formed and made" (Isaiah 43:6-7). The Westminster Shorter Catechism summarizes man's primary purpose this way: Man's chief end is to glorify and enjoy God forever.
We exist to glorify God. The glory of God is the weight, the devastating beauty, of his manifold perfections. God's glory is so intense that no one can look at him and live. And we can't do anything to add to or take away from God's glory. He's God; God doesn't need us to become more glorious. But we can reflect his glory. And whenever we accentuate, or point to God's perfect attributes—his holiness, love, power, grace, knowledge, mercy, benevolence, etc.—we actually display God's glory.
That all sounds very ethereal, so let me illustrate: When a husband loves his wife sacrificially, he mirrors, albeit imperfectly, God's love for his people, and thereby glorifies God. When a man designs a new building with excellence and ingenuity, he displays something of the creativity of God, and glorifies his Maker. When a girl speaks up for a kid with special needs at school, she showcases the justice of her Creator, and thereby glorifies God. We could go on and on. The Scriptures tell us that we glorify God when we obey him, praise him, receive his gifts with thanksgiving, stand up for his truths, or evangelize the lost (among other things). Anything we do that makes much of God and his divine attributes glorifies him.
Likewise, we exist to enjoy God. This we do by cherishing and resting in the relationship made possible through faith in the work of his Son. As the Puritan, Thomas Watson, wrote, using words that may sound strange to us, "God is a delicious good. That which is the chief good must ravish the soul with pleasure; there must be in it rapturous delight and quintessence of joy. The love of God drops such infinite suavity into the soul as is unspeakable and full of glory." In other words, to know God deeply and intimately, through his Son, is to enjoy him for who he is: The one who satisfies our deepest longings.
If you are in Christ, God loves you deeply and immeasurably. He will not abandon you when you are forced into the pit.  He draws closer.  It may not feel that way. You may not even believe it, but it is the truest truth. He will never forsake you. In fact, he rejected his own Son so that you could be fully accepted and received. He is forever good.
Again, in the words of Watson (my paraphrase): "O Christian, do you not enjoy yourself, do fears disquiet you, desires haunt you? In the day can you find no peace, in the night can you not sleep; do you find no comfort in your life? Let this revive you: God is here and he desires to commune with you. Find purpose in the pursuit of his glory. Find enjoyment in the delight of his presence." May God enable us to do so.
With joy,
Pastor John
1.5.2017
This week, Pastor John hands over the TAGD keyboard to Pastor Brent Whitefield, Northpoint's Pastor of Missions and Outreach.
The Folly of Self-belief
Hello Family,
It is the message of nearly every Disney movie, the mantra of motivational speakers and self-help gurus, and it is what passes for communal wisdom in a community that has rejected divine sources of wisdom. No doubt you have heard it in popular culture, from the lips of your children's teachers and coaches, and perhaps you have even caught yourself repeating it: Be yourself and believe in yourself. The idea is heart-warming and inspirational, and we can find ourselves nodding along in agreement. We instinctively root for the movie hero to draw on their own self-belief to achieve their desired goal. Being yourself and believing in yourself are such articles of faith in our world today that even when they clearly don't deliver the results we want, we move the goalposts. We are deeply committed to rewarding self-belief and self-actualization; this is why every kid gets a trophy.
The trouble is that there are probably few ideas more contrary to the teachings of the Christian faith, and none in our day more destructive. Authenticity has been raised to the level of a cardinal virtue. People who are true to their character, however poor that character may be, people who speak their minds, heedless to the destructiveness or insipidity of their words are commended for being true to themselves, authentic. The Bible describes such a person as a fool. For Christians, wisdom is not found in conforming to their original natures but rather in being transformed by the renewing of their minds and conforming more and more to the example of Christ. The Christian is a new creature, old things have passed away and the new has come. Through regeneration or new birth, a one-time transaction, and through sanctification, an ongoing process, we are no longer what we once were. We are radically and irreversibly changed. This is a work of God, not actualized or assisted by belief in ourselves, but only possible by faith in God.
The idea that it is important to believe in yourself is so destructive precisely because we are such poor objects of faith. Deep down, if we are honest, we know this to be true. Imagine I were to enter the cockpit of a Boeing 747 and profess that I have faith in myself to get the plane off the ground and convey the passengers safely to a distant destination. Would that faith be well placed? No, I possess neither the skill nor the training to make that plane move one inch. All the faith in myself that I could muster wouldn't change that fact. However, were I to tell an experienced pilot: "I have faith in you to get us to our destination," that faith would likely be rewarded. It is not the intensity of faith that is important, but the object of faith.
Belief in myself may be of some value: I can trust myself to tie my own shoes, make my own breakfast, or compose this essay—in other words, I can believe in myself in those facets of life that require little or no faith. But in all those important areas where faith, which is the assurance of things hoped for and conviction of things unseen, is necessary, I recognize that faith in myself is worthless. I freely admit that I am powerless to change my basic character, unable to keep the commandments of God unfailingly, much less to do anything to determine my future and eternal destiny.
The heart of the Christian message is this: If you have experienced the fruit of just being yourself and have seen the limitations of what you can achieve by believing in yourself, you may be bitter and racked with guilt. Don't be disheartened—there is hope. Having recognized that you cannot save yourself, will you now place your faith in the only one who can help? Having relied on your own work and fallen short, will you now rely on the work of Christ on your behalf? Only by doing this will you find the inexpressible joy, eternal peace, and secure rest that this world cannot offer and that you can never give yourself.
Pastor Brent Whitefield
12.29.2016
The Greatest Resolution
Hello Family,
I hope you're finding time to relax and refresh this holiday season. In just two-and-a-half days 2016 will be officially in the books and we'll be faced with the opportunities and challenges of 2017.
I was in the grocery store last New Year's Eve when I heard one of the department managers telling another employee about a party that he was attending later that same night.  He said that his shift ended at 11:00 p.m. and he was going directly to the party, which would last until the early morning hours. With a sheepish grin, he intimated that he wouldn't be proud of what would likely take place that night, but whatever happened, it would be ok, because it was the last day of the year. The next day offered a fresh start. (Their conversation continued as I lingered around the bacon, pretending to deliberate over the different flavors. Raspberry chipotle or apple cinnamon? Hmm.)
The manager went on to tell his much younger cohort that New Year's Day was his favorite holiday—he preferred it over Thanksgiving, Christmas and Halloween—because New Year's Day provided the perfect occasion to put behind him all the bad stuff he'd done and start with a clean slate. Turning the page on the paper calendar was, to him, a visual reminder that everything that happened in the past was indeed in the past. And, at least for a moment, he would be free from the guilt and shame of bad behavior, unfulfilled expectations, and erstwhile lapses in judgment.
I never asked that department manager how the New Year's Eve party went. (I didn't want to disclose my own eavesdropping.) Nor did I inquire if the calendar change brought with it the sort of freedom and guilt-destroying newness that he thought it promised.
I already knew the answer.
Within days of the new calendar year, resolutions are broken, bad habits are resumed, temptations reignited, and the stinging weight of our failures haunts us with new vigor.
But it doesn't have to be that way. If you are in Christ, New Year's Day is just another day.  You don't need a "fresh start" because your slate is already clean. And that will never change. Should you pray more, give more, or serve more? Perhaps. And there's no better time than the present to make those changes. But if you've put your faith in Jesus, you are already forgiven for every past, present and future sin, you are blessed with all spiritual blessings, you are a child of God, victorious over Satan and declared holy and blameless by your Maker. You are now indwelled by the Holy Spirit and secure in Christ.
But why point this out again? Well, so many Christians suffer from perpetual discouragement and defeat because of their failures, and those disappointments are magnified with every blown resolution. Many Christ-followers live in a fog of shame because they're trying so hard, unsuccessfully, to earn Christ's righteousness by their law-keeping and obedience. But that's not how it works in God's economy. In recounting his own successes and setbacks, the Apostle Paul writes: "For his sake I have suffered the loss of all things and count them as rubbish, in order that I may gain Christ and be found in him, not having a righteousness of my own that comes from the law, but that which comes through faith in Christ, the righteousness from God that depends on faith" (Philippians 3:8-9).
My brothers and sisters, if you are in Christ, you are completely forgiven from your sins from the moment you received Jesus by faith and God made you alive in Christ. You will never be condemned for your sins ever again. You have been granted the very righteousness of Jesus not because of your performance—good or bad—but because of your faith in his performance.  Your slate is bright and faultless!  And this is as true on December 31st as it is on January 1st. Certainly, there are horizontal consequences to our sins and offenses, but our failures need not torment us.
So, go ahead and make your resolutions. Exercise more consistently. Eat less ice cream.  Listen better. Resist the pressure to wear skinny jeans. These are just a few of mine. But how about this for an even better one (in the spirit of the Apostle Paul): "I am resolved to recognize and rejoice more fully in the height, depth, width and breadth of God's unrelenting love for me in Jesus, and to awake to the righteousness that is mine in Christ, and sin not."
Should God enable us to do that, through his Spirit, prayer, his word and the fellowship of the saints, we'll also find that those sins that so easily beset us start losing their luster. And the joy that is ours in Christ will be as rich and fulfilling at the beginning of the year as it is at the end.
Happy New Year!
Pastor John     
12.22.2106
This week, Pastor John hands over the TAGD keyboard to Marti Wiegman, Northpoint's Director of Women's Ministries.
Give Me Jesus
Dear Northpoint Family,
Do you remember a Christmas when you got the most amazing gift ever? Something you longed for but only imagined getting in your wildest dreams—like Ralphie and his quest for a Red Ryder BB gun in that classic Christmas movie.
For me, that magical gift came when I was in first grade. Every Christmas Eve Dad would lead the service at church while we kids provided the "special" music (I'm using that word very loosely). Afterwards, we would gather around our family tree for cocoa and cookies. That's when Mom and Dad brought the brightly wrapped gifts out of hiding and put them under the tree—but we couldn't open them until Christmas morning! Though I was the youngest of five, that year the biggest present under the tree had my name on it. It was hard to sleep that night, bubbling over with anticipation of what was inside.
When Christmas morning finally arrived, Dad took his well-worn Bible and read the story of Jesus' birth (which seemed to take FOREVER) as we huddled together in our PJs waiting to open our gifts. When my turn to open a present finally came, I picked the big, mysterious package with its enormous gold bow. Inside was a beautiful bride doll that stood almost three feet tall. She had long brown hair with a flowing veil and a dazzling satin gown accented with pearls and white fur. And when you pulled back her arm, she actually "threw" her bouquet. I loved that doll!
Remembering those childhood Christmases makes me wonder: What good gifts are we anticipating from our Heavenly Father this Christmas? Do we feel the joy of expectation at his blessings even before knowing what he has in store?
To be honest, I find these questions particularly convicting this year. Truth is, I'm running a little low on anticipation this Christmas. My husband's dad passed away just over a month ago, so this will be a difficult holiday season in our home.   Somehow listening in on the joyful chatter about everyone else's family gatherings and celebrations seems to make the pain of our loss ache a little deeper. There are moments when I just kind of want Christmas to come and go as quickly as possible.
I'm sure this is a difficult Christmas for others in our Northpoint family. Maybe you, too, have lost a loved one. Or perhaps your loss is of a different sort—a job, a home, or a relationship. Maybe illness has darkened your celebration. Perhaps a loved one you've known all your life now can't even remember your name.
Does God have good gifts stored up for us even in these dark times? Absolutely! In fact, it's often when the things of this world are darkest that we see the light of his glory shine brightest.
In 2 Corinthians 4:6 (NLT) we read: For God, who said, "Let there be light in the darkness," has made this light shine in our hearts so we could know the glory of God that is seen in the face of Jesus Christ.
No matter how dark a season you find yourself in this Christmas, the light of the love of God is visible, tangible, in the face of Jesus Christ. And that light can outshine every shadow of suffering and sadness. God the Father gave his Son so that whoever believes in him will never perish but have eternal life. Even death loses its sting in the brilliant light of our Father's love.
Here's just one gift I know is waiting for each of us this Christmas. Matthew 1:23 says, speaking of our Savior: "Behold, the virgin shall conceive and bear a son, and they shall call his name Immanuel" (which means God with us).
Think of it: God, the creator of heaven and earth, is with us—loves us, knows us, indwells us. What an amazing gift!  God is with us—as we wait in the oncologist's office, as the employer reviews our resume, as we struggle to revive a loveless marriage, or grieve for a wayward child this Christmas. God is with us in all our moments, bringing light and life, and comfort and joy.
The biggest, brightest present under any tree this Christmas is Jesus. Whatever this world holds for you today, God has given you a Savior who is Christ the Lord. And nothing could be better. Let's dwell on God's most gracious gift, and let the light of his presence bring blessing and joy this Christmas and every day.
Praying your Christmas is merry and bright in our Savior's love,
Marti
12.15.2016
This week, Pastor John hands over the TAGD keyboard to Geoff Grant, Northpoint's Director of Worship.
Merry Christmas? Or Meretricious?
Hello Northpoint,
It's so exciting to get to say something to you before the holiday season. It's been a good exercise for me to stop my Christmas busyness to try to articulate something that would be useful for all of us this time of year. I have a word on our corporate worship in this Christmas season that I hope and pray will be encouraging to us all.
Whilst driving this past week I tuned into KOST 103.5, my official holiday music station. I caught it on a good number. Andy Williams' – It's the Most Wonderful Time of the Year. Alas, this might be the only time of the year when people my age are glad to hear Andy Williams. Following Andy was the classic White Christmas by Bing Crosby, to which I joined in, word for word, trying to match my faux croon to his voice, and nailing his whistle solo note for note.
Incredible.
For eleven months out of the year, we diligently resist hearing these songs, even to the point of debating the appropriate time to roll out the Christmas albums (It's the day after Halloween by the way). Then for two sweet months of the year, these songs rush back into our ears, flow out of our mouths, and fill our lives with memories and tradition. I would guess that all of us have many Christmas carols and songs memorized. I would guess we have heard them so many times, that often we don't really know what the words are, but rather recite them like a kindergartener does the Pledge of Allegiance. These songs are a beautiful tradition of Christmas, and our familiarity of them make it both easy to sing together, and dangerous to do so in a routine and perfunctory way.
As a church family, we sing together on a regular basis for many reasons. A few are: to encourage one another, to admonish one another, to magnify the character of God as a family, to recite the gospel together, to confess our need for Christ together—the list could go on. Our practice of worship in the season of Advent is no different. We still come together to sing for these reasons, only the focus is remembering the incarnation of Christ 2000 years ago and anticipating his return. The danger we face in our singing this time of year is the blending of the traditions of Christmas, be it sacred, or American, Hallmark, or Disney, with the Christ-centered practice of singing songs that remind us of one of the most important days in the history of human existence. It is so easy, for myself included, to recite these Christmas carols as we always have, allowing the words to flow with effortless ease while being completely unaware of the message they proclaim.
One song that many of us may find ourselves reciting in this way is Joy to the World, which we will be singing again this Sunday. We've all heard it so many times. Isaac Watt's classic Christmas hymn. However, most people don't know that the Christmas favorite was not originally written as a Christmas hymn. In fact, when you look closely at what we're singing, it is really a hymn about the second coming of Christ, not the incarnation!
He rules the world with truth and grace
And makes the nations prove
The glories of his righteousness
And wonders of his love
That's second coming language. And yet, completely applicable to our Advent singing! What depth of lyrics! Verse 3 is my favorite:
No more let sins and sorrows grow
Nor thorns infest the ground
He comes to make his blessings flow far as the curse is found
Christ has paid the debt that humanity accrued! Genesis 3:17-18 reads,
"Cursed is the ground because of you; in pain you shall eat of it of it all the days of your life; thorns and thistles it shall bring forth for you;"
Christ bore the thorns, ridding humanity of the curse we brought upon ourselves, and will return again bringing total peace and redeeming the earth itself! We are proclaiming that truth with this song! I implore you, do not allow another week of this Christmas season to pass without thinking and feeling deeply as we sing together. This is our time to boldly declare the majesty of God in beauty and unity!
In preparation for this week, here are the songs we will be singing with a brief note on each.
Joy To The World
He comes to make his blessings flow, far as the curse is found
– We anticipate and long for Christ's return; come Lord Jesus and redeem your creation in totality!
Hark! The Herald Angels Sing
God and sinners reconciled
Mild He lays his glory by, born that men no more may die
– Christ born in the form of a baby to live in perfection, die as our sacrifice, and rise again demonstrating his power to conquer death!
O Come All Ye Faithful
The word of the Father, now in flesh appearing
O come let us adore him
– May adoration for our Christ flow from our hearts as we reflect on his gracious provision.
All Glory Be To Christ
Let living water satisfy
The thirsty without price
– We have nothing to contribute to our sweet salvation; Christ has paid the price in full.
He Shall Reign Forevermore (Choir)
In the bleak midwinter, all creation groans
for a world in darkness, frozen like a stone
– The world in its sinful state groans and longs for redemption.
O Come, O Come Emmanuel
Bid thou our sad divisions cease
And be thyself our king of peace
– Come quickly Lord; unite and redeem your creation.
Merry Christmas to you all; let's worship the Christ together.
Geoff Grant
12.8.2016
The Best (and Worst) of Christmas Carols
Hello Family,
'Tis the season to dust off the ol' holiday canticles. Over the next few weeks, the songs we know and love will be broadcast over the airwaves and web, belted out in neighborhoods by peripatetic carolers, and sung in churches by congregations and choirs. And like you, I'm sure, I enjoy almost all of them. But, it's fair to say that not every Christmas carol deserves a place in holiday lore. Some actually contain some very dubious lines. With that in mind, I'd like to offer the best and worst of Christmas lyrics. I won't be considering the words of some perennial contemporary hits, like Madonna's I Saw Mommy Kissing Santa Clause or Elmo and Patsy's Grandma Got Run Over By A Reindeer, just the ones that we might look to for spiritual edification. As is always my preference, let's start with the positives:
The BEST
1. "Veiled in flesh the Godhead see/ Hail the incarnate Deity/ Pleased as man with man to dwell/ Jesus, our Emmanuel." From Hark the Herald Angels Sing >> It's hard to beat the theological richness and beautiful cadence of this Christmas favorite. God the Son, the Word, the One who set the planets in order and "without whom nothing was made that was made" (John 1:3), became flesh and saw fit to live with us so he could die for us. He is our Emmanuel.
2. "O come, Thou Day-Spring, come and cheer/ Our spirits by Thine advent here/ Disperse the gloomy clouds of night/ And death's dark shadows put to flight." From O Come O Come Emmanuel >> Luke 1 tells us that Zechariah, John the Baptist's father, was "filled with hope …because of the tender mercy of our God, whereby the Dayspring from on high shall visit us." The birth of Jesus marked the metaphorical breaking of dawn, the beginning of the end of the reign of death and darkness on this earth, and this carol captures the hope of that appearing.
3. "Long lay the world in sin and error pining/ Til He appeared and the soul felt its worth/ A thrill of hope the weary world rejoices/ For yonder breaks a new and glorious morn." From O Holy Night >> The world and everything in it continue to groan and await its final redemption (Romans 8). Pain is everywhere. But the first advent of Jesus, that "glorious morn," means that the all-consummating moment of Christ's second appearing is coming. And it won't be long.
4. "Let earth receive her King/ Let every heart/ Prepare Him room/ And heaven and nature sing." From Joy to the World >> Ok, so even though this great Isaac Watts hymn is not really a Christmas song, we sing it at Christmas so it qualifies for this list. This carol, while actually about the second coming of Jesus and not about the incarnation, does include the tender admonition to make room in our hearts for the Savior. A timeless plea, indeed. The lyrics point us to the fulfillment of what Jesus came to do in the first place: conquer sin and death, redeem his lost people, and establish his righteous reign forever.
The WORST
1. "The cattle are lowing/ The poor Baby wakes/ But little Lord Jesus/ No crying He makes."  From Away In A Manger >> Have you ever met, known, or heard about a baby that "makes no crying"?  This is maudlin, at best, and terribly misleading, at worst. It minimizes the humanity of Jesus. As the Scriptures affirm and the church has attested throughout the ages, Jesus was fully human. He suffered all the pains and difficulty that go along with living on a broken world … so that he could identify with us and be our substitute. If he cried when he was a grown man (John 11:35), why would we expect that he would not cry as a baby?
2. "We three kings of Orient are/ Bearing gifts we traverse afar." From We Three Kings >> Written for a Christmas Pageant in New York City in 1857, the problem with Rev. John Henry Hopkins's hymn starts with the very first line. First of all, the travelers who sought out the baby Jesus were magi, not kings. And, secondly, there weren't three of them. There were probably dozens of travelers; we simply don't know. Finally—this has nothing to do with the lyrics, necessarily—no song needs ten verses to make its point!
3.  "Silent Night/ Holy Night/ All is calm/ All is bright." From Silent Night >> As I mentioned in my message on Sunday, the situation at Jesus' birth was neither silent, nor calm or bright. On top of the bleating of sheep, the groaning of cattle, and the crying of a newborn baby, there was likely the quick-fire chatter between a first-time mother and father, wondering what they would do to escape the one who wanted their son dead. The reality is: The whole point of Christmas is that nothing was calm, nothing was bright. That's why Jesus came. That's why God entered into the confines of this earth. To fix what was broken. Once and for all.
4. "They looked up and saw a star/ Shining in the east beyond them far/ And to the earth it gave great light/ And so it continued both day and night." From The First Noel  >> While there's nothing terribly egregious about this classic from the 1800s, there's no indication in the Scriptures that the shepherds saw a star; they were, in fact, guided to Jesus by an angel of the Lord (Luke 1:9). And even if they had seen the Star of Bethlehem, we know that its brightness did not continue both day and night. In fact, it was apparently only visible at certain times (Matthew 2:10). Nevertheless, at least this one ends strongly: "Then let us all with one accord/ Sing praises to our heavenly Lord/ That hath made heaven and earth of naught/ And with his blood mankind hath bought."
Anyway, there's a sampling of the good, bad, and ugly when it comes to Christmas lyrics. I could add more to each category, but I've already exceeded my self-imposed word limit. The point is not to take the fun out of singing these well-known hymns, but to consider carefully what we are reciting together.
I've decided, though, that I like playing the role of the song reviewer. I think now I might turn my critical eye to Christmas movies, and see if I can find any redemptive themes in classics like Will Ferrell's Elf or Chevy Chase's Christmas Vacation. Does Clark Griswold represent a type of … It's a thought not even worth completing.
Merry Christmas,
Pastor John
12.1.2016
A Great (But Neglected) Gift
Hello Family,
As Johnny Mathis once famously crooned "it's beginning to look a lot like Christmas." And while I wasn't quite ready to appreciate the October onslaught of ornaments and festive music in department stores, it's nice now to see the lights and decorations that signify the official arrival of the holiday season. Merry Christmas!
A South African friend and leadership guru recently shared with me his approach to getting the right people on the bus, organizationally speaking. He never tells anyone "you're fired!" a la Donald Trump. His tactic is more, uh, subtle: "I don't know what we would do without you, but as of next month we're going to try." He may have been a slight bit facetious, but my friend realizes that word choice is important.  Terms like "fired," "terminated," "dismissed," and others, carry tremendous baggage. Sadly, so does the word "discipline."
Recently, we concluded a Sunday morning teaching series on Vision. In it, I identified and explained from the Scriptures the seven core commitments that we, at Northpoint, have embraced in our mission to make disciples who make disciples for God's glory and the joy of all peoples. Those core values are: Gospel, Worship, Community, Service, Multiplication, Prayer, and Discipline.
Not surprisingly, the most difficult value to accept and certainly apply is the last one: The practice of church discipline. It seems to be a lost art. Consequently, the purity of the bride of Christ is suffering. As unaddressed scandals plague the church and leaders act immorally with erstwhile impunity, a watching world is left to ask: "How are Christians any different than we are?"
Well, in the just-released December 2016 edition of Christianity Today, editor in chief Mark Galli, wrote a helpful article entitled The Grace of Church Disciple (sounds exactly like the title of my sermon on the matter, but I wrote mine first!). In the essay Galli persuades:
"Discipline is not something most American churches practice. It's not even something they talk about. … A recent Barna study found that only 5 percent of Christians involved in a church say their church holds them accountable. … We live in a world that listens to a steady song of absolute autonomy, with its refrains of "my rights," "my freedom," and "my truth." Others advocate communities of inclusion that embrace the intellectually marginalized. At the same time, media and university elites who sing such songs are the very ones who "excommunicate" those who don't agree with their ideas.  Thus the increasing number of secular campuses that refuse to welcome speakers with "hurtful" points of view.  So in ways, everybody agrees that groups have the right to determine their intellectual boundaries. For the church—which insists on ideas the culture finds astonishing—it's crucial to be clear about its doctrinal and ethical standards.
Some call [discipline] a "witch hunt." We call it discipleship.
There is plenty of room for grace in church discipline. And forgiveness. And gentle teaching of those who have yet to make up their minds: "Opponents must be gently instructed, in the hope that God will grant them repentance leading them to a knowledge of the truth," wrote Paul (2Tim. 2:25). In the end, organizations will have to be honest and charitable about core beliefs and ethics: "Therefore let us keep the Festival, not with the old bread leavened with malice and wickedness, but with the unleavened bread of sincerity and truth" (1 Cor. 5:8).
American evangelicalism has been right to repudiate arbitrary markers of holiness like prohibitions on playing cards and watching movies. But are we treating people with grace if we allow leaders to traffic in beliefs and ethics that sabotage the ability of both leaders and followers to be conformed to the image of Christ? It is not a purge to ensure that leaders agree on what constitutes a sound mind, a good heart, and a holy life in Christ. It's what love looks like in Christ's community."
To Galli's point, far from being a "witch hunt," discipline is simply the gracious process of helping one another stay rooted in the biblical reality of who God is, what he has done, and who we are to him. Sin destroys relationships. It destroys people. It poisons the church and ruins her witness. The reason that Discipline is a core commitment is because we know the devastation that unaddressed sin causes, both to the purity of the church and the well-being of God's people. Without it, James suggests in his letter, the souls of some are destroyed.
Now, why revive this topic again, especially during the season of Advent? Isn't this the season of love and good cheer? Really, the only reason I brought it up is because the subject appears in the new CT. But I think it's always of value to reflect on the varied and beautiful ways that God keeps his children close to himself; and one of those ways is church discipline.
This Christmas, as you consider all the gifts that are ours in Christ, don't forget the gift of the discipline of God via the local church. As the writer of Hebrews reminds "My son, do not regard lightly the discipline of the Lord, nor be weary when reproved by him. For the Lord disciplines the one he loves, and chastises every son whom he receives." (Hebrews 12:5-6 ESV)
By his grace,
Pastor John
11.23.2016
This week, Pastor John hands over the TAGD keyboard to Marti Wiegman, Northpoint's Director of Women's Ministries.
Ho Ho Ho
Dear Northpoint Family,
Do you ever wonder where some of our holiday traditions come from? Like, who decided green bean casserole should be on every Thanksgiving table? Don't get me wrong! Any side dish recipe that requires you to open a couple cans, stir and heat has my vote.
The Christmas season is here and one of the traditional images we see all around us is Santa Claus, with his red suit, trimmed in "faux" fur, of course, his rosy cheeks, and that little round belly that shakes "like a bowlful of jelly." (Perhaps Mrs. Claus will give him a Bowflex this Christmas.)
As Christians, it's hard not to take offense at this fictional character who seems to steal the spotlight year after year, displacing Christ from the center of our attention, even as we celebrate HIS birth. But perhaps knowing a little bit about the true story behind this tradition will brighten our perspective.
The true story of Santa Claus—or Saint Nick—began in the third century in the Greek village of Patara. Nicholas was born to wealthy parents who raised him to be a devout Christian. His parents died in an epidemic while Nicholas was still young. Obeying Jesus' words to "sell your possessions and give to the poor" (Matthew 19:21), Nicholas used his entire inheritance to assist the needy, the sick, and the suffering. He dedicated his life to serving God and entered the ministry as a young man. Nicholas became known near and far for his generosity to those in need and his love for children.
Under the Roman Emperor Diocletian, Christians were persecuted ruthlessly. Nicholas was exiled and imprisoned for his faith. It is said that at this time the prisons were so full of bishops, priests, and deacons, there was no room for the real criminals—murderers, thieves, and robbers.
After his release, Nicholas took part in the Council of Nicea convened by Emperor Constantine in AD 325. Over 300 bishops and leaders came from all over the Christian world to define and affirm the essential tenants of the Christian faith, including the nature of God and the Trinity. A man named Arius vigorously argued that Jesus Christ was not an eternal being and therefore not truly divine. History records that Nicholas became so enraged at Arius' ongoing heretical rant, that he crossed the room and slapped Arius across the face! Ashamed of his outburst, Nicholas was reprimanded for losing his temper. But the council went on to overwhelmingly uphold the doctrine of Christ's true deity—not because it was a doctrine determined by men, but it is the clear teaching of the Word of God.
At the conclusion of the Council, Constantine documented their affirmation of the Apostle's teachings in Scripture for all time in what is now known as the Nicene Creed. Following is a part of this Creed that speaks to the glory of our Savior, Jesus Christ.
We believe … in one Lord Jesus Christ,
the only Son of God,
begotten from the Father before all ages,
God from God,
Light from Light,
true God from true God,
begotten, not made;
of the same essence as the Father.
Through him all things were made.
For us and for our salvation
he came down from heaven;
he became incarnate by the Holy Spirit and the virgin Mary,
and was made human.
He was crucified for us under Pontius Pilate;
he suffered and was buried.
The third day he rose again, according to the Scriptures.
He ascended to heaven
and is seated at the right hand of the Father.
He will come again with glory
to judge the living and the dead.
His kingdom will never end.
What an amazing Savior! This is the story of Christmas—the glorious reality behind all the traditions—that we need to remind ourselves of and proclaim to the world.
Quoting the Prophet Isaiah, Matthew 4:16 says, "The people dwelling in darkness have seen a great light, and for those dwelling in the region and shadow of death, on them a light has dawned." That light is our Savior, Jesus Christ. Just a chapter later, in Matthew 5:14, Jesus tells his followers, "YOU are the light of the world." Christ came into our world, bringing the light of eternal life. Now we are to continue shining that light to those in darkness around us.
This Christmas, let's determine to focus on shining the light of Christ and bringing attention to him wherever we can. This is such a unique time to share our faith in our ordinary routines: walking through stores as we hear the traditional carols proclaiming the Savior, including Jesus in our home decorations inside and out, or sending Christmas cards with the gospel message. Just the simple greeting, "Merry Christmas," can open the door to a conversation about the Savior. The opportunities are many if we will look for ways to be a light to the world around us.
That's why we have incorporated the true story of Saint Nicholas into our Christmas Tea drama this year. We are also including a copy of the complete Nicene Creed in each woman's printed program. What a great opportunity to proclaim the truth of who Jesus Christ truly is! We will be hosting 672 guests during our three showings on December 2 and 3, many of whom are not believers or don't have a church home. We would truly appreciate your prayers!
There is such a rich and amazing truth behind our Christmas traditions—one that can make an eternal difference. Let's tell the story.
Celebrating the Savior,
Marti Wiegman
11.17.2016
This week, Pastor John hands over the TAGD keyboard to Pastor Brent Whitefield, Northpoint's Pastor of Missions and Outreach.
What Are You Thankful for This Year?
Over the next week, Christians around our nation will take time to reflect on things for which they are thankful. This is a wonderful exercise and one that should not be confined to a few days a year. One of the most important responses to the gift of salvation is gratitude to God for all he has done for us. High on the list will be gratitude for a year of health and material stability or prosperity. These are things for which we should be thankful indeed. I get around to different places in the world enough to see that we are uniquely blessed as a people with nearly every material blessing we can imagine. Part of the exercise of gratitude is not taking these things for granted.
However, might I suggest that as Christians there are more important things for which to be grateful that we often neglect? As pleasant as material comforts can be, do they not pale in comparison to the spiritual blessings that are ours in Christ? How often do we give thanks that we have been adopted into God's family, are given the right to be called his children and share a spiritual inheritance with Christ? Or that we can be confident of an eternity to spend with him? Or that we have the fruit of the Spirit, exemplified by love, joy, peace, etc.; qualities that are otherwise so elusive in our world today? Do we express gratitude for the fact that God chooses to use us to serve the Kingdom? The list of spiritual blessings could go on ad infinitum (as will the very blessings themselves). If we are thankful for the temporal blessings that end, at the latest, when we die, so much more should we be grateful for the spiritual blessings that last for all eternity.
And there is one other object of gratitude that is commended to us in Scripture: One another. In nearly all of his epistles, the Apostle Paul starts by expressing his thanks to God for other believers who have encouraged and sustained him by their acts of kindness, prayers, or example of faith. This would be a wonderful exercise for us this Thanksgiving: To give thanks to God for those believers He has placed in our lives for our encouragement, friendship, and prayer. Why not make a list of people who have been encouragers and sustainers in your life for whom you can thank the Lord? Thank the Lord for them and let them know that they are, for you, a reason for gratitude to God. Tell them specifically why this is so. Don't merely say: "I thank God for you," but rather: "I thank God for you because of the many times you have encouraged me," or, "I am grateful for the obvious faith you demonstrate in the midst of your challenges." This doesn't require a carefully-crafted, 30-page missive. A quick word in the lobby at church or a text message can be a great encouragement. Try it this year and see. …
Pastor Brent
11.10.2016
The Payoff of Persistence
Hello Family,
I hope you've had a restful week in the Lord.
When I was in the television industry and trying to move to a bigger market, I sent my resume tape to a prominent NBC station. In television, market size is everything. If you're able to break into the business, you typically strive to gradually move up to larger markets, with Chicago, Los Angeles, and New York being the top three and Juneau, Alaska, as I recall, being near the bottom.
Well, I was trying to make a 150-market jump, which was a rare thing. So I sent my tape, just as dozens of other people did, to the sports director of the aforementioned NBC station, to inquire about the open position of sports reporter. And then I began calling. And I called some more. And I left messages. "Did you receive my tape?" I would ask. Finally, a call back: "I haven't looked at any tapes yet," was the response. But since I had been on the other side as a sports director at a (much) smaller market, I knew that most of the time, only about a third of the tapes are ever reviewed. So I called again a few days later. Same routine. Finally, I just showed up at the station, uninvited and announced, and somehow evaded security. Catching a glimpse of the sports director in the hallway, I said, "Excuse me, I'm John Sloan; I've called a few times about my resume tape." He stared at me and said, "How'd you get in here?" Finally, I convinced him to look at my tape and shortly after that he hired me, but I'm sure that it was just to get me off his back. This man was so annoyed with me that he ultimately gave me what I wanted.
In Luke 18, Jesus tells the story of an unjust judge who finally gives in to the pleas of a helpless widow, mainly because she keeps bothering him. And Jesus shares this parable as a way to show us a little of what God is like.
Don't get me wrong: God is in no way unjust, nor does he resent our presence … but he is moved by our persistence.
Here, Jesus uses the classic lesser-to-greater argument that seems to be a favorite of his. Jesus says, "If this guy, who is known to be hard and uncaring, a miserable and heartless person, if this guy responds to persistence, then how much more can we count on God, who is loving and tender and compassionate to respond to our unyielding petitions."
It reminds us of a question that Jesus asks rhetorically in a different book: "Which one of you, if his son asks him for bread, will give him a stone? Or if he asks for a fish, will give him a serpent? If you then, who are evil, know how to give good gifts to your children, how much more will your Father who is in heaven give good things to those who ask him!" (Matthew 7:9-11).
In fact, it's because God is very much unlike the judge that we can trust that he will hear and respond to our prayers, and not because we wear God down and he gets tired of us, but because he loves us with a perfect love and deeply desires to come to the aid of his needy children.
This Sunday morning we're wrapping up our Vision Series by talking about prayer, the lifeblood of the Christian and an essential component to any disciple-making endeavor.  (We're also going to praise God in song and hear the testimonies of eight folks who are being baptized.) But as we get to the Lord's Day, let me encourage you with this truth: If you are in Christ, you have a Father who loves you. And not only does he love you, he is moved by your desperation. When his children cry out to him, he hears us.
This doesn't mean that, by praying persistently, you will always get precisely what you ask for. But it does mean that God will come to your rescue with wisdom, mercy, grace, and power and will supply your every need, in ways that you may expect or ways you never imagined possible.
See you in a few days!
Pastor John
11.3.2016
A Surprising and Disheartening Endorsement
Hello Family,
I have been praying for you over the last few days, that our Father would enable you to recognize and rejoice in his love.
It's been an interesting week in the world of social media (and this is to say nothing of the endless pre-election barbs that have been circulating on television and online.) Two prominent Christian personalities have come out in support of homosexual relationships: A theological legend and a popular author and conference speaker. This has set the blogosphere ablaze. So much has been written over the last 96 hours about these surprising endorsements that I would not presume to add much to the discussion in one 700-word essay. But it does appear to me that the root of the issue is a singular problem: A crisis of authority.
Which is nothing new, really.
Consider the situation at Athens nearly 2,000 years ago. It's the middle of the first century, and the Apostle Paul finds himself immersed in a world of endless ideologies and countless deities. The religious formula for living among the gods was: "I'll do for you, if you do for me." If you wanted the gods to approve of you, then you made sacrifices for them. And if you worshipped them in the way that they accepted, and did enough to satisfy them, then they would (hopefully) respond favorably to you.
But to these very open-minded and uber-tolerant people of Athens, Paul says: Let me tell you about the True God, the one who made the world and everything in it. Paul says he is "Lord of heaven and earth" (Acts 17:24).
This is language of absolute authority. In a society where the gods competed for the affection and loyalty of humanity, Paul says, this God competes with no one. He needs nothing from anyone and is indebted to no one. He made the world, yet he stands apart from the world. He is like no one else. Paul goes on to say that "he gives to all mankind life and breath and everything"; and, "he is not served by human hands as though he needed anything" (Acts 17:25).
This is Paul's way of saying: God cannot be manipulated.
When are we most susceptible to being manipulated? It's when we need something. A boy who doesn't have enough money for lunch will accept just about anything in exchange for food.  Give up his coat? Sure. Hand over his test answers? Certainly. A girl desperate to garner the approval of her peers will resort to just about any tactic in order to secure that elusive acceptance. Make a fool of herself? Surrender her convictions? If that's what it takes.
But the God that Paul describes lacks nothing. So he is not vulnerable to the schemes and subterfuge of the ones he made. This God is creator of all, above all, sovereign over all, and caves to no one. Consequently, as maker of heaven and earth, and the one on whom all creation depends for existence, God Himself determines what's right and wrong.
Said another way: This God, who is the creator and sustainer of all things, is the one we depend on; not just existentially but morally. And his commands are neither arbitrary nor irrational, but they flow out of his holy character. And his identity as God. Thus God says throughout the Old Testament, "Do this. Don't do that. I am the Lord."
Now, here's how this relates to the discussion about human sexuality.
We all have feelings and opinions about everything, including sex, love, and relationships. And those opinions or feelings naturally bleed into the arena of morality. "I simply feel that this is the right thing to do," we say. Or, "I just believe that this is wrong." For example, as I've shared with you from the pulpit, I believe that it's wrong for a woman to ask a man to go shopping if there's no plan to buy anything. I just think that's wrong. I think that's a sin.
But here's the deal. What I think or feel doesn't determine what's right or wrong, regardless of how passionate or sincere I am. Right and wrong is determined by the God on whom we depend for everything, and the one whose voice thunders from Mount Sinai, saying, "I am the Lord your God. … You shall have no other gods before me" (Exodus 20:2-3).
The same is true about human sexuality as it is for every other area of ethics: The way I feel about something doesn't determine what is right or wrong. What matters is: What has God said. (And, frankly, what God has said about human sexuality is unambiguous: The one-flesh union was created for one woman and one man to enjoy within the covenant of marriage; and any deviation from that dishonors God and flaunts his design.)
But here's what's so beautiful about what God says. God doesn't simply give us a bunch of rules to hold us back or to squelch our joy. He gives us commands based on his character to help us to fully enjoy everything he's made in the context that's best for us. And then, when we enjoy things in that way, we are inclined, in gratitude, to turn to him, the giver of those good things.
I love this statement by N.T. Wright, as it relates to God's prerogatives: "Authority is not the power to control people, and crush them, and keep them in little boxes. The church often tries to do that—to tidy people up. Rather, God's authority vested in scripture is designed, as all God's authority is designed, to liberate human beings, to judge and condemn evil and sin in the world in order to set people free to be fully human."
So, as you read the discussions about human sexuality and, perhaps, end up surprised (or conflicted) by the arguments of people whose opinions you value, ask yourself the questions: On what authority are they making these assertions? How are they engaging the text of scripture, which is "breathed out by God and profitable for doctrine, reproof, corrections and instruction in righteousness" (2 Timothy 3:16). If they are not submitting to the authority of God, who has spoken to us in his Word, not only are their assertions misguided, but they fail to appreciate the great freedom that comes with obedience to a gracious and loving God.
For his glory,
Pastor John
10.27.2016
This week, Pastor John hands over the TAGD keyboard to Marti Wiegman, Northpoint's Director of Women's Ministries.
Hope for the Prodigal
It's that time of year—the season of candy and costumes, of harvest fairs and Halloween parties, of fall leaves, and pumpkin-flavored everything.
I'm reminded of Pastor John's challenge to us to use this season as an opportunity to be a witness in our neighborhoods; to not withdraw from the darkness but to find ways to step forward with the light of Christ's love. I've heard some very fun and creative ideas from a number of you on being a witness this Halloween. Be sure to keep sharing these with others here at Northpoint. Let's continue to be a challenge to one another.
Lately, I've been having a lot of conversations with women in our church family about something that truly brings fear to our hearts. . . .
The worst nightmare of many Christian parents is to have a prodigal—a child who makes his own destructive way through life. Or a child whose heart grows cold and hard, leaving no space for God in her life. Of course, I'm speaking in general terms of "children." Your prodigal might be a spouse, a sibling, a parent, a grandchild, a best friend—anyone near and dear to your heart who does the unthinkable and turns their back on God. And now your soul is in anguish.
We talk to them, write to them, quote Scripture to them. We bring in the professionals—maybe a pastor or counselor. We yell and cry. We beg and bribe. We do everything we know to do to turn them around. But eventually, the truth hits us: We do not have the power to change a human heart; only God can.
My challenge to all of us with aching hearts is to see this truth in the right light: God CAN!
My husband Tom has a younger brother—17 years younger. Danny grew up in a much different home than Tom. After a lifetime as missionaries, a heart-wrenching moral collapse devastated the family and his parents ultimately divorced. Danny was a teenager at the time. He and his mom ended up living in a low-income apartment in a rough neighborhood in Dallas. Here every negative influence was magnified. Danny got into drugs and dropped out of school. He was thrown into jail and then prison. Each time was followed by an unsuccessful stint in rehab. There were moments of hope through the years, but far more seasons of failure, as each time Danny cycled further downward.
This went on for 15 years as those of us who loved him prayed. I have to confess I held out little hope that Danny would ever get it together. It'll take a miracle to turn Danny around, we told each other again and again. For myself, I didn't say those words with faith, as if this was something I really believed God was going to do. Instead, it was more of an expression of just how hopeless I perceived the situation to be.
Finally, Danny hit bottom. His alcoholism nearly claimed his life and he ended up in a hospital in Chicago. That's when God began to work His miracle of love and grace. Danny became involved with an amazing ministry called Teen Challenge that God used to turn him around. It took 18 months of residential treatment centered on God's Word to set his feet on solid ground and get him walking in the light.
That was six years ago. Danny has continued to follow the Lord, though the road has often been hard. It took time to get integrated into a loving church home, to repair broken relationships, to build a positive work history, all while continuing to make godly choices one day at a time.
Next weekend in Chicago, on November 5, Danny is getting married to a wonderful Christian girl. Tom will be standing beside him as he says his vows, while the entire family rejoices at the miracle God has worked. Danny is enrolled at Moody Bible Institute where he will begin studies in January with the goal of becoming a substance abuse counselor. HOW GREAT IS OUR GOD!
For each one of us who is still standing in the yard, shielding our eyes from the sun, hoping to catch a glimpse of our prodigal coming over the horizon, I pray this testimony lifts your heart. God CAN rescue our loved one and call him or her home.
We tend to look at the mess our loved one has created, rather than keeping our eyes focused on our God who can do all things. You might be thinking, I don't see how God can turn my son around. You don't have to. Because God can handle this. He's got this. Humanly speaking, it is impossible. But with God, everything is possible (Matthew 19:26).
Ephesians 1:18 (The Voice) says it this way: "Open the eyes of their hearts, and let the light of Your truth flood in."
Don't give up. Keep on praying. Keep believing. You never know what God will do.
With hope in Him,
Marti 
10.20.2016
This week, Pastor John hands over the TAGD keyboard to Pastor Brent Whitefield, Northpoint's Pastor of Missions and Outreach.
An Invitation to Mission Week 2016 – "Equipping the Saints"
How well equipped are you to be a disciple-making agent in God's kingdom? Could you use some additional training and inspiration for the task? If so, be sure to join us next week, for our fourth annual Mission Week at Northpoint. Nearly every night of the week we have an event which will inform you about the cross-cultural ministries of the church and our missionary partners and train you for action. I promise that you will be encouraged and convicted, inspired and sobered, informed and equipped, as you hear what God is doing in the world and get a better sense of the role you have to play in it. It will not be a week full of sermons. There will be personal testimonies, games, prizes, a silent auction, and much more. Join us as often as you can.
Below is the calendar of events.
Pastor Brent
Mission Week Schedule
Sunday, October 23
9:00 a.m. & 10:45 a.m. – Morning Worship Services
Mission Moment – Brent Fulton, President of ChinaSource
6:30 (7:00 p.m.) to 8:30 p.m. – Christianity Explored continues
Explores the basics of the Christian message through the Gospel of Mark. This is week four of the course. (All are welcome to come and check it out. If you are coming as a one-time visitor to the course, please arrive at 7:00 p.m.)
Heritage Hall
Monday, October 24
6:30 p.m. to 8:00 p.m. – An Evening with Ajwad Swedan, CRU missionary in Jordan
Come hear about the spread of the gospel in a difficult Muslim-dominated field and learn how you can share the gospel with your Muslim neighbors.
Heritage Hall. Child care to sixth grade. Light refreshments will be served.
Tuesday, October 25
6:30 p.m. to 8:00 p.m. – Church Planting Update – Rebuild Fellowship
Hear a report on the progress of Rebuild Fellowship in Riverside and learn how this work relates to Northpoint's mission strategy for the years to come.
Heritage Hall. Child care to sixth grade. Light refreshments will be served.
Wednesday, October 26
6:30 p.m. to 8:00 p.m. – Northpoint Summer Mission Team Reports
2016 was a record summer for short-term mission teams from our church. We will hear reports from the groups that went to Greece, Botswana, and Alaska
Heritage Hall. Child care to sixth grade. Light refreshments will be served.
Thursday, October 27
6:30 p.m. to 8:00 p.m. – The Gospel in Pakistan
Bruce Camp and Saleem Massey, fresh off several weeks of ministry in Pakistan, will describe the challenges and triumphs of gospel work in one of the most difficult countries for Christian witness.
Heritage Hall. Child care to sixth grade. Light refreshments will be served.
Saturday, Oct. 29
6:30 p.m. to 8:00 p.m. – Life Explored – Southern California Launch Event
Join with church leaders from around Southern California as we are introduced to Life Explored, a new evangelistic curriculum produced by Christianity Explored Ministries. Barry Cooper and Kevin Allen will host this exciting event.
Heritage Hall. Light refreshments will be served.
Sunday, October 27 (Reformation Sunday)
9:00 a.m. & 10:45 a.m. – Morning Worship Services
Speaker: Barry Cooper – Christianity Explored Ministries
10.6.2016
Am I Supposed To Forgive and Forget?
Hello Family,
One of the questions that I'm asked repeatedly is this: Am I really supposed to forgive and forget? If you've been betrayed, abused, or hurt deeply, perhaps this question has haunted you for a long time. Well, like many good theological and relational conundra, the answer is not as simple as we would like to imagine.
Unfortunately, the whole concept of forgiveness, in my estimation, has fallen on hard times. Any idea of forgiveness that deals with "healing ourselves" or "coming to terms with an unfair world," "forgiving ourselves," or even worse, "forgiving God"—which has become an emphasis in some therapeutic forgiveness—misses the point badly. True forgiveness is about being healed, but it's about being healed by God and others in and through a process that begins with a particular transaction.
Consider the words of the Apostle Paul: "He has delivered us from the domain of darkness and transferred us to the kingdom of his beloved Son, in whom we have redemption, the forgiveness of sins (Colossians 1:13-14).
We don't talk a lot about Greek grammar and syntax around here (which I have to believe you're glad about!) but sometimes it's necessary. And here is one of those cases. The phrase "the forgiveness of sins" is, grammatically speaking, in apposition to the word "redemption." And when a phrase appears in apposition to another it is best read as, "namely" or "which is." This means that the literal reading of Colossians 1:14 is this: In Him we have redemption, namely the forgiveness of sins.
In other words, what we see is: Redemption is the forgiveness of sins. Or we can turn it around and say: Forgiveness = Redemption. We read the same thing in Ephesians: "In him we have redemption through his blood, the forgiveness of our sins, according to the riches of his grace" (Ephesians 1:7).
Forgiveness is redemption.
Well, what is redemption? Redemption is one of the most important concepts in the Bible. A little background helps. In the ancient world, a person could become a slave by any number of ways, for example, through financial hardship (sometimes people would sell their own family into slavery for money), through birth (some people were born into slavery), and through military defeat (losing at war). But the price for a slave's freedom could be paid by another person, who, by remitting the appropriate payment, bought that person out of bondage.
That was redemption. Redemption refers to a purchase of freedom, the liberation from a debt.  We're not, of course, slaves in the way I just described, but we as human beings are born enslaved to sin. And every time we sin against God, we incur a debt against him. Not a financial debt. A moral debt. One of the most common ways to talk about sin in the Bible is to refer to it as debt. That's the prevailing metaphor. The idea is that we have a moral obligation that we have not met.
Every sin incurs a debt and every debt demands payment. Even though God offers forgiveness freely, he makes it available at great cost to himself. God sent his own son to pay the penalty for our sins. Motivated by amazing love, God punished his sinless Son for us so that we could be forgiven of the greatest betrayal ever: Our revolt against the God who made us for himself.  And when we repent and believe in Jesus—that he lived a sinless life, died on the cross and rose again for our sins—God wipes our debt completely clean, and stamps it "Paid" by Jesus.
Paul says this in Colossians 2:13-14: "And you, who were dead in your trespasses and the uncircumcision of your flesh, God made alive together with him, having forgiven us all our trespasses, by canceling the record of debt that stood against us with its legal demands. This he set aside, nailing it to the cross."
So forgiveness equals redemption, the liberation from a debt. That's what God does for us. If you are in Christ, you have been once for all forgiven from your sins and released from your moral debt.
The whole concept of debt is a metaphor that's used for our sin against one another as well.  Every time you sin you incur a moral debt against the person you wrong. When Joseph's brothers sold him into slavery, and the whole story was finally playing out, they worried about what Joseph might do to them once he figured out their identity. Jacob, the boys' father, instructed them to say to Joseph: "Please forgive the debts of your brothers." When the disciples asked Jesus to teach them to pray, he said, "Pray like this … 'Father, forgive us our debts, as we forgive our debtors (that is, those who are indebted to us).'"
Again, this is not financial, but a moral debt. When we sin against another person, we incur a debt against them. When someone else sins against us, they incur a debt against us. And when the person who sins against us repents, we cancel that debt owed to us by forgiving them. In following our Lord's example, who instructed us to forgive others, even as God in Christ has forgiven us, we liberate from debt the person who sinned against us. Their debt is wiped out.  They are pardoned of their enslavement. We welcome them back into restored relationship with us.
But are we to forget what they have done?
Ken Sande, in his book, The Peacemaker, says a person makes five commitments when granting forgiveness to another person:
"I will not dwell on this incident."
"I will not bring up this incident again and use it against you."
"I will not seek revenge."
"I will not talk to others about this incident."
"I will not let this incident stand between us or hinder our personal relationship."
Those are the evidences of true forgiveness. Notice, forgiveness doesn't necessarily imply the elimination of consequences. Nor does forgiveness necessarily mean acting as though an offense never happened. Remember when the aforementioned Joseph received his own brothers, who had sold him into slavery and left him for dead, he was deeply moved and said to them: "Come near to me, please." And they came near. And he said, "I am your brother, Joseph, whom you sold into Egypt" (Genesis 45:4).
Jacob didn't hold his brothers' offense against them. But it wasn't as though he didn't remember it, either.  ­
Certainly, we do not actively keep a record of those wrongs committed against us, and nor do we let those grievances stand between us. We welcome into a restored relationship those who repent. However, we still exercise discernment. For example, if a person steals my wallet multiple times, spends whatever money is in there, and then comes to me and asks forgiveness, I will forgive … but I'm not likely to set down my wallet in front of them and leave the room.  Likewise, if a teenage son repeatedly downloads pornography and asks for forgiveness, we absolutely forgive. But we may not want to give that same son the password to the computer.
Do we forgive and forget? Yes, in all the ways that I outlined. But for many people, some events, names, places, and memories are impossible to disremember. And those who have been hurt shouldn't feel guilty at their inability to purge all traces of those events from their minds forever.
After all, while God forgives our sins and removes them as far as the east is from the west, the cross stands a reminder of our failures, shortcomings, sins, and the price that God paid in redeeming us: The substitutionary death of his only Son.
Should we forgive and forget? Yes … depending on what you mean by "forget."
In Him,
Pastor John
9.29.2016
Your Disappearing Past
Hello Family,
I hope you're surviving these sweltering temperatures. My prayer for you this week has been that the Holy Spirit would pour out God's love in your hearts (Romans 5:5).
Since 2001, I have officiated at dozens of memorial services. I've preached at funerals of faithful believers (including many folks from Northpoint who have gone to be with the Lord), and I've offered the gospel at the "celebrations" for staunch atheists. I've seen all kinds of enigmatic (and heart-breaking) behaviors. I've seen drunken relatives seize the microphone for ill-advised and poorly timed comments, and I've seen family feuds that would make Steve Harvey blush. I've seen more than one shouting match. But, by God's grace, I've never had anyone yell at me during a service.
As a first year seminary student, I heard Dr. Benjamin Baker tell the story of delivering the message at the funeral for a well-known drug kingpin in Detroit, Michigan. Dr. Baker said that he made the point in a crowd of addicts, prostitutes, and ex-convicts that God had the power to erase their past records and make them new. But when he announced to the audience that, "God can give you back your virginity," that was more than one lady could handle. Standing up in the middle of the homily, she shouted angrily, "You're crazy. You don't know what I've done." (Naturally, this makes for an awkward moment for a preacher.  Do I respond? Look away? Attempt some humor? Crawl to the nearest exit?)
Despite the protestation, the reality is that Dr. Baker was exactly right in what he was saying. According to the Scriptures, believers in Christ enjoy something seemingly impossible: A completely clean slate.
The Apostle Paul says in 2 Corinthians 5:21: "For our sake he made him to be sin who knew no sin, so that in him we might become the righteousness of God."
Jesus lived a perfect life, obeying fully all of the Father's commands. He never sinned. Even so, for the sake of our justification—the divine declaration of the unrighteous as positionally righteous—God punished Jesus for our offenses. Even though "he knew no sin" God "made him to be sin," in that, Jesus became a "sin offering" for those he would save.
What happened on the cross was: God put the ledgers away and settled all accounts. He put all of our offenses on Jesus. Never again would God's children have to worry about God's wrath. Never again would we, as God's sons and daughters, have to worry about how God sees us. At the moment God saves us, when we put our faith in Jesus, Jesus' record becomes our record. His merit becomes our merit. God treats us as righteous because he treated Christ as unrighteous.
The sixteenth century German theologian, Zacharius Ursinus, said it this way: "God grants and credits to me the perfect satisfaction, righteousness, and holiness of Christ, as if I had never sinned nor been a sinner, as if I had been perfectly obedient as Christ was obedient for me" (italics mine).
When God sees us, he looks at us as though we have never sinned. That's pretty incredible.  And it gets even better: God sees us as not simply as innocent or morally neutral, but as perfectly obedient, forever wrapped in the righteousness of our Savior.
In other words, we are given a new identity and a new history.
To be sure, in one sense, what's done is done. Jesus is not like Superman who flies around the earth at the speed of light in order to turn back time (as Christopher Reeves's character did in the first Superman movie). What's already transpired can neither be changed nor revised. Nor should we deny that our past shapes us in some way. It certainly plays a part in how we view the world, ourselves, where we call home, how we respond to trials. But it doesn't have to define us.
So often people spend their whole lives dwelling on their past—analyzing, scrutinizing, and reliving it, trying desperately to understand it. Others invest much of their emotional energy trying to hide their past, going to great pains to keep some past behavior from their friends, family, and even their spouse. And all those efforts simply lead to exhaustion because they give the past an unhealthy prominence.
But God says, the past has no prominence is his perspective toward us. He has removed our sins as far as the east is from the west (Psalm 103:12). In other words, he no longer considers them. They are infinitely separated from his purview. Of course, the absence of vertical condemnation does not equal the removal of all horizontal consequences. For example, if you've committed a murder, even though God has forgiven you, there will still be consequences. But for the believer: Regardless of what you've done, neither your past sins nor failures determine who you are or your future with Christ. When God sees you he doesn't even "recall" all those things you've done.
If you are in Christ, you are not a divorcee, liar, drop-out, adulterer, pornographer, convict, terminated employee, or sexual lothario—none of those things!—you are first and foremost a child of God. You are righteous. Because of Christ. You are beautiful to him. Your slate has been wiped clean.
Even your past has been re-written. God sees you as though you have never sinned.
For His glory,
Pastor John
9.22.2016
Do All Dogs Go To Heaven?
Hello Family,
I hope you're having a fantastic week. My prayer for you this week has been that God would arm you with strength for the battle, give you victory over your accusers, and show you his unfailing love (Psalm 18).
About six months ago, we (the Sloan family) got a puppy, a Maltipoo (a cross-breed of a Maltese and a Poodle.) I know it's been six months because that's how long I've been sleep-deprived and irritable. This admittedly adorable young pup of ours has endless energy. For example, every evening at around 9:30, he drags a blanket to me and barks loudly until I play with him for an hour. (Jenine would not approve of me disparaging the dog, so I'm not going to tell her what I've written; this will give me a chance to see if she actually reads the articles I produce!)
Anyway, the procurement of our new puppy has prompted a very important question from my ten-year-old daughter. She asked me recently: "Daddy, will we see Oreo (our former dog who got hit by a car and died instantly) in heaven?"
The answer is not a simple "yes" or "no" but an encouraging one nonetheless. While there's no indication that there will be dogs in heaven, for the believer, heaven is not going to be our permanent dwelling place. As Michael Wittmer points out in his excellent book, Heaven Is A Place on Earth, "The Christian hope is not merely that we and our loved ones will die and go to be with Jesus. Instead the Christian hope is that our departure from this world is just the first leg of a journey that is round-trip." We will not remain in heaven forever; one day God will bring heaven to earth, where he will live with us forever (Revelation 21:1-3).
There's a reason that the Scriptures begin in a garden and end in a great city, the New Jerusalem. We are earthly creatures, and we will be doing earthly things forever. We will build houses and live in them, the prophet Isaiah tells us, plant vineyards, and enjoy their fruit. We will feast together and experience the best food and the finest wine. God's original creation, which has been subjected to degradation and decay through sin, will be restored to its original glory. Even better, actually. The new earth, which will be our forever home, will be free from sin, evil, death, and disease. All will be well again, superior even to Eden.
Well, on the new earth, there will be animals. Indeed, "in that day the wolf and the lamb will live together; the leopard will lie down with the baby goat. The calf and the yearling will be safe with the lion, and a little child will lead them all" (Isaiah 11:6 NLT). Ah, the blessings of the new creation in Christ. Predatory animals will play nicely with the new humanity. We will play fetch the Bengal tiger. Tug-o'-war with the Grizzly bear. (If you want to read more about this subject, check out the new book, Home: How Heaven and the New Earth Satisfy Our Deepest Longings, by Elyse Fitzpatrick, who's speaking at Northpoint's women's conference in March, 2017.)
Will we actually be united with our former pets on the new earth? Since only humans are created in the image of God and promised glorified bodies, it's doubtful that your pet that has died and become dust will be given a new life. However, it wouldn't surprise me, given the interconnectedness between humans and animals throughout redemptive history and God's persistent benevolence, if we find animals that bear a striking resemblance (both in physical appearance and personality) to the ones we once loved. I believe that there is no good gift that God will withhold from us. Even "man's best friend" will be around us.
I actually expect to see a "version" of our new puppy on the new earth. I just hope that he's a little calmer.
By his grace,
Pastor John  
9.15.2016
African Rescue
Hello, Family,
I know that I seldom update you on the "other ministry" that I am a part of: Bethesda Outreach International, the South African organization that rescues orphans of the AIDS virus. But since yesterday was such a remarkable (albeit sad day), I thought I would pass along some news. On Tuesday, Bethesda rescued FOUR children, whose mother is dying of AIDS (three little girls and one boy). Without the efforts of this ministry, those four young children would very soon be homeless and wandering the streets, searching for food. Below is an excerpt from a note I received from the on-site administrator.
Today, we are very happy to have received four new children. They are siblings to Thembi Maluleka who is already here in the Sitholes' home. The littlest baby boy will be in the Msiza's home and the three girls are going to be in the Shikwambane home. Please pray for them as they adjust to their new homes and that God will start opening their minds to understand the gospel someday soon. The mom is very ill at this point so you can also pray for her and for her salvation. By tomorrow, we should know all of their names:)
One of the things that is special about this ministry, is that each child who is rescued is placed into a Christian home with South African parents and other black and white siblings. Through those relationships, and their involvement in indigenous churches, many of these children put their faith in Jesus.
As an International Board member, I will be traveling to Hammanskraal, South Africa in late October. One other interesting note: I received word a couple of weeks ago, that the village in which I always stay has been overrun by elephants. Not grasshoppers or mice … elephants! If God brings it to mind, please pray for me.
Happy to be serving alongside you,
Pastor John
9.8.2016
This week, Pastor John hands over the TAGD keyboard to Pastor Brent Whitefield, Northpoint's Pastor of Missions and Outreach.
Exploring Christianity
Hello Family,
As we take seriously our church's mission to make disciples who make disciples, we must think strategically about our approach to evangelism. While I am convinced that the best evangelism takes place one-on-one, there certainly is a place for group evangelism even in our day. I believe, however, that there is a fundamental problem with how churches do evangelism: For many, group evangelism consists of what might be called "crusades," "revivals," or "invite-a-friend-to-church" initiatives. At these events, we bring non-believers into our Christian space to observe us as we pray and sing and give and worship in other ways. The idea is to call people back to the faith of their fathers or their youth. The goal is to get people back to church and remind them of the faith they once professed.
These approaches many have been appropriate and effective a half a century ago in America, or may still work in mono-culturally Christianized pockets of, for example, the Deep South. But, the whole idea of a "revival" assumes that there is something there to revive. This assumption is no longer as safe as it once was. While I am not against crusades or inviting people to church, these atmospheres exert tremendous pressure on unbelieving attendees to display outward conformity or assent to the Christian faith that may not represent, or worse, may obscure, the inner reality.
Whether we like it or not, America has changed dramatically over the last few decades. Mass immigration and assaults on the expression of faith in the public square have brought religious pluralism and a related decline in Biblical literacy. While the number of genuine believers has held its own, the percentage of nominal Christians has plummeted in the U.S. We can no longer assume, as we once may have done, that our next door neighbor has a rudimentary understanding of the Bible, Christianity, or even the vocabulary to have a discussion of faith. They are nearly as likely to be a Muslim, or a Hindu, or from families that can point to no faith tradition for generations. Traditional approaches to evangelism seem to be having little effect among these groups. To expect to reach such individuals by inviting them to observe us at worship, or to attend a revival seems naive at best. An approach to evangelism that takes into account our unreached, pagan culture seems better suited to the reality in which we live in 2016.
This is one reason why Northpoint is offering the Christianity Explored course this fall. Christianity Explored is a seven-week introduction to the basics of the gospel message that walks students through Mark's Gospel. This class is designed to reveal Christ and the gospel message in a systematic and progressive way that answers the questions that skeptics may have in a vocabulary that they can grasp. The program assumes no prior familiarity with the Bible and does not ask people to enter into Christian worship space; there is no prayer, singing, creeds, recitations, or other obvious forms of worship. It is an opportunity for non-believers to explore the Christian message while neither concealing their doubts or questions nor feigning faith. The class will be held every Sunday evening from October 2 to November 13.  Dinner will be served at each meeting, allowing for the building of relationships and the opportunity to witness through the love of our community, something that rarely shows in a one-off evangelistic event.
I invite you to come and bring a friend, wherever you happen to be on your spiritual journey. If you are a committed Christian, you will learn ways that you can introduce someone to the gospel message using the gospel itself and grow in your knowledge and confidence as an evangelist. If you are a skeptic, is it possible that you don't believe the message of the Bible because you have never really understood it? Do you not owe yourself the chance to hear it clearly explained before you decide if it is worthy of your devotion? Please let us know you will attend by signing up at the Information Center in the Foyer September 18, 25, and October 2.
I look forward to seeing many of you there.
Pastor Brent
9.1.2016
Hour of Prayer (Redux)
Hello Family,
If you've been around Northpoint very long, it won't surprise you to hear me say that Martin Luther is probably my favorite theologian. His companion to Galatians is one of the greatest commentaries every written, in my estimation. His contributions to the Protestant Reformation were nothing short of world-changing. And his writings on the distinction between Law and Gospel have helped to shape my preaching, counseling, and parenting more than anything else I've read (besides the Scriptures, themselves, of course).
"The law commands and requires us to do certain things," Luther explained. "The law is thus directed solely to our behavior and consists in making requirements. For God speaks through the law, saying, 'Do this, avoid that, this is what I expect of you.' The gospel, however, does not preach what we are to do or to avoid. It sets up no requirements but reverses the approach of the law, does the very opposite, and says, 'This is what God has done for you; he has let his Son be made flesh for you, has let him be put to death for your sake.' Whoever knows well how to distinguish the Gospel from the Law should give thanks to God and know that he is a real theologian."
The mallet-wielding monk most assuredly left his mark, for a myriad of reasons. His fiery personality has been detailed by a plethora of biographers. His violent mood swings have been duly documented. His spiritual ups and downs were the stuff of legend. And there were, perhaps, contributing factors. Case in point: Luther's penchant for drinking stout beer has made him the butt of jokes, both past, and present. The story goes that when Pope Leo first heard of Luther's Ninety-five Theses, and his angry rant against the Roman Catholic Church, Pope Leo replied, "Luther is a drunken German. He will see different when he is sober." Not completely fair, mind you, but perhaps not without a tiny sliver of merit.
To be sure, Luther is known for a lot of things. But what has been often overlooked is the passionate German's prayer life. Historian Andrew Kosten writes: "Even in the busiest periods of the Reformation Luther averaged two hours of prayer daily."
Two hours of prayer a day.
That's pretty incredible. I don't share that quote to make us feel guilty, but to accentuate Luther's theological understanding. Why so devoted in prayer? It was because Luther understood that there would be no triumph, no spiritual achievement, no worthy accomplishment of any worth whatsoever, apart from prayer.
We may not spend two hours a day in prayer, and that's ok, but we can come together for one hour on one day to pray for our church and our country.
With that in mind, next Thursday (9.08), at 7:00 p.m., we are coming to God again, putting everything on the table before him to see what he might do through us. ReBuild Fellowship will launch on September 11, and days before its first worship service we are going to plead with God to move heaven and earth in order to begin a disciple-making movement in that area of Riverside and through that faith community. We are also going to pray for our ministries here in Corona, and ask God to intercede on behalf of our country.
As I committed to you last time, we will keep it at one hour. Let's fill up Heritage Hall and plead with God to do something incredible. And let's believe that the "one who is able to do immeasurably more than all we ask or imagine" (Ephesians 3:20) will answer us according to his power and wisdom.
Trusting in his goodness,
Pastor John
8.25.2016
The Problem(s) with Pornography
Hello Family,
I'm looking forward to worshiping our Savior with you this week. I've been praying for you over the last few days, that God would enable you to find your strength and encouragement in him (1 Samuel 30:6b).
Recently, the respected survey organization, the Barna Group, released a study on the use of pornography in America called The Porn Phenomenon. Perhaps the most disturbing finding, in my estimation, was the discovery that many young adults now deem the use of pornography as "good for society" because it offers a "safe alternative" to sexual intercourse. When they talk about porn with friends, the survey reveals, 89% of teens, and 95% of young adults say they do so in a neutral, accepting, or encouraging way. Would you believe that of the 3,000 people interviewed, nearly twice as many young adults view not recycling as "more immoral" than watching pornography? It's true.
The use of pornography, and the widespread approval thereof, is the new norm.
With that in mind, I'd like to briefly consider just one problem with pornography. Aside from its occasionally discussed and less controversial effects—the emotional and spiritual harm it brings to a marriage, the inescapable guilt and shame that accompany its use, the barrier to intimacy that it creates among couples, and the diminishing of relationship commitment that it breeds (and all of these are worthy of separate essays) —I'd like to offer another reason to eschew pornography that's rarely talked about. It's this:
Indulging in pornography is tantamount to participating in sex slavery.
In case you've never heard of the sex trade, it is an industry in which (mostly) young women are captured, threatened, and violently coerced into having sex with older men.  It is nothing short of modern day slavery.  And pornography fuels the sex trade industry by building the demand.
In the Journal for Biblical Manhood and Womanhood, pastor and professor, Andy Naselli, writes, "The sex trade industry consists of supply and demand. The supply consists of women and children who are either forced into exploitation at home or lured away from their homes with promises of jobs, travel, and a better life. The average age of girls who enter into street prostitution is between 12 and 14 years old, and even younger in some developing countries. Traffickers coerce women and children to enter the commercial sex industry through a variety of recruitment techniques in strip clubs, street-based prostitution, and escort services. Thousands of children and women are victimized in this way every year. The trafficking industry would not exist without demand. According to researcher Andrea Bertone, the demand consists of men who feed a 'patriarchal world system' that preys on women and children." These men are, namely, the purveyors and watchers of porn.
"Plant this deeply and firmly in your conscience," Naselli concludes, "since pornography fuels sex slavery, indulging in pornography to any degree is participating in sex slavery. This is the case even if the porn star you lustfully look at is profiting financially from that pornography. The point is that any and all pornography is part of the worldwide system that fuels prostitution and thus fuels sex slavery."
It's a harrowing thought, isn't it, that by watching this so-called harmless entertainment, a person is perpetuating the criminal and heinous mistreatment of women and children via a system of human slavery. Again, the demand is created by the digital world of pornography, and those who participate in it. Sergeant Grant Snyder, a long-tenured detective in downtown Minneapolis, who regularly arrests people for sex trafficking, says, "The connection between pornography and sex slavery is tighter than many people realize."
As the father of two daughters, and a teacher and proponent of the compassionate and ethical treatment of all women, I find the notion of aiding a sex trafficker by bolstering the demand for the abuse of young women to be reprehensible. But outrage towards sin (of any kind) is often short-lived. In fact, every sin becomes more reasonable and less offensive the longer we ponder it. May God remind us of this devastating effect of porn use when the temptation to indulge arises.
Of course, in any discussion on pornography, as with any consequence-heavy sin, the point must be made that God's forgiveness is readily available to everyone. Even to pornographers.  God's grace is infinitely wider and more sufficient than we ever imagined, saving even the most violent of offenders. The Apostle Paul makes it clear in his first letter to the church at Corinth, that God's grace is powerful enough to cover the sins of the sexually immoral, idolaters, adulterers, men who practice homosexuality, thieves, the greedy, drunkards, revilers, swindlers (1 Corinthians 6:9-11) and plenty of others.
So, as you consider this seldom discussed (yet, devastating) effect of pornography, rest assured that if you have indulged, even today, there is nothing that can separate you from the love of God in Christ, if you belong to him. In fact, Jesus died for you so that his righteousness would be yours by faith.
God sees you as perfectly clean. Let me say it another way: If you saw yourself through God's eyes, you wouldn't even recognize yourself. To him, you look just like Jesus.
Allow that reality to stir your heart toward greater love for your Redeemer and a greater hatred for the things that God hates.
Simultaneously saint and sinner,
Pastor John
8.18.2016
This week, Pastor John hands over the TAGD keyboard to Marti Wiegman, Northpoint's Director of Women's Ministries.
Golden Moments Don't Always Involve a Medal
Hello Church Family,
So I decided to follow Pastor John's advice and watch the Olympics this week. Okay, I admit it: I would have watched them anyway, but my viewing was much more guilt-free after reading his last blog. Thanks John!
On Tuesday evening, I was deeply moved by an extraordinary expression of compassion, courage, and grace. Perhaps you saw it as well. It happened during a qualifier for the women's 5,000-meter race. With four laps to go, New Zealand runner Nikki Hamblin and American Abbey D'Agostino collided. Both went down hard.
Abbey got up quickly but instead of returning to the race, she turned back to help Nikki up. The two women had never met before.
Nikki later told reporters she remembers lying on the track, dazed, with her hopes of an Olympic medal over. Suddenly, there was a hand on her shoulder and a voice in her ear: "Get up. We have to finish this."
Back on their feet, the two began running side by side. After several strides, it became clear that it was Abbey who was in need of help as she began to limp badly. Nikki hung back with Abbey for a little while, offering help and encouragement before rejoining the race. As for Abbey, she refused to give up. Grimacing, she ran over a mile more to cross the finish line. The next day, it was determined that she had torn her ACL and meniscus.
"I'm never going to forget that moment," Nikki said. "When someone asks me what happened in Rio in 20 years' time, that's my story. … That girl shaking my shoulder, (saying) 'Come on, get up.'"
In an interview on NBC a few days later, Abbey credited her remarkable compassion to the Spirit of God at work in her. It was not surprising at all to discover that Abbey is someone who has been transformed by the gospel of grace.
Ecclesiastes 4:9-10 (NLT) says, Two people are better off than one, for they can help each other succeed. If one person falls, the other can reach out and help. But someone who falls alone is in real trouble.
What a beautiful picture of how God has designed our lives to be lived together. God never intended us to face this life alone. From the first day Adam strolled through the garden with no footsteps but his own, God said, It is not good to live life alone.
Throughout the New Testament, we encounter teachings about how we are called to live the Christian life in community together. Here are just a few of my favorites:
Hebrews 10:24-25 – And let us consider how to stir up one another to love and good works, not neglecting to meet together, as is the habit of some, but encouraging one another, and all the more as you see the Day drawing near. 
Philippians 2:4 – Let each of you look not only to his own interests, but also to the interests of others.
Galatians 6:2 – Bear one another's burdens, and so fulfill the law of Christ.
I Thessalonians 4:18 – Therefore comfort one another with these words. 
John 13:34-35 – A new commandment I give to you, that you love one another: just as I have loved you, you also are to love one another. By this all people will know that you are my disciples, if you have love for one another.
At Northpoint, we strive to encourage and stimulate this type of dynamic life-on-life community through a variety of small group ministries. And this is the perfect time to join in. Our Get Connected Ministry Fair takes place August 28 and September 4 and 11. Every Sunday, we will have tables set up in the courtyard to provide you with the information you need to find a place to belong here at Northpoint.
Here is a very limited list of options to consider:
GROWTH GROUPS
Our Growth Groups provide the most holistic opportunity for living life with others. This is a place for couples, singles, and entire families to join together to discuss God's Word, share life's struggles and blessings, support one another in prayer, and enjoy sweet fellowship together. Growth Groups are designed to encourage the building of deep and lasting bonds that continue through the seasons of life.
Each Growth Group is unique, meeting weekly in locations throughout the Corona, Norco and Riverside areas. Groups meet at a variety of times and days of the week. Check the Growth Group table during Get Connected for more information.
MEN OF THE WORD
Our men join together on Monday nights and Wednesday mornings to study the Word and to support one another in small groups where they find accountability, fellowship, and prayer. Men of the Word (MOW) will be continuing their study in the book of Acts.
MOW meets on campus and is offered in both the day and evening:
Monday evenings, beginning September 12, with formal teaching from 7:00 p.m.-7:30 p.m., and small groups from 7:30 p.m.-9:00 p.m.
Wednesday mornings, beginning September 14, with early small groups meeting from 5:00 a.m.-6:00 a.m., formal teaching and breakfast from 6:00 a.m.-7:00 a.m., and later small groups meeting from 7:00 a.m.-8:00 a.m.
Register at the Men's Ministry table during Get Connected.
WOMEN OF THE WORD
Women of the Word (WOW) is a weekly, in-depth Bible study that blends formal Bible teaching with small group time for discussion, accountability, fellowship, and prayer. We will be studying a selection of New Testament epistles: Philippians, 1 and 2 Thessalonians, Titus, and Philemon.
WOW meets in Heritage Hall and is offered both in the day and evening:
Tuesday evenings, beginning September 13, at 6:00 p.m.
Wednesday mornings, beginning September 14, at 9:00 a.m.
I pray you will find a place to belong here at Northpoint, where you can walk through life with godly friends by your side, the kind who will drop everything to pick you up when life knocks you down or you stumble and fall.
Living for Him together,
Marti
8.11.2016
Five Reasons You Should Watch the Olympics
Hello Family,
What an encouraging day of worship we enjoyed last Sunday!  From the singing of such powerful songs as He Will Hold Me Fast, to the corporate recitation of the Apostles' Creed, there was so much to nourish the soul. I'm already looking forward to this Sunday.
Alright, so you've been piling on the couch with the rest of your family this week, taking in the Games of the 31st Olympiad. But as one hour turns into three, you can't help but think: Shouldn't I be doing something more productive. Well, let me assuage your guilt and give you five reasons that you should be watching the Summer Games. Of course, these aren't justifications for ignoring your children, shirking your responsibilities, or letting your grass grow to knee-height! Here goes:
Sports display the imagination of God. As human beings, we are created in the image of God. Consequently, when we write plays, pen poetry, conduct orchestrations, or clash at various contests (with their respective goals, rules, and obstacles) we are pointing to the God who made us, who is infinitely creative. How else could you possibly explain the inclusion of an international event where people run around a track that just happens to have a fence and a pool inserted into it? Steeplechase, anyone? It makes no sense until you really contemplate the strategy (and then, admittedly, it still makes no sense). But it tells us something about God, namely, that his imagination is endless, and as those made in the imago Dei, we reflect (albeit imperfectly) the unparalleled artistry of our matchless Creator when we come up with and compete at sundry sports.
Competition is rooted in creation. In Genesis 1, God gives humanity these instructions: "Be fruitful and multiply and fill the earth and subdue it" (v.28). One aspect of "filling and subduing" is cultural, which is why the Creation Mandate is also sometimes called the Cultural Mandate. It means that you and I have been tasked with filling out the endless possibilities of creation. Theologian Michael Goheen says, "God gave humanity formative power to explore, discover, and develop the potential of the creation in diverse ways. It is out of this foundational task that sports and athletics have arisen as one cultural product." Simply put, when we design baseball fields, basketball courts, and soccer stadia, and then play games in those venues, we are fulfilling the Cultural Mandate of Genesis 1.
Team sports showcase a unity worthy of imitating in the body of Christ. Have you noticed how all the USA teams are cheering on their fellow Americans, even of different sports? When a swimmer wins gold, the basketball team erupts with unbridled celebration. And when a gymnast claims the top spot on the podium, the soccer team jumps up and down with sincere pleasure. They are desperate to see each other succeed. This gives us a glimpse into what unity in the body of Christ should look like. People of different backgrounds, sizes, and skill-sets earnestly spurring on one other toward success. How attractive would the church be to a lost world if our concern for each other were that boundless and sincere?
Sports provide metaphors for our struggle against the flesh. Although sanctification is a work of God—and when spiritual progress does take place, he is the one to be praised—we still must put forth gospel-motivated, faith-fueled, and Spirit-empowered effort. Sports give us a picture of what that effort looks like. The Apostle Paul often used Olympic metaphors, such as running the race (1 Cor 9:24), fighting the good fight (1 Tim 6:12), and training in righteousness (2 Tim 3:16). When we see American gymnast Jake Dalton labor through fatigue to hold the perfect Iron Cross, we are reminded that, likewise, the spiritual battle in which we are entrenched demands focus, intensity, and determination. 
Finally, competition is one of God's good gifts for us to enjoy. When Jesus' brother James says that "every good gift is from above" (Jam. 1:17) he is not just talking about tangible things. Laughter and harmonies are gifts from God. So is competitive play. For my wife, there are few things as energizing as an extended breakfast at the Silver Dollar Pancake House with friends. I enjoy that as well, but even more invigorating to me is a competition of some sort. A racquetball match, a basketball game, a chance to take the diamond for a softball game. Competition—even just watching it—refuels me. And this is from God. Nearby pastor Erik Thoennes says: "Play is a fun, imaginative, non-compulsory, non-utilitarian activity filled with creative spontaneity and humor, which gives perspective, diversion, and rest from necessary work of daily life." Just watching competition is a blessing.
Now, please make no mistake, just as the fall of our first parents sent shock waves of corruption through every aspect of this world, sin has had its way with competition as well. As a pastor, I see the idolatry of sports among believers (and wrestle against it myself). Likewise, as a former Little League baseball and volunteer basketball coach, I have seen the ugly side of competition. One of the most celebrated coaches of all time typified the misguided mindset that many embrace when he said, "To play this game you must have fire in you and there is nothing that stokes that fire like hate" (Vince Lombardi).
Like anything, sports can be used to incite social, spiritual, psychological, and physical harm. But that doesn't negate the beauty and benefit of a sport well played. And there aren't too many sports played at a higher level than what we've been seeing in Rio. So … relax and enjoy. You might find yourself rejuvenated emotionally and spiritually. You might even learn something about God by watching Michael Phelps swim. It's an interesting thought, I know, but one that I believe flows from Scripture, as I have tried (in 1000 words!) to persuade here.
By his grace,
Pastor John
8.4.2016
(Re)Introducing … Geoff Grant
Hello Family,
Can you believe school starts (for many) in just six days? It seems like the summer has blown by more quickly than ever. I have been praying for you this week, that God would lead you and guide you for his name's sake (Ps. 31:3).
If you were with us on Sunday morning, you heard me announce that we have a new Director of Worship. His name is Geoff Grant. Many of you know Geoff from his days as a Worship Intern at Northpoint from 2011-2012. Geoff served us well back then and since that time he has grown and matured a ton. Geoff is twenty-five and has been married to Chelsea for three years. (I had the pleasure of officiating their nuptials on a hot spring day in 2013.)
Geoff and Chelsea are both graduates of CBU; his degree was in Music Composition. But more important than his musical pedigree are his theological insights and passion for Christ-centered worship. Here's how Geoff approaches this topic:
"Just as the people of Israel were brought out of slavery to worship God in the wilderness, so are we brought out of sin to worship God in the present age. The Israelites repeatedly turned inwardly to themselves, away from God, neglecting to give Him due praise and honor. Likewise, as believers we often forget the totality of Christ's atonement for us, choosing to praise our own "idols" instead of Him. Just as God supplied a means for communion for Israel, God has now supplied a means for all who believe, to have communion with Him through his Son Jesus Christ. …In joining with Christ by His death and resurrection, we need to be reminded often to return to the only rational response to God's glory and His gift of grace—worship. A primary function of the corporate gathering of believers is to do just this. We remind each other, encourage one another, admonish one another in all wisdom, communicating mutual and common thankfulness in our hearts to Christ."
In order to help you get to know Geoff a little better, I had him answer our standard get-to-know-you questions.Here goes:
Where are you originally from? 
Both Chelsea and I are SoCal natives: I grew up in Glendora, Chelsea in Whittier.
What are some of your favorite books, outside of the Bible, of course!? 
Knowledge of the Holy (Tozer), The Lion, the Witch and the Wardrobe (Lewis), Mere Christianity (Lewis), Hatchet (Paulsen), Dangerous Calling (Tripp), George Müller (Steer).
What's on your iPod? 
Man, so much. Some staples through the years have been: Dave Matthews Band, U2, Tower of Power, Earth Wind and Fire, Nickel Creek, Victor Wooten, Garth Brooks, Bing Crosby, Johannes Brahms (especially Symph. No 4) Hector Berlioz (especially Symphonie Fantastique). I really enjoy film scores: Hans Zimmer, James Newton Howard, Thomas Newman, John Williams Johann Johannson. Some more recent music loves have been Edward Sharpe and the Magnetic Zeros, Of Monsters and Men, The Head and the Heart, Feist, The Civil Wars, Nils Frahm, Max Richter, Eagle Rock Gospel Singers. But that's just off the top of my head.
What do you think is the best invention ever? 
Probably the Gutenberg printing press. Or peanut butter.
What's your favorite movie? 
Braveheart, or The Lord of the Rings.
Another profession you would love to try? 
National Park Ranger.
Another profession you would NEVER want to try? 
Sports Broadcaster.
(Editor's note: I'm going to try not to take this answer as a personal dig; at least he would never criticize my (incredibly safe) driving.)
What is your favorite travel spot? 
Grand Tetons/Western Montana.
When you're gone, what would you like people to remember about you? 
I'd want to be remembered as a humble, selfless person who thinks well of God and encourages others to do the same.
There you have it. Will you pray that God gives Geoff (and Chelsea) wisdom from above, that he blesses their transition from Utah to Corona, and that he uses Geoff to lead us into greater dependence, trust, and joy in our sovereign and good God? Geoff will officially begin his responsibilities here on September 1.
We are praising God that he has yet again provided out of his abundance of wisdom and kindness.
With gratitude,
Pastor John
7.28.2016
Rest for the Wicked
Hello Church Family,
I've been enjoying some extended time over the last two weeks, while on vacation, reading simply for spiritual nourishment rather than reading for teaching. (If you do any teaching you know the difference I'm referring to.) And as I've been taking in the Gospel of Luke, I have been once again stunned by the ministry of Jesus. Seriously. You can't make it through one chapter of this gospel without being confronted with this reality: Those who truly receive Jesus are the broken; only those who are aware of their own unworthiness cry out to the Christ in saving faith.
Consider this: In Luke 7, a centurion sent some religious leaders to Jesus to ask him to come and heal his dying servant. The religious leaders approach Jesus like this: "He is worthy to have you do this for him" (v.4). However, when Jesus arrives (actually, before he even gets to the house), the first thing the centurion says is, "Lord, do not trouble yourself, for I am not worthy" (v.6). About this man's response, Jesus says: "I tell you, not even in Israel have I seen such faith." What did Jesus "marvel" at? It was this man's humble recognition that he had been shown favor (i.e., grace) when he was completely undeserving.
A few paragraphs later, Luke records Jesus' dining experience with a Pharisee and a sexual deviant, or "sinful woman." When the Pharisee observes the woman literally pouring out her affection on Jesus, the former thinks to himself, "How could Jesus let this happen … if he were really a prophet he would know who this woman is." Aware of his host's self-righteous indignation, Jesus tells him a story, and in un-Jesus-like fashion also reveals the point: Those who have been forgiven much (that is, the truly redeemed) respond with love toward God and grace toward neighbor, while those who think they're really good and not in need of salvation, show no signs of true love for God or neighbor. To the Pharisee, Jesus offers an anecdotal word of caution; to the broken woman, he says: "Your faith has saved you; go in peace." Jesus doesn't remind her of the importance of sexual fidelity. He doesn't give her a plan for personal improvement. He simply says: Go in peace. Her newfound forgiveness (and imputed status) will be all the motivation she needs to live with a new commitment to holiness.
This story reminds me of something I read a few days ago from Rod Rosenbladt, a professor and pastor in Irvine: "The language of Christianity is the language of substitution. It is not primarily the language of morals. God is not presented as a mother saying 'eat all your vegetables.' Instead, Christianity is about a one-sided rescue, that we didn't want and certainly didn't deserve, and he did it anyway."
My kids have been stuck in the car with me a lot these last two weeks, as we've traversed through Arizona and Nevada, even visiting the Grand Canyon for the first time, and I have labored (to their chagrin, I'm sure) to present to them this message: Christianity is not about staying out of trouble, cleaning your room, avoiding lust, watching your mouth, and being polite (although, please hear me, I want them to do all those things!); Christianity is a posture of repentance and faith, that leads us to cling to Christ and his righteousness rather than celebrate our own.
In his book The Prodigal God (which I picked up again last week), Timothy Keller comments on the danger of making the Christian faith primarily about rule following. He says: "We tend to draw conservative, buttoned-down, moralistic people. The licentious and liberated or the broken and marginalized avoid church. That can only mean one thing. If the preaching of our ministers and the practice of our parishioners do not have the same effect on people that Jesus had, then we must not be declaring the same message that Jesus did. If our churches aren't appealing to younger brothers they must be more full of elder brothers than we'd like to think."
On August 1, we will begin a new ministry year here at Northpoint (our ministry year runs August 1-July 31). I have all kinds of goals and ideas on how we can better make disciples who make disciples. But at the top of my list is this desire: I want this church to be the sort of community where the hurt find healing in Christ, where the beaten-down find acceptance in Jesus, and where believers and unbelievers are confronted and comforted by the news of a holy God who, while accepting only perfection, makes the repentant perfect with debt-canceling forgiveness through faith in Jesus Christ.
I want every one of our ministries at church to reflect this message: "And to the one who does not work but believes in him who justifies the ungodly, his faith is counted as righteousness" (Rom. 4:5). This is the only news that will bring hope, meaning, peace, and purpose to a lost and desperate world. Let's resolve together to make it our resounding song.
With joy,
Pastor John
7.21.2016
This week, Pastor John hands over the TAGD keyboard to Pastor Brent Whitefield, Northpoint's Pastor of Missions and Outreach.
The Necessity of Church Planting
Hello Family,
It has been a wonderful summer of cross-cultural ministry so far here at Northpoint and it is far from over. We have had teams in India, Greece, Alaska already, and you can add Tuba City and Botswana to the list over the next couple of weeks. Over 50 people from our church have gone on these trips and participated in many different kinds of ministry including: camp ministry, evangelism, church planting support, teaching, and training, just to name a few. It is my hope that the number of people participating in these summer outreaches will continue to grow in the years to come.
In the course of my summer of ministry travels, I have had opportunity to observe different types of ministry and various strategies at work on the ground. The most important observation I have made, reinforcing what our church leadership already understands, is the desperate need for church planting. Though there are many types of outreach ministry, none of them seem to bear much fruit in the absence of church planting. What good is an evangelistic campaign if there is no church into which to plug new converts? How will unreached people be discipled if there are no churches for them? Where is the visible witness in a community without churches? Are we training pastors just to replace retiring ministers?
I have also observed that there is a similar problem for churches in India or Greece that we experience in the U.S. Namely, that existing churches tend to see their capacity for making new disciples diminish over time. Some churches grow complacent and tired. Some become preoccupied with maintaining their traditions, or worse, view church plants as competitors in a zero-sum game of attracting and retaining parishioners. Whatever the reason, churches tend to decline from their peak rate of making new disciples. Thus, church plants are needed not only in unreached areas, but also in reached areas as well; in places that do not need a first witness, but perhaps a fresh witness.
Church planting ministry is exciting and energizing. It attracts people who are entrepreneurial, risk-taking, and outside-of-the-box thinkers. To be around church planters is to be inspired, to see and participate in desperate prayer, and to set ambitious goals that are only forlorn dreams if the Spirit of God is not in them. To be with church planters is to understand what it means to count the cost and what it means to suffer in big and small ways. I always find myself spiritually refreshed and encouraged by my interactions with church planting ministries and this summer has been no exception.
Church planting is not the only ministry with which we will or should be involved. Just as there are a variety of gifts, so there are a variety of legitimate ministry endeavors. However, church planting should always be a top priority and other ministry work should in one way or another, support this priority. The local church was the means by which Christ meant us to disciple the nations. May God richly bless our efforts to work through new church plants to make disciples who make disciples.
Pastor Brent
7.17.2016
John Calvin: A Reflection on the Pastorate
This week, Pastor John hands over the TAGD keyboard to Taylor Mendoza, Northpoint's Junior High Intern.
Hello Church Family,
It is appropriate that John Calvin's last words were the words of Scripture: "How long, O Lord?" He literally died quoting the Bible he preached, having expended himself in the work and will of God, faithful to the very end. As I went to church last Sunday, I was made aware that it was John Calvin's birthday. Calvin was born on July 10th, 1509 in Noyon, France, to a wealthy innkeeper. At an early age, Calvin was destined for the pastorate and a life of influence. Today, many know him through a brief stop in their history class on the Protestant Reformation, or through the 5 points of Calvinism. But there are often points that are missed about his life. Listen to one scholar commenting on Calvin's impact: "Towering over the centuries of church history, there stands one figure of such monumental importance that he still commands attention and arouses intrigue, even five hundred years after his appearance on the world stage. Called 'one of the truly great men of all time,' he was a driving force so significant that his influence shaped the church and Western culture beyond that of any other theologian or pastor."
He was a man of tremendous influence. So I began thinking about John Calvin, and for that matter, thinking about our church. I was reminded of two God-glorifying aspects of Calvin's life that are worthy of mention, and I was reminded of the godly men who shepherd and lead Northpoint Church.
Calvin the Pastor.
I for one, am extremely thankful to be a part of a church that has so many godly leaders. Our elders at Northpoint Church are Calvinistic in the fullest sense in their shepherding of the flock. Calvin was known for being a world-renowned scholar, but in Geneva, Switzerland, where he pastored, he was known as a humble and loving shepherd. For 25 years he conducted each Sunday service, visited the sick, administered private reproof, devoted 3 hours each week to theological teaching and lectures, and served the people of his congregation. Calvin was known for writing letters to those who needed encouragement and devoted much attention to the refugees who flocked to his city from France and Italy.
Perhaps most interestingly, Calvin always saw his pastorate in light of his deep sinfulness, and his salvation in Christ. He knew that at one time in his life he was guilty, most of all, of opposing Christ as a rebel, but by the miraculous gift of faith, he was turned into a man who unconditionally served Christ with his whole life. Because of the depths of his own understanding of the grace of God, Calvin knew that all people were in need of a Savior with amazing grace who had the power to save a wretch lost in the pits of darkness. This burden changed him completely and gave him a pastoral zeal for the lost.
In his last sermon in 1564 he said, "I embrace the grace which He has offered me in our Lord Jesus Christ and accept the merits of His suffering and dying, that through them all my sins are buried; and I humbly beg Him to wash me and cleanse me with the blood of our great Redeemer,… so that I, when I shall appear before His face may bear his likeness." Calvin died at age 54 on May 27th, 1564, in the arms of Theodore Beza, his pastoral successor, who concluded: "Having been a spectator of his conduct for sixteen years, I have given a faithful account both of his life and of his death, and I can now declare, that in him all men may see a most beautiful example of Christian Character, an example which it is as easy to slander as it is difficult to imitate."
Calvin the Preacher.
Calvin was not only a pastor but a preacher. He loved the Word of God and preached it with unction and authority. He was a gifted preacher, and simply went verse by verse through each book of the Bible. By the end of his ministry he had preached over 500 sermons on Job, and yet thousands of other sermons on the Psalms and the New Testament! Calvin was known for preaching the Bible so well that he was considered the expository genius of Geneva. James Montgomery Boice, a well-known biblical scholar once said, "Calvin had no weapon but the Bible. … Calvin preached from the Bible every day, and under the power of that preaching the city began to be transformed. As the people of Geneva acquired knowledge of God's Word and were changed by it, the city became, as John Knox called it later, a New Jerusalem from which the gospel spread to the rest of Europe, England, and the New World."
Calvin lived his life as if Paul's charge to Timothy was for him: "I charge you in the presence of God and of Christ Jesus, who is to judge the living and the dead, and by his appearing and his kingdom: preach the word; be ready in season and out of season; reprove, rebuke, and exhort, with complete patience and teaching" (2 Tim. 4:1-2) or Paul's charge to himself in 1 Cor. 2, "For I decided to know nothing among you except Jesus Christ and him crucified … my speech and my message were not in plausible words of wisdom, but in demonstration of the Spirit and of power, so that your faith might not rest in the wisdom of men but in the power of God."
Looking back more than 500 years ago, I am reminded of the grace of God throughout history, and I am reminded of the godly men who Jesus has entrusted to preach the Word at Northpoint Church. Just as Theodore Beza was a spectator of John Calvin for many years, I am a spectator of John Sloan, who delivers the Word to us each week. Even though Calvin had a very long beard and Sloan presently has a bald head, I often see striking similarities. As an intern, I see John throughout the week where, like Calvin, he strains his eyes digging into his commentaries and Bible, scribbles vigorously in his journal, which teaches me to see Christ throughout the entire Scriptures. He labors over his sermon each day so that on Sunday we may feast together on the Word. However, John Sloan is not the only faithful shepherd at Northpoint, we are blessed by a multitude of men who follow in the line of Calvin; Mark Kiker, Tim East, Steve Flood, Vinoj Zachariah, Scott Williams, Jonathan Clubb, and Brent Whitefield. All of these men preach the Word and have a pastoral zeal to shepherd the flock entrusted to them.
As an aspiring pastor, I make it my aim to imitate these men, who imitate faithful men before them, such as John Calvin, who all imitate their Lord and Savior, Jesus Christ. And for that matter, I look forward to spectating for many more years to come, as I learn what it means to be a pastor. And as a final word of reflection, I hope that you are encouraged by God's faithfulness throughout history and are inclined to thank God for the men who shepherd us daily for the sake of Jesus' glory.
For his glory,
Taylor Mendoza, Junior High Intern
7.7.2016
VBS 2016 is Here!
This week, Pastor John hands over the TAGD keyboard to Scott Williams, Northpoint's Pastor of Adults and Families.
I can't believe it is already here, but VBS is next week! Starting Monday night, July 11, anywhere from 200-300 kids will be gathered in our Heritage Hall to go on a journey of discovering more about God's amazing grace. This year, our VBS is called PROOF Pirates: Finding the Treasure of God's Amazing Grace.
So much in life tells us that it is our performance that makes us who we are. This is especially true for kids. This can even seep its way into their thinking about their relationship with Christ. "If I want to be deserving of a relationship with Christ, then I need to act a certain way." The message of God's grace is so different and so much better.
Paul states in Ephesians 2:8-9: "For it is by grace you have been saved, through faith—and this is not from yourselves, it is the gift of God—not by works, so that no one can boast." In this year's PROOF Pirates VBS, kids will explore Ephesians and learn how God saves scallywags like you and me.
With close to 300 kids on our campus all week, you can imagine that it will take an army of volunteers to pull off an event like this. If you have not yet volunteered to help and would like to, let me highlight a couple of areas to serve:
– 5th Grade Class still needs a few adult volunteers
– 4th grade class could use 1 or 2 adult volunteers
– Adult meals prep support
– Kid's snack team
– Misc. clean up each night
If you would like to help out in any of those areas, or in another, please come to the VBS meeting after 2nd service this Sunday, or email Andria Brucks at abrucks@northpointcorona.org.
Also, your prayers for this coming week are greatly needed and would be much-appreciated. Church family, here are some specific ways you can be in prayer for our VBS:
– Pray that we would be joined by many families that are not a part of Northpoint.
– Pray that each of the kids in attendance would have an open heart to the message of God's redeeming grace.
– Pray that God would strengthen and encourage this year's VBS leadership team of Tina vanHaaster and Jubilee Arabe.
– Pray that our teachers would be clear and passionate when sharing the gospel message:
Phil vanHaaster – Teaching Monday and Tuesday
Ryan Lemen – Teaching Wednesday and Thursday
Terilyn Brown-Teaching Friday
– Pray for all of our grade level leaders and their teams:
Kindergarten – Heidi Holt
1st Grade – Chantel Leyba
2nd Grade – Deanna Holton
3rd Grade – Heidi Kraus
4th Grade – Jenn Lemen
5th Grade – CJ Esperjesi
6th Grade – Kim Williams
– Pray that God would use Tri Nguyen and his band as they lead us each night in joy-filled worship.
– Pray that God would use our skit team, led by Matt and Amy Beyersdorf, as they introduce each night's theme.
– Pray that all of our small group leaders would have rich spiritual conversations with their kids.
– Also, please remember in prayer all of the many volunteers serving in so many other ways like crafts, snacks, games, medical response, and all the others that I have failed to mention!
I am so thankful that we have a ministry here at Northpoint that takes seriously the gospel and the charge to teach it to the next generation. Can't wait to see all the ways God reveals himself to the kids and leaders this next week.
Pastor Scott
6.30.2016
Hello Family,
I hope you're planning on taking some time this weekend to enjoy a picnic, some fireworks, and a dip in a pool.
It occurred to me recently that, as leaders of Northpoint, we often do a better job of promoting upcoming events than celebrating what God does through those events.  I want to change that. I want to be more intentional about highlighting the fruit that is borne as God shows his power and faithfulness through the sacrificial efforts of his church.
With that in mind, below is an update from Pastor Brent on the team in Athens, Greece, which is currently ministering in one of the most historic locations in the Bible, just down the street from the famous Areopagus (Mars Hill). It was here that the Apostle Paul delivered his captivating sermon which concluded with the proverbial mic-drop: "[God] will judge the world in righteousness by a man he has appointed; and of this he has given assurance to all by raising him from the dead" (Acts 17:31).
Here's what Brent had to say this morning:
The Northpoint mission trip to Athens, Greece has been a wonderful blessing so far. It has been an ambitious schedule to this point for our team of twelve, but the Lord has used the work in tremendous ways. Our primary goal has been to support the work of our missionaries Stefanos and Manon Mihalios; specifically, a new church plant in a crowded suburb of Athens called Kypseli. The neighborhood is extremely diverse: There is a large percentage of Albanians, Africans, and Middle Easterners. The presence of a dozen Americans in the neighborhood does not turn heads as it would have years ago, which is good for our ministry effectiveness here. And many people hail from highly social cultural contexts, which means it is very easy to approach people on the streets. The church does a number of different activities throughout the week to raise awareness in the community that there is an evangelical fellowship there. They have English classes, coffee events for women and families, game nights, barista training, etc.
Last Saturday, we helped put on a festival in the town square for children and families. Hundreds of people from the neighborhood attended. We will be arranging another festival this Friday night, which should attract even more people. We have also done a number of visitations throughout the week, including distributing food to lower income families who have had some association with the church. In the course of one of these visitations, a woman professed faith in Jesus Christ for the first time. This is quite a big deal in a country like Greece where there is significant resistance to evangelical Christianity. Pastor Jonathan has spent time working with the youth who attend the church, including a day at the beach with them. Women packed the church to hear Marti Wiegman teach on issues related to women's ministry.
We have also assisted the work of Hellenic Ministries by packaging New Testaments to be distributed in the northern part of Greece next month. The whole project prepared over 100,000 Bibles for this endeavor. We visited the Greek Bible College and learned more about Stefanos' teaching ministry there. In the few spare hours that we have had, we have visited ancient Corinth and the Acropolis. The team is tired but in good spirits. This trip has certainly helped to solidify our relationship with the church plant here, and there is much scope for future partnership opportunities.
Please pray that we finish strong and that the Friday night festival will bring many people to the church and help raise awareness for its programs. – Pastor Brent
Please lift up these travelers' names to the Lord and ask God to sustain them and bless their efforts in ways they never expected.
To the praise of his glory,
Pastor John
6.23.2016
Bullets, Bunkers and the Unflinching Faith of a Country Boy
Hello Family,
I hope you're enjoying your summer. I have been praying for you this week, that God would uphold you with his right hand and satisfy your soul with the richness of his presence (Psalm 63).
I have often made the point, either in verbal or written form, that the message of the gospel is not "live strong," nor is the trajectory of the Christian life an upward progression but a downward one. Despite commonly cherished North American values, the goal of our sanctification is for us to become less independent, less self-assured, and less autonomous, and instead more aware of our need for grace.
The call to follow Christ is a call to renounce all self-reliance and despair of any saving trust in our human ability.
But this is a hard pill to swallow. We live in the Marvel Comics age, where superhero movies gross billions of dollars. Self-determination sells. No one wants to be the guy who has to be rescued by someone else. And while there's nothing wrong with cheering on a cape-donning and forehead-bedazzled celluloid wonder-woman (coming soon to a theater near you) or rooting for a shield-heaving soldier, God hasn't called us to single-handedly save the world. He doesn't want us in the mirror flexing our own muscles—physical or spiritual; he wants us on our backs, with our stiff necks broken, our haughty spirits smashed, and our callous hearts crushed … so that he can make us truly alive. So that he can give us real joy. So that his power would be made perfect in our shortcomings.
As J.I. Packer contends, "For Christians, weakness should be a way of life."
Now, it must be said that the result of depending on God, rather than our own strength, is not timidity, cowardice or pusillanimity. To the contrary, as I have also articulated over the years, those who recognize who God is and who we are in Christ are actually the most courageous people you'll ever meet.
Consider the story of Alvin C. York. Sergeant York, who hails from my own tiny hometown (in middle Tennessee), was one of the most decorated American soldiers of World War I, receiving the Medal of Honor for his heroic acts against German forces.
On October 8, 1918, York and sixteen other recruits were dispatched before sunrise to take command of a railroad post in northern France. As they approached their target, they were peppered with bullets from hill-perched Germans bearing machine guns, leaving nine Americans dead and several others wounded. Incredibly, through a series of bizarre events and a remarkable display of bravery, York was able to stave off the rapid fire from dozens of men, and, with the use of a single handgun, detain and capture 132 German prisoners. This remarkable feat has his name mentioned among other icons like Davy Crockett and Daniel Boone.
Though he was naturally afraid, York never contemplated surrendering, prompting the question: What would possess someone to march headlong into an enemy's enfilade?
It certainly wasn't his confidence in his own ability. The self-effacing York never claimed to be particularly gifted or athletic. Neither was it is personal fortitude. York's aw-shucks demeanor caused no one to confuse him with Superman. What sustained him? His biographer provides the answer: "Alvin knew Jesus Christ as his personal Savior and he was secure in his identity as a Christian."
In his diary, York, himself, described the situation this way: "We went out on the main road and lined up and started for the front and the Germans was shelling the road and the airplanes was humming over our heads, and we were stumbling over dead horses and dead men, and the shells were bursting all around us. And it was then that I could see the power of God … it was there that I could look up and say:
"O Jesus, the great rock of foundation,
Whereon my feet were set with sovereign grace.
Through shells or death with all their agitation.
Thou wilt protect me if I will only trust in Thy grace.
Bless Thy Holy Name!"
See, true courage comes from being rooted in Christ and the sonship we're granted by faith in him.
Living strong, from a biblical perspective, is not about digging deep and "pulling ourselves up by our bootstraps." It is realizing how hopeless and helpless we are on our own, and then resting by faith so fully in what Jesus has done for us, that we are eager to make sacrifices for our neighbor (without worrying if they'll reciprocate), quick to tell others about our Savior (without fretting over whether they'll reject us), willing to forgive others when they wrong us (without requiring them to be perfect), and, eager to take great risks in life (without fearing even death). Because, for those who are in Christ, what's the worst that can possibly happen? Even in death, we are immediately ushered into the presence of our Savior, the one who said:
"And do not fear those who kill the body but cannot kill the soul. Rather fear him who can destroy both soul and body in hell. Are not two sparrows sold for a penny? And not one of them will fall to the ground apart from your Father. But even the hairs of your head are all numbered. Fear not, therefore; you are of more value than many sparrows." (Matthew 10:28-31 ESV)
Summer is here. Get your superhero blockbuster movie on. And don't forget the popcorn. Just remember: God's not called us to save the world by our own strength. He has called us to be weak, and to rest in the shadow of his wing, wherein we find the courage to be bold and do audacious things, recognizing if we fail, it's ok. God's got it covered.
In Him,
Pastor John
6.16.2016
We're Planting A Church
Hello Family,
I almost entitled this post: "We're Having a Baby"—that certainly would have been an attention-grabber—but I didn't want my cell phone blowing up with texts and calls from people who reached out before they read the article. The reality is "We're Planting a Church" is a more accurate caption, anyway.
This fall, around late September, we will be launching a new church in Riverside, called ReBuild Fellowship. This will be a multi-ethnic, multi-cultural church that, in many ways, will look very little like Northpoint. The building won't resemble the one to which you're accustomed. The worship won't sound the same. And the leadership will (naturally) be different. Dr. Kimani Gathere (along with his wonderful wife, Lydia) will be leading the charge. But despite the noticeable dissimilarities between Northpoint and ReBuild, the mission will be exactly the same: The church will exist to make disciples who make disciples for the glory of God and the joy of all peoples.
In his first post-resurrection words to his beleaguered disciples, Jesus does something very Jesus-like: Before he instructs his followers to do anything, he reminds them of what's already been done. The risen Christ says to the remaining eleven, "all authority in earth and on heaven has been given to me … therefore, go and make disciples." In other words, "I've already conquered death and hell; I'm not asking you to do it. I don't need you to build the kingdom; I will build it. But I am going to use you, and I have all the authority and power necessary to cause this endeavor to succeed." With that, Jesus launches a movement that would reproduce itself: A multiplying church that would continue to expand like ripples in a lake until the multitudes of the earth had heard the gospel. Consequently, the fame of God would be extended and the name of God would be hallowed as more people are brought into worship of the Creator.
As elders of Northpoint, since 2012, we have clung to this shared vision: Jesus has called us to be a multiplying church. In fact, the very nature of the Great Commission hinges on Jesus' followers' willingness to multiply and send.
In both a subsequent post, and in an upcoming August sermon, I will be explaining in significant detail why we are planting a church. After all, as many astutely point out: There are plenty of churches in our region. "Don't we have enough churches as it is?" it is often asked. And, "Aren't there churches dying in every city?" The answer to these questions is: Yes, churches are everywhere and many are dying. But in the churches still alive, there is a great dearth of gospel-centered preaching. There are some good churches, to be sure, but in many, the message is one of constant moralism. Preachers fill their parishioners' bellies with endless instructions on how to have better lives, how to change their situations, how to become better people.
We believe people need the gospel, not powerless advice on how to upgrade their lives.  We believe people are not hearing enough about Jesus, his ministry of compassion, his sinless obedience, his substitutionary death, his world-altering resurrection, and his impending return.
So we want to send Dr. Kimani, Lydia, and a handful of others into a new context to share an old message: Jesus Christ died for sinners.
Here's what you can do:
1.       Please pray that God blesses this endeavor. As I said from the pulpit on Sunday: We know that there will be no revival in the church apart from prayer; there will be no transformation in our nation, city, or homes apart from the intercession of God's people, who cry out to him to perform the miracle of the new birth. We need to pray for ReBuild.
2.       Consider joining the launch team. If you have been faithful to serve God's kingdom and have demonstrated a passion for telling people about Jesus, think about going with the team to Riverside. We are looking for eight families to leave their comfortable surroundings in order to be part of something bold and exciting: A church for all nations in our own backyard. Of course, we will miss you. But you will enjoy the experience of being part of a ground-level work of God. If you would like to know more, please email Kimani Gathere at pastor@rebuildcommunities.com.
3.       Continue to give faithfully to the work of the ministry. By God's grace, our giving this fiscal year has been very strong. We praise God for his faithfulness, and we thank you for being used by God to advance his kingdom. Nevertheless, if we, in fact, send eight or more of our committed families, this means that the rest of us must increase or, at least, maintain a pattern of faithfulness in the grace of giving, as God brings more people into his church here in Corona. Let's continue to give sacrificially and ask God to multiply our contributions in ways we never thought possible.
We're not afraid to confess: This is a tad bit unnerving. J.D. Greear, whose church in Raleigh, North Carolina has planted more than twenty-six churches in North America, told me that the hardest part was sending away good people to be part of a new work. I feel that, too.  But following Christ demands letting go of some things. The grace of God was never meant to be hoarded. And we're excited to see what the Sovereign One might do through a few willing and courageous servants.
For the glory of God in all things,
Pastor John 
6.9.2016
A (Realistic) Word to Our Graduates
Hello Family,
I have thanked God for you many times this week, as the testimonies of your love for God and one another have come across my desk repeatedly. I am grateful to be part of such a caring and sacrificial church.
While I normally use this up-to-700-word essay to speak rather broadly to our congregation, I decided this week to narrow my focus.
This is the time of year when kindergartners "graduate," eighth graders are "promoted," and diplomas are conferred upon high school and college seniors. And it all happens with great pomp and circumstance. I know, I've been to several such ceremonies this year alone.
At these celebratory events, the proffered advice typically goes like this: "The world is yours," "there's nothing you can't do," and "if you believe it, you can achieve it." Well, let me add some pastoral (and hopefully, sage) counsel to the mix. First, the bad news. Contrary to the aforementioned mantras, not every wish will become a reality, even if you truly do "put your mind to it." For example, not everyone can become the next president. Most people simply don't have the skill set. And you probably should dispense with the notion that you're going to play MLB or in the NBA. Very few possess the requisite athleticism. Likewise, the dream to be a pop star should likely remain just that, a dream. The number who have the charisma and talent is shockingly small.
But that's ok. Here's some good news, and it's really good. God has made you to be uniquely you. Our Creator personally designed you with his infinite wisdom and care.  Nothing about you is an afterthought. And he has given you particular gifts with which to serve his kingdom. Furthermore, if you're in Christ, you never have to worry about failure. God loves you and always will, and has promised to be with you through all your ups and downs. Successes and setbacks. In fact, he sent his Son to die so that your standing with him could be forever settled. Your identity isn't rooted in your achievements, vocational or otherwise, but in what Christ accomplished for you.
So … have no fear, graduate. Indeed, be bold. Serve Christ and his kingdom. Resolve, in the words of Jonathan Edwards, to "live with all your might while you do live." Rejoice in your triumphs; trust the Sovereign One in your missteps. You may not be the next American Idol, but you're already something far greater: A child of the living God. And no one can take that from you. Even if you can't hit a musical note or a fastball.
Pastor John
6.2.2016
A Prayer of Confession and Assurance
Hello Family,
I hope you're finding rest in Christ this week. Over the past few months, we've been studying Matthew's Gospel as part of our corporate worship on the Lord's Day, and this Sunday we will turn to chapter six, where we find what is commonly referred to as "The Lord's Prayer." My desire, though, is not simply that we gain a better understanding of this powerful and timeless teaching of our Savior, but that, by it, we are inspired to embrace dependent prayer in a way that we never have before.
With that in mind, I will be offering some helps over the summer in various forms, to guide you in your adoration of, and intercession with God, starting with the prayer of confession below (which is my adaptation of a Puritan prayer from the seventeenth century, that you can read and recite as the Spirit leads you). May God establish within our hearts a deep-seated trust in his goodness and providence, and stir within our souls a passion to pursue him relentlessly.
O God of Grace, Our Father,
I come to you now in desperate need of your forgiveness and tender mercies. I have been hasty and short in my private prayer; I have been quick to rely on my own strength and planning; I have subtly moved you to the periphery. Awaken my heart to lament this folly; to bewail this lack of understanding of you and of myself.
My first sin of the day, my insistence on autonomy, leads to many others: the neglect of those around me who are in need; the presumption that I am justified in my thoughts and actions; a lack of love for my neighbor; and worst of all, a lack of love for you. My reliance on my own strength has led to countless failures on my part. Lord, help me. Keep me from robbing you of the worship you desire, and are solely worthy of. Keep me from having lofty notions of myself, while entertaining thoughts of you that are mundane, and ordinary. Keep me from giving myself the benefit of the doubt, while questioning your every motive. Prevent me from praising you with my mouth, while remaining spiritually aloof and disconnected. Set my heart ablaze for you, God.
With my voice I sing praises to you, my mouth proclaims you as Lord, but my heart is often slow to feel. Gratitude eludes me. Father, forgive me as I have dishonored you with my priorities, allowing my mind to be captivated by temporal things, while remaining unmoved at thoughts of your grace. Your holiness. Your salvation. May I never forget that you have my soul in your hands. You uphold me by your strong right hand. You give me everything I need, and indeed, so much more than I deserve.
Apply to me the merits of Christ's atoning work for my sin. Cause me to hate what is evil and to cling to what is good. Grant that through the lens of repentance, I may see more clearly the beauty and sufficiency of the cross. Let your mercies draw me to yourself. Cause me, by your grace, to long for your coming.
And, Father, enable me to rest in this: to all who confess their sins to you, you are faithful and just to forgive. This is my assurance: what you set free, is free indeed. When you forgive, you remove our offenses as far as the east is from the west. For those who trust in you alone, nothing shall separate us from your love: not trials, nor victories, not failures, not successes, neither valleys nor mountaintops. For you keep us for yourself.
Be my portion today and every day. Give me more grace. Stir my soul to trust only in you. There is no treasure so great as to rest in the finished work of Jesus, the only One through whom I dare approach you. And the One in whose name I pray, even now. Amen.
In Him,
Pastor John
5.26.2016
This week, Pastor John hands over the TAGD keyboard to Pastor Bren Whitefield, Northpoint's Pastor of Missions and Outreach.
Live Brave, Plant Churches
Hello Family,
I don't know about you, but I was inspired and convicted by Pastor Oscar's sermon last week. In particular, I was challenged to think about the quality of my prayer life in regard to asking God for the impossible. For Pastor Oscar's church, Nairobi Chapel, asking God for the impossible has meant, among other things, trusting him in the area of church planting. And they have seen God deliver time and again, allowing them to plant over 100 churches in the past few years. Many of their teams have gone out with little or no resources, trusting God to provide in his timing.
Here at Northpoint, we are praying and trusting God in the area of church planting as well. We are persuaded that planting new churches is the most effective way to make new disciples. New church plants of necessity, have a desperation in prayer and reliance on God that long-established churches have difficulty sustaining. Northpoint will be participating in the planting of a church in Riverside in the next few months. This summer, we are sending a team to Greece to assist a new church that is being planted in a lower-class neighborhood in Athens. In India, we are training church planters who are going out into some of the most unreached parts of our planet.
As most of you know, we are supporting a church plant in Gaborone, the capital city of Botswana. We have committed to providing a portion of their financial support through the summer of 2017. (For those of you who have been giving up a coffee a week to give to this project, we appreciate your sacrifice and hope that you will be able to continue this for one more year. For those of you who haven't joined, it is not too late: There is a designation on the online giving page for "Botswana.") Gaborone Community Chapel is up and running and we keep in regular contact with them. (If you do Facebook, you can befriend them and follow their progress.) We are sending two teams this summer to go and minister to, and with, Pastor Lamaz and the other leaders. This endeavor is a partnership with Pastor Oscar's Nairobi Chapel. We are hoping that we can continue to partner with them in even more ambitious ways in coming years.
So far, our commitment to the church planting partnership has been in the form of funding and short-term teams. It is our hope that we can expand this commitment in the future. In fact, we have been talking with Nairobi Chapel about collaborating on a church plant in a couple of years that would involve one or two of our own people committing to a foreign field. In all likelihood, it will be a place where gospel work is hard and where safety is not guaranteed. It will require somebody willing to live bravely rather than safely. We do not currently have the people or the funds for this, but we want to trust God to provide in his time and in his way. Would you join me in committing to pray for us as we discern who God wants to use, and how and where he wants to use them? Would you pray that God gives us the courage to follow wherever he leads? Would you pray that neither our lack of boldness and imagination in prayer, nor hesitation in action, would prevent us from maximizing our Kingdom impact by making disciples who make disciples, near and far?
Pastor Brent
5.19.2016
Eat Some Fat
Hello Family,
I was so encouraged by our time of corporate worship on Sunday. It feeds my soul to begin the week extolling the perfections of our God with you, my brothers and sisters in Christ.
I had a friend in Arkansas a few years ago who would pour through a pot of stew for the biggest piece of fat he could find and then devour it with great delight. Believing (against all common sense) that most people shared his culinary quirkiness, and insisting on showing honor to me as his guest, he once loaded up my plate with a big piece of fat and placed it in front of me as if he were doing me a favor. Just looking at it made me gag. Forget about trying to eat it!
Following the rebuilding of the wall at Jerusalem in the middle of the first century B.C., the people of Israel clamored for the reading of the law. And Ezra obliged. But the people weren't too happy with what they heard. In fact, they were devastated. When they heard the Torah explained, and when they realized that they had been violating God's commands, they mourned and wept. They were broken.
But I love Nehemiah response. This is such an amazing part of Scripture. "Then he said to them, 'Go your way. Eat the fat and drink sweet wine and send portions to anyone who has nothing ready, for this day is holy to our Lord. And do not be grieved, for the joy of the Lord is your strength.' So the Levites calmed all the people, saying, 'Be quiet, for this day is holy; do not be grieved.' And all the people went their way to eat and drink and to send portions and to make great rejoicing, because they had understood the words that were declared to them" (Nehemiah 8:10-11).
When we read about Israel's brokenness we think, "Yes! The governor and priest have the people right where they want them. They are crushed over their sin and rebellion. They are undone." But what do Nehemiah and Ezra say: "Dispense with all the weeping. Get up! Go eat some fat and drink some sweet wine!"
We don't think of the instruction to "eat some fat" as a good thing. But it was here. Ezra is saying, "Celebrate! Don't be grieved. Take heart … because the joy of the Lord is your strength." And Ezra points out that this is a holy day, so there's no place for mourning.
What makes the day holy? This was the first day of the seventh month, which was a day of feasting—it was called the day of Sukkot—the very purpose of which was to remind the people of what God had done for them by bringing them out of slavery in Egypt. And, yet, here's the problem: The people were focusing on what they had done and not what God had done for them.
Here's what they failed to realize, according to OT scholar John Goldingay: "In the Torah, God's expectations of people are set in the context of a description of what God has done for them."
When God instructs his people to be fruitful and multiply and fill the earth, it's in the context of what he has done for them in creation. When God commands his people to worship him and love him and only him, it's in the context of him leading them through the wilderness. When God gives his people the Ten Commandments, it's in the context of his comforting and protecting appearance at Mt. Sinai.
See, before God commands his people to do anything, he reminds them of what he has already done.
And the same is true for us today. Make no mistake: God calls us to do some incredibly difficult things. And we are to obey those commands, even the hard ones. But he also reminds us over and over that he has already done everything for us in Jesus Christ, so that it won't be our obedience, our sacrifice, or even our very best efforts that make or break us, so to speak, but the absolutely perfect righteous of Jesus Christ, imputed to us by faith.
Jesus has done it all. As he said himself, "It is finished."
This is why only Jesus could make this offer: "Are you tired? Worn out? Burned out on religion? Come to me. Get away with me and you'll recover your life. I'll show you how to take a real rest. Walk with me and work with me—watch how I do it. Learn the unforced rhythms of grace. I won't lay anything heavy or ill-fitting on you. Keep company with me and you'll learn to live freely and lightly." Matthew 11:28-30 MSG
When we grow in our love for God and learn to rest in what God has done, our hearts are stirred with a growing passion to obey. But not the burden of performancism. Which is really good news … that is, perhaps, best enjoyed with a piece of fat and some sweet wine.
In Him,
Pastor John
5.12.2016
This week, Pastor John hands over the TAGD keyboard to Scott Williams, Northpoint's Pastor of Adults and Families.
A VBS for Scallywags Like You and Me
"For it is by grace you have been saved, through faith—and this is not from yourselves, it is the gift of God—not by works, so that no one can boast." 
– Ephesians 2:8–9
Hello Family,
I am so very excited for this year's VBS and the opportunity to not only have a great time with the kids here at Northpoint, but to teach them about God's grace. Our 2016 edition is called PROOF Pirates: Finding the Treasure of God's Amazing Grace.
Let's read what Pastor Jared Kennedy, PROOF Pirates co-author, writes about this wonderful curriculum:
So much in life tells us that it is our performance that makes us who we are. This is especially true for kids. Chore charts, report cards, standardized tests, recitals, and athletic banquets all give the overwhelming message that, "If you do well, you will be rewarded; if you do not do well, you will lose your reward, and you may even be punished." Performance—work and reward—is one of the basic structures of our lives. As a result, kids grow up thinking, "I am what I am because of what I do . . . or because of what I've failed to do."
Have you ever thought about how different this message of performance is from the Bible's message of redemption? In 1 Corinthians 15:10, Paul says, "By the grace of God I am what I am." In this PROOF Pirates curriculum, kids will explore Ephesians and learn about how God saves scallywags like you and me.
What better message for our children to hear than the PROOF of God's grace! This exploration of Ephesians 1–2 reveals five never-to-be-forgotten elements of God's grace:
PLANNED GRACE
Ephesians 1:4-5a tells us, "He chose us in Him before the foundation of the world, that we would be holy and blameless before Him. In love He predestined us …" Before God made the heavens and earth, He mapped out salvation for His people. When teaching this deep truth to kids, we use a treasure map. We ask each child to map out the most significant events in his/her life. Then we search their story for evidence of where God has been at work—evidence of His grace.
RESURRECTING GRACE
The Bible says that we cannot follow God without His help. We are like dead skeletons. "But God, being rich in mercy, because of His great love with which He loved us, even when we were dead in our transgressions, made us alive together with Christ (by grace you have been saved)" (Ephesians 2:4-5). Dead skeletons have no muscles, no brain, and no heart. They have no power to move on their own. But God makes people dead in their sins to live again. God can make dead men and women and boys and girls walk in obedience to Him.
OUTRAGEOUS GRACE
Ephesians also teaches us that in Christ we have redemption (Ephesians 1:7). To redeem something means to buy it back—to pay a price so you can have it back. God paid the price for our sins by sending His Son, Jesus Christ, to die on the cross. Jesus gives us the riches of God's grace. We can't earn it. We don't deserve it. We teach the richness of Jesus' free gift by taking kids on a treasure hunt where the cross marks the spot.
OVERCOMING GRACE
God does for us what we can't do for ourselves. He changes our pirate flag of rebellion into a white flag of complete surrender (Ephesians 2:8-10). God gives us His Spirit to overcome our sin and make us His masterpiece.
FOREVER GRACE
We use an anchor to teach about how God's grace keeps Christians safe. Even though life is sometimes like sailing on a stormy sea, God is with us, and He protects us. He brings us back to Himself like a boat guided safely to shore. Ephesians 1:13-14 says, "In Him, you also, after listening to the message of truth, the gospel of your salvation—having also believed, you were sealed in Him with the Holy Spirit of promise, who is given as a pledge of our inheritance." Because of the Holy Spirit, God's people are marked as His children forever. God always finishes the work He begins in us. He protects His children so they can never be lost.
We want our kids to know their Savior—to know that it's God's grace that makes them who they are. We want to show kids that discovering God's grace is a great adventure that should overwhelm them and fill them with a sense of wonder. Our hope is that our children will never cease to be amazed that God reached down and saved scallywags like us. We want them to know Jesus as their greatest treasure.
Northpoint's PROOF Pirates VBS is coming July 11-15, and we can't pull it off without your help! This Sunday, we'll be in the Foyer ready to sign up volunteers eager to help make disciples, or as we pirates say, to help turn "scallywags" into disciples. See you then.
Pastor Scott Williams 
5.5.2016
Choose Your Own Adventure
Hello Family,
I hope your week is going well. I have been praying for you over the last few days, that God would enable you to be rooted and established in his love, so that the winds of change in our country and our culture would not cause anxiety, trepidation, or worry.
During the summer of 1983, my little sister (who's two years my junior and was in fourth grade at the time) broke a school record by reading more than five hundred books between June and September. During that same period I, on the other hand, finished one book and got about half way through another. I was too busy racing my bike around the neighborhood and playing tackle football in the street to sit down and read (which would explain, I guess, why my sister still regularly annihilates me at Trivial Pursuit).
Despite my preoccupation with sports, though, there was one set of books that I could really get into as a sixth grader: The Choose Your Own Adventure series. These cleverly written paperbacks allowed the reader to mark his or her own path and then to reap the rewards (or suffer the consequences) of each decision.
More than three decades later, I've come to realize (after eventually reading quite a few books!) that God's will for our lives is very much like my once-favorite book series. Sure, God has a sovereign will, which theologians refer to as "God's secret plan that governs everything that happens in the world" (see Ephesians 1:11, Isaiah 46:9-11). And yes, God has a moral will, comprised of all his revealed commands in the Bible that teach how men and women ought to believe and live. But in lieu of a specific detailed life-plan that we're supposed to seek out (often referred to as God's individual will), God has given us freedom in non-moral areas to chart our own course.
I know it sounds more pious to say, "I want God to make that decision for me," or, "I'm waiting for God to reveal his perfect will for my life," but Scripture never presents God's will as something that we wait for or find, but instead something that we understand and do.  "Be joyful … pray … and give thanks," the Apostle Paul says in 1 Thessalonians 5, "for this is God's will for you." (The passages in the Psalter, by the way, which talk about "waiting on God" have to do with trusting in God for deliverance, not passively waiting for special guidance.)
Perhaps, then, instead of looking at God's will as a mysterious path that we need to find, it is better to view God's will as a backyard, filled with numerous options. There are certainly boundaries that we cannot cross (a la God's moral commands, pictured perhaps best by a high protective fence), but within the yard, so to speak, there's a great deal of freedom.
Does this mean that God has left us to fend for ourselves in this uneven world? Certainly not. God has given us his Word, which serves as "a lamp unto our feet," his Spirit, who comforts us and persuades us of the truth of Scripture, and he has also given us each other to provide mutual encouragement and advice along our journey. But a biblical view of God's will recognizes that we have all we need to live successful and God-honoring lives.
I realize that a one-page article on such a misunderstood topic may cause more confusion than clarity, but I think a theology of God's will can be summed up in a couple of imperatives: 1) Do what God says, and 2) Prayerfully exercise wisdom and love in the areas of freedom.
Now, let's apply this Choose Your Own Adventure paradigm to discerning God's will in a real scenario. Here goes: Imagine you have an important decision to make. How will you respond? Try this:
Page 1: Life has thrown you a curve. You're not sure what to do. The first question to ask: Is this decision covered by a clear command in Scripture? (For example: "do not lie" (Colossians 3:9); "avoid sexual immorality" (1 Thessalonians 4:13); "do not get drunk" (Ephesians 5:18). If "yes," go to page 2; if unsure, go to page 3; if "no," proceed to page 4.
Page 2: Obey the command. This is God's will for you.
Page 3: Study for clarification; seek biblical counsel; pray for wisdom.
If, upon further review, the decision is covered by clear command, go to page 2; if not, go to page 4.
Page 4: Process data through a biblical worldview (consider things like: your human obligation, motives, the importance of prayer, expert advice, counsel of informed friends, personal giftedness and desires, financial constraints, and kingdom benefit). Having done so, go to page 5.
Page 5: Plot a course of action and periodically evaluate. This is God's will for you.
I understand that approach doesn't answer every question, but I think that's the point. God wants us to obey him and trust that he has our good and his glory in mind.
Pastor and author, Kevin DeYoung, writes: "Too often God's people tinker around with churches, jobs, and relationships, worrying that they haven't found God's perfect will for their lives. Or—even worse—they do absolutely nothing, stuck in a frustrated state of paralyzed indecision. But God doesn't need to tell us what to do at each fork in the road. He's already revealed His plan for our lives: to love Him with our whole hearts, to obey His word, and after that to do what we like."
To that, I offer a hearty,­ "Amen."
For his glory,
Pastor John
4.28.2016
Am I Self-Righteous?
Hello Family,
In light of the section of Scripture that I've been studying this week, in preparation for Sunday's message, I've been praying this way for you (and myself), as of late: "Father, give us the assisting grace that we need to keep us from falling into temptation. Lead us, Lord, away from the snares of sin and onto the path of righteousness."
In the four weeks that we've been looking at Jesus' Sermon on the Mount, we've talked a lot about self-righteousness, that inclination of our hearts to elevate our own goodness and to look down at others because they don't meet our self-imposed ethical standards. Of course, no one claims to be self-righteous, but it is a deceptive vice that sneaks in unawares.
In his book, Accidental Pharisees, my friend Larry Osborne (brother of Linda Bishop, who just spoke at Northpoint's women's retreat), suggests five types of Christians who can unwittingly erect a new legalism that is fraught with self-righteous tendencies (pages 92-94):
Radical Christians: These believers view generosity as the greatest measurement of one's true spiritual maturity. While these folks are careful not to impose specific demands on anyone—that might smack of legalism—they nevertheless are suspicious of those who drive nice cars and have big houses. Their parents balked at the beer in someone else's fridge; these "Radical Christians" are instead bothered by the BMW in their brother's driveway.
Crazy Christians: These folks think you're only committed to God if you leave your friends and family and go some place deeply challenging. "Their litmus test of a true disciple," Osborne explains, "is costly personal sacrifice. Be aware that if you haven't intentionally chosen some paths of suffering, your commitment to Jesus will be seriously questioned."
Missional Christians: There's a buzzword you probably haven't heard in the last, I don't know, five minutes: missional. It's a biblical concept—going out rather than attempting to bring in—and it's a phrase that I've used plenty, but it does have its baggage. "Missional Christians" will only accept your profession of faith if you regularly help at a soup kitchen or tutor at-risk kids. Otherwise, you may not cut it. And if you attend a big church with lots of programs, you really have little chance of being legit.
Gospel-Centered Christians: These believers constantly utter the phrase "gospel-centered." Osborne elucidates: "They like to determine spiritual maturity by means of their theological grid. If you like big words, careful distinctions, and nuanced debates, you'll fit right in. [But] if you're slow on the uptake, action oriented, better with your hands than with your mind, or have a hard time with big words or long paragraphs, you'll be allowed to attend, but don't expect to lead anything."
Revolutionary and Organic Christians: Frustrated by the failings and oft-alleged short-sightedness of the traditional church, these folks have chosen a more "grass-roots" or "organic" expression of church. And they think you should too. If you publicly criticize the church's budget or leaders, you're considered forward-thinking rather than stubborn. And if you go to a megachurch, forget about it; you just don't "get" it.
It must be said that Osborne is not against all of these priorities, per se; many of them are inherently biblical. Who can argue that gospel-centeredness is not a healthy mark of a Christian? Nevertheless, Osborne warns us against turning these good things into idols. Or, using them as measuring sticks for determining someone else's spiritual vitality.
As I summarize the convictions of these "new legalists," I can easily see myself in all of them. It's no stretch to say that self-righteousness runs deep in my own heart. The only solution, as we're going to talk about on Sunday, is gladly recognizing the insufficiencies of our own efforts, juxtaposed with the beautiful, all-satisfying, and completely sufficient cross-work of Jesus Christ. I look forward to seeing you in a few days.
By grace alone,
Pastor John
4.21.2016
I Heard 'Em Say It
Hello Family,
Inside the cover of my Bible, I have a prayer guide that I reference in the mornings to help sharpen my prayer focus. As easily as I can be distracted, I need such a tool! Some of the categories include: worship, confession, thanksgiving, country, persecuted church, unbelievers, among others.  One line reads: "Church Family." This is my reminder to intercede for you, my brothers and sisters in Christ. And this week, my prayer has been, in part: "Father, help us to be glad in you, and to find joy in your steadfast love. Break us of our self-reliance and forgive us of our longing for human validation; enable us to be satisfied in your acceptance of us in Christ."
Many of you know that last week I was in Louisville, Kentucky for the biennial "Together for the Gospel" conference, along with Scott Williams, Jonathan Clubb, Taylor Mendoza, and some ten thousand other pastors and leaders.
Well, since you couldn't join us for the week, I thought I would pass along (and briefly comment on) three of the (many) meaningful statements that I heard during my time there.
CJ Mahaney: "Comfort for those who are suffering does not come from explanations but from a revelation of God." In his overview of Job, and, in particular, his summation of John Calvin's expositions of this great book (159 sermons in total!), Mahaney talked about the futility of offering those in the throes of suffering speculative reasons for their tribulations.  He warned about rushing to conclusions a la Job's friends ("There must be secret sin in your life that you haven't confessed," or "There's a lesson that God wants to teach you that you're not receiving."). Instead, Mahaney pleaded with pastors and counselors (as well as spiritual friends) to help those who are hurting to see who God is, and show them the faithfulness of his character, the sufficiency of his grace, and the depth of his love, most arrestingly displayed on the cross, where the Ultimate Sufferer bled and died to both identify with us in our travails, and to put an end to reign of death altogether.
Matt Chandler: "Trying to fully grasp God's sovereign plan, with our limited perspective, is like watching one second of a five-hour movie and trying to make sense of it." Continuing with the theme of dealing with difficulty, Chandler reminded us from Romans 11, that, despite our best efforts, we only see but a tiny blip of the whole picture. God, however, sees it all. ("Oh, the depth of the riches and wisdom and knowledge of God! How unsearchable are his judgments and how inscrutable his ways!" [Romans 11:33]). Naturally, with our noetic myopia, it's easy to conclude that God has forgotten us, that suffering is pointless, or that it couldn't possibly be for our good. But Chandler stressed God knows the end from the beginning. His purview is eternal. He is working out a plan that we may never fully understand this side of heaven, but our short-sightedness should not prompt us to conclude that God is not good. After all, the rest of the movie, so to speak, is yet to be shown.
Mark Dever: "Fruitfulness in gospel ministry, just like fruit in our own lives, is seen over the long haul.  Beware of the allure of speed." Man, this was helpful to me. In an age where churches pop up overnight, explode in growth over months, and then dissolve when the founding pastor moves on, it was encouraging to be reminded that the work of disciple-making is a marathon, not a sprint. I am impatient, and I know it. It's a sin I repent of regularly. I am a results-driven sort of person. It helped me to succeed in sales and advertising many moons ago, and it propelled me in the television industry. It's not so helpful, however, in the ministry of spiritual formation. And even though, by God's grace, I see "results" all the time (e.g., our 17 baptisms only two months ago), I need to be reminded when things seem to be going slowly (in the church or in my own life) that God's timing is not like mine, and he is working even when I can't see it.
There you go—a few pithy statements on which to reflect and cogitate. Now, hopefully, you feel like you were with us in some way. And you didn't even have to wait in line fifteen minutes for a restroom or shell out $4.00 for a bottle of water!
For his glory,
Pastor John
4.14.2016
This week, Pastor John hands over the TAGD keyboard to Marti Wiegman, Northpoint's Director of Women's Ministries.
What Are You Doing?
Hello Church Family,
When was the last time you stopped to ask yourself, "What am I doing?" Okay, I'm not talking about when you go to another room to get something and over the course of seconds suddenly can't remember why you even got out of your chair. I'm talking about asking ourselves the deeper question of how we are using and investing our lives for Christ.
If you are a believer, you are a part of the body of Christ. You have been gifted by God with abilities and strengths that are needed by the body. Everybody has a part to play and every part is important. These are truths that we learn throughout the New Testament in places like Romans 12, I Corinthians 12, and Ephesians 4.
We see this principle of doing God's work together played out in real life in the Old Testament book of Nehemiah. (This is where we are currently studying in Women of the Word.) Nehemiah led the people of Israel in rebuilding the walls of Jerusalem that had been destroyed when they were conquered and taken captive due to their sin and rebellion. But because of God's steadfast love, he brought his people back and enabled them to rebuild.
In Nehemiah 3 we learned that:
God's work requires the participation of all God's people. 
There is a saying about church life that unfortunately holds true much of the time:  That 20 percent of the people do 80 percent of the work. But that's not God's plan.  His plan is for all of us to play a part in his work.
The rebuilding of the walls began with the high priest and priests beginning the work. But there was no way they could accomplish the task alone. Everyone was needed. So next to the priests the men of Jericho built. And next to them another clan built. And next to them another family. And the list goes on and on (complete with names I can never pronounce). Each man and his family is seen building a section of the wall side by side.
Listed by family, geography, or trade, many were called to serve in ways that didn't line up with their experiences. I doubt those perfume makers had a lot of practice with a mortar and trawl. There are even women included in the list who stepped in to build where needed. Often God calls us to serve outside our comfort zones. But they gave themselves to doing God's work.
God's work requires we serve cooperatively and simultaneously:
Nehemiah 3 itemizes some 40 different sections of wall that needed to be rebuilt, each with its own construction challenges. Time was of the essence. There were breaches in the walls and enemies all around. Lives were at stake. They all had to work at the same time. There had to be a coordinated plan so that when they reached a certain designated point along the wall, the other team would be there to meet them.
We see this dynamic of serving cooperatively and simultaneously here at Northpoint. Our Student Ministry is working to build up our youth in their faith in Christ. The Choir devotes themselves to guiding us in worship. Small groups are meeting throughout the week living life-on-life together. We have missions teams traveling around the world. Our Children's Ministry teaches the gospel while hearts are tender. We have so many new babies here!—and our nursery provides loving arms to hold them. We have individuals coordinating the many prayer requests of our church family. And there's AWANA, GriefShare, ESL, the quilters in Pieces of Love, support for our widows, and the list goes on!
Together we each take our place around the wall as the body of Christ and we build.  Because eternal lives are at stake.
As we each work in our individual areas of ministry, we need to be continually mindful of the big picture, vigilantly guarding against competing with one another.  Our purpose together is to do God's work, to be his light, and to share his love.
In the 17th century, Sir Christopher Wren was the architect and master of works in the building of St. Paul's Cathedral in London.
There is an often-told story of a man who came to survey the work. He asked various artisans, "What are you doing?" One man answered, "I'm laying an ornate mosaic floor." Another said, "I'm leading up the glass for the beautiful stained glass window. Still another answered, "I'm constructing the magnificent domed ceiling."  The man wandered into a remote, utilitarian area where few would ever enter and found a young man chiseling a simple stone. "What are you doing?" the man asked.
The worker answered, "I am helping Sir Christopher Wren build St. Paul's Cathedral.
Northpoint doesn't exist to have the biggest congregation, the most dynamic youth group, or the best women's retreat. We are helping the Lord Jesus Christ to build his church. That's what we should always be doing as believers.
So . . . what are you doing? If you need help finding a place to stand on the wall and build with us, let us know. It would be our privilege to help and encourage you to join in God's work.
Serving him together,
Marti
4.7.2016
Stop Working So Hard
Hello Family,
It has been my delight to pray for you this week. Not only have I brought your name before the Lord, asking him to increase your joy in him, but I have also repeatedly thanked God for you and the privilege of serving as one of your pastors.
Over the last six years, I have encouraged you week in and week out to rest in the finished work of Jesus Christ. A refrain I have echoed often has gone something like this: Nothing you do (or don't do) will alter your standing before God. You belong to Him. And He loves you. So you're free to stop worrying about your performance and just delight in the One who redeemed you and in whom every blessing is found.
Well, many of you have said, "Hallelujah!  Praise God!" (ok, perhaps with not so much effusiveness, but nonetheless you've been comforted with the sufficiency of Christ's mediatorial accomplishments). But some of you have said (and believe me, I understand), "How can this be? Aren't we supposed to be about working hard and doing things for the Kingdom?"  And I have answered by saying, yes we work and strive but from God's acceptance not for it.
In God's good providence, as I was reflecting on these things this week, I came across something so stunning (and convicting) that I had to share it. In Charles Spurgeon's sermon, "The Believer's Present Rest", delivered on June 6, 1873, the beloved preacher offered this:
"Let me remind you, beloved, that this rest is perfectly consistent with labour. In Hebrews 4:11 the apostle says, "Let us labour therefore to enter into that rest." It is an extraordinary injunction, but I think he means, let us labour not to labour.
Our tendency is to try to do something in order to save ourselves; but we must beat that tendency down, and look away from self to Christ. Labour to get away from your own labours; labour to be clean rid of all self-reliance; labour in your prayers never to depend upon your prayers; labour in your repentance never to rest upon your repentance; and labour in your faith not to trust your faith, but to trust alone to Jesus.
When you begin to rest upon your repentance, and forget the Saviour, away with your repentance; and when you begin to pray, and you depend upon your prayers, and forget the Lord Jesus, away with your prayers. When you think you are beginning to grow in grace, and you feel, "Now I am somebody," away with such spurious growth as that, for you are only being puffed up with pride, and not really growing at all. Labour not to labour; labour to keep down your natural self-righteousness and self-reliance; labour to continue where the publican was, and cry, "God be merciful to me a sinner."
Man, I wish I could say it that beautifully! What sort of joy might we experience if we beat down the beast of self-righteousness (a favored phrase of Martin Luther) and learned to rest in what Jesus has done for us, rather than what we can do for him?  What sort of courageous acts of obedience might we undertake if we recognized that it will be neither our success nor failure that secures for us God's favor? It is already fully ours in Christ!
May God give us the grace to labor not to labor, but to enjoy the benefits of Christ's finished work all the more.
Resting in Him,
Pastor John
3.31.2016
A Thousand Hills' Worth of Cattle
Dear Family,
I have been praying for you this week, that God would unite us together in his love.
At one of our year-end congregational meetings not too long ago, someone made a very helpful comment. This gentleman asked, "Can you give us occasional updates on how we're doing as a church financially? This way, if things get tight, we can look for ways to personally increase our giving (beyond ten percent)." I was both heartened and challenged by the retort. And from that time, I've made it a point to provide regular updates via electronic and written means. (Yes, we still write old-fashioned letters every once in a while!)
With that said, below is a snapshot of our financial picture with two-thirds of the fiscal year in the books. (Our financial year goes from August 1 to July 31.)
'14-'15 Giving (thru 35 weeks): $1,165,445
'15-'16 Giving (thru 35 weeks): $1,186,637
'15-'16 Budget (thru 35 weeks): $1,182,143
As you can see, our year-to-date giving is above both last year's giving (over the same duration) and our budgeted income. Praise God for his faithfulness. As the old hymn says, "He giveth, and giveth, and giveth again."
Thank you for your consistency in this area. Your contributions reveal your grasp of God's love in your own life and make it possible to for this church to yield direct gospel fruit in places like: Botswana, Bhutan, Budapest, Johannesburg, Carranza, Corona, Norco, Riverside, and many others.
By his grace,
Pastor John
3.24.2016
Maundy Thursday
Hello Family,
There was a house in ancient Jerusalem, near the center of town, which had a large upper-story guest room. The room was well furnished and perfectly suited for a private gathering. We don't know much else about the house, and nothing really about the owner, but it was at that house, on the eve of his death, that Jesus enjoyed his last supper with his disciples. It was Thursday. He would be killed on Friday.
During that meal, the erstwhile Feast of the Passover, Jesus was present and attentive like he always was when he was with his friends. But there was something markedly different about him. Sure he ate and drank. He talked and listened. But as he leaned his left arm on the table, as was the custom, and with his right, he dipped his bread into the dish of oil, he shared the same bowl with the man who would betray him.
This was an incredibly painful moment. Jesus presumably locked eyes with the man who would hand him over to be killed, doing so in the most deceptive and disarming of ways: with a kiss. The evangelist, John, tells us that this whole ordeal left Jesus "deeply troubled" (John 13:21).
But Jesus did not have hatred in his heart. He did not let evil determine the agenda of the evening. In fact, it was on that same night that Jesus humbly washed his disciples' feet and issued them this imperative. "A new commandment I give to you, that you love one another: just as I have loved you, you also are to love one another" (John 13:34).
The Thursday of Holy Week is commonly referred to as Maundy Thursday. This comes from the Latin word mandatum, which means "command" or "mandate." On this day we reflect on Jesus' mandate to "love one another." We might call it "Command Thursday."
But the command is only part of the equation. More importantly, we are also reminded of the love that Jesus has for us: "Love one another," Jesus says, "just as I have loved you." And how did Jesus love?
Pastor and author Kevin DeYoung says this: "There was never any love like the dying love of Jesus. It is tender and sweet. It serves. It loves even unto death. Jesus had nothing to gain from us by loving us. There was nothing in us to draw us to him. But he loved us still, while we were yet sinners. At the Last Supper, in the garden, at his betrayal, facing the Jewish leaders, before Pontius Pilate, being scourged, carrying his cross, being nailed to the wood, breathing his dying breath, forsaken by God—he loved us. To the end."
The mandate that Jesus issues in John 13 is a command that should be remembered this Holy Week and obeyed in perpetuity. But it is an imperative that can only be followed if we understand, receive, and are empowered by the love that Jesus has for us. Unless we are resting in the unchanging affection of Christ, we will be unable to love those who wrong us, despise us, and use us for their advancement. But when we receive by faith the benefits of  Jesus' cross work, namely the unalterable approval of God in Christ, we are then enabled to love others, and thereby fulfill the "new" command that Jesus issued on the eve of his death.
May God deepen our grasp of that love this week, as we consider the death, burial and triumphant resurrection of our Lord and Savior.
Resting in Him,
Pastor John
3.17.2016
This week, Pastor John hands over the TAGD keyboard to Pastor Brent Whitefield, Northpoint's Pastor of Missions and Outreach.
Palm Sunday Reflections
Hello Church Family,
Palm Sunday is typically a time for reflection on Christ's triumphal entry into Jerusalem. The narrative as recounted in all four Gospels is the heart-warming stuff of Sunday school flannel graphs. We can imagine Jesus waving beatifically from astride his donkey, much like the pope coming through town in his pope mobile. Far more interesting for the purposes of the grand story, however, is what happened during that week that turned Jesus from a popular hero to an executed criminal abandoned by even his closest associates.
Jesus made his way into Jerusalem and what he witnessed there did nothing to encourage him. From the minute he arrived, he set about, almost single-mindedly, to attack and provoke the religious leaders. By Monday he was making enemies as he famously cleansed the temple in a fit of anger.
His anger was well justified and his actions appropriate. Shifty deal making, money changing, and corruption was happening under the nose of and with the permission of the religious leaders who in fact profited by it. Not only was it a "den of robbers," but it was a place of privilege where the least of these were not welcome.
If Jesus were to return in a similar manner today, who do we imagine he would go after first? We would like to think that he would attack the hotbeds of iniquity. "If God doesn't destroy San Francisco, he owes Sodom an apology," someone once said. Surely he would publicly rail against the hedonists of New Orleans, the Bernie Madoffs of Wall Street, and the atheists of Hollywood. He would round up all pornographers and abortion doctors. He would also go after the politicians and rulers who represent the principalities and powers of this world, the heads of ISIS, and Kim Jeong Un would have their day of reckoning.
But this is not what Jesus did in the week between Palm Sunday and Easter. How did he spend his last few days of earthly ministry? Not by going and cleaning out the dens of iniquity and taking on pagan worshippers. Nor did he even concern himself with condemning the political leaders, many of whom were corrupt and wicked. He actually showed deference to them and said to give them what is theirs.
How did he spend his time? Taking on the religious leaders. Pointing out their hypocrisy and showing how they steal from the poor and thus show love for neither God nor neighbor. Nearly all of his parables during that week showed the inadequacy and hypocrisy of the religious elite. They recognized it and accelerated their homicidal plots against him.
Might I suggest that if he returned today, Jesus would pay his first visits to some of the biggest churches and ministries in the land. He would catch the prosperity gospel preachers as they landed in their Learjets and ask them why they have stolen the widow's mite to make their yacht payment. He would visit the studios of the Christian broadcasters, turning over the cameras and wiping the makeup off their wives' faces and ask why they implore the poor peasant in India to contribute the dollar she earned that day to pay for his Rolls Royce. Though he would no doubt have a prophetic word applicable to all, he would reserve his harshest treatment for those who claim to represent him; those who purport to be doing his work while victimizing others; those who claim to be ministers of the gospel, who by their lives demonstrate no understanding of it whatsoever.
Jesus actions that week were not those of a man who was concerned about his popularity ratings. Nor were his words. His sermon topics and parables were designed to challenge the religious leadership in the strongest possible terms. After all, Jesus was killed unfairly but not without reason.
So much preaching today is meant to make you feel good about yourself, to give you biblical affirmation for the things you want to do anyway. Don't want to take the sin in your life seriously? God isn't that serious about it either. Want to get rich? God wants you to be rich. Want a blessing from God? God guarantees you a blessing. And so on. For Jesus, the more he preached, the fewer followers he had. That's because he did not tell people what they wanted to hear or affirm their religious preconceptions. We want to see our church grow in numerical terms but never at the expensive of faithful and honest teaching. Here at Northpoint you will not hear sermons that whitewash the truth or seek to please as many as possible. And may it always be so.
Why did the people come out to fete Christ on Palm Sunday? Because they had heard about or witnessed his miracles—and Jesus was popular when he was the miracle man. His popularity began to wane when he became more specific about what it would cost to follow him, what the future might hold, and how radically different the gospel was from their conventional religious understanding.
On Palm Sunday we see the makings of a mass movement. By Good Friday, the masses have cleared out. The very idea that Jesus was trying to assemble as many as possible is a misreading of the text. We more often see Jesus fleeing crowds than attracting them. He deliberately confines his attention to a few. He resists being co-opted into existing movements like the Zealots, the followers of John or the religious establishment.
In the end there were few who followed Christ for the right reasons. There were few who embraced his admonition to seek first the kingdom. The call to follow Christ is not a call to power and privilege. It is a call to community in Christ, a community that may be small and weak and misunderstood and abused. After all, as Jesus stumbled under the weight of the cross on the road to Golgotha, as he looked back over his shoulder, he couldn't have helped but notice that there was no one with him.
Pastor Brent
3.10.2016
Helping Children See Jesus
Hello Family,
My prayer for you this week has been patterned after Jesus' own intercession in John 17: I've asked God to "keep us from the evil one" (verse 15), and to "sanctify us in the truth" (verse 17) in order that we "may all be one" (verse 20).
I had lunch with a man this week who is brand new to Northpoint, and one of the first things he had to tell me was how much his six-year-old granddaughter (also new to the church) enjoyed and appreciated her Sunday school teacher. Everyone embraced this little newcomer, which gave her a desire to return. She couldn't stop talking about her experience.
Well, not only are kids kindly received in children's ministries, but they are consistently pointed to Jesus by gifted and compassionate teachers. Under Terilyn Brown's watchful eye, leaders at every level are lovingly told: Tell them about Jesus. With that in mind, I wanted to give you an example of the sort of Christ-centered instruction our kids regularly get. Below is the lesson taught last Sunday by CM volunteer, Lyle Bray.
Numbers 13 starts with the Lord speaking to Moses, the leader of over two million Israelites, as they prepare to enter the promised land: "Send men into the land I am giving you to check it out." The land is a gift from the Lord. We need to concentrate on that word "gift." It should remind us of John 3:16: "And God so loved the world that he gave. …" God is so gracious that he gave the Israelites the gift of the promised land. God is so gracious that he gave us the best and final gift, the gift of salvation from his justified punishment when we put our faith in Jesus, the object of our faith. We don't put our faith in faith and we don't put our faith in ourselves, we must put our faith and our trust in an object outside of ourselves and that object is a person: Jesus Christ!
 Moses sent twelve men into the promised land for forty days to spy it out and answer questions about its people, its land, and to bring back some of its fruit. Numbers 13:23 says they returned from their aforementioned mission with grapes, pomegranates, and figs so big that they had to be carried on a pole between two men! Do we trust the Lord's gift and the fruit of that gift (ultimately the Lord himself) to be anything but good? This fruit reminds us of Galatians 5:22 and the fruit of the Spirit: love, joy, peace, patience, kindness, goodness, faithfulness, gentleness, and self-control. The gifts of the Spirit!
 The twelve reported back and Numbers 13:30 begins with Caleb telling the people that they should by all means go up and take the land, but ten of the twelve said the inhabitants were too big and made them feel like grasshoppers. Then Numbers 14:1-5 explains how the people began to complain about Moses and wanted to forcefully replace him with another leader that would take them back to Egypt. It is unbelievable that the Israelites would complain about God's good gift and want to go back to a land of imprisonment and slavery, especially after all the miracles they had seen with their own eyes—who are they trusting here? We should not be quick to condemn the Israelites—sound like anyone we know? Would we do any differently?
In Numbers 14:5,17 we see Moses' response: He is a mediator for the people. This should bring to mind the ultimate mediator, Jesus Christ. He lived a perfect life of obedience, died on a Friday, and rose on a Sunday. He is the final and only mediator a person needs.
 We see God's grace and a clear separation (a fence) between those that trust and those that do not in Numbers 14:20-24. God listens to Moses' mediation and does not immediately and rightly destroy the people that complained about the good gift of his promised land. God says he will allow those that trusted him to see the promised land, but those that put him to the test will stay in the wilderness. Because of your disobedience, there will be a fence in the way for another forty years. God graciously allows the disobedient an opportunity to trust him. John 3:16 reminds us "that whoever believes in him shall not perish, but have eternal life" and the fence of disobedience is removed.
 Numbers 13 and 14 describe to us a gracious God, historically involved with his people. He has given us the gift of forever life in him Son Jesus Christ! Do we trust him?
I read an article today on the Gospel Coalition website that instructs "How Not to Teach Your Kids the Bible." The number one thing to avoid, in the author's estimation: Teaching narratives as moralistic fables. I couldn't agree more. Our kids need not hear repeatedly to "be more courageous like Joshua," to "be more bold like David" or to "not be hard-headed like Jonah" (though all of these things may be true). Instead, we show them how the all the Scriptures are about Jesus (John 5:37). And we help them to see the incredible grace of our Savior, the sufficiency of Jesus' work on the cross, the reality of his resurrection, and the peace we find in his forgiveness.
By his grace,
Pastor John
3.3.2016
The Tenderness of God?
Hello Family,
I have been praying for you this week, specifically, that God would intensify your trust in him, and bolster your faith in his goodness.
People often ask me, "How much can you see when you're on the platform preaching?" My answer is: I see a lot. I notice when people nod off (and pretend to be praying); I catch just about every exchange of handwritten notes; I see the folks scribbling down the points on the screen; I even espy the ups and downs of the habitual restroom retreaters. It's a strange phenomenon, but there's much to be observed while speaking in public.
Not only do I see things, but I also think things while I'm preaching. It's not uncommon for a completely unrelated thought to pop in my head. Haven't seen her in a while. Or, That man is about two years from losing all his hair (not that I'm against baldness!). Or even: Man, those are some colorful socks.
A couple of weeks ago, while I was leading the church in corporate prayer, this thought popped in my head: That's the third time I've used the word "tender" to describe God in one prayer. Not only was I slightly bothered by my inadvertent redundancy, but I then started to fixate on this question: Is tenderness truly an attribute of God?
The great soul singer, Otis Redding, once encouraged men to "Try a Little Tenderness." The antidote to weariness, he opined, was a response of gentle compassion. But is that how God responds to us? We talk a lot about God's holiness, sovereignty, love, power, and mercy. But should we also praise God for his tenderness?
The book of Hosea offers a definitive answer. Throughout this oracle, which is made up of words from Hosea followed by words from the Lord, himself, we read about God's horrific judgment that he promises to bring on his people because of their rebellion. But just about every pronouncement of judgment is followed by a reminder of God's steadfast love and the sufficiency of his forgiveness.
Every time God says, "I'm going to wipe you out because of your idolatry," he says almost immediately after, "But how could I destroy the people I love. I won't let you wander off forever.  I will woo you, and win you back to me. My love for you will never fail. You will be called mine again."
We might say it this way: There is an eagerness to God's love. God delights in showing love to his children. It's almost as if he can't wait to do it. To be sure, God is not impetuous; he never gets swept away by his emotions, but his love is real, it is deep, it is rescuing.
The most arresting reminder of this is in Hosea chapter 11. Here God says: "It was I who taught Ephraim to walk; I took them up by their arms, but they did not know that I healed them. I led them with cords of kindness, with the bands of love, and I became to them as one who eases the yoke on their jaws, and I bent down to them and fed them." (Hosea 11:3-4)
"Ephraim" was a euphemism for the inhabitants of the northern Kingdom of Israel, but the point extends beyond that: God cares deeply and intimately for his children. With a gentleness and affection that is almost palpable, God bends down to care for his own, holding them while they weakly traverse the uneven ground of this life, ministering to their bodies and souls.
Is God tender? Absolutely. Sure, he is strong and mighty, and infinitely more powerful than any living creature, but he is also gentle, caring and kind, a God who you can go to with all of your cares and struggles. Tell God your fears and anxieties, because he cares for you. As the prophet Isaiah wrote: The one who has held the oceans in his hands and measured off the heavens with his fingers will also "feed his flock like a shepherd. He will carry the lambs in his arms, holding them close to his heart" (Isaiah 40:11).
In Him,
Pastor John
2.25.2016
The Un-Politician
Hello Church Family,
I have been praying for you this week from Psalm 90: "O Lord, satisfy us in the morning with your steadfast love, that we may rejoice and be glad all our days."
This is a unique time in the life of our country. This is political "crunch time," so to speak, when presidential hopefuls do their best to win states and gain their party's official nomination. And what has struck me most, as I have watched pundits proffer poorly rehearsed critiques, is just how polarizing the candidates are. It seems that, without exception, each man and woman engenders an intense love-hate relationship among the people he or she hopes to persuade.
Even so, it's fair to say that no one has ever been more polarizing than Jesus Christ.
Jesus made just about everyone uncomfortable. And when we read the accounts in the gospels, we can't help but feel a level of uneasiness ourselves. Like when we read about the time that Jesus chastises his disciples repeatedly for their lack of understanding. Or when he talks about a sin that's impossible to find forgiveness from. Or the time Jesus turns away potential followers because of their shallow faith and materialism. Or the time when Jesus realizes that everyone needs to see him and he immediately goes somewhere else. Those descriptions are unnerving. And there are others.
Many people tend to think that Jesus was always patient; that he would never laugh (he was too serious for that); that he certainly never get angry; that he was always genteel and soft-spoken, that he would never be offensive, and that, above all, he was always polite.
But this "Gumbylike" Jesus—to borrow a phrase from Mark Galli—is nothing like the Jesus we see in the gospels, and certainly not in the Gospel of Matthew. In Matthew we find a Jesus who is, without question, loving and gracious and compassionate, who cares for children and feeds the poor, but also one who gets angry and is not afraid to show it; a Jesus who turned countless people away; a Jesus who is radical with his demands; and a Jesus, who, by all accounts, hangs with the wrong crowd.
This is the Jesus on display in the first book of the New Testament. And this is the Jesus we will be considering this Sunday, as we begin a new expositional series, through Matthew, called Thy Kingdom Come.
I can't wait to worship God with you. Plus, the thought of learning more about Jesus excites me. Even though, to be candid, it makes me a bit nervous.
See you on the Lord's Day,
Pastor John
2.18.2016
The Mark
Hello Church Family,
As far as I know, no Sunday school teacher has ever instructed a child to "be like Cain."
Certainly, church kids are told all the time to emulate David, Abraham, Joseph or Job, often in moralistic fashion (in other churches, of course!), but, to my knowledge, Cain has never been presented as an example for anyone to follow. And for good reason; after all, he murdered his own brother.
According to Genesis 4, Cain attacked his older sibling in an open field and killed him. Immediately after, we're told that the Lord appeared to Cain and said, "Where is Abel your brother?" He said, "I do not know; am I my brother's keeper?" And the LORD said, "What have you done? The voice of your brother's blood is crying to me from the ground. And now you are cursed from the ground, which has opened its mouth to receive your brother's blood from your hand" (Genesis 4:9-11).
Notice how the Lord repeats the word "brother." Three times God reminds Cain that Abel was his brother, as if he had somehow forgotten. The reason for the echoing emphasis is to express just how egregious this sin was. This was premeditated murder. And not of an enemy, or even a stranger, but of a family member. This is only the second generation of humanity and already we have fratricide. In a dramatic turn, Cain has rejected God's authority and allowed himself to be mastered by Satan.
Not surprisingly, the punishment would be severe: Cain would be driven from the land, and made to do hard labor that would yield very little results.
God's edict didn't just mean that Cain would wander around, but that he would have a price on his head. This was the original Wild, Wild West. In ancient Israel—and the readers of Genesis would have recognized this—a person who killed a family member would have been actively pursued by what was called "an avenger of blood." So Cain would have been the target of a plethora of bounty hunters.
Upon hearing the Lord's decree, Cain laments, "My punishment is too great. I'm as good as dead."
The next part is so good. God shows his mercy to Cain. He says, "No, anyone who kills you will receive sevenfold the punishment, and I will put a mark on you to protect you."
This "mark"' that God put on Cain has been debated over the centuries. Some exegetes have argued that it was a tattoo, perhaps a body-mark that signified something like "off limits." Others have suggested that it was a dog. One person I read said that it was possibly a hairstyle. ("Oh no, we better not mess with him … notice the way his hair is layered over his ears!")
We don't know for sure what the mark was. But whatever it was, it was asymbol of God's mercy. Cain deserved the most severe penalty, because he had committed the most severe crime: the shedding of innocent blood. And yet God preserved his life. He didn't remove all the consequences of Cain's rebellion, but he acted tenderly toward Cain in sparing his life.
What a beautiful revelation of God: Our God is a merciful God, which means he delights in providing a solution to the needs of mankind, even for the most hardened criminals (isn't this the essence of the gospel message?). Far from being a God who is waiting to punish us, or a God who says, "One more offense and that's it!" our God is known for his tender compassion. Our God delights in displaying his grace.
And he is not just compassionate toward those who are obedient. Here we see God's tenderness toward Cain, who committed, perhaps, the most prominent sin in history (up to that time).
Renowned Old Testament scholar, Derek Kidner, says: "God's concern for the innocent is matched only by his care for the sinner. Even the querulous prayer of Cain contained a germ of entreaty; God's answering pledge … is almost a covenant, making him Cain's protector. It is the utmost that mercy can do for the unrepentant."
Here's what we are to learn from Genesis 4: not that Cain is bad and Abel is good, nor that we should try to be like Abel, who offered a better sacrifice, but that God pours out his grace on the most undeserving of people. The most shocking thing about the story is not the fratricide, though that's definitely a heinous development; the real scandal is how Moses wants us to see grace at work in the midst of the vile.
God's grace doesn't always show up in the neat and tidy situations of our lives. It shows up amid our messes, reminding us that regardless of what we've done or how many times we've done it, we're never beyond the reach of God's mercy. The Living God is a gracious King, who visits the broken with a word of hope: I am still here, and I still care. Failures, rebels, and rejects can always find a place with me, because my Son has made a way.
With reason to rejoice,
Pastor John
2.11.2016
This week, Pastor John hands over the TAGD keyboard to Pastor Brent Whitefield, Northpoint's Pastor of Missions and Outreach.
Report from Botswana
Hello Church Family,I had the great privilege of spending the last week in Gaborone, the capital city of Botswana. Alex Ivascu, a member of our outreach team, accompanied me on the journey. While wilting in the 100-degree heat of the south African desert, we had the opportunity to observe the ministry of Pastor Lamaz Kariuki and the Gaborone Community Chapel (GCC). It was wonderful to hear the testimonies of the members of this fledging congregation, several of them new believers. There are many factors working against the advancement of the gospel in Botswana; but God is building his church in a land which is literally and figuratively dry, and our body is playing a role in this.
Members of Northpoint will be going to Botswana this summer to help GCC in their efforts to reach college students at the University of Botswana. I know that many of you have been helping us to support this ministry financially and in prayer. I can assure you that the people of GCC are grateful for your help and see this relationship as a genuine partnership in the work of the gospel. I would like to encourage everyone to continue to give and pray. Here are some specific things that you can be praying for:
Pray that GCC will get all of the approvals that they require to be registered in Botswana as a church. The prevalence of religious scam-artists from places like Nigeria, who prey on the people for their own gain, has made the Botswanan government understandably cautious about licensing new churches. Pray that they will see that GCC is a blessing to the people of Gaborone that seeks to give rather than to take. Pray that the spirit of God will give people the discernment to understand the difference between religious snake-oil salesmen and authentic gospel leaders.
Pray that God will raise up native leaders for GCC. The goal is to have an indigenously-led, self-supporting church on its own feet over the next couple of years. To this end, some of the new believers will need to mature quickly.
Pray for Lamaz and his wife Maki as they continue to adjust to a very different culture and language, while expecting their first child.
Pray that GCC will help lead a movement of theologically-sound churches in Botswana. Many churches there are syncretistic, incorporating African traditional religious practices that are incompatible with Christian discipleship.
Pray for the people of Botswana, that they will turn to Christ and away for destructive hedonism. No moral value appears to be assigned to sex, which is treated as a recreational activity, to be indulged in without discrimination or concern for consequences. Among the results are a high divorce rate, an orphan crisis, and 20% of the adult population carrying the HIV virus. Secularism is also a problem. Botswana has not been spared the fate of other countries that have seen their standard of living rapidly rise over the last generation. In less than fifty years, Botswana has gone from being one of Africa's poorest countries to one of its richest. As people have become wealthier, they have largely turned away from God.
As you pray, might you be open to joining us on our trip this summer? More specific information will be disseminated in the next two weeks. Botswana is one of those places of which it may be truly said: "The harvest is plentiful but the laborers are few." As you pray, might God be calling you to be a laborer, even for a week or two, in that harvest field?
Pastor Brent
2.4.2016
Experiencing God
Hello Church Family,
I've been praying for you this week, that God would pour out his comfort and mercy on you.
In the early 1990s, Henry Blackaby and Claude King wrote a best-selling (and somewhat polarizing) book called Experiencing God. It was hailed by many as a "revolutionary treatment" and "fresh new look" at an under-realized spiritual practice; it was also panned by some critics for its "careless eisegesis" and "theological holes." I read the book and found plenty to agree with, as well as a few dubious (and somewhat troubling) assertions.
One benefit of reading the book, though, was that it sparked a question in my own mind that I wanted to answer, namely: What does it mean to "experience God"? I'd heard people use the phrase, and even uttered it myself. In fact, I still pray on a regular basis that God would enable us to experience him. Even David used experiential language in the Psalms, imploring followers of God to "taste and see that the Lord is good" (Psalm 34:8). But what does that mean?
In his first letter to a cadre of scattered and weary exiles, the Apostle Peter commends a rag-tag group of Jesus-followers for this: "Though you have not seen him, you love him. Though you do not now see him, you believe in him and rejoice with joy that is inexpressible and filled with glory" (1 Peter 1:8). These erstwhile followers of "the Way" had been through a tremendous amount of suffering and abandonment, yet, somehow, they were able to rejoice with inexpressible joy that was filled with glory. This was, at least in part, because of something they had believed, Peter says.
Verses 3-5 of the same chapter tell us what truth they had been rejoicing in: They had been "born again to a living hope through the resurrection of Jesus" (verse 3); they had an "imperishable, undefiled and unfading" inheritance waiting for them (verse 4); and, best of all, they were being constantly "kept by the power of God through faith" (verse 5). The reality of their present positional holiness and future glorification gave them an unwavering confidence in who God was and who they were to him. That experience of God sustained them through devastating trials and setbacks.
Based on Peter's letter and other passages, here's what I believe is the answer to the question I posed above:
To experience God is to enjoy a Spirit-enabled, acute assurance of God's loving presence and his complete acceptance of us in Christ.
It's not exactly "catchy" but that the best I could do! Notice that there are two words I did not employ: knowing and feeling. The experience of God is certainly mediated through knowledge and often accompanied by feelings, but it transcends both knowing and feeling.
Feelings are fickle. Experiencing God shouldn't be equated with having an emotional high, or sensing a tingling sensation down your spine. Nor is experiencing God simply about grasping information about God. We can know any number of propositions about God and still be plagued by fear, guilt, and anxiety.
There is, however, an acute assurance of God's unconditional love and acceptance in Christ that leads to inexpressible joy and a peace that defies logic. We may be weeping when it hits us. Or we may feel as happy as we've ever felt. Conversely, we may not feel very much of anything.  But we have this confidence that God is with us and for us, and that's enough. That's what we have when we experience God. And that takes the Spirit of God to get there. But he gets us there through humble and dependent prayer.
When the cares of this world threaten to demolish us, and our own fleshly hearts fail, when the great deceiver fills our head with doubts and self-loathing, incredibly and almost inexplicably we're able to say, "It's ok. God is here. I belong to him, and he has good things in store for me even through this storm. He will keep me by his power and never let me go." To rest assured in those realities is what it means to experience God.
By the way, that's what our hearts long for. That sort of assurance. And as we mediate on the person and work of Jesus, and the promises he made and guaranteed by his death and resurrection, God will grant us that experience of him.
Resting in his grace,
Pastor John
1.28.2016
Healthy Communication
Hello Church Family,
Please know this: You have been prayed for this week. I have brought you before the Lord, and asked him to give each of us the grace to humble ourselves before him that he may lift us up at the proper time (1 Peter 5:6).
Over the past two-and-a-half years, three Hollywood movies have been produced about the late Steve Jobs, the brilliant but irascible co-founder and one-time CEO of Apple, Inc. Although I haven't seen any of the films, I know a few things about the erstwhile tech genius, especially his legendary disdain for meetings. While Jobs could tolerate, and actually enjoyed, a passionate face-to-face argument, he had little patience for formal meetings.
"I hate the way people use slide presentations instead of thinking," Jobs once told his biographer, Walter Isaacson. "I [want] them to engage, to hash things out at the table, rather than show a bunch of slides. People who know what they're talking about don't need PowerPoint."
Well, I'm not a huge fan of formal meetings, either, but sometimes they're helpful, and even necessary. Take our congregational meetings, for example: Twice a year we meet as an entire body (yes, with PowerPoint!) and we celebrate what God has done, review the church's mid-year financials, officially welcome in new members, and pray for clarity of vision and renewed focus. It's a chance for us to demonstrate our investment in the direction and disciple-making efforts of our church.
That said, THIS Sunday is Northpoint's semi-annual Congregational Meeting. It begins at 6:00 p.m., in the Auditorium, and will conclude around 7:00 p.m. I hope you'll join us. I won't even do my Steve Jobs imitation and ask someone to leave if they start rambling.
By His grace,
Pastor John
1.21.2016
A Sludge of Self-Help Solutions
Hello Church Family,
I have been praying for you this week, that God would cause you (and me) to embody in increasing measure the fruits of the Spirit: "love, joy, peace, patience, kindness, goodness, faithfulness, gentleness, self-control, [for] against such things there is no law" (Galatians 5:22-23).
As I mentioned in Sunday's sermon, someone asked me recently, over lunch, "What is the single most influential book you've ever read (outside of the Bible, of course)?" That was a tough one!  In fact, I couldn't give an answer. There's a long list of authors who have impacted me immensely: Calvin, Luther, Vos, Piper, Carson, Clowney, Keller, Tripp, Bridges, Zahl … I could go on for days; but narrowing it down to one seemed almost impossible.
So I went back to my office, thought about it for a minute, and surveyed my shelves.  Ultimately, I determined that I could, at least, identify one book that has wielded the greatest influence over the past decade, and it's this: Christless Christianity by Michael Horton. Wow, what an exposé of the alternative gospel of the American church; along with a pointed and well-reasoned solution: a return to the gospel of grace.
Well, in case you've never heard of the book, nor have the time to read it, I thought I'd include a brief snippet for your edification and joy. Here goes:
"The central message of Christianity is not a worldview, a way of life, or a program for personal and societal change; it is a gospel. From the Greek word for "good news," typically used in the context of announcing a military victory, the gospel is the report of an appointed messenger who arrives from the battlefield. That is why the New Testament refers to the offices of apostle (official representative), preacher, and evangelist, describing ministers as heralds, ambassadors, and witnesses. Their job is to get the story right and then report it … And the result is a church, an embassy of the Triune God in the midst of this passing evil age, with the whole people of God giving witness to God's mighty acts of redemption.
 
It is not incidental, then, that this story of redemption is called Good News. If it were merely information or a program for self-improvement, it would be called something else, like good advice or a good idea or good enlightenment. But it's Good News because it is an announcement of something that someone else has already achieved for us.
 
When we are distracted from this commission, we begin to think of ourselves not as ambassadors of a great King and witnesses to that which someone else has accomplished for us but as the stars of the show. Instead of reporting the news, we become the news. In fact, today we often hear Christians speak of "living the gospel" and "being the gospel," as if anything we do and are can be considered a supplement to God's victory in Christ Jesus. Instead of ambassadors, heralds, reporters, and witnesses, pastors become entrepreneurs, managers, coaches, therapists, marketing gurus, and communications specialists.
 
With this transition, the focus necessarily falls on what we do, and Jesus's role is reduced to an example. Books and sermons that offer good advice rank higher on the relevance scale than those offering the Good News. Just visit your local Christian bookstore and compare the number of books on Christ's person and work with the aisles of "Christian" self-help literature. Yet the Bible provides a very different focus. With the exception of a few important passages in which we are told to follow Christ's example of suffering love on behalf of others, the New Testament makes it clear that Jesus is unique in every way: in who he was, what he did, and what he said. Only he could be God incarnate; only he could produce miracles that were signs of his deity and messianic mission; only he could inaugurate the kingdom with his blessings and curses; only he could die as an atoning sacrifice for sinners and be raised as the first fruits of those who sleep." (pp. 105-106)
Perhaps I'm just weird (which is very likely reality!) but reading that makes me want to shout, "Hallelujah!" Jesus has done what I could never do—obey God's law fully and completely, satisfy God's wrath entirely, pay the penalty for humankind's rebellion through his cross, conquer death and hell by his resurrection—so that I could be reconciled to God the Father and spend eternity with him! The realization of that causes my love for God to explode. It moves my heart to obey him joyfully and spontaneously. It allays my fears and anxieties.
My brothers and sisters, let's continue to talk about what God has done for us in Jesus, and not get lost in all the motivational advice and improvement strategies of would-be self-help gurus!
In his grace,
Pastor John
1.14.2016
Sovereignty and Freedom in an African Bungalow
Hello Church Family,
The small wind-up clock fastened to the edge of an oak-trimmed desk had stickers on one side that read: Mennonite Guest House. The glow-in-the-dark hands on its black face constantly reminded me that it was after midnight and I was in the middle of nowhere. Yet, despite my best efforts to rest up for the next day's travel plans, I lay awake thinking about all I'd recently experienced.
On this day in Nairobi, Kenya, I had already seen and participated in things that I would likely never forget. I'd held babies whose tiny bodies were ravaged by the HIV virus; I'd slapped 'high-fives' with young boys whose eyes were swollen shut because of infection. I'd eaten breakfast next to a twelve-year-old boy with full-blown AIDS. (When our host suggested that we join hands and pray together, while my tablemate coughed and hacked into his hands, I was more than a little uncomfortable, but I grabbed David's hand and held it tightly as we thanked God for his provisions.)
With these images of intense suffering fresh in my mind, and the thick silence of the African night hounding me, I asked myself the question: How could this be the will of a sovereign God?
I have to admit: I've often struggled with the concept of God's sovereignty, particularly reconciling it with human freedom. But I've found great comfort in reading about the theological plight of America's greatest theologian, Jonathan Edwards, who went from being a staunch rejecter to fierce defender of God's sovereign will.
According to historian, Kenneth Minkema, "as a boy Edwards rejected the doctrines of God's sovereignty and God's eternal decrees," because they seemed irreconcilable with his current understanding of conversion. Consequently, he wrestled with the text of Scripture; and with a Herculean work ethic (studying sometimes up to thirteen hours a day) he scrutinized the assertions of his grandfather, Solomon Stoddard (and others), in order to establish for himself a tenable position.
But then, what would Edwards do with this: "In him we have obtained an inheritance, having been predestined according to the purpose of him who works all things according to the counsel of his will" (Ephesians 1:11).
Ultimately, Jonathan Edwards would get to a place where he was utterly convinced that "God was sovereign in his disposal of everything, especially the plan of redemption, God's greatest work."
Thus, defending God's sovereignty was one of Jonathan Edwards' greatest passions. And even though he is obviously not the first to exhaustively address this issue, in his discourse Freedom of the Will, he redefines the concept of liberty, and consequently debunks the notion that people are not responsible for their own actions.
Edwards says that even though God has decreed whatever shall come to pass, each human being is free in that he or she acts without coercion. So although God has already ordained every direction that I will take, and thus is completely sovereign, I act in a way that is consistent with my nature and free from external constraint or restraint. He argues: "Let the person come by his volition or choice how he will, yet, if he is able, and there is nothing in the way to hinder his pursuing and executing his will, the man is fully and perfectly free." In unparalleled fashion, Edwards demonstrates in this writing that human freedom and God's sovereignty can and do co-exist, and that a high view of God's sovereignty is not incompatible with an acceptance of human moral responsibility.
I appreciate the way Edwards balances the concept of God's mediate and immediate working. He beautifully explains that God often does things directly and supernaturally, but often providentially employs means, such as people (or even the devil) to accomplish his plan. In the well-known sermon, Sinners In the Hands of An Angry God, he says: "The devil stands ready to fall upon them and seize them as his own at what moment God should permit him." Even the devil is God's devil, as Martin Luther said, in the sense that he is a created being and completely subject to God's divine power and sovereignty.
To Edwards, God's sovereignty was both the reason for comfort and fear; we can take comfort in the fact that we will encounter nothing except that which God has already ordained. God is always with us, and, as his children, we can rest in his fatherly presence. Likewise, we can know beyond a shadow of a doubt that God is working all things for our good and his glory.
Nevertheless, the sovereignty of God is reason for fear for those who reject Christ, because nothing can come to the aid of those against whom God has directed his powerful fury; hence Edwards: "Now God stands ready to pity you; this is the day of mercy; you may cry now with some encouragement of obtaining mercy."
May God help us to rejoice in his sovereignty the way that Jonathan Edwards did, and to revel in the true freedom we enjoy in Christ: not just the freedom to act without being coerced, but the liberation from the law's condemnation and from sin's curse that we enjoy because we have been declared righteous in Christ by faith!
For His Glory,
Pastor John
1.7.2016
The Tree Has Fallen
Dear Church Family,
I've been praying much for you this week, that God would enable you to find your encouragement in the Lord (1. Sam 30:6).
We've had an incredible amount of rain this week, haven't we? In the almost six years that I've lived in Corona, I can't recall experiencing this much precipitation. In fact, the downpour was so intense that, at one point, we had to put sandbags around the doors to the church kitchen, lest our stainless steel appliances end up floating down Ontario Ave.
The seemingly constant showers reminded me of one of my favorite sayings from one of my most cherished books: Ecclesiastes. In it, the Sage expounds, "If the clouds are full of rain, they empty themselves on the earth, and if a tree falls to the south or to the north, in the place where the tree falls, there it will lie." (Ecclesiastes 11:3-4).
When the clouds are weighed down with water, Solomon says, they will indeed produce rain. A deluge is destined to happen. But that doesn't seem to mesh with our experience as Southern Californians. The first five months after I moved here, it didn't rain one time. And many a dark cloud passed by. So this illustration may not make a whole lot of sense to us (clouds that always bring rain?), but what the preacher is telling us is this: There are plenty of things that happen in life that we cannot control. They're inevitable.
If a cloud is full of rain, it's going to rain. And if the clouds are really full of rain, you'll get six straight days of rain that will cause flooding and mudslides and storms. These things just happen. That's the way it is in nature.
Similarly, if a tree falls in a forest, it's going to lie in the exact place where it fell. That's how things work. The tree could fall to the north, south, east, or west—it doesn't matter. The point is: It's not going to get up. A fallen tree will not move unless someone (or something) moves it. There are no exceptions. We could spend countless hours pontificating on its location and how it got to where it is, but that will not change the reality.
And there's a lesson here that is helpful for us in our spiritual journeys (and Kingdom ventures):
We cannot change what's been done, but we can adjust for the future.
The life of the Christ-follower is an adventure. Difficulty is inescapable. Sometimes we experience suffering that we bring upon ourselves because of thoughtless comments or foolish actions—and I've experienced plenty of that. While other times it's because there are forces at work in the world—principalities and powers—that do not want to see our God exalted or His followers thrive.
Plus, we live in a sin-cursed world so we're going to suffer. We're going to have heartbreak and disappointments. People we love are going to get sick. We'll have automobile accidents, unexpected illnesses, and untimely deaths. These things are inevitable. But we can't live in the past. We can't continue to ask, "Why did that happen? Why did the tree fall to the east?" Sometimes we simply have to say, "The tree has fallen. I can't change it. It's time for me to prepare for what's next."
Old Testament scholar Derek Kidner says about Ecclesiastes 11: "The clouds which follow their own laws and times, not ours, and the fallen tree which has consulted no-one's convenience, may start us thinking of may-be's and might-have-beens; but our business is to grapple with what actually is, and what lies within reach."
This doesn't mean that we don't grieve when we suffer loss or tragedy. Of course we do. Nor does this mean we just get over things in an instant. Not at all.
Even though God has promised us in Romans 8 that there is no such thing as pointless suffering, and that He is working all things for our good and His glory, that doesn't mean that we simply grin and bear it through difficult times. The Bible actually gives us permission (the Psalms in particular) to complain to the Almighty. To cry out in despair to a God who hears us.  But there comes a time when, even in the midst of our lamenting, that we, in the words of the great 4th century theologian, Augustine, "Trust the past to the mercy of God, the present to his love, and the future to his Providence."
Are there things in your life that you refuse to put behind you? Are there hurts or disappointments in your past that you will not let go? What events in your life should prompt you to conclude: "The tree has fallen … by God's grace it's time for me to move forward"?
In His Grace,
Pastor John
12.31.2015
This week, Pastor John hands over the TAGD keyboard to Scott Williams, Northpoint's Pastor of Adults and Families.
Looking Forward to Five Key Northpoint Events in 2016
Hello Church Family,
If you are like me, you can hardly believe we are closing out 2015 and gearing up for 2016. Where does the time go? However, as I think back on 2015, I am reminded of all the ways God was faithful and gracious to us here at Northpoint. From having Elyse Fitzpatrick bless our women at NP's Women's Conference, to having 300+ kids at VBS Camp Kilimanjaro, and with this year's Mission Week being one of the best attended and beneficial in our recent history, it has been a year for which to be truly grateful.
God's hand was evident not just in our large-scale events, but also in the many personal relationships and gospel conversations that so many of you had throughout the year. This past year, I heard personal stories of those in our church who reached out to an immigrant family in our community, helping them get on their feet, both relationally and even financially. There was a group of young moms who met regularly with other moms in their neighborhood for support, prayer, and encouragement. One of our Growth Groups went above and beyond to minister to a family in their group whose baby was stricken with cancer. There have also been those who, after years of being in the church, finally surrendered their lives to Christ, or who made a public pronouncement of their faith by being baptized, or who are considering a call to the mission field.
God has truly been gracious to Northpoint in 2015, and we know He will continue to pour out His grace in 2016. As we look toward 2016, there are five key events that God has laid on the hearts of leadership in order to minister to those in our body, and to reach others with the saving gospel of Jesus Christ.
01. Church Plant Launch: Late 2016
Over the past few years, God has laid on the hearts of Pastor John and the elders to become a multiplying church that is actively reaching our community with the gospel. They discovered that one of the best ways to reach unbelievers with the gospel is by planting new churches. So by the grace of God, in late 2016, we are hoping to launch a church in the Riverside area with a small team from Northpoint under the leadership of Kimani Gathere. There is still much to do, and planning that needs to be done, but our God continues to lead and guide us in this process.
02. Summer Mission Trips
As we seek to fulfill the Great Commission, we will be sending out mission teams around the world: Our student ministries will be once again ministering to the youth at the Tanalian Bible Camp in Port Alsworth, Alaska; we'll be sending a Northpoint team to Athens, Greece, where they will be supporting the church planting efforts of NP missionaries Stephanos and Manon Mihalios, as well as assisting Hellenistic Ministries as they minister to refugees who are flooding in to Greece; and our third mission endeavor will be taking a group to Botswana, Africa, to work alongside Pastor Lamaz Kariuki, and the recently planted church Gaborone Community Chapel, as they evangelize among the many college students in the area.
And don't worry, we are still sending teams to Carranza and Tuba City this year!
03. Student Ministries "Worth the Risk" Event: August
Worth the Risk will be a one-day gathering of SoCal junior and senior high students, where they will be encouraged and equipped to use the upcoming school year as an opportunity to share the gospel. The day will be filled with worship, food, and great teaching by Dr. Greg Cochran, Professor of Theology at Cal Baptist University. There will also be breakout sessions allowing students to connect with one another and to think through the issues they face on a daily basis.
04. One-Day Marriage Conference: September
Many of the struggles and challenges families face stem from how Mom and Dad are relating to each other and to God. We want marriages here at Northpoint to be strong and thriving. That is why we are planning on having a one-day Marriage Conference on September 24. Author, counselor, and Pastor Dr. Deepak Reju from Capitol Hill Baptist Church in Washington D.C., will be on hand to lead through a day that I know will be beneficial to every marriage, whether you have been married for thirty days or thirty years. Mark your calendar!
05. Women's "Passages" Retreat: April
The Northpoint women will be gathering for their biannual Women's Retreat on April 22-24, in the quaint seaside city of San Clemente. Linda Bishop, who leads the Ministry to Women in Leadership for the EFCA West, will be the speaker. The theme of this year's retreat will be Passages – "A voyage from where we are, to a longed-for destination." Linda will be speaking to our women about building a relationship with God that enables them to let go of the anchors of their hearts and move forward to new horizons of faith and intimacy with God.
This is just a sampling of what God has in store for us this year. So mark your calendars and be praying for the many ways God is going to work in the life of our church this next year.
Pastor Scott
12.24.2015
Christmas Eve
Hello Church Family,
I often hear parents of adult children talk about how much pleasure they derive from getting everyone together for the holidays. I know my own mother is giddy with excitement when my sister's crew, as well as mine, join her in the mountains of middle Tennessee. But making such a reunion happen is a tall order these days. For any family. With job opportunities and academic pursuits taking people to every corner of the planet, it's an uncommon treat to have the entire gang together, if even for just one day.
It was that notion—the hard-to-achieve delight of having everyone together for the holidays—that led us a couple of years ago to "condense" our Christmas Eve services into ONE big, family gathering at 6:00 p.m.
When we had multiple services on Christmas Eve, they were still wonderful. But when we decided to fill up our auditorium for one service, allowing all our siblings-in-Christ to see each other, it became this sort of magical experience to which everyone seems to look forward to.
So … TONIGHT at 6:00 p.m., we will all gather together. We'll add chairs to the back and sides of the auditorium, as we sing carols, hear beautiful music, and light our candles in celebration of the birth of Jesus. We know how busy this time of year is, so we'll make sure the service is about one hour. I'm looking forward to seeing you then.
Merry Christmas!
Pastor John
12.17.2015
This week, Pastor John hands over the TAGD keyboard to Pastor Brent Whitefield, Northpoint's Pastor of Missions and Outreach.
O Come, O Come
As I compared notes with some of my colleagues recently, we agreed that many of the carols that we sing during the Advent season contain some of the richest theology of any of the worship music that we use. It is a shame, perhaps, that they are regarded as seasonal works and only dusted off for a couple of weeks each December. In my humble estimation, one of the richest and most meaningful carols is O Come, O Come, Emmanuel. It is one of the most ancient carols, written in Latin no later than the twelfth century and possibly much earlier. The English phraseology that we commonly use is from the middle of the nineteenth century. The lyrics are at the same time evocative, beautiful, and theologically meaningful. No carol does as good or thorough a job at tying the Christmas narrative to the Old Testament stories, prophecies, and promises. And it is a wonderful musical sermon on the tension between what the first advent has accomplished and the promise of the second coming, and what it will bring to completion.
Take for example, the first stanza:
O come, O come, Emmanuel
And ransom captive Israel
That mourns in lonely exile here
Until the Son of God appear
Rejoice! Rejoice! Emmanuel
Shall come to thee, O Israel.
The phrase "captive Israel" refers to the Assyrian and Babylonian captivity of the Israelites as referenced in the books of Isaiah and Jeremiah. Though the political captivity would eventually end, the Jews find themselves in spiritual captivity awaiting a Savior. So do we in our unbelieving condition. The arrival of the Messiah heralds our freedom and release, a wonderful advent truth.
The second stanza reads as follows:
O come, Thou Rod of Jesse, free
Thine own from Satan's tyranny
From depths of Hell Thy people save
And give them victory o'er the grave
Rejoice! Rejoice! Emmanuel
Shall come to thee, O Israel.
The idea of the rod of Jesse, found in Isaiah 11, refers to the line of David through which Jesus' lineage can be traced, demonstrating the truth of the prophecies about His royal bloodline. The stanza also shows the superiority of Jesus over the other kings and prophets who, for all of their heroic exertions, could do nothing about our spiritual bondage to Satan, death, and hell. The apostle Paul echoes this when he proclaims: "O death, where is your victory, O death where is your sting."
The consensus on the exact order and number of stanzas varies after the second, but one popular verse reads:
O come, Thou Day-Spring, come and cheer
Our spirits by Thine advent here
Disperse the gloomy clouds of night
And death's dark shadows put to flight.
Rejoice! Rejoice! Emmanuel
Shall come to thee, O Israel.
The reference to the "Day-Spring" comes from the King James version of Luke 1:78. Newer translations prefer "dawn" or "sunrise." In any case, the birth of Jesus is highlighted as that event which dispels the darkness. The shadow of death that hangs over us all is lifted. If there was ever a Christmas message to cheer the spirit, it is Jesus' claim: "I am the light of the world. Whoever follows me will not walk in darkness, but will have the light of life."
To cite one more verse:
O come, Desire of nations, bind
All peoples in one heart and mind;
Bid envy, strife and quarrels cease;
Fill the whole world with heaven's peace.
Rejoice! Rejoice! Emmanuel
Shall come to thee, O Israel.
Jesus Christ is the prince of peace. He alone can bind us together in spiritual union with Him and each other. Here we find the eschatological promise of eventual peace. Peace will not come by our striving after it, or unity conferences, or our undertaking to get along, but will come by divine favor, for which we can but pray.
The words "o, come" and "shall come to thee," remind us of the beauty of what has been achieved by God in the first advent and the promise of what is left yet unfulfilled. We as believers, should know what it is like to be released from the bondage to Satan, while we are painfully aware of the fact that the earth is not filled with heaven's peace. Therefore, we celebrate the first coming, always mindful of and longing for the second.
The carol also offers a wonderful apologetic for the continuity between Old and New Testaments, and can be a great source for both evangelistic themes (to Jews and Muslims, for example, who have familiarity with OT stories) and encouragement at this time of year.
May the Lord bless you as you take time to reflect on one of the great hymns of the faith this Christmas season.
Pastor Brent
12.3.2015
The Shortcomings of Sympathy
Hello Church Family,
I hope you've been able to rest in God's grace this week. I've been praying for you.
Occasionally, I will pick up an article or listen to a podcast by Dr. Brene Brown, a trending speaker and research professor at the University of Houston Graduate College of Social Work. Dr. Brown doesn't claim to be a Christian, as far as I know, and she can sometimes communicate in a pretty crass manner, but she often displays remarkable insight into what it means to live together as broken human beings.
One of Dr. Brown's most popular areas of exploration is into the difference between empathy and sympathy. "Empathy," she contends, "fuels connection; sympathy drives disconnection." An empathetic person is able to enter into our struggle because he or she has experienced a similar affliction. This person is able to say: "I know what you're going through, I've been there … and you're not alone." This meets a need at our most basic human level: the need for someone else to understand and identify with us. A purely sympathetic person can only say: "Wow, what you're going through seems really bad."
Unfortunately, words of sympathy often begin with, "It could be worse" or, "You should. …" "It could be worse … you could be dying of cancer." "You should really stop dwelling on the negative and focus on the positive." I'm embarrassed to say that I have begun plenty of words of "comfort" with these assurances. Yet, it's easy to see how such statements could only increase the distance between us.
This month we celebrate the Advent of Jesus Christ, the arrival of the promised Servant-King. In so many ways it is truly a wonderful time of the year. One of the greatest truths of the Advent Season is that since Jesus came to the earth, and suffered in every way imaginable, we have a Savior who can empathize with us.
It's easy sometimes to conclude that no one can truly relate to what we're going through. No one else has faced a disease this aggressive. No one else has been tempted with this sort of intensity. No one else has kids that are this much of a challenge. No one else has been this exhausted. But the Bible tells us that Jesus was tempted "in every way that we are, yet was without sin" (Heb. 4:15). Equally encouraging is this statement from the writer of Hebrews:
"Therefore [Jesus] had to be made like his brothers in every respect, so that he might become a merciful and faithful high priest in the service of God. … For because he himself has suffered when tempted, he is able to help those who are being tempted." (Hebrews 2:14-18, italics mine)
To say that He "had to be made like his brothers in every respect" means that the eternal Son became fully human. The second person of the Trinity took on flesh. While never ceasing to be God, He voluntarily set aside His divine prerogatives and determined not to manifest His divine attributes unless directed by the Father. In other words, Jesus subjected Himself to all the limitations that we know.
New Testament scholar, Stanley Grenz, says it this way: "He was not Superman, an alien housed within a human body but inherently capable of superhuman feats. On the contrary, as the church has confessed throughout the ages, Jesus was fully human. … He was spared no difficulty in living in this fallen world."
Jesus became tired. He got hungry. He suffered from loneliness and grief. He became physically weak. He got sick. Jesus experienced rejection at the highest level. He lost loved ones to disease. He endured temptation of every kind. He even knew what it was like to anticipate death.
What this means is: in Jesus we have a Savior who truly knows what we're going through. We might say: He was born to empathize with us.
Whatever you're going through, whether it's feelings of uncertainty about the future, the stress of living in a broken body, tension in your relationships, physical and emotional exhaustion, or even the hurt over being betrayed, Jesus knows what it's like. He's been there. Someone understands you and what you're dealing with. Jesus is with you. And He's not just with you, He is able to help.
In Jesus we have someone who doesn't say to us, "It could be worse, you could be lying in a ditch on a deserted roadside." Instead, we have someone who whispers to us, "Take heart, my child, I am with you. I know what you're going through, and I will help you. I will comfort you and give you everything you need to flourish."
Where sympathy falls short, the empathy of our Savior provides hope and healing.
With joy in His arrival,
Pastor John
11.26.2015
A Hundred Mothers
Hello Church Family,
I hope you're enjoying a break from your normal routine. It's Thanksgiving morning as I write this piece, and I'm sitting on my couch, snacking on warm orange rolls, skillfully prepared by my daughter. In a few hours, we'll head out to spend the day with friends from Northpoint. Over the course of several hours, we'll eat, play some games, eat some more, watch some football, and eat again.
We have no relatives within 2,000 miles of us. But we're not without family.
People sometimes ask me, "Is it hard living so far from family?" And the honest answer is: sometimes it is. Particularly during the holiday season, it would be nice to see parents, siblings, nieces and nephews. But in the presence of friends I am reminded of the words of Jesus:
"Truly, I say to you, there is no one who has left house or brothers or sisters or mother or father or children or lands, for my sake and for the gospel, who will not receive a hundredfold now in this time, houses and brothers and sisters and mothers and children and lands, with persecutions, and in the age to come eternal life." (Mark 10:29-30)
Contrary to one popular interpretation, this is not a promise of immediate material blessing for the faithful disciple of Jesus. (It would certainly be a dubious guarantee, given that Jesus had just reiterated twice, in the same breath, that it would be nearly impossible for rich people to enter the Kingdom of Heaven.) No, the blessings that Jesus promises are found in the faith community, the Church.
We leave our parents and siblings but become part of a bigger family, with new sisters, brothers and mothers. We give up our resources but are adopted by the Father, who provides us with everything we need in Christ. We surrender the comforts of well-known streets and childhood friends but gain the assurance of knowing the presence of God. We lose some things by our geographical separation from relatives but gain so much more from God's gracious hand.
New Testament scholar James Edwards writes, "Our most essential natural network of relationships and allegiances—homes, families, and fields—must be forsaken, for the scandalous call of Christ takes priority over them. … But to conceive of discipleship solely in terms of its costs and sacrifices is to conceive of it wrongly—as though in marrying a beautiful bride a young man would think only of what he was giving up. The sacrifices [we make] in leaving 'homes, brothers, sisters, mothers, children and fields' to follow Jesus are nothing compared to the returns we will receive in the community of faith now and in heaven in the life to come."
As those who have left our family and our "land," Jenine and I have experienced the truth of Jesus' words first-hand. We have hundreds of brothers and sisters here in Southern California, dozens of fathers and mothers, and grandparents who encourage and pray for us. We even have some crazy uncles we never asked for! We cherish those relationships and regard these extended relatives as nothing less than family.
Whether your plan is to spend this Thanksgiving with your mom and dad, or biological siblings, or if you're thousands of miles from anyone who shares your family history, if you are in Christ, you are not alone. You are surrounded by family. And that's something for which to give thanks.
In Him,
Pastor John  
11.19.2015
Death by Broken Heart
Hello Church Family,
I was surveying the latest Internet sports news last night when I came across this disturbing headline: "Former NFL QB Doug Flutie's Parents Both Die on Same Day." Apparently, only one hour after the former signal-caller's father passed away of a heart attack, Flutie's mom also succumbed to cardiac arrest, resulting in her sudden death. The two had been married for 56 years.
We had a similarly devastating event take place in our own church a few years ago. On September 23, 2012, I officiated the memorial service for longtime Northpoint member, J.J. Johnson, who died at the age of 91. Even though his wife, Esther, seemed to be in good health at time of her husband's passing, it was only a month later that I was presiding over her funeral, as well. These gracious childhood sweethearts had been married 70 years.
The term doctors use to describe what happened in both of the aforementioned episodes is takotsubo cardiomyopathy; in layman's language it's called "broken heart syndrome." Studies around the world have shown that among couples who have been married more than a few decades—say, 50, 60 years or more—once one spouse passes away, the likelihood that the other will die within six months spikes by 50%. Of course, it doesn't always happen this way, but it happens enough that one researcher, Dr. Barbara Messinger-Rapport, of the Cleveland Clinic in Ohio, concludes: "It is possible to die of a broken heart."
Many have sought to make sense of this phenomenon, but to me, the explanation is very simple: We were created for relationship, and when our most intimate human connections are abruptly severed, it wreaks immediate havoc on our emotions and our souls—so much so, that some cannot even survive such an ordeal.
To be sure, our most important relationship is with our Heavenly Father, but even those who enjoy sweet and restored fellowship with God, through faith in His Son, still need other people.
The Scriptures tell us that we are made in the image of God (Genesis 1:26), and that our God is deeply relational. Long before He spoke the world into existence, or placed upon this planet frogs that could fly or fish that would defend themselves by puffing out their cheeks, God existed in perfect Trinitarian harmony: Father, Son and Sprit. Before He created anything, God enjoyed an eternal, dynamic relationship with Himself. And what binds that relationship together is self-giving love.
Consequently, we, as his image bearers, are also intensely relational beings. And the deeper our relationships are, and the more self-giving our love is, the better we experience and resemble the God who made us. To put in another way: We feel the greatest pleasure and wholeness when who God made us to be is fully developed and expressed.
French theologian, Henri Blocher, contends: "From the very beginning, the human being is Mitsein, a being-with; human life attains its full realization only in community."
It's sounds a bit esoteric, I know, but it's actually a very helpful reminder: Only as we live in fellowship can we accurately show forth what God is like. And only as we are engaged in self-giving relationships are we fully human.
I was reminded of the importance of this theological concept this week as I heard two people talking about the loneliness that the holidays bring. For some, this next month-and-a-half represents the most depressing time of the entire year. Many don't have a place to celebrate.  Even worse, many don't have anyone to celebrate with. They have no one who will actually listen to them and care about their needs. This should not be so in the church of Jesus Christ.
So … let's take an opportunity this holiday season to foster real community. To invite someone over. To share table fellowship with another believer. Let's do our part to make sure that no one is alone. Because we were created to be together, especially when there's turkey involved.
In His Grace,
Pastor John
11.12.2015
This week, Pastor John hands over the TAGD keyboard to Pastor Brent Whitefield, Northpoint's Pastor of Missions and Outreach.
The Persecuted Church
Hello Church Family,
Over the past week, we have prayed about and reflected on the plight of persecuted Christians around the world. The Apostle Paul was a man who knew something about persecution. He faced ridicule and condemnation, beatings, exile, and imprisonment on many occasions. He told Timothy that the Christian life properly lived invited almost certain persecution. He told us to pray for Christians under duress and to remember his imprisonment.
We, as the body of Christ in the relatively unpersecuted corner of the globe, should spend more time on our knees for Christians in today's hotspots. Unfortunately, the number of places where Christians may openly worship and proclaim the gospel is shrinking year by year. It would be difficult to find a place in the Muslim-majority world where Christians are free from persecution. Believers are under great pressure in Egypt, northern Nigeria, Sudan, Iran, and Pakistan, just to name a few. You may have noticed a large influx of Egyptian Coptic Christians into the Corona-Norco area over the past few years. These are mostly religious refugees from an increasingly hostile environment back home. Christians are being driven to virtual extinction in areas of Iraq and Syria controlled by the Islamic State. NBC news reported that there is not likely a living Christian in the city of Mosul, Iraq for the first time in almost 2,000 years. Indeed, Iraq's Christian population has dropped 90% since Saddam Hussein's removal. The picture is grim. Even the pro-democracy movements in the Arab world have always resulted in fewer, not more, rights and freedoms for Christians. I am not able to find a single place in the Muslim world where Christians are better off now than they were five years ago
The Muslim world has seen the most dramatic rise in Christian persecution, but life for believers is just as hard in many other countries as well. Some parts of India have seen an uptick in incidents of church burnings under the new fanatical Hindu government there. China seems to be in the midst of fresh pressure on the church after a few years of relatively lighter treatment. There are several countries, such as North Korea or Saudi Arabia, where it is impossible to live life as an above-ground Christian, and where information on persecution is difficult to obtain because no one would dare report it.
Now, even in Western Europe and North America, Christians are experiencing trouble as a result of their profession of faith. There are already certain jobs from which Christians are being systematically excluded, or which Christians can no longer in good conscience perform. There is little reason to hope that the situation will improve in the years to come. We would be naive not to expect darker days ahead. The persecuted church will not always seem like such a foreign concern.
It is easy to be discouraged and to feel helpless when we observe the state of the world today. But the antidote to despair is prayer. This is why we must pray fervently for the persecuted church. We would also do well to remember that God is faithful and often works mightily in the midst of persecution. Persecution has accompanied the greatest influxes into church. Remember that when Christians first appeared in the Roman Empire, they were cruelly and fanatically oppressed … and grew exponentially. Japan had a greater percentage of Christians 400 years ago, at a time of sadistic persecution, than it does today. China's Christian population has grown 8000% since the Communist takeover and under nearly constant duress! More people are coming to Christ in Iran today under the repressive rule of the ayatollahs than did under the secular regime of the Shahs. When we pray for the persecuted Christians, we are lifting up those, like the apostles themselves, who are paying the price for the advancement of the Kingdom. And we trust that they will pray for us when our time comes.
Pastor Brent
11.5.2015
Many Reasons to Give Thanks [A Financial Update]
Hello Church Family,
I hope you're having a great week. I've been praying very specifically for you, that God would give you eyes to see His grace in fresh and powerful ways.
An old pastor that I know tells the story of moving into a new house with an unfinished garage.  Every time he went into the garage he noticed the bare two-by-fours and the jagged cinder blocks left exposed. For twenty years he lived in the house and never made a single attempt to finish the space.
But over time the sight of the unhidden beams and shadowy walls began to bother him; so he would occasionally complain about it to his wife. "This is depressing," he would utter under his breath.
One summer the pastor's adult son, Dan, came home for a visit and, hearing his dad's frustrations, he took it upon himself to install insulation and drywall in the garage. Dan had never worked with drywall and had to learn how to hang the sheets the hard way, by trial and error. Not surprisingly, the finished project was far from smooth, nor did the new surface remotely resemble the work of a professional. In fact, the pastor wasn't sure if his son's efforts actually helped at all. But he still took great delight in that newly-remodeled garage because it was a gift given out of love. Dan wasn't trying to manipulate his father or pay him back for years of sacrificial parenting; he wasn't trying to manipulate or earn his father's favor. He was just eager to show his love. And despite the flawed (and unpolished) overture, the old pastor was deeply pleased.
I wonder if this is not how God looks at our financial offerings to Him. He doesn't need our money; he possesses all the wealth in the world. It's not as though, by contributing, we're helping God accomplish His mission. Nevertheless, he takes tremendous pleasure in our generosity when we give to Him out of love. The Scriptures tell us plainly: "God loves a cheerful giver" (2 Corinthians 9:7).
There are many things I appreciate about Northpoint. Somewhere on that expansive list is this: The people of this church give financially out of love for God. Put another way: The way you give makes evident your love for your Savior. It's obvious in your consistency. It's unmistakable in the joy you take in supporting the ministries of this church. So, let me be quick to say: Thank you.
As you can see by the chart below, with about a quarter of the fiscal year in the books, our giving is above both '14-'15 giving and '14-'15 budgeted income:
'14-'15 Giving (thru 14 weeks): $416,918
'15-'16 Giving (thru 14 weeks): $479,487
'15-'16 Budget (thru 14 weeks): $469,920
Part of the positive influx is due to the continued increase in membership we're experiencing, by God's grace—we added some thirty-three news members at our last congregational meeting—and part of it is a result of some in our congregation re-evaluating how they're doing in the grace of giving and making changes, as the Lord has led them.
It is true that we are striving to do more disciple-making this year than at anytime I can remember. We are prayerfully expecting great things from God, and we are seeing Him work.
We are partnering with a new church plant in Gaborone, Botswana that has already seen over 100 people come to Christ. We're training pastors in India, Nepal, Bhutan, and Burma and then releasing them into their respective villages where the work of multiplication is taking place. And we're seeing God do some remarkable things in our own community, as well. Just a few months ago, we baptized twelve converts to Christ.
We're also praying and making plans to launch a new church in Riverside in 2016. We want to see more people confess Christ as Lord, more relationships restored, more children rescued, and more "weary and burdened" people finding true rest in Jesus Christ.
Of course, in order to accomplish our (growing) ministry goals, we depend on your consistent giving. So please continue what you're doing! The end of the calendar year is right around the corner. Let's finish this year strongly and plead with God to do "more than we could ever ask or imagine" (Ephesians 3:20).
With a gratitude heart,
Pastor John
10.29.2015
Trick or Treat?: Candy, Costumes, and the Gospel
Hello Church Family,
I hope you've enjoyed sweet communion with the Lord this week. He is indeed a good, good Father.
As many of you know, a few years ago we stopped providing a trick-or-treat alternative on our church campus during the Halloween season.
The decision to cancel such a cherished tradition wasn't made because we were doing a poor job with our Country Fair, as we called it. Quite the contrary. Under Jill Roth's careful eye, our event was the best thing in the area, far exceeding the efforts of surrounding (even much larger) churches. (Sorry, that's my competitive side rearing its unattractive head!). Kids and parents packed the parking lot for pony rides, a rock-climbing wall, and hand-spun cotton candy. The whole thing was a blast, and undoubtedly yielded some positive results.
But something occurred to me when I returned home from our Country Fair one night: virtually everyone in my neighborhood was "packing up" after spending the evening at the edge of their driveways … talking, exchanging stories and getting to know one another better. To add to my consternation, one of our elders said to me casually, "For years I've felt like I had to sneak away from conversations with my neighbors to go to our event at church." That statement haunted me. And caused me to spend a few twilight hours wondering: Why are we retreating to our campus on the single-best night of the year to reach our neighbors? Why not circulate and engage our community when they're already sitting outside?
Finally, I was convicted (and inspired) by David Mathis's article Halloween on Mission; in it Mathis writes: "What if Jesus' words in John 17 ('They are not of the world … I have sent them into the world.') … led us to move beyond our squabbles about whether or not we're free to celebrate All Hallow's Eve, and the main issue became whether our enjoyment of Jesus and his victory over Satan and the powers of darkness might incline us to think less about our private enjoyments and more about how we might love others?"
All of that to say: we eliminated the event.
And I encouraged the people of Northpoint to be intentional about being among their neighbors and engaging them in conversation. And by God's grace, the church responded. Some folks baked banana bread and went door-to-door introducing themselves to neighbors they'd never met. Others set up a play areas in their own backyards and invited passers-by to join in. Still others set up round tables for folks to take a break from their walking. Not everyone agreed with the decision, but most people were eager to get on board.
Jenine and I decided to divide and conquer. I would circulate with our youngest kids, while she and our oldest son remained home to pass out candy. To my surprise and delight, I met folks who lived on the same street that I had never even seen. Let alone talked to. And God even allowed for some spiritual discussions (which I was careful not to force). One man said to me, "I haven't been to Mass in years, but my family is Catholic. What are the differences between what you believe and the Catholic Church?" Wow. God exceeded my expectations in a hundred ways. As He always does.
So, here we are on the verge of another trick-or-treat night. The question is: How will you be present in your community, be attentive to the stories of your neighbors, and show the costume-bearing solicitors who tap on your door that they are loved and valued by you as fellow image-bearers of God?
Who knows? One might just ask: "What do you believe?" Or share with you a struggle that you can pray about. Out of the mouths of babes (and erstwhile ghouls and goblins) He has ordained praise.
On mission with you,
Pastor John
10.22.2015
To Know God's Love
Hello Church Family,
What a great week this has been. Northpoint's Mission Week 2015 has been more successful, better attended, and more inspirational than ever. By God's grace, people are embracing this global vision of making disciples who make disciples; this is truly an answer to much prayer.
One of my favorite moments of every day—during Mission Week and every other—is tucking my nine-year-old in bed. (My other three kids are teenagers and are essentially self-contained, so they simply tell me they're going to bed, we hug, and say 'good-night'; or, if they're in a bad mood, they just nod at me from behind their headphones as they retreat to their rooms.) But not so with my littlest one: We tell stories, exchange ideas, debrief on the day, and then I listen to her oft-hilarious (and inane?) comments as she prepares to fade off into Dreamland. Just last night she informed me that when I forget to shave in the morning, my whiskers leave a gaping hole in her cheeks when I kiss her, and if it's alright with me, she said, she'd prefer to keep her cheeks intact. So, "Please shave you face!" she urged me.
After our nighttime conversations, we always pray. And for the longest time, my prayer for my daughter has invariably included something like this, "Father, help Julia to love you more and to cherish you above everything else in life."
But that prayer changed when I preached through Ephesians, some five years ago.
To be sure, there's nothing wrong with asking God to help us love Him more. Or to enlarge our children's affection for Him. But making such a request is a little like getting the cart before the horse. Or, in today's context, pressing on the pedal before filling up with gas. What I've learned to pray over recent years is: "Father, enable Julia to understand and know how much you love her." It's a subtle difference, but so important. One is a law-based prayer and the other is rooted in the gospel.
Here's why this matters so much: Only as we begin to realize how much God loves us will our hearts overflow with love for Him. Only as we begin to grasp at the soul-level the depth of God's unyielding affection for us, in Christ, will we be moved to worship and adore our Redeemer. Only as we start to comprehend the radical nature of God's gracious sacrifice for us, in sending His Son to die in our place, will we be compelled to return to Him everything: our emotions, our wills, and our sustained obedience.
I just came across this statement by 18th century Scottish theologian, John Colquhoun, that I though was terrific; he says, "When a man is driven to acts of obedience by the dread of God's wrath revealed in the law and not drawn to them by the belief of his love revealed in the gospel; when he fears God because of his power and justice, and not because of his goodness; when he regards God more as an avenging Judge, than a compassionate Friend and Father; and when he contemplates God rather as terrible in majesty than as infinite in grace and mercy; he shows that he is under the dominion, or at least the prevalence, of a legal spirit."
It is "the belief of his love," Colquhoun contends, that moves us at the deepest level. But we don't often believe that God loves us. In fact, David Ford once wrote, "this is perhaps the hardest truth of any to grasp. Do we wake up every morning amazed that we are loved by God?"
Because of the way our hearts are hard-wired, we are inclined to believe that we are loved by God only when we deserve to be loved. And at the deepest recesses of our being, we know every failure, repeated shortcoming, hidden sin and unfulfilled expectation—as King David lamented, "Our sin is ever before us"—so we tend to think: Why would God love me?  But the beauty of the gospel is: While we are unworthy of God's supreme love, He pours it out on us anyway. Because of who He is, not who we are. Because of His character, not our performance. He is, after all, "the Lord, a God merciful and gracious, slow to anger, and abounding in steadfast love and faithfulness" (Exodus 34:6).
This is what God says about Himself. Unfortunately, we're just not inclined to believe it, at least consistently. We need God's help. This is why the Apostle Paul wrote in Ephesians (in a section that radically changed my prayer life):
"For this reason I bow my knees before the Father … that according to the riches of his glory he may grant you to be strengthened with power through his Spirit in your inner being … that you, being rooted and grounded in love, may have strength to comprehend with all the saints what is the breadth and length and height and depth, and to know the love of Christ that surpasses knowledge."
The love of God is not only counterintuitive; it is beyond knowledge. Even so, paradoxically, Paul prays that believers would indeed know it. Because it's in the knowledge of that love that we find peace, joy, and rest.
And it's the recognition thereof that gives us the confidence to face anything we encounter in this life. Together we can say, with Elyse Fitzpatrick, "I'm messed up, God loves me anyway, what's next?"
Ready for what's next,
Pastor John
10.8.2015
Gray Hairs and the Persistence of God
Hello Church Family,
One of the things I love about Northpoint is the generational diversity we enjoy as a congregation. It thrills me to see so many young families with tiny children sharing life with folks in their seventies, eighties, and nineties. One such 70-something has been a particular blessing to me—his name is Dan Jackson—and I've asked Dan to bring us in on how God continues to grow and shape him, even during the so-called twilight years. Here's what Dan writes:
Psalm 131:1 leaped off the page in my devotional time—"O Lord, my heart is not lifted up; my eyes are not raised too high; I do not occupy myself with things too great and too marvelous for me." Why had this verse never grabbed my attention before? Perhaps I was not at the proper life-stage to appreciate or even agree with it. Until my mobility became so limited, I was all about the quest for new experiences, new places and nations, new learning and new discoveries. I saw myself declaring like 85-year-old Caleb, "Give me this mountain!" (Joshua 14:6-12).
My story for nearly sixty years was about preaching, speaking, and teaching. God gifted me in those areas, and I pastored some great churches, preached around the world, and led conferences, but now I'm crippled, unable to button buttons, zip zippers, or even fasten my seat belt. Embarrassed by my limitations in dress and other issues, I felt my gifts would fall into disuse. God has shown me differently and I continue to have opportunities to share. I'm not all I used to be, but I can, as Charles Swindoll says, "accept the mystery of hardship, suffering, or misfortune." No longer do I have to understand or explain it. I simply accept it. My heart is no longer "lifted up" in pride, nor are my eyes "raised too high" with ambition. When I seek to plumb "the secret things that belong to the Lord" (Deuteronomy 29:29), I will do so diligently. Otherwise, I will "not occupy myself with things too great and too marvelous for me."
Recently I spoke to Men of the Word at Northpoint, on "Stages of a Man's Life," looking through the lens of Daniel's life. As a teenager (15-19) he was moved from his homeland into Nebuchadnezzar's service in Babylon. The king sought to acculturate Daniel and other captives of Judean nobility in the literature and language of the Chaldeans, even changing their names and diets to reorient their cultural bearings. The new names honored false gods, the new diet included food offered to idols. Daniel and his friends faced clear-cut choices of obedience and faith. Against great social pressure they purposed to trust and please the One True God. That choice prepared them for future greatness in an alien culture. Daniel served into his 90s and his friends withstood at least one more moral challenge, refusing to bow before the king's image. Choices of our youth mold our character and lay a foundation for the rest of our lives.
In midlife, Daniel confronted an old friend. He had now served the king for nearly 40 years and was dismayed by God's judgment—for 7 years the king will be a mad man. Daniel spoke the truth in love, "You shall be driven from among men, and your dwelling shall be with the beasts of the field. And you shall be made to eat grass like an ox, … until you know that the Most High rules the kingdom of men and gives it to whom he will" (Daniel 4:32).
As a senior, Daniel was likely retired involuntarily. His call back into service was urgent since no one could interpret the mysterious words scrawled by a lone hand on Belshazzar's wall. It was the final night of Babylon's Empire. Daniel then served Cyrus and the Persian Empire with great distinction and faithfulness to God.
I retired as a senior, but it was an involuntary retirement. For nearly 60 years I'd served God and the church. My greatest pleasure was the work of ministry, so I came kicking and screaming into retirement. I knew it necessary when my body failed. I picked up a rental car in Colorado Springs to begin a church program there, and my hands couldn't fasten the seat belt. My wife, Nelda, traveled with me to complete the remaining trips, but at the end I came home in a deep depression. I said all the right and "holy" words as health deteriorated, but deep down, a question nagged, "How could my individual story continue to relate to God's bigger story? God is the author, director, producer, and star of His story, and I learned that my bit part was tiny. Yet, God has new roles for me and I'm learning they are significant. 
Isn't it interesting that the Bible rarely extols the virtues of youth but often celebrates the wisdom that comes with age? "Gray hair is a crown of glory," the Sage asserts, "it is gained in a righteous life" (Proverbs 16:31). Regardless of where God has us, or at what age we find ourselves, God is still working to conform us into the image of His beloved Son. And He still delights in using us for His glory and our good. In that realization there is peace and purpose. Thank you, Dan, for your inspirational words.
Resting in His sovereignty,
Pastor John
10.1.2015
Are We Really That Bad?
Hello Church Family,
I got a text from a friend the other day, a member of our church, who asked me: "If we are born in His image, how are we born in opposition to Him?" It was an excellent inquiry provoked by something I said in a sermon. And since I get a similar question semi-regularly—something like, "You say people are sinful and broken, but I see people doing so much good in the world … how can that be?"—I thought I would respond more broadly (than to just my friend).
Here goes: Because we are created in the image of God, we are of great worth and priceless value.  At the most fundamental level, the level of our being, we were designed to mirror and represent our Creator. And despite the fall of Adam and Eve, every human retains an element of that God-endowed goodness. Nothing else in all the world was made in the image of God: not plants or animals, not insects, not clouds, nor trees; only mankind. Consequently, of all God's creation, we are his most cherished handiwork. Every person you'll ever meet, including those in the womb still yet to be born, enjoys the dignity of bearing God's image and is consequently very good.
It's ethically or spiritually that we have an irremediable problem. Because of the aforementioned rebellion of our first parents in the garden, the curse of sin has been passed down from generation to generation. From Adam all the way to us. Sin and death entered the world by one man, the Apostle Paul instructs, and no person has escaped its bondage. Fourth century bishop, Augustine of Hippo, said that our sinful wills are like broken legs that cripple any chance of doing good on our own before God.
Simply put, fallen man is unrighteous. Our minds and hearts have been contaminated. And even though none are as bad as they could be—that is, no one has reached his or her max potential to do evil—everything we do is still tainted by sin. Just as one pin-drop of polonium poisons an entire carafe of wine, our entire beings, ethically speaking, have been infected and affected by the "flesh" we inherited from our first parents.
This is why Paul could say, "There is none good, no not one" (Romans 3:10) while the prophet Jeremiah could say about humanity, "Our hearts are deceitful above all things and beyond cure" (Jeremiah 17:9).
Princeton theologian, Loraine Boettner, says the issue is "not that anyone is entirely destitute of virtue, nor that human will is evil in itself, [but] that since the fall man rests under the curse of sin, he is actuated by wrong principles, and he is wholly unable to love God or do anything meriting salvation."
In short: we are messed up spiritually; "By nature children of wrath" (Ephesians 2:3); born sinners, and by nature, sinners, hence we are separated from God at conception.
So what does this mean? At least three things:
1) All people are deserving of respect, honor, and protection. Because we are image bearers of God, retaining a level of goodness conferred on us at creation, every single person is of tremendous value to God. And all people regardless of age, status, race, ethnicity, religion, sinful past or present, should enjoy the benefits that go along with bearing His image. Even those in the womb, who have yet to be born. Everyone is worthy of being respected and loved.
2) All people are in need of salvation. However, because we are ethically and spiritually broken, we need a Savior to deliver us. With every rebellious act—in word or deed—we heap on ourselves a moral debt, which we can never repay and from which we cannot free ourselves. A debt that prevents us from being reconciled to God. The good news is: Jesus paid that debt with His life. That's why the gospel promises freedom to the captive. In Christ, God offers forgiveness full and clear to all who repent of their sin and turn to the cross in faith. And I can tell you as one who has experienced that forgiveness, it feels good to live debt-free.
3) We should be suspicious of our hearts. Even the post-conversion heart is still wicked. Those who are in Christ are indeed made new, but we won't fully shed the baggage of the flesh until we are glorified. That disgusting residue of sin still remains. While we now enjoy the indwelling presence of the Holy Spirit, and the comfort, conviction, and intercession guaranteed thereby, our hearts are constantly inclined toward selfishness. The raging struggle to love God and neighbor is not proof that we are spiritually inferior, but evidence that sanctification is actually taking place. Our relationships would benefit if we kept in mind the fickleness of our own hearts. This awareness leads us to say, "I'm sorry" more quickly, grant forgiveness more eagerly, love more freely, pray for fervently, and redirects our focus from us to Christ.
I know that Oprah wouldn't like this article:) But how much better to admit we have a problem that can only be fixed by Jesus, than to pretend that we're good, while deep inside we know that we're not.
As my son asked me the other day, "Dad, why do you always say that self-righteousness equals exhaustion?" My answer: It's a never ending job to maintain a veneer of perfection. I'd rather rest in Jesus and His finished work … the One who said His yoke is easy and His burden light!
For your joy,
Pastor John
9.17.2015
Different By Design
Hello Church Family,
I'm so looking forward to worshiping with you on Sunday. We're going to sing Your Grace Finds Me, Sweetly Broken, and It is Well with My Soul (among other songs); and then, from Paul's first letter to Timothy, we're going to continue our discussion on how women and men can live in unity, honoring each other as equals, while at the same time, embracing what makes us different by God's design.
I wanted to give you a heads-up on the questions I'll be tackling this week from the text, in order to wet your whistle, so to speak; here they are:
Is theology strictly a man's domain?
Can a woman teach or preach in church?
What does giving birth have to do with salvation?
After we answer those controversial questions with straight-forward explanations (at least that's my goal!), we're going to see how even a difficult passage like the one we're in the middle of, points us to Jesus and His perfect sacrifice for us. I've been praying much this week for God to minister to us on Sunday through the ministry of the Word. I believe that He will.
Also, we're going to have a guest worship leader: a young guy named Stefan, who will be accompanied by his wife, Alexandra. They are a sweet couple who are expecting their first child in January. Most importantly, they love Jesus and the gospel. I think you will see Stefan's heart for the church on display as he leads us in music worship.
I want you to know that I regularly feel like Apostle Paul did when he reflected on his fellow believers: I "always thank God, the Father of our Lord Jesus Christ, when [I] pray for you, since [I have] heard of your faith in Christ Jesus and of the love that you have for all the saints (Colossians 1:3-4 ESV)."
In His grace,
Pastor John

9.10.2015
Couldn't Hear Nobody Pray
Dear Church Family,
I hope you've been able to find encouragement in the Lord this week.
As many of you know from sermon illustrations I've given in the past, I grew up listening to a lot of gospel music. While my contemporaries in the Christian community were blasting 80s icon, Sandi Patty (I guess you don't really blast Sandi Patty, you let the smooth sounds wash over you!), I was grooving to the collections of Al Green, Aretha Franklin, and Teddy Huffam and Gems.
One song I put on "repeat" was Couldn't Hear Nobody Pray by the Soul Stirrers. In it, the inimitable Sam Cooke laments, "I was way down a-yonder in the valley by myself and I couldn't hear nobody pray."  Reflecting on a burden that he was unable to carry in his own strength, Cooke concluded: if only people were praying for me, I'd be faring much better. Have you ever felt like that?
Last Sunday, as part of our study in 1 Timothy, we talked about the connection between prayer and the advancement of the gospel. I said to you then: without prayer from God's people the gospel will not fully flourish. But one thing we didn't discuss was the parallel to this principle: without prayer from God's people you and I will not fully flourish. It could be said that our spiritual success, so to speak, hangs in one sense, on the prayers of our brothers and sisters in Christ.
One person who realized this powerfully was the Reformer, Martin Luther. Commissioned with the task of translating the New Testament into German, Luther languished fruitlessly in the Wartburg castle in July of 1521, and wrote:
"I sit here at ease, hardened and unfeeling-alas! praying little, grieving little for the Church of God, burning rather in the fierce fires of my untamed flesh. It comes to this: I should be afire in the spirit; in reality I am afire in the flesh, with lust, laziness, idleness, sleepiness. It is perhaps because you have all ceased praying for me that God has turned away from me. … For the last eight days I have written nothing, nor prayed nor studied, partly from self-indulgence, partly from another vexatious handicap. I really cannot stand it any longer; Pray for me, I beg you, for in my seclusion here I am submerged in sins."
Known to be ruthlessly self-critical, Luther actually deflected some of the blame for his inactivity onto the recipients of his letters. And while it's generally not a good idea to blame someone else for our struggles, Luther grasped this concept well: without the aid of God's people in prayer, we will not thrive spiritually.
That said: will you pray for me this week? Will you bring the names of our pastors and elders before the Lord? Will you plead with God to give us wisdom, grace, and joy in our efforts to lead and serve you? Will you join me in Heritage Hall on September 24 at 7:00 p.m., for one hour of concentrated prayer?
I will pray for you. In fact, as soon as I wrap up this article, I am going to join another man from our church in interceding for you. God's presence is ours when we call out to Him. It's a privilege I don't want to neglect.
By His Grace,
Pastor John
9.3.2015
A Word To Fathers
Hello Church Family,
I hope your week has gone well. I've been praying for you, that God would allow you to experience the richness of His presence, so that you can say with Asaph, "the nearness of God is my good" (Psalm 73:28 NASB).
For some reason, I've had several unsolicited discussions this week about fathers. Good ones and bad ones. And I've also had a few memorable conversations as a father, myself, with my own kids. Again, good ones and bad ones. And all this prompted me to offer a few words to those men who have, by God's grace, spawned children of their own.
I've often heard it said, "How can I ever learn to trust God as my Father when my dad was such a _____?" Jerk. Hothead. Liar. Cheater. Choose whatever descriptor you prefer; I've heard most of them. And this much is true: the word "father" has certainly been darkened by some horrible evils. But all is not lost. There is a way to turn this problem around, to redeem this important moniker. And that is by carefully observing—and reconsidering—who our Father truly is and how He interacts with His own.
Here's a great example: from somewhere over the shallow stillness of the Jordan River, God the Father spoke His first-recorded words of the New Testament. The scene unfolded like this: "And when Jesus was baptized, immediately he went up from the water, and behold, the heavens were opened to him, and he saw the Spirit of God descending like a dove and coming to rest on him; and behold, a voice from heaven said, "This is my beloved Son, with whom I am well pleased" (Matthew 3:16-17).
Not only do we learn much about God from the account above, but we're left with an indelible impression concerning the nature of the ideal father-son relationship. Or father-child relationship, for that matter. Pastor and author Douglas Wilson says: "This is where fatherhood reaches its ultimate expression. In human history, there will never be a more perfect father-and-son moment that this moment between Father and Son." Through the example of our Heavenly Father we learn at least three actions a good father takes:
1.  A good father is present. When Jesus was baptized, His Father was there. This is a pattern we see of God and an example for us to follow. Of course, I recognize that we have certain spatial limitations from which God does not suffer, and that there are a thousand obligations that constantly vie for our time and attention. Add to the mix a wife, a daily commute on an impossibly busy freeway, a house that needs endless repairs, a small-bladdered pet, and an elementary school with weekly ceremonies (at which every child seems to win an award) and you've got a scenario where survival seems more than good enough. It's no wonder that we feel so over-taxed. Nevertheless, a good father makes it a priority to be with his children. Even if it means saying 'no' to other important things.  Naturally, no father can be everywhere—and I have missed my share of games and recitals—but a good father recognizes that sometimes other things have to wait. Children fare much better, generally speaking, when their father is around. Physically, verbally, and emotionally. Yet, as one social commentator said recently: "Failure at this point is one of the saddest features of the modern family."
2.  A good father identifies with his children. I had a childhood friend whose father always seemed to be embarrassed by him. Reluctant to identify with him. This friend's dad was constantly making excuses for his son, taking every opportunity to register a subtle dig at his son's expense. The dad was a terribly insecure man, and he made sure his son dealt with the same issues. Years ago, when I tried to get this same friend a job where I was working at the time, his constant refrain was: "I just don't think I have the necessary abilities." Actually, he did. But he couldn't see past his father's mockery. Sadly, this friend of mine still deals with a very low self-esteem. Consider the starkly different approach we have modeled by God: when Jesus was baptized, His Father eagerly identified with Him; He said, "This is my beloved Son." And this, by the way, is how God sees us as well. The Apostle Paul writes this in Galatians 3:26: "For in Christ Jesus you are all sons of God, through faith." God delights in us and is glad to call us His own. Imagine how encouraged and emboldened our children would be if they knew that we, their respective fathers, were proud of the fact that they belonged to us.
3.  A good father expresses pleasure in his children. The other day I watched a documentary called Misery Loves Comedy. The film explored the relationship between pain and humor, and, in particular, the kind of deep-seated hurt that leads one to make jokes for a living. (By the way, I wouldn't recommend it due to the occasional profanity it contained, but it was a telling feature.) One of the things that struck me most was the number of stand-up comics who had overbearing, hypercritical fathers. Several intimated that they could never do enough to stave off the evaluative gaze of their perennially disappointed progenitors. It was heart-breaking, actually. Contrast this with the perfect Father's words: "This is my beloved Son, with whom I am well pleased." For every generation to follow, God expressed His extreme pleasure with His Son. He makes this clear: He thinks His Son is doing a great job. Far too many sons and daughters have never heard a similar expression of approval from their dads. But a good father regularly says, "God's really gifted you in this area and I'm grateful for it." Or, "You're doing so well at school." Or, "I'm so impressed with the way you handled that."
God loves us, His children, with a love that is unconditional; and with a depth and intensity that we can never fully duplicate. But as recipients of such an incredible love, we should be stirred to love others, and especially those who have been entrusted to our familial care.
Fathers, how does your love for your children reflect the love of your Heavenly Father?  What will your kids think about God when they consider the way you love? Make no mistake: we all blow it. We all fail in this area. And if you haven't done well, you can take heart: your child's "success" will ultimately be a result of God's grace and nothing you've done or haven't done. But for those of us who still have opportunities to influence, there's no better time than right now to begin being present, identifying with your children, and expressing your pleasure in them. Weren't you just looking for a reason to cancel that evening meeting tomorrow anyway?
Only by grace,

Pastor John
8.27.2015
Grace for Blasphemers
Hello Church Family,
I've been praying for you this week, particularly that God would intensify our worship of Him, so that we would be moved toward our Savior in true dependence, humility, adoration, and faith.
Last week, as I was finalizing my sermon, I realized that it was necessary to shave off a few hundred words in order to keep the message at a manageable length. It happens sometimes in my homiletic labors that thoughts and instruction are left on the proverbial "cutting floor."
Well, one of the things I had planned to address in that exposition (but didn't) was Paul's statement about being a "blasphemer" in 1 Timothy 1:13.
Of all the questions I get as a pastor, the one that has come up the most, I suppose, is a question about blaspheming the Holy Spirit. What is this sin? And, furthermore, how can I avoid it? The most recent came in the form of a voicemail from a young lady who frantically informed me that she believed that she had committed the unpardonable sin. And she's not alone. To complicate matters: sadly, under the influence of modern atheists like Daniel Dennett, Christopher Hitchens, and illusionist, Penn Jillette, a few thousand young people in the late 2000s took what was called "The Blasphemy Challenge," where they filmed themselves cursing the Holy Spirit and then posted it on YouTube. The main point was to mock the existence of God and expressly violate Jesus' warning in Mark 3:28-29, which reads: "Truly, I say to you, all sins will be forgiven the children of man, and whatever blasphemies they utter, but whoever blasphemes against the Holy Spirit never has forgiveness, but is guilty of an eternal sin"
Naturally, this act of rebellion produced some intense regret and trepidation among the participants. Many of those who boldly denounced the Spirit of God experienced a profound sense of fear and guilt almost immediately. And I understand why. If there's one sin that can never be forgiven, I want to do everything in my power not to commit it, don't you?
Here are some comforting words, though, and my answer to this young lady who called me: blasphemy against the Holy Spirit is not uttering some phrase, combination of words, or collection of insults against God. Nor it is even denying the existence of the Holy Spirit. Blasphemy of the Holy Spirit is not one single action for which there is no forgiveness. Here's what Jesus is talking about when He refers to the unpardonable sin:
To blaspheme the Holy Spirit is to willfully and persistently deny the Spirit's work in the human heart, and to ultimately justify oneself in doing so.
Without going into detail (a self-imposed 700-word limit won't allow it!), that's what the scribes were doing in the first century context: they refused to accept the Spirit's work for what it was.  And even this act in itself is not unforgivable; it is unpardonable only because it slams the door shut on the possibility of faith.
The persistent witness of Scripture is that salvation comes by grace alone through faith alone in Christ alone. Not by any sort of works, good deeds, or perceived meritorious actions. Faith alone.  But even faith is a gift, a result of the Spirit's work in the hearts of unbelievers. Without the Spirit's drawing, repentance, and faith are impossible.
So to blaspheme the Holy Spirit—to willfully and ultimately deny the Spirit's work in the human heart, which seeks to lead a person to faith—is unforgivable, in that, it makes faith impossible.
As someone has said, it's kind of like deciding conclusively, and without wavering, that the doctor who wants to perform a life-saving operation on you is in fact, a cruel murderer; it's not that that conclusion will kill you; it's the fact that because of that conclusion you will never give that doctor consent to operate on you. So you never receive the life-saving transplant that you need.
That's what blaspheming the Holy Spirit is: ultimately and finally rejecting the one who would make it possible for us to receive the life-saving transplant that we need.
There is no statement, combination of words, or even action that is beyond God's scope of forgiveness. God's grace is infinitely wider and more sufficient than we ever imagined, saving even the most heinous of offenders. The Apostle is a terrific example: he was a blasphemer, persecutor, murderer, insolent opponent of Jesus and the Way, yet even he received mercy as God brought him to repentance and faith in Jesus.
God's grace is powerful enough to cover the sins of the sexually immoral, idolaters, adulterers, men who practice homosexuality, thieves, the greedy, drunkards, revilers, swindlers (1 Cor. 6:9-11) and plenty of others. Even blasphemers.
So take joy in this: if you belong to Jesus, there is nothing you can do to separate yourself from the love of God. If you are a Christian you can never commit the unpardonable sin. There is no violation of God's commands at any level that are beyond the scope of God's amazing grace.
And when we understand this, it paradoxically does not encourage us to sin, but stirs our hearts with greater love for God, and a more passionate devotion to avoid offending the One who loves us so deeply.
In His Grace,
Pastor John
8.20.2015
Love in Suburbia
Hello Church Family,
I hope you're having a productive week, one in which you're resting in the grace of God.
In his brief but powerful book, The Mark of the Christian, the late Francis Schaeffer penned his now-famous proposal that the final apologetic for the Christian faith is the observable love that Christians have for one another. He went on to explain: "This is the whole point: The world is going to judge whether Jesus has been sent by the Father on the basis of something that is open to observation."
But that presents a problem for a medium to large-sized church: How do we actually show love to one another in ways that can be easily recognized? It would be simpler, it stands to reason, for a church of one hundred to maintain tight communion than a church ten times its size and with multiple services. Nevertheless, if love is what makes a Christian community grow, if that's what hurting and lost people are attracted to, how does a church of over a thousand people in a suburban context (where people often leave for work at daybreak and return home from another city late in the evening) put it into practice?
The answer, I believe, is in the small groups of the church: what we call Growth Groups. In the context of these smaller gatherings, people are able to make visible the very demonstrations that Schaeffer commends in the aforementioned book: confession, forgiveness, mutual assistance, practical help. In the groups that I've been in over the past few years, we've had help fixing a leak, moving furniture, transporting children, installing a patio—when my next door neighbors wondered aloud, "Who was carrying all those bricks to your back yard?" I could tell him, "Oh, those are some of my friends from church who are in my small group." More importantly, in our group, we've learned to forgive one another, assist one another in theological thinking, identify and expose blind spots, and accept each other despite our differences. Nothing pictures the grace of God better than those things.
Of course, we know that small groups are not the answer to every ill that plagues the church. They're simply means to an end. The goal is authentic biblical community. Not something we have to create, but something we've been born into by virtue of our salvation. Something we get to participate in and model.
If you're not experiencing that level of community, then perhaps you're neither enjoying nor showing the type of observable love that strengthens your own soul and draws unbelievers to Jesus. If that's the case, this is the perfect time to sign up for a Growth Group. This Sunday, the launch of our Get Connected season, there will be a table set up on the Heritage Patio area labeled "Growth Groups." Many other ministries will be featured as well.
Why not take the time to invest in the lives of other believers? Who knows … your neighbor might notice the love on display and ask you about Jesus.
For God's glory,
Pastor John
8.13.2015
This week, Pastor John hands over the TAGD keyboard to Pastor Brent Whitefield, Northpoint's Pastor of Missions and Outreach.
We Need You Here
Dear Church Family,
If there is one appeal that I could make to my friends here at Northpoint, as we move toward the start of a new ministry year, it is this: Make it a priority this year to join your brothers and sisters in Christ in corporate worship each Sunday. Our church culture has changed so much that this appeal, which would have been unnecessary 100 years ago, seems almost gratingly legalistic today. I recognize that there are a lot of other things to do on Sunday mornings. Increasingly, places of work expect Sunday morning availability. There are youth sports leagues. There is the allure of the one day a week to sleep in. I also recognize that we should not judge ourselves, much less others, on the basis of church attendance. (Churches used to give out perfect attendance pins as if they connoted a higher plain of piety or spiritual maturity.) It is entirely possible to be in church every Sunday and to be spiritually dead as the proverbial doornail. Unfortunately, the opposite is not true: It is not possible to be fully alive while neglecting the communion of the saints, the gathering together of the body of Christ. While Sunday morning worship services are not and should not be our only sources of spiritual input, they are the most important.
For many of you, this admonition is completely unnecessary. Many of you have established a pattern of faithful Sunday attendance. Wild horses couldn't keep you away from 988 West Ontario Avenue every Sunday morning. But for many Christians in 2015, church attendance is somewhere down the list of priorities. There are lots of excuses for not coming to church. And yet it is, inescapably, an issue of priorities. I know Christians whose work ethic would never permit them to sleep in and miss a day of work. I know Christians whose competitive drive would not permit them to miss a sports tournament. And yet these same Christians will readily skip Sunday services if an interesting enough alternative presents itself.
Let me speak plainly: We arrange our lives around those things that are most important to us. We make sacrifices of the things that are less important for the things that are more important.  I am asking you, at the start of the new school and ministry year, to resolve to make the changes you need to make, make the sacrifices that are necessary to prioritize the body of Christ this year. If that means fewer hours of work, then work fewer hours. If it means you will make less money, then make less money and adjust your lifestyle accordingly. If it means quitting a sports league, quit the league. If it means finding another time for sleep, golf, exercise, or reading, get out the calendar and carve out that time elsewhere. Rather than making Sunday worship one of those good things that you squeeze into the cracks of your busy schedule, make those other good things work around your commitment to spending Sunday mornings with your family in Christ.
The writer of Hebrews frames the admonition not to neglect the gathering together (as is the habit of some) in the context of the importance of stirring one another up to love and good deeds and encouraging one another in our walk with God. We need the stirring up that you provide, we need the encouragement that only your physical presence with us can bring. …
See you Sunday.
Pastor Brent
8.6.2015
Jesus' Death and Our Personal Annoyances
Dear Church Family,
What a great day last Sunday was! A terrific morning of Christ-centered worship was followed by a sweet-spirited congregational meeting, and topped off by an all-church picnic.  When I got home Sunday at 8:00 p.m., I was both exhausted and invigorated.
And what a beautiful thing to see so many people laughing and getting along so well at the picnic (Not that I expected anything different!).
Nevertheless, as I was completing a sixty-hour, sixteen-state-encompassing, round-trip driving tour with my family over the middle of July, I was reminded of how easy it is to be annoyed with each other. Even people you love. Toward the end of one particular evening, as we pulled into an economically priced (read: cheap and disgusting) hotel in Winslow, Arizona, it occurred to me that everything everyone was doing in the car was bothering me. The way one child slurped a milkshake. The way another lip-synced a Taylor Swift song. Even the way another stared innocently out at the surrounding cacti. I was just irked by all of it.
I realize that the problem was mine, not theirs. Fourteen hours behind the wheel (complete with about thirteen bathroom stops) will bring out the worst in a person, I suppose. The bottom line is: I was sinfully irritable with no one to blame but myself.
Sadly, it's not just family members with whom we often get unrighteously annoyed. Sometimes believers in Christ choose the smallest (and oddest) things to hold against one another. From personality quirks to shifting preferences. I've seen close friends erupt at one another over differing interpretations of obscure passages (Can anyone really say for certain who the ten horns represent in Revelation 17?). On the less spiritual side, I've seen relationships nearly severed over a birthday party snub. I've seen people duck into the restroom just because they couldn't stand to spend one minute talking to the oncoming individual. This is not at all uncommon in the believing community.
And yet, one of the things Christ died for was to create and establish peace between God and man AND man and man. And man and woman. Through the cross, the Apostle Paul says, Jesus "killed the hostility" that existed both vertically and horizontally (Ephesians 2:14-16), not only making reconciliation between God and man possible, but enabling us to love each other and get along, rendering inconsequential all those things that tend to separate us: race, color, education, family background, religious history, birthplace, etc.
The only thing that matters is: we are together "in Christ"—a group of people who have been forgiven of their calculated rebellion against God and granted new standing by faith in the active and passive obedience of Jesus. We might say it this way: we have been made to be at peace.
Consequently, there is no place for division among believers. Or even longstanding annoyances.
In his exposition of Ephesians, seventeenth century English Puritan, Thomas Goodwin, wrote:
"Upon the cross Jesus takes upon himself whatever either party has against the other. 'Lo, here I hang,' says Christ dying, 'and let the reproaches wherewith you reproach each other fall on me, the sting of them all fix in my flesh, and in my death die all together with me; lo, I die to pacify you both. Have then any of you something against each other? Quit it, and take me as a sacrifice in blood between you: only do not kill me and each other too, for the same offense; for you, and your enmities, have brought me to this altar of the cross, and I offer myself as your peace, and as your priest. Will you kill me first, and then one another too?' "
Sure, there are plenty of things about which to disagree. And, I must admit, not all people are equally easy to love. But we have the most amazing thing in common: We have been bought with the unthinkably high price of Jesus' shed blood. We have been supernaturally baptized into one family. We are brothers and sisters in Christ. All of our offenses against God and each other have been completely dealt with by Jesus' cross-work. That's all the reason in the world to get along with each other, and to get over our petty disagreements.
I say this not as a corrective, really, but as a reminder. I am thankful to be part of a church where the essentials are treasured and held tightly, and where the non-essentials—even those annoyances which threaten to divide—are handed over to Jesus, who died so that they need not ever keep us apart.
I'm looking forward to worshiping God with you on Sunday. See you then!
Pastor John
7.30.2015
This week, Pastor John hands over the TAGD keyboard to Marti Wiegman, Northpoint's Director of Women's Ministries.
Craving Some "We Time"
Dear Church Family,
I spent many of my growing up years in a small town in Pennsylvania near a thriving Amish community. Many of their customs seemed strange to me as a kid:  no electricity, no cars, no "conveniences of this modern world." I have to admit I was stunned one day at the grocery store when an Amish lady in front of us bought a box of instant Aunt Jemima pancake mix!
But there was one custom of theirs that I always longed to be a part of—it was the way they celebrated the Lord's Day together. Early every Sunday morning as soon as the sun was rising, we would hear the familiar clip-clop-rattle-rattle as the Amish families made their way to the church in their horse-drawn carriages.  By the time the sun was fully up, the meadow around the gleaming white chapel was filled with a sea of black buggies. And they were all there—there wasn't a buggy left in town anywhere. The sound of their voices singing could be heard all the way to the road as we drove by.
After church in nice weather, they set up rows of tables overflowing with food, out on the lawn. Adults chatted leisurely as the hordes of children ran around together in their suspenders and wide brimmed hats or flowing skirts and bonnets. Later in the day they would gather back in the church again until the sun began to set. Then it was clip-clop-rattle-rattle once again as they all made their way back home.
I still find myself craving some sweet fellowship with my church family each week.  Acts 2:42 describes the first congregation in this way: And they devoted themselves to the apostles' teaching and the fellowship, to the breaking of bread and the prayer. I believe God has placed a longing in all of our hearts as believers to join together.
That's why I am so excited about celebrating the Lord's Day at Northpoint this coming Sunday. It is one of those special opportunities to take part in fellowship and worship in a deeply satisfying way.
In our Sunday worship service we'll join together in singing to our great God, while our own Pastor John returns to preach the Word to us after his vacation.
At the conclusion of both services, we will hear the testimonies of some of our youth and witness their commitment to Christ in baptism.
At 4:00 p.m., we return for our Annual Congregational Meeting where we will celebrate all God has done during our past ministry year and look forward to what the year ahead will hold. I'm especially excited to see the slide show of the events of this past year!
To top the day off, our Annual All-Church Picnic begins at 5:30 p.m. This is a once-a-year opportunity to relax and fellowship together. The church provides the hot dogs while we each bring our favorite side or dessert to share. If you've never joined in our picnic before, bring a lawn chair and join the fun and fellowship. There will be games for the kids while we adults kick back and catch up with old friends and make some new ones.
You know, we hear a lot in our world about the importance of "me time," which is certainly something we all need from time to time. But God calls us to carve out some "we time"—time with our brothers and sisters in Christ, which is vital to our spiritual health.
Hebrews 10:24-25 says: And let us consider how to stir up one another to love and good works, not neglecting to meet together, as is the habit of some, but encouraging one another, and all the more as you see the Day drawing near.
I look forward to worshiping and fellowshipping with you all this Sunday—and every Sunday. You encourage me and challenge me to follow our God more closely than I ever would alone.
In Him,
Marti Wiegman
7.23.2015
This week, Pastor John hands over the TAGD keyboard to Taylor Mendoza, Northpoint's Junior High Ministry Intern.
The Joy of Meeting Face to Face: Social Media and Cyber Relationships
Dear Church Family,
Every year, Instagram users upload 21.9 billion photos to the visual social network. According to a study done by the photo company Photoworld, it would take many lifetimes just to double-tap every photo. Kim Kardashian (the reigning queen of Instagram's most-liked photo) would have to spend 286 million years just to post that many selfies. The study found that if you printed out each and every Insta photo uploaded this year and stacked them up, they would climb up thousands of miles. Get this: If you only printed the number the photos that were uploaded within the last 37 minutes, your stack would easily zip past the Empire State Building.
Ours is a virtual world. And this virtual world is becoming a reality. In John Suler's article The Two Paths of Virtual Reality, he writes, "Virtual reality is a reality that has the effect of actual reality but not its authentic form. It's a kind of simulation or substitute, but one with potency and validity. It gets close to the real thing. In its effect on people, it's practically the real thing." Emotional attachments and relational connections can be established even when mediated by text message.
In the face of cyber relationships, we need biblical help! How do we make sense of the new virtual reality?
The Answer
I think the answer can be found in 2 John 12, where the apostle John wrote: "Though I have much to write to you, I would rather not use paper and ink. Instead I hope to come to you and talk face to face, so that our joy may be complete."
– A train of thought
First, follow the train of thought: The apostle John has much to write, but would rather do something else. John finds something else better, or more profitable. In other words, John finds something else more preferable.
What is more preferable? Talking face to face. John prefers to talk face to face in real space and time. Personal engagement matters. Follow the next thought: It is more preferable than what? Paper and ink.
Now pay close attention to the next important phrase: "so that our joy may be complete." John finds talking face to face more preferable than using paper and ink because his joy will be complete when they meet face to face. The purpose of John coming to them is for their joy and his joy. This implies that joy already exists in the present relationship, but is not complete until they can see each other face to face. At the very least, we get the importance and the relationship between face to face interaction and joy.
– The face of God
Second, if you follow the theme of seeing the "face of God" throughout Scripture, it is easy to understand the type of joy that John is talking about. This is the same type of joy that Zacchaeus experienced in Luke 19. Here, Zacchaeus is famous for running along the street, climbing a sycamore tree so that he could see Jesus face to face. His joy and excitement are wrapped up in seeing Jesus. Even though Zacchaeus was small in stature, nothing was going to stop him from seeing Jesus. What is rather interesting is Jesus' response to Zacchaeus. Jesus takes notice of him in the midst of an extremely large crowd. It seems that Jesus himself applauds those who wish to see His face. In this case, Zacchaeus. Face to face interaction between the Savior and His people, brings ultimate delight to those who seek His face.
What you may find even more interesting is the difference between Exodus 33:17-23 and Revelation 22:3-5. For in the one passage, Moses asks God to show him His glory, and God's response is, "you cannot see my face, for man shall not see me and live." In the Old Testament God makes it abundantly clear that a human being would die if they looked upon the face of the Lord. However, by the time we reach Revelation 22:3-5, we are told, "they (Christ's Bride) will see his face." Here in the New Testament after the return of Christ, all of God's beloved bride will see the face of God.
What's the difference? Why is there such a big shift?
Concluding Thoughts
The answer is rather simple, and I would like to tackle this one through the side door. Perhaps the largest objection to the passage in 2 John, and the effect of cyber relationships on us, is the ambiguity and uncharted ground engulfing the topic. As a teacher, I have found that people are not satisfied with secondary benefits. For example, I have argued before, that face to face relationships are better and more preferable because countenance is visible, physical affection is available, there is better clarity, and it's the best environment to confront sin. However true, this doesn't seem to convince anyone, especially youth. We still love cyberspace!
The reason that the bride of Christ can see the face of God and Moses could not, was because of Jesus. The doctrine of the incarnation makes it possible to see the face of God and not die. Jesus gave up His place in the throne room and did not count equality a thing to be grasped (Phil. 2:1-10) in order to have face to face interaction with His people. He became like us in every way so that He might atone for those He has chosen and loved. It is no wonder that the Roman Centurion believed that Jesus was the son of God at the crucifixion; he had seen the face of God.
Ultimate joy is found in face to face interaction, not because it has better benefits than social media and cyber relationships, but because this is how God has chosen to save His people. God has taken a people who could not see His face, given them the God/man who we could see face to face, so that in ultimate consummation we can, and will, behold the glory and face of God. If that isn't convincing enough, then I don't know what will be. The implications of this are incredible, and I hope that you will join me as we think about this crucial topic, and seek His face.
For the Kingdom,
Taylor
7.16.2015
This week, Pastor John hands over the TAGD keyboard to Scott Williams, Northpoint's Pastor of Adults and Families.
Hope for Parents Dealing with Wayward Children
Dear Church Family,
This past Sunday, I preached from Hosea 11, which gives a wonderful depiction of God's great love for Israel, who is described as a rebellious and wayward child.  Hosea 11 begins with a beautiful picture of God's tender care for Israel, but His love and provision is continually spurned by a people who are "bent" on turning away from Him to other gods.
The primary application of Hosea 11 is that the God who loved wayward Israel is the same God who loves wayward sinners today. The death of Jesus on the cross puts on display what our loving God was willing to do in order to redeem all those who are lost and wayward. Christ endured our punishment so that we could have a right relationship with Him, and end our rebellion against Him.
While that is the primary application, I also think this passage gives insight and even hope for Christian parents today who are dealing with wayward children. Here are a few of my thoughts that I didn't have time to address in my sermon last Sunday:
First, we have a God who understands the deep pain that comes from loving wayward children. Hosea says that the more Israel was called back to God, the more they went away. Even though God taught and led them with gentleness, not harshness, Israel was bent on turning away from Him.
I have known many parents who experience the pain of adult children who reject Christ and begin to live sometimes very destructive lives. Years ago, one of my mentors died at almost 90 years old. He led an exemplary Christian life. He served his entire adult life as a pastor, church planter, and mentor to hundreds of young pastors entering the ministry.  He was always faithful to his wife and he saw his children grow to be deeply devoted followers of Christ, except one.  It was the pain of that one wayward child that he was reminded of as he neared the end of his life.  He never stopped loving her.
There is hope for Christian parents of wayward children in that we do not have a God who is distant and unmoved, but a God who deeply sympathizes with them. He knows what it is like to have a child spurn instruction, reject loving guidance and live deeply destructive lifestyles. His understanding leads to bringing comfort.
Second, realize that hope for wayward children rests in God, not in you. Now there are many things parents can do to help children get back on track, but no parent can change the heart of their child, only God can do that.
Many Christian parents dealing with wayward children suffer from the "if only" and "what if" syndrome. Parents often say things like this: "If only we had more family time when he was a child, or kept him from that group of friends, or were less strict, or prayed more as a family, then maybe he would have not rebelled." Which often leads to parents saying things like this when adult children rebel: "What if we show her more tough love, or be more gracious, or find her the right counselor, or even get her on the right medication, maybe then she would see the error of her ways and run to Jesus." Many parents are burdened by a sense of guilt for past mistakes, and/or weighed down with a sense of obligation that it's up to them to "fix" their kids.
Hosea reminds us that the salvation of the wayward is a work of God, not man.  While many of us know this to be true, we can often live hoping in our abilities to save, rather than resting in the fact that God is the one who saves, and He does so according to His will and His timing.
Lastly, never stop loving and demonstrating that love to your wayward child. What a picture we have in Hosea 11:8 of a God who, despite the ugliness of Israel's rebellion, is still moved to warm and tender compassion for them.
Abraham Piper, son of Pastor John Piper, was a rebellious child who left the faith, but after a time, returned to faith in Christ. At one point, John Piper had to submit his adult son to the discipline of the Church. Abraham wrote an article giving advice to parents dealing with wayward children.
He writes, "If you find out she's pregnant, then buy her folic acid, take her to her twenty-week ultrasound, protect her from Planned Parenthood, and by all means let her come home. If your son is broke because he spent all the money you lent him on loose women and ritzy liquor, then forgive his debt as you've been forgiven, don't give him any more money, and let him come home. If he hasn't been around for a week and a half because he's been staying at his girlfriend's—or boyfriend's—apartment, plead with him not to go back, and let him come home. …
What really concerns you is that your child is destroying herself, not that she's breaking rules. Treat her in a way that makes this clear. She probably knows—especially if she was raised as a Christian—that what she's doing is wrong. And she definitely knows you think it is. So she doesn't need this pointed out. She needs to see how you are going to react to her evil. Your gentle forbearance and sorrowful hope will show her that you really do trust Jesus."
What a great encouragement it is that the way you respond to your child's waywardness will show if you are really trusting in Jesus. That's really the whole point, isn't it?
At the end of the day, what you really want is for them to remember, or see for the very first time the beauty of our risen savor Jesus Christ. The problem facing wayward children is not drugs, sex, laziness, liberal thinking, homosexuality, and the like, but it is that they fail to see and believe Jesus is truly all that He said He is and will do all that He has promised to do.
Pastor Scott
7.9.2015
Meetings with Hotdogs
Dear Church Family,
Our semi-annual Congregational Meeting is only about three weeks away. What? You don't seem terribly excited. I get it. Congregational meetings are not typically the stuff of life-altering discussions and riveting gospel-exchanges. But they do provide a great opportunity to hear about (and praise God for) what He is doing in our church.
For example, as part of the meeting, we will be adding twenty-two new members to Northpoint. That's nearly two-dozen people who have recently completed the Discovering Membership class and who are eager to covenant together with us in this spiritual journey as a family of faith. Also, we will hear about the ways the Lord has blessed our church financially. By God's grace, and because of your consistent generosity, we will significantly surpass last year's monetary giving and last year's budgeted income. Those are huge blessings!
Finally, I will also do some brief vision casting, as it relates to our search for a full-time Director of Worship, the church's response to the recent Supreme Court ruling, and the elders' new church planting initiative. Believe me: 60 Minutes has got nothing on the climactic tension of these topics.
Nevertheless, in case those things don't capture and hold your interest, this year we're doing something completely new: We are having our Annual All-Church Picnic immediately after the aforementioned Congregational Meeting, complete with free tubular steaks (as Pastor Brent calls them) and chips. So, don't miss out on your chance to hear some vital news concerning your church; plus, who can say, "No," to succulently grilled hotdogs?
Here's the schedule:
August 2, 2015
4:00 p.m.  Congregational Meeting
5:15 p.m.  All-Church Picnic
For His glory,
Pastor John
7.2.2015
For Freedom Set Free
Hello Church Family,
I hope you're planning on enjoying some extended time with friends and family over the next few days. My calendar is already full!
After all, this weekend we celebrate the independence that we gained as a country some 239 years ago—all the benefits that come with being a free nation, no longer encumbered by British taxation or rule. This is indeed a freedom to be relished.
But there is a different type of freedom that actually trumps national or political liberty.
In Galatians 5, the Apostle Paul writes: "It is for freedom that Christ has set us free." This tautologous statement (saying the same thing twice for emphasis) is meant to drive home a very important reality: As Christians we have been liberated from the curse of the law.
What that means is: The law (broadly speaking, all the commands of God) brings with it a curse because no one is able to obey all of it. The law renders us guilty before God. It condemns us. The law stands over us and shouts, "You're a failure, you've blown it again, there is no hope for you to save yourself." And if that were the end of the story, we would have every reason to be depressed and altogether unpleasant.
But in Galatians 3, we're told "Christ redeemed us from the curse of the law by becoming a curse for us—for it is written, 'Cursed is everyone who is hanged on a tree.'" (Galatians 3:13)
Those who place their faith in Jesus are liberated from the curse of the law because the righteousness of Christ is applied to them. Of course, this doesn't mean that we're now free to ignore God's commands or disobey Him, but that the law no longer wields its judicial authority over us.
As 16th Century German theologian, Johannes Brenz, asserts: "The law has the power to condemn sinners.  But because Christ has paid the price of sin, he has borne the curse and condemnation of the law. This is the greatest and most important part of Christian freedom. After he set us free from the law in this way, he gave those who believe in him the full righteousness that the law demands. Therefore, even if we do not have the perfect righteousness of the works of the law (which we most certainly do not) yet because we have Christ, we are considered to be perfectly righteous because of him. This is what Christian freedom is."
Put simply: The law can never condemn those who have been declared "not guilty" in Christ.
So … as you eat your hotdogs this weekend, don your red-white-and-bluest outfit, and watch the fireworks, how about this reminder: nothing you do (or don't do) will alter your standing before God. You belong to Him. And He loves you. So you're free to stop worrying about your performance and just delight in the One who redeemed you and in whom every blessing is found.
Now, that's a sort of freedom worth celebrating every day … not just once a year!
For your joy,
Pastor John
6.25.2015
This week, Pastor John hands over the TAGD keyboard to Dave Dussault, a leader in Northpoint's prayer ministry and former elder in the church.
Prayer for Our Nation
Dear Church Family,
Independence Day is approaching. At a time when the news fills with reports of men and women openly rejecting God's holy standards, Christians can easily become alarmed and dismayed. Our culture is not as comfortable as it used to be. We're feeling shoved to the margins of society and eyed with suspicion. We don't like it.
It's time to renew our prayer for our country. We know this, yet we feel sluggish. Like the first workout after two months in the recliner, the spiritual effort seems unnatural and prayer feels uncomfortable. But the need is very real and God's call on His people is undeniable. We have a duty to pray for our land.
But there's also a danger: What exactly should Christians pray for? Our great temptation is to beg God to give us back the blessings of the past. Oh, for the peace, prosperity, and security of thirty years ago, when Christianity fit in with society and believers worshipped in peace!
But our longing for the American dream and Christ's prayer, "Your kingdom come," follow conflicting affections. God is doing a work in His church that desperately needs to be done. He's causing us to cast all our hopes on Him alone.
Violence and disorder are increasing in the United States and around the globe. Value systems are in conflict. Unrest is unleashed. If ever America needed the church, it's now. If ever the church needed her God, now's the time.
Let's seek the Lord today. Now. Pray that you, along with all who belong to Christ Jesus through faith, will desire God above all—for yourself and for your neighbor. Ask God for a hunger for Him that never ends and a burden for the lost that moves you to pray for their eternal souls.
Follow Paul's "Prayer Guide" in 1st Timothy 2:1-6.
First of all, then, I urge that supplications, prayers, intercessions, and thanksgivings be made for all people, for kings and all who are in high positions, that we may lead a peaceful and quiet life, godly and dignified in every way. This is good, and it is pleasing in the sight of God our Savior, who desires all people to be saved and to come to the knowledge of the truth. For there is one God, and there is one mediator between God and men, the man Christ Jesus, who gave himself as a ransom for all.
Ways to Pray: Paul lists four ways we can pray for others.
Supplications: Requests. Asking God for our needs and the desires of our hearts.
Prayers: Talking to God about anything and everything, respectfully yet freely, as to a loving Father.
Intercessions: Prayers that are specifically for the needs and concerns of others. Pray especially for their salvation form sin.
Thanksgivings: Gratitude to God for all He is and all He does.
Pray for …
All people: Whoever God lays on your heart, for whatever reason. Trust Him to guide your prayers.
Kings: Political leaders at the highest levels.
All who are in high positions: Those in authority. Whoever leads or exercises control over others. People who bear responsibility for the consequences their decisions have on others.
Pray that …
We may be able to live a peaceful and quiet life: God to give us a stable society, suitable to the spread of the gospel and growth in holiness.
We will live Godly and dignified in every way: Pray for believers to live Christ-like lives as examples of Godliness, character, and soundness, that please both God and man.
Pray because …
It pleases God.
It serves His desire for everyone to be saved.
Pray in light of the fact that …
God has provided One Way to become right with Him—Jesus Christ.
Christ Himself paid the price to set us free from sin.
Christ's sacrifice is sufficient for all.
The testimony of Jesus Christ—His perfect life, atoning death, and triumphant resurrection—has the power to save lost souls, heal broken lives, and renew a broken society
If you are interested in resources and opportunities for prayer, contact Northpoint Prayer Ministries at dvdussault@att.net.
Dave Dussault
6.18.2015
She's Still Beautiful
Dear Church Family,
I hope you're experiencing the joy of the Lord today.  My prayer for you this week has been that God would give you the grace to rest completely in Christ and His finished work on the cross.
Several years ago, my family and I took a vacation to Myrtle Beach (South Carolina). And after one long day in the sand and sun, we ventured into a little Italian restaurant north of the main strip. The dim lights and old-world accents created a certain mood. Nino Rota's Speak Softly Love played through the ceiling-mounted speakers (I only remember this because that was the theme song to the movie The Godfather). Servers wore t-shirts that read: When you're here, you're family. Got it?
I loved the point, even if it was tongue-in-cheek: "Whether you like it or not, we're all family here. You have no choice but to accept it."
I've been thinking about that tagline this week. By God's providence, I've met with or talked to several people recently who have shared with me that they are fed up with the church. Not Northpoint, necessarily, but the church as an institution. The hypocrisy, judgmentalism, argumentative tone, they've told me, has turned them away. And they have no intention of returning anytime soon.
And, look, I get it. I've been around the church for three-quarters of my life, in various roles and capacities, and I have seen the good, bad, and the ugly.
I've seen the church fail miserably. I've seen women who were marginalized; I've seen men unfairly condemned. I've seen legalism destroy congregations. I've seen people who were broken over their sin, rejected even after they repented. I've seen couples have volatile spats in front of everyone; and I've seen elders fight behind closed doors.
I've seen churches split over the most ridiculous things (I even saw one church torn in half because of a conflict over the starting lineup on the men's softball team); I've seen pastors fall into sexual sin. Multiple times. One such pastor was one of my closest friends. Without a doubt, I've seen the church at her worst.
But I've also seen the church at her best. I've seen people who were hard to love embraced without conditions. I've seen abused and abandoned mothers moved into apartments with their furniture and food supplied by their church. I've seen an adulterer formally disciplined from the church and then restored as he sought forgiveness and demonstrated repentance. I've seen the church rally around and share the grief of a woman whose husband was gunned down in Wal-Mart by a strung-out drug addict (in front of her 12-year-old son). I've seen teenagers come to the aid of other students who were being mocked and ridiculed. I've seen people come to faith in Christ and get baptized—people who seemed altogether unlikely to ever turn to Jesus.
I've seen men in the church confront a newly-married, 23-year-old man, who was consumed with golf, basketball, and softball, and doing a terrible job of leading his young wife. I was that man. And I'm grateful godly men came around me and "showed me my fault" (Mt. 18:15).
In 34 years of being part of the church, and nearly 15 as a pastor, it seems like I've seen everything. I realize that the church is not perfect. But I love the church. I can't imagine life without the church.
Of course, what's most important is not that I love the church, but that God loves the church and still calls her His bride. God delights in the church. Despite her shortcomings, she is still beautiful to Him. In fact, God sent His Son to die for the church. And the church is still the vehicle through which God has determined to make known the mystery of Christ, which is the gospel.
When God saved us, He rescued us not only from sin and hell, but also from our own independence. From our spiritual wanderlust. From our lofty notions of self, and our jaded views of our own goodness and self-righteousness. When God made us alive in Christ, He placed us into a family of believers, to share our burdens, speak to us grace and truth, accept us, pray for us, love us and forgive us, and walk alongside us on this journey of sanctification.
Sure, those siblings are going to hurt us sometimes. And they will never love us perfectly, on this side of heaven.  Nor will we love them perfectly. But let's not allow our dreams of how church should be cause us to reject the church as she is. Glorious and splendid to God.
In his classic book, Life Together, Dietrich Bonhoeffer says this: "Innumerable times a whole Christian community has broken down because it has sprung from a wish dream … a Christian who brings with him a very definite idea of what Christian life together should be. But by sheer grace, God will not permit us to live in a dream world. Every human wish dream that is injected into the Christian community is a hindrance to genuine community and must be banished. He who loves his dream of community more than the Christian community itself becomes a destroyer of the latter, even though his personal intentions may be ever so honest and earnest and sacrificial."
Instead, Bonhoeffer implores: "In the Christian community thankfulness is just what it is anywhere else in the Christian life. Only he who gives thanks for the little things receives big things. If we do not give thanks daily for the Christian fellowship in which we have been placed, even where there is no great experience, no discoverable riches, but much weakness; if on the contrary we keep complaining to God that everything is paltry and petty, so far from what we expected, then we hinder God from letting our fellowship grow according to the measure and riches where are there for us all in Jesus Christ."
Yes, the church is messed up. Let's all agree. But this group of misfits, former rebels, and sinners-turned-struggling-saints, of which you and I are a part, is the family into which God has adopted us. A family that God deeply loves. And a collection of siblings through whom God will keep us, protect us, bless us, and mold us into the image of His Son.
So let's love one another, and thank God for His great gift, the church. Got it?
For the glory of God in all things,
Pastor John
6.11.2015
This week, Pastor John hands over the TAGD keyboard to Pastor Brent Whitefield, Northpoint's Pastor of Missions and Outreach.
Making Disciples by Planting Churches
The stated mission of our church is a summary of the Great Commission: to make disciples who make disciples. There are many strategies for making disciples, but only one has consistently resulted in multiplication: church planting. This does not mean that all other strategies are worthless or counterproductive (though some are). Efforts to grow existing churches, public preaching, practical or humanitarian acts of service, friendship evangelism, etc., all have a place in the life of the church and the individual believer. But for the enterprise of making and nurturing new disciples, nothing has been more effective, throughout the history of the faith, than the planting of new churches. Most of the apostles of the early church had peripatetic ministries, but they were not simply itinerant preachers. They organized new converts into local bodies which took over the work of reaching the community. Almost 2,000 years on, the priority of church planting remains the same: It is simply the most fruitful and faithful way to make disciples and fulfill the Great Commission.
Planting new churches is exciting for a number of reasons:
Planting churches multiplies the contact points that a community has with the body of Christ. It creates the need for more leaders and the opportunity for those with leadership gifts to exercise them. Church planting injects a sense of urgency to our efforts to train and mobilize leaders for the harvest.
Planting churches helps to purify motives and realign our priorities with God's. It flows from a heart of stewardship rather than ownership. A church that plants wants to spread His kingdom rather than build its own empire. Church planting involves sacrifice: the willingness to relinquish those gifts and resources that the Lord has vouchsafed to us. In most cases, it involves releasing our first fruits and best people.
Planting churches allows us to have an impact on communities of people who are otherwise outside of our reach. These are not people who are simply geographically distant, but those who are socio-economically, ethnically, linguistically, or culturally separated from us. It recognizes that the world is not reached by a "build-it-and-they-will-come" mentality, but that the spirit of the Great Commission is to go.
And church planting allows us to dream big. What is the most we can hope for? With a seating capacity of 900 in our building, what is the limit to our ambition? Two or three thousand?  With church planting, there is no ceiling to what can be accomplished if the Spirit of the Lord is in it.
To this end, we are beginning a new partnership with a church that has the goal of reaching one million people for Christ by 2022–through church planting. Bringing 1,000,000 people to Christ seems an unrealistically ambitious goal unless you consider the mathematics of planting churches that plant other churches. The new church that we are supporting, Gaborone Chapel in Botswana, is being started by planters trained at Nairobi Chapel in Kenya. This church is being planted "pregnant;" that is, it will be prepared to begin reproducing itself in a very short period of time. The goal for this church is to plant ten churches all over Botswana with a total of 10,000 disciples by 2025. We will provide half of the operating budget for this church for its first two years as it gets itself off the ground. We will also provide other kinds of help that they need to make an impact in their community. In the spirit of true partnership, we will not only give but receive. We will have the opportunity to participate in church planting from the ground up and learn valuable lessons to apply closer to home. We hope to send our own interns to work with Nairobi Chapel and bring back the experience and knowledge they gain there.
It is our hope that this is but the beginning of our foray into this exciting realm of church planting, and we will wait to see how God chooses to use us in this work, locally as well as globally.
Pastor Brent
6.4.2015
Bruce Jenner and the Nature of Love
Dear Church Family,
What a rapidly changing culture we live in. On Monday of this week, former Olympic gold medalist Bruce Jenner announced to the world that he was now "Caitlyn" and should be referred to as such. In a few subsequent hours, Caitlyn's new twitter account would garner 2.33 million followers. Everybody, it seems, wants to know what the one-time "world's greatest athlete" is thinking and feeling. Never before has Jenner been so popular. Whereas he once graced the box of Wheaties (and put a relatively tasteless cereal on the map), Jenner now appears on the front page of the landmark fashion magazine, Vanity Fair.
I haven't read too many responses to Bruce's big reveal (and I'm not terribly interested in entering into the fray), but I have noticed a disturbing trend that, I believe, needs to be pastorally addressed: everyone seems to be hailing Bruce as a hero. A courageous individual. An American icon. Even Christians are saying these things. And for those who are less inclined to bestow upon Bruce such accolades, they are scolded with the questions, "Why all the hate?  Where's the love?"
The latter is a fair question—where is the love?—but it prompts an even better one: What does it mean to truly love someone?
True love, after all, is a theological exercise. In order for us to understand what love is, we have to first consider who God is, and who we are in relation to Him. If our view of love is not shaped by God's view about creation, humanity, sin, salvation, sex, and so on, then love becomes strictly subjective and arbitrary, constantly redefined by cultural trends and ever-changing humanistic arguments. But if God defines what love is then it has permanence and an ever-stable locus. In other words, love actually means something.
The Scriptures suggest that we don't even know what love is apart from theology. John, the evangelist, wrote, "This is how we know what love is: Jesus Christ laid down his life for us" (1 John 3:16). The Apostle Paul also presents sacrifice as a key element of biblical love. He instructs to love even as we have been loved by God. And how did God show His love for us? By sending His Son to die for us, "while we were yet sinners" (Rom. 5:8).
Here's what we can conclude from God's example: unlike romanticized love, which is primarily an emotion of self-actualization, biblical love is not ultimately about me. Romanticized love is a feeling of desire, acceptance, longing—but that longing is really for my fulfillment in you. So if I feel that romanticized love with someone and I say to that person, "I love you," what I'm really saying is: I love the way you make me feel. You make me feel special, desirable, attractive, inspired, moved.
This, by the way, is why romanticized love is so fickle, so unreliable. As soon as you stop making me feel all the aforementioned things, then my love for you is gone.
But biblical love is different. It too is a strong affection, intense and emotional. Sometimes well-meaning people suggest that biblical love is not emotional, that it's purely behavioral; only about what you do and not how you feel, but this is impossible to reconcile with Scripture. Biblical love involves emotion, but it is a passion for another's ultimate good.
To love someone in the example of Jesus is to have a deep desire to see that person experience what's best for him or her. Not necessarily what that person wants, but what is most desperately needed. To borrow an expression from John Piper: To truly love someone is to "make much of that person."
And sometimes that involves saying and doing hard things. Therein lies the sacrifice.
What does it mean to show love to Bruce Jenner? Well, it certainly does not mean perpetuating in our writing or speech the false and enslaving notion that a person can alter his gender. "Male" and "female" are not cultural constructs, but aspects of humanity rooted in the will of God. Gender is assigned by God at creation, and for His divine purpose, and it cannot be changed. We do not show Bruce Jenner love by suggesting anything to the contrary. Instead we only add confusion to the crushing feelings of guilt, shame, and self-loathing already experienced.
Neither do we show love by referring to Bruce's actions as noble, honorable, courageous, or heroic, despite cultural pressure to conform to this rhetoric. To openly (or tacitly) endorse such conduct is to bring harm to Bruce, not healing. As the prophet Isaiah wrote: "Woe to those who call evil good and good evil, who put darkness for light and light for darkness, who put bitter for sweet and sweet for bitter!" (Isa. 5:20).
To love Bruce Jenner is to earnestly desire, pray for and seek his reconciliation with the God who made him. The God who offers salvation by grace alone. The God in whom Jenner can find the approval, acceptance, and love for which he is desperately searching. That's what Bruce Jenner truly needs, despite what he thinks he wants.
To love Bruce Jenner is to long to see Jenner truly made whole, not by mutilating his body and thereby incurring the devastating psychological and emotional pain that goes along with such a decision, but by coming into a right relationship with God through faith in the person and work of his Son.
To love Bruce Jenner (and other transgenders that we might come in contact with, like the man I met with this week, or anyone else who spurns God's design) is to come alongside in grace and humility, with an invitation to turn to Jesus in repentant faith and experience all the benefits of being made to be "at peace with God through our Lord Jesus Christ … through whom we have obtained access by faith into this grace in which we stand and we rejoice in hope of the glory of God" (Romans 5:2-3).
Where is the love? Good question. It is in this glorious announcement: Christ died to save sinners like you, me, and Bruce Jenner. And all who turn to Him in faith He will in no way cast away.
For the gospel,
Pastor John
5.28.2015
Catch, (Train), and Release
Dear Church Family,
After the Apostle Paul planted the church at Ephesus, he sent Timothy, his young protégé, to oversee the doctrine and the growth of this fledgling congregation. But lest Timothy be inclined to "protect his territory," lead every ministry, or do all the teaching, Paul instructed him rather forcefully: appoint and develop other qualified leaders. Paul's specific words to Timothy, as the former languished in a Roman prison, were clear:
"And what you have heard from me in the presence of many witnesses entrust to faithful men who will be able to teach others also." (2 Timothy 2:2 ESV)
One of my great passions and commitments as a pastor is to train up other leaders to serve the church. Starting with my own family and then extending into the believing community. That's why I meet with young men individually just about every week. We talk about life, doctrine and the challenges that go along with forging a disciple-making ministry in the age with live in. And we don't just talk; I encourage them to use their gifts.
One of the guys on my radar is Taylor Mendoza. He is a remarkable young man who serves as Northpoint's Junior High Intern. While Taylor typically has a hard time throwing a softball from third base to first (he sometimes sails balls five feet over the first baseman's head), he is a man who absolutely gets the gospel of grace. I have been so impressed with his leadership skills, his humility (an absolute essential), and his theological acumen.
This Sunday, I've asked Taylor to bring the Word to us from Hosea chapter 3. This will be his first time preaching in "big church." But he's ready. As he prepares for pastoral ministry at CBU, and teaches our seventh and eighth graders here at Northpoint, his skills are being systematically honed. And his heart steadily buoyed by what he observes God doing in our church. I can't wait to see what the Lord does through Taylor to deepen our understanding of His love and to stir our hearts to seek our King.
Please pray for Taylor. And if he makes an attempt at humor on Sunday (even a joke that's really not that funny) give him a robust laugh anyway. You'll ease his nerves and encourage his soul.
For the Glory of God in all things,
Pastor John
5.21.2015
Is Guilt from God?
Dear Church Family,
I've been praying much for you this week. And by God's grace, I've also seen some incredible answers to prayer, as well. We say it all the time, but it's true: God is so good.
Over the last couple of months, I've had a number of conversations about guilt. Far more than usual. One man even informed me recently: "I haven't been coming to church because I've felt so guilty over my sin." Another confessed to me through tears, "I have felt like I couldn't worship God because of what I've done." For whatever reason, it seems that more people than ever are hampered by feelings of failure and shame. Well, in light of these candid exchanges, I thought I'd answer the question: Is guilt from God? A few thoughts:
1.  The devil's greatest weapon is guilt. When we sin (which we all do), the evil one wants us to be constantly wracked with despair and hopelessness, and then give up on our faith. There's a reason he is called "the accuser of the brothers … who accuses them day and night" (Revelation 12:10). Because we all deal with the residue of indwelling sin, making it so that even our motives are imperfect, one of Satan's most effective strategies is to discourage and confuse Christians into believing their particular offense is beyond God's mercy. This is a lie from hell!
2.  God uses guilt to bring unbelievers to Himself. Thus, guilt is not always bad. The gospel is only good news to those who have been broken by the burden of the law, and are consequently aware of their transgressions. To say it a bit more strongly: without guilt there will be no conversion. Nevertheless, true guilt is rare. Just like true conversions are rare. As one popular theologian argues: "What usually passes for guilt is in fact just more sin, because it is the bad feeling we have, not from our failure to trust God's promises but from our failure to preserve our image as cool, self-sufficient [and self-righteous] people." Guilt for those who are outside of Jesus is a good thing, and something we, as believers, should pray that God would inflict.
3. What the Holy Spirit impresses upon the believer is something different than guilt; the Bible refers to it as "godly grief" (2 Corinthians 7:9-10). Godly grief is the emotional realization that we have offended the God who loves us. This, however, does not lead to despair or spiritual apathy, but to repentance and joy. Whereas Guilt yells, "You are such a failure! Look at what you did! You dare not come near to God." Godly Grief gently reminds, "Run to Jesus, the One who loves you, and bask in His mercy and forgiveness."
So, what should you do if you have a nagging feeling that God is displeased with you: first, ask the Spirit to search your heart, and be quick to acknowledge any unconfessed sin that He reveals. While unconfessed sin doesn't jeopardize our standing with God, it does adversely affect our relationship with Him. The regular confession of sin brings about what the Puritans described as the "renewal of fellowship" (Perkins) and the "experiential shining of God's face" (Boston). Once forgiveness has been sought, then proceed with boldness before God, undeterred by past sin, and ignoring the devil's subtle ploys.
After all, the Bible makes it clear that "there is no condemnation for those who are in Christ Jesus" (Romans 8:1). In other words, when Jesus died on the cross, He satisfied God's full wrath so we could be brought to God, as blameless, righteous children. Never again would our sin be held against us. At the moment we, by faith, receive the benefits of Jesus' cross-work on our behalf, God puts the ledgers away. Our account is once-for-all settled. Consequently, there's no reason to entertain guilt. There's no reason to give despair a home. Despite what the devil may try to convince us. As the old Brethren hymn-writer, Samuel Whitlock Gandy, consoled, "Well may the Accuser roar, of sins that I have done; I know them all and thousands more, Jehovah knoweth none!"
With this confidence, you can let the joy of God's salvation dwell in you richly. "And when Satan tempts you to despair, and tells you of the guilt within, [you need only] look upward and see Him there, who made an end to all your sin."
Forever free from guilt,
Pastor John
5.14.2015
This week, Pastor John hands over the TAGD keyboard to Pastor Brent Whitefield, Northpoint's Pastor of Missions and Outreach.
Following Jesus
Does the worship of God in our generation ever strike you as tame and predictable? Has it ever occurred to you to wonder whether this is what Jesus had in mind when He preached the gospel to His followers? How deeply have the teachings of Jesus sunk into our consciences and changed our lives? If we take a candid look around our community and even our own lives, do we see people who have been deeply influenced and genuinely transformed by the words and example of Christ? If we are honest with ourselves, there are many reasons to be discouraged: Christ offered that radical message that we can be saved through His atoning death and sacrifice alone, and yet many, like the Pharisees, rest in their performance of religious duties and superficial following of the law for their salvation. Jesus had nothing but warnings about the accumulation of wealth, but we have added the pursuit of the American dream of material comfort to the list of Christian virtues. Christ radically redefined the family as the body of Christ, but many Christians believe that the essence of Christian piety is to provide generously for their biological families. Though our Lord taught us to seek first the Kingdom, we raise our children by caring first for their academic or athletic achievement, squeezing in spiritual development where it does not conflict with these higher priorities. Christian discipleship for many is indistinguishable from good citizenship.
If we hold up the mirror of Jesus' life, ministry, and teachings to our Christian community, we cannot be flattered by the comparison. It is hard to imagine the Jesus of Scripture coming to earth and traveling from church to church in our land, sitting in the back pew, feet outstretched in front of Him, hands behind His head, whispering to Himself, "This is just what I had in mind." Rather, I am in reluctant agreement with the words of 20th century theologian Jacques Ellul, who asked in his masterpiece The Subversion of Christianity: "How has it come about that the development of Christianity and the church has given birth to a society, a civilization, a culture that are completely opposite to what we read in the Bible?"
We call ourselves followers of Jesus, but to what extent do we really follow Him? We have institutionalized the "following" of Jesus into an organized religion, stripped of most of the risks or dangers. Even Jesus own disciples hit the road when the going got tough, but we continue to gather at church even though we haven't followed Christ all the way to Golgotha, there to be crucified with Him so that it is no longer we who live but Christ in us. Having left Jesus behind, our worship of Him is less inspiring, our love of the brethren less authentic, and our obedience to the Great Commission less enthusiastic or successful.
Michael Frost and Alan Hirsch, in their provocative book, Re-Jesus, call us to recapture biblically-faithful Christology:
"(We must) recover the absolute centrality of the person of Jesus in defining who we are as well as what we do. As hard as it is to truly follow him, we assert that we must constantly return to Jesus to authenticate as well as legitimize ourselves as his people. We have no other Archimedean point by which to set our coordinates or any other touchstone by which we can assess the abiding validity of our faith and to see if we are authentically Christian. … It seems to us that a constant, and continual, return to Jesus is absolutely essential for any movement that wishes to call itself by his name."
Genuinely following Jesus has always been unpopular, risky, bad for your physical and financial health, unrewarding in earthly terms. To follow Jesus is to risk sharing His earthly fate. How decidedly different the Jesus of the Gospels is from the one of our imaginations: the popular, avuncular, and risk-averse small-town mayor, charged with keeping the peace by seeing that the rules and traditions are respected. Jesus has not called us to tame civil religion. Following Jesus is an adventure; it will be unpredictable and dangerous. This is what Jesus meant when He said, "Take up your cross." When it starts to feel too domesticated and safe, it is time to reconsider. As my friend, Pastor Oscar Muriu, often points out: "If following Jesus doesn't scare you sometimes, perhaps you need to check and see if you are following Jesus."
If we take up this call to follow Christ, who knows what the result will be? It may mean that our churches will be smaller but more robust. Then again, courageously following Jesus, just like the handful of men that emerged from Christ's ministry, could lead to the greatest multiplication movement that the church has ever seen.
Pastor Brent
5.7.2105
Why One Famous Atheist Denied God (and Other Musings)
Dear Church Family,
When asked why he so strongly rejected Christianity, famed atheist philosopher Friedrich Nietzsche replied, "I never saw the members of my father's church enjoying themselves."
Nietzsche could never have said such a thing about Northpoint. I am so glad to be a part of a believing community where joy is overflowing. And infectious. Sure, we have ups and downs (such is the journey of sanctification), and we experience suffering (the kind that is inevitable on this sin-cursed ball of dirt), but even in the middle of it, our joy in Christ is unmistakable.
As you know, this Sunday is Mother's Day. And I've been recently promoting a new sermon series on Hosea (Undeserved Love), which I had planned to begin this week. However, as I dove into my studies and was reminded of some of the words and themes of the first few chapters of this rich oracle (i.e., prostitution, infidelity, "whoredom", etc.), and given that this Sunday is a Family Sunday, I decided to postpone the launch of that series by one week.  Instead, this week we'll be in 1 Samuel chapter 1 (vv. 1-23) for a look at what it means to live expectantly, through the example of Hannah. We will also have 11 child dedications AND a call to worship in both services by our own Rejoice! Children's Choir.
Finally, I want to thank you again for your comments and questions concerning our last sermon series, God & Sex: The Divine Purpose Behind Human Sexuality. I had no idea it would be so well-received or that God would use it the way He did. I am grateful. My goal, of course, was not to end the discussion but to jump-start the dialogue. With that in mind, some of you have asked me for additional resources about sexual ethics. Below are a few outstanding books that address this controversial subject matter from a faithful biblical perspective. May God give you much wisdom and grace as you continue to seek His face and show His love to a lost and hurting world.
See you Sunday,
Pastor John
What is the Meaning of Sex, by Denny Burk. Thoroughly readable, yet scholarly treatment of human sexuality from a biblical lens. Outstanding book.
Love Into Light: The Gospel, the Homosexual and the Church, by Peter Hubbard. One of the most compassionate and courageous Christian discussions on homosexuality available.
Is God Anti-Gay? by Sam Allberry. Brief, concise, yet answers many vexing questions in an faithful and winsome way.
True Sexual Morality: Recovering Biblical Standards for a Culture in Crisis, by Daniel Heimbach. A broad look including expansive research and cultural exegesis; a valuable resource.
Washed and Waiting, by Wesley Hill. A terrific personal story of a young man devoted to sexual purity while struggling with same-sex attraction. You may not agree with everything, but you will be deeply challenged and encouraged.
What Does the Bible Really Teach About Homosexuality, by Kevin DeYoung. Full disclosure: I'm still working my way through this one (it was just published a few weeks ago), but I have yet to read a book by DeYoung that wasn't insightful and helpful.
Homosexuality: Contemporary Claims Examined in Light of the Bible and Other Ancient Literature and Law, by James DeYoung (not related to Kevin, above). Purchase only if you plan on teaching on this subject, or if you have trouble sleeping at night. Insightful but dry.
4.30.2015
This week, Pastor John hands over the TAGD keyboard to Marti Wiegman, Northpoint's Director of Women's Ministries.
A Prayer for a Change of Heart
A little after 7:00 in the morning a few weeks ago my cell phone chimed that familiar high-pitched ding. It was an email from a gal in Women of the Word (WOW). "My husband at long last accepted the Lord. Praise be to Him for answering years of prayer. … Thank you, dear Lord, for moving him towards You."
Tears of joy came as I thought back over the years and years I have watched this loving wife lift her husband up to the Lord, asking us, her sisters in Christ, to join her in praying. Yet I have to admit that some of my tears were for me—tears of renewed hope concerning my own yet to be answered prayers, as I was so poignantly reminded: Our God is a God who hears our prayers and touches hearts.
Over the years here at Northpoint, I have seen scores of women experience God's amazing grace as they have prayed for the hearts of their husbands, their children, their friends, and loved ones. These prayers haven't been just for salvation, but for repentance from wayward lives, for release from the despair of depression, for rescue from the clutches of addiction … basically for God's light to pierce the darkness surrounding those we carry so close in our hearts.
Of all the prayers I have on my prayer list, it is these—the prayers for God to change someone's heart—that I find I wrestle with most. Sometimes I think it's because I'm impatient. We rarely can see what God is doing in these areas. There is no medical test to indicate if a hard heart is becoming tender. Wondering what God is doing can easily turn to doubting—is God doing anything? Will He—can He—change someone's heart?
Next year in WOW we are going to be studying through a number of the Old Testament books of history, one of which is Ezra. In Ezra 1:1 (NLT) it says that the Lord stirred the heart of Cyrus. Cyrus was king over Persia where God's people were suffering in exile. God stirred the heart of this pagan ruler to allow the Jews to return to Jerusalem to rebuild the Temple of the Lord. Cyrus even ordered his people to aid the exiles by contributing gold, silver, livestock, and supplies for the journey. Cyrus himself returned all the items taken from the Lord's Temple in Jerusalem when it was defeated by King Nebuchadnezzar, and gave many valuable gifts and offerings of his own for the rebuilding of the temple.
What a powerful reminder of what our God can do in the darkest of hearts!
When the exiles returned to Jerusalem and laid the foundations of the temple, all the people gathered, praising and giving thanks to the Lord,
                For he is good,
                For his steadfast love endures forever.
While we can't presume to know what God will do in every situation, we know it will come from His good and loving heart that knows no limit or end. So let's keep praying and may God stir our hearts as well as the hearts of those we love dearly for His glory.
Serving Him together,
Marti
4.23.2015
Why Do We Do VBS?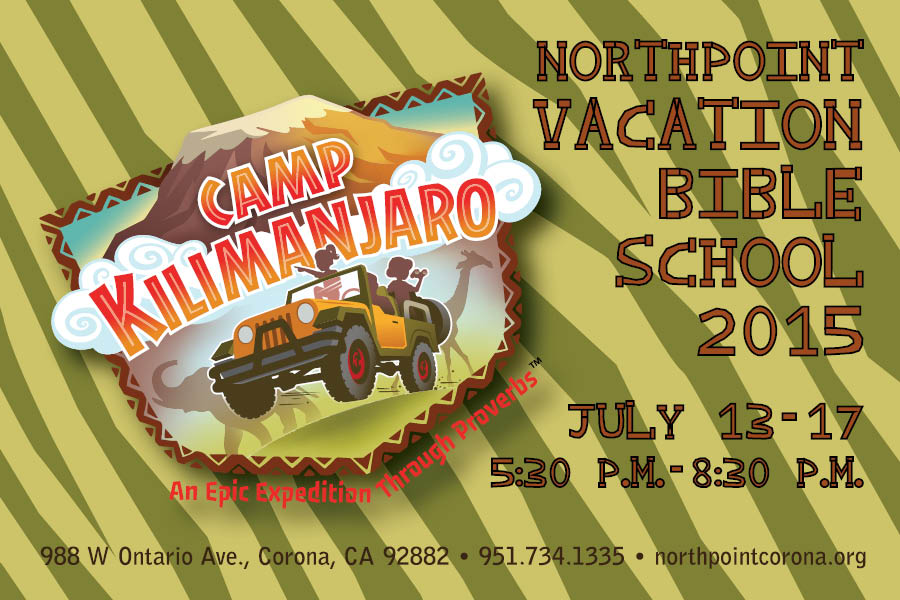 Hello Church Family,
As a child, I never went to a single Vacation Bible School (VBS). But as a pastor, I have participated in too many to count! During my years as a youth pastor, I would lead a group of high school students for a week of VBS ministry to small churches all around SoCal, providing the program and manpower. One year, I led a group of students to Santa Margarita Community Church, where we worked alongside their newly minted Senior Pastor, Robert Campbell. During my time here at Northpoint, I have had the privilege of participating in the past four Vacation Bible Schools. Each time I participate in one, I am always impressed by how God uses His church to reach the next generation of children with the gospel of Jesus Christ.
There are, however, many churches that are getting rid of their VBS programs. A 2013 article in Christianity Today stated, "VBS programs have declined 16 percent in the last 15 years, from 81 percent of American churches in 1997 to 68 percent in 2012." Over the past 20 years there has been a steady decline in churches running a summer vbs. The biggest overall reason for churches doing away with VBS was a lack of time and a desire to spend resources on other priorities.
There is no doubt that in order to properly pull off a VBS, it takes countless hours and hundreds of volunteers. So, why year after year do we spend so much time, effort, and expense for a week of craziness right in the middle of our summer? Wouldn't our time and effort be better spent on other ministry priorities?
Now, there may be a time when our ministry priorities here at NP need to change, and do change, but for now, here are my top five reasons why we do VBS every year.
1. VBS provides a unique opportunity each year to dazzle kids with the glorious gospel of Jesus Christ—

There is no doubt that we have a lot of fun and games, but at the heart of each year's VBS is the gospel. I am proud that every Sunday our NP K!DS are pointed to Jesus Christ in gospel-centered worship, lessons, and big group teaching, but there is something unique that happens when we pack nearly 300 people together in Heritage Hall during the week of VBS. The gospel is amplified in every aspect. Whether it's in the worship, the skit, the big group teaching, or the small group time, the gospel is intensely proclaimed and celebrated. I see kids all the time light up when singing past years' VBS songs, which remains as a reminder to them of the hope that is in the gospel.
2. VBS provides a unique opportunity to reach those who are not part of any church—  
Even though there are a number of churches running a VBS at some point in the summer here in Corona, there are many families who do not know Christ. And the reality is that we know many of them. We live next to them. Our kids play on the same sports teams. We see them all the time at the park when our kids are playing. Or they may even be members of our own family. VBS is not, and should not, be the ONLY way in which we are evangelizing our neighbors, but it is A way we can reach them. An invite to VBS can be part of the bigger spiritual conversation we are having with those families that are not of the faith.
3. VBS provides a unique opportunity for the core of our church to serve together—

Each year during the week of VBS, I am always impressed by the sheer number of volunteers it takes to make this event happen. But what impresses me more, is that we have the core volunteers of our church all coming together to serve Christ and our kids in this amazing way. VBS is one of those "all hands on deck" kind of event that brings out the best of Northpoint and creates a spirit of unity as we serve together.
4. VBS provides a unique opportunity for parents to have spiritual conversations with their kids— 
I don't know about your family, but sometimes driving home after a Sunday morning it's like pulling teeth as I try to get my kids to tell me about what they learned in Sunday School. After VBS, however, I can't get my kids to stay quite. They want to tell me about everything. The new song Tri taught them. Or what happened in that night's skit. Or the big group teacher's illustration about sin and its consequences. All of which are great springboards for parents to talk about Christ with their kids. Each night, kids are sent home with questions for parents to ask their kids that have to do with that night's Bible lesson. What a great way to set parents up to have spiritual conversations with their kids.
5. VBS provides a unique oppor ………………. KID'S JUST LOVE IT! 
Enough said!
This year VBS will take place July 13-17, where kids will be taken on an adventure to Camp Kilimanjaro! They will experience a life-changing, epic expedition through the book of Proverbs. Our Trekkers will learn to have:
Ears that hear and do God's Word
Hearts that trust in the Lord
Tongues that speak in a God-honoring way
Hands that get to work
Feet that walk with the wise
Are you ready to go? Then lace up those hiking boots, grab your gear, and let's get going!
Sign-ups for VBS volunteers will begin Sunday, May 3.
Sign-ups for VBS kids will begin Sunday, June 7.
Resting in Him,
Pastor Scott
4.16.2015
Does the Gospel Make Demands?
Hello Church Family,
I love the staff of Northpoint. We have such a great group of humble servants and leaders. And it helps that we get along famously, as we have an occasional "debate" or two. Not long ago, a question was posed in staff meeting: Does the gospel make demands? Here's how I answered:
The law is what makes demands (and by "law" I'm referring generally to all the commands of Scripture). And not only does the law demand, it's never satisfied with anything less than absolute and complete perfection. Paul reminds us in Galatians 3 that "Cursed is every man who does not abide by everything written in the book of the law to perform them."
That doesn't mean, of course, that the law is bad. To the contrary, it is good, in that, it reveals our sin, points us to Christ, and subsequently teaches us how to live in such a way that we honor God and (largely) spare ourselves many consequences of sin.
The gospel, on the other hand, doesn't make demands. It is an announcement. The gospel declares what God has done (in Christ) for the dead, broken, crushed, rebellious, disobedient, beaten down, and exhausted. Certainly Jesus makes demands. And, to be sure, the Scriptures make demands. But the gospel is, by definition, good news. Not good news that if we do certain things we will be loved, accepted, received, and forgiven by God. But good news that because of what Jesus has done, we can be loved, accepted, received, forgiven: by faith alone. Confusing these categories, Martin Luther said, is the worst thing that a preacher can do. And I tend to agree.
It sounds like an argument of semantics (and perhaps it is on some level!) but here's why this matters: If Christians get a steady diet of law, they will become exhausted, hopeless, guilty, and depressed, and completely miss out of the joyful freedom that God has saved us into (Galatians 5:1). Or a second thing that happens if Christians are bombarded with the law is they become arrogant, self-righteous, judgmental, as they look down at others who aren't keeping the law as well as they (think) they are. (How often do we see this?)
However, if Christians hear the gospel regularly (the news that God saves unworthy sinners and is redeeming a broken world), they become grateful, joyful, loving, worshipful, and free! How else could Jesus say to people that His yoke is "easy"? To the self-reliant, Jesus preaches law ("unless your righteousness exceeds that of the Pharisees … you will never enter the kingdom of heaven" Matthew 5:20), but to the broken ones at the end of their ropes, Jesus gives them gospel ("come to me all who labor and are heavy laden and I will give you rest … take my yoke upon you … and you will find rest for your souls" Matthew 11:28,29).
A man said to me earlier in my ministry here that he wanted from my preaching "more lists of things to do" (i.e., more law). After I listened to him for about thirty minutes, he said to me abruptly, "I just wish I had your self-confidence." Holding out his arm he motioned, "Give me just a just a small injection of your self-assurance and I'll be fine."
I explained to him the great irony in what he was saying to me, namely, that it wasn't self-assurance that he truly envied in me, it was my restful confidence in what Christ had done for me. His addiction to the law was the very thing that was wearing him out; he just felt like he could never be what God wanted him to be, so he spoke on and on about his failures and inadequacies. What he needed to do was stop focusing on what he could never do (law), and focus on what Jesus has completely done for him (gospel).
Sometimes, people say, "Well, doesn't the gospel tell us what to do?" And the answer is: "No!" It tells us what's been done. We often hear people say, "I'm just trying to live out the gospel." Well, sorry, that's impossible. The gospel is news. Anything that tells us how to live—and certainly there is a place for such instruction!—is not the gospel.
The great Australian theologian, Graeme Goldsworthy, says: "If something is not what God did in and through the historical Jesus two thousand years ago, it is not the gospel. Thus Christians cannot 'live the gospel' as they are often exhorted to do. They can only believe it, proclaim it and seek to live consistently with it. Only Jesus lived (and died) the gospel. It is a once-for-all finished and perfect event done for us by another."
Now, please don't get me wrong. I'm not saying that they gospel shouldn't impact our lives. Absolutely, it should. If we truly grasp it, it must!
But if we want to see our friends, our children, ourselves transformed, we need to stop focusing so much of our attention on what they and we need to do, and instead, keep our eyes on Christ and His completed work for us.
Then, we might just see our hearts explode in gratitude, love and obedience to the One who gave everything to accomplish what we had no hope of accomplishing: purchasing our salvation.
(If you want to encourage your soul in three quick minutes, check out Voddie Baucham's take on this subject by clicking here.
Resting in Him,
Pastor John
4.9.2015
An Act of Grace
Hello Church Family,
I hope you've been able to rest in God's grace this week.
What an amazing Easter weekend! We had two Good Friday services, which focused on the death of Jesus for our sins (with a good balance, I thought, of contemplation and hopefulness); and we had three services on Easter Sunday, which were all-out celebration. (When we got to the final verse of In Christ Alone and transitioned as a church from the muted phrase "there in the ground his body lay" to the triumphant "up from the grave he rose again," I couldn't help but shout, "Yes!")
As we move into the final third of our fiscal year (which runs August 1-July 31), I want to thank you again for your faithfulness in giving. Last November I sent a letter to our church family informing you that we were behind budget in our giving. In that update I said that, "[If it continued] a shortfall of this kind would hamper us from doing the sort of gospel-centered ministry that has come to characterize our church."
Well, when you became aware of that deficit, you responded. And I praise the Lord for that. As you can see from the graphic below, we are currently ahead of schedule in our giving. God has once again blessed us beyond what we even expected. He is good.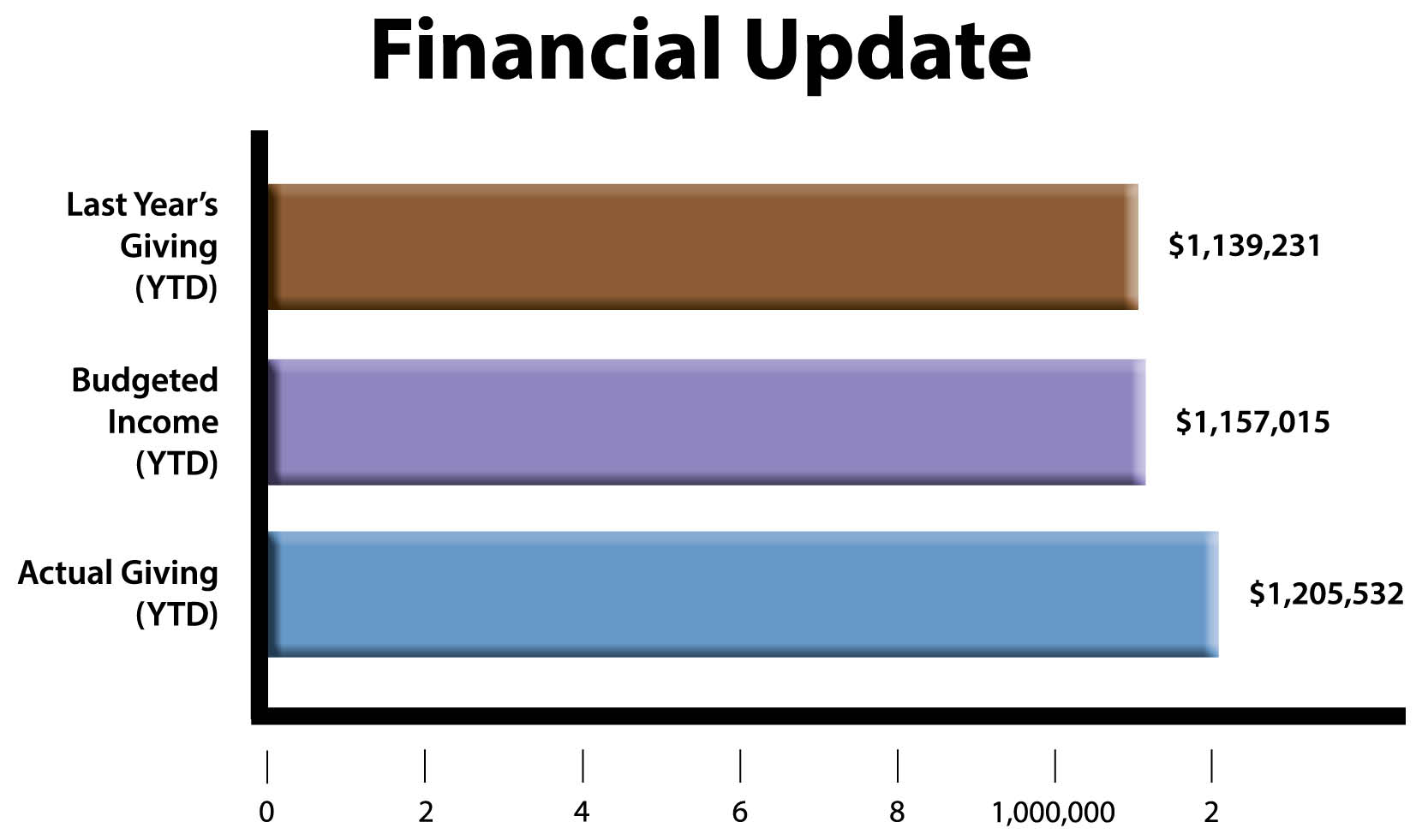 It's worth noting that the summer months tend to be "down months" in terms of church giving, and as we search for a Director of Worship, we will depend on meeting our goals. So please persist in this act of grace (2 Corinthians 8); and may God continue to empower and bless our efforts to "make disciples who make disciples."
Grateful to serve Christ along with you,
Pastor John
4.2.2015
This week, Pastor John hands over the TAGD keyboard to Pastor Brent Whitefield, Northpoint's Pastor of Missions and Outreach.
Easter and the Christian
Hello Church Family,
The resurrection is the great hope of the believer. Without the resurrection of Christ there is no victory over sin and death and, therefore, no reasonable expectation that we will be raised some day. The substance of our faith is the promise that we will be raised like Christ. The great hope for the believer does not lie in this world. As Paul wrote: "If in Christ we have hope in this life only, we are of all people most to be pitied. The integrity and truth of Jesus' message hinged entirely on His promised resurrection. It is an event without parallel in history. It is the great truth we celebrate this Sunday.
Not only is the resurrection our great hope, but it is also the most convincing proof of the truth of the Bible, the foundation of the Christian faith. We must consider the fact that Christianity is a rational faith: It is not whatever we want it to be, but it rests on a set of demonstrable, historical, falsifiable propositions. Most prominent among these is the teaching that Jesus genuinely died and was literally raised from the dead after three days. The power of the resurrection is that it actually happened; it holds no power as an inspiring, but fictional tale. The Christian faith rests on the truth of the resurrection.
Though often derided by critics as evidence of inaccuracy in the Scriptures, the considerable variations in the resurrection narratives in the different Gospels actually constitute strong evidence for the fact of the event. The existence of four, obviously independent, accounts that all confirm the empty tomb is compelling proof that the essential fact of the resurrection is true, not the product either of one man's imagination or of an artfully conceived conspiracy.
Skeptical attempts to offer competing accounts of the fate of Jesus have proven more implausible and require even more faith than the biblical narrative! The effort to concoct explanations started the minute the empty tomb was discovered and has continued to this day. The stakes are high: If anyone could ever produce the body of Jesus, the Christian faith would cease to exist, or at least lose all relevance or credibility. Though so many have for so long had a vested interest in keeping Jesus in the ground, not a scintilla of evidence has ever been produced to suggest He is dead. The biblical account of the resurrection is the only theory that is supported by all the facts. The only reasonable objection that can be made to the resurrection is that resurrections don't happen; people who are dead stay dead. It is not an unfair objection.
However, what drew people to Christ among the first generation of believers, even those who were not eyewitnesses to the resurrection, was the changed lives of those who were. The transformation of Jesus' followers from a craven and defeated band to confident ambassadors who "turned the world upside down," can only be explained by an encounter with the risen Christ. Indeed, no reasonable alternative explanation for the rise and rapid spread of the Christian church has ever held up to scrutiny. And what drew people to Christ in the first century stills draws people today: the transformed lives of the believer. People whose minds have been hardened to the truth of the resurrection have become ardent believers by witnessing its power in the lives of Christians. So let us live our lives in such a way that all can see the miraculous and transforming power of the resurrection, and the risen Christ in us, the hope of glory.
Pastor Brent
3.26.2015
This week, Pastor John hands over the TAGD keyboard to Steve Flood, one of Northpoint's elders.
Grace, Cheer, and Giving
Hello Church Family,
The Easter season gives us a chance to reflect on the defining act of God in all of human history. Thoughts of amazement and thanksgiving occur when we meditate on the life and sacrifice of Christ. In addition, it sets in motion the example and motivation for every believer to follow. God gave His only begotten Son. Christ gave His life. So also, He calls us to give.
"Thanks be to God for His indescribable gift!" This is how Paul ends the ninth chapter of 2 Corinthians. We all agree this exclamation would make a great title for an Easter message. In this passage of Scripture, however, it is the final statement in a section about giving. When it comes to the topic of giving in the Bible, most of us don't think about verse 15. Most of us do remember verse 7, however, which comes much earlier in the chapter. 2 Corinthians 9:7, and its admonition for cheerful giving, has provided many of us the standard by which we judge both the "quantity" and "quality" of our giving. I am no different than the rest of the body in this fact. Instead of meditating on verse 7 this week as I normally would when reflecting on giving, I decided to do something different and spend my time praying about the verses that focus on what God has given us. As I did this, it struck me: it is so easy to miss the bigger point in this chapter!
I guess it shouldn't be a surprise. Even after sitting under John's preaching about the indicatives and imperatives for five years, I find myself constantly needing to "rewire" my thoughts in order to sufficiently grasp this truth: God always gives before he commands. God continually fills us with grace before we are sent to be a conduit of His grace to the world. 2 Corinthians 9 is no exception. The cheerfulness of our giving is related directly to the grace that abounds to us (v. 8), God's generous provisions for us (vv. 10 & 11), the confession of the gospel of Christ (v. 13), the surpassing grace of God in us (v. 14), and our thanksgiving to God for His indescribable gift (v. 15).
While God has developed a heart in me that gives and enjoys giving, I haven't fully appreciated the reality of 2 Corinthians, Chapter 9. The object of my cheer is often related to my perception of the resources God had given me at a specific moment, or the perceived joy I have in giving for a specific need or ministry. This applies to my time, energy, and money. After focusing on what God has given us in this passage, I can almost hear Paul saying: "Before you look at your bank statement to see what is in your 'Cheer' account, take a look in your 'Grace' account. Really appreciate the surpassing grace of God in you, and the indescribable gift God has given you." As I have prayed and reflected on this reality, the other passages on giving come to life: the widow and her mite, the Good Samaritan, the Macedonians' gifts, the treasure principle in Matthew 6:21, and 2 Corinthians 9:6 in the passage to which I've just alluded. It is God's abundance that gives life to, and substance for our giving. In us, it becomes creative, enthusiastic, and generous. What a way to live!
As you spend the next week meditating on the amazing reality of the Lord's life, sacrifice, and resurrection from the dead, I want you to fully appreciate the grace God has poured out to you. Reflect on what God has given you and the life that God has called you to pour out to the world.
Your brother,
Steve Flood
3.19.2015
This week, Pastor John hands over the TAGD keyboard to Taylor Mendoza, Northpoint's Junior High Ministry Intern.
Who Was St. Patrick?
For those who don't know me, I was born on March 17, 1994—St. Patrick's Day. Since then, my birthday has been full of both birthday wishes and St. Patrick's Day celebrations. So over the last 21 years, Patrick has become for me—as he has for so many worldwide—more of a legend than a historical figure. The sheer volume of legends associated with Patrick—there are scores, even hundreds of them—is evidence of just how beloved he has been through the centuries.
This year I decided I would do a little research to find out who St. Patrick really was—beyond just an excuse to wear green clothing, drink, and eat corn beef and cabbage. Wearing my own green t-shirt (I couldn't help it!), sipping my shamrock shake from McDonalds, and listening to my iTunes essentials (The Irish Experience), I read a biography on St. Patrick by Jonathan Rodgers, a noteworthy church historian, to find out the truth.

The Truth
Truth is, Patrick did not run the snakes out of Ireland. There is no record of Patrick using the shamrock to teach the Irish about the Trinity. Neither did he have any dealings with leprechauns. Everything we can truthfully know about Patrick comes from two documents he wrote, that together, are fewer than 20 pages in length.
Patrick was a Roman Briton, in what is now modern-day England, born toward the end of the Roman Empire—within a decade or two of AD 400. The son of a landowner who was a pastor and a deacon in the Roman Catholic Church, Patrick heard the gospel many times, but never allowed it to transform him. When he was about 16, Patrick was kidnapped by Irish pirates and sold into slavery in Ireland.
In the sheep pastures of his Irish owner, Patrick began for the first time to take ownership of the Christian faith in which he was raised. After six years of slavery he escaped, eventually making it back to Britain. He received theological training and soon was convinced that God was calling him back to Ireland to take the gospel to its people. Against the wishes of his family, Patrick became "the first Christian missionary to take the gospel to barbarians beyond the borders of the Roman Empire."

A Gospel-Centered Missionary
Considered a "missionary bishop," Patrick demonstrated that Christianity was bigger than the Roman Empire. Preaching the gospel outside of the Roman Empire was not easy, Rodgers writes, "Ireland was a violent place, where brother fought brother … as a way of life. Patrick brought to the Irish a whole new way of living, of seeing the world and their fellow men."
In light of this barbaric land, Patrick preached no shallow gospel, in one of his documents he wrote, "He (Christ) was made man, conquered death and was received into Heaven, to the Father who gave him all power over every name in Heaven and on Earth and in Hell, so that every tongue should confess that Jesus Christ is Lord and God, in whom we believe. … For beyond any doubt on that day we shall rise again in the brightness of the sun, that is, in the glory of Christ Jesus our Redeemer, as children of the living God and co-heirs of Christ, made in his image; for we shall reign through him and for him and in him."

A Mirror of God's Love
Above all, Patrick demonstrated a humble heart rooted in the love of God. Both documents we have from him start with this humbling sentence: "I, Patrick, a sinner, a most simple countryman, the least of all the faithful." With a right view of himself, he had an even bigger view of his role in the gospel: "I dwell in the midst of barbarians, a stranger and an exile for the love of God." This heart rooted in the love of God gave Patrick the boldness to defend his ministry to those who didn't share his same vision: "Before God and his holy angels that I never had any reason, except the gospel and his promises, ever to have returned to that nation from which I had previously escaped with difficulty. No reason but the gospel. Jesus told his disciples, 'Go into all the world and proclaim the gospel to the whole creation" (Mark 16:15).
Patrick was a man after God's own heart, a man who wanted to see sinners saved by grace, and a man who suffered immense hardship in the name of Christ. Through Patrick's witness, forgiveness was possible for the Irish people, and because of that, the hardship he endured did not make him a bitter man. Patrick believed with all his heart that "the meek just might inherit the earth after all."
So, who was St. Patrick? A man of truth, a gospel-centered missionary, and a mirror of God's love. And what should we learn from him? Be people of truth rooted in God's Word, become missionary-minded and gospel-centered people, and finally mirror the love of Christ in everything we do.
For the Kingdom,
Taylor
3.12.2015
(An Evening of) Prayer for Easter
Hello Church Family,
Every year at this time I start thinking about how to best attract people to our church on Easter Sunday. While we don't embrace an "attractional" model of ministry, per se, we do want to take advantage of days and seasons when unchurched folks are willing to venture into the doors of a worship auditorium. Perhaps a better way to say it is: we want to think strategically about inviting people to hear the gospel on a day when many who wouldn't normally attend will.
Churches employ a variety of approaches to accomplishing the aforementioned goal: some promise live animals, free candy, and mystery prizes. Others organize elaborate post-service egg hunts. I've even heard of churches that give out envelopes of cash, in secret denominations, to those first-time guests at their Easter services.
Well, I believe God is calling us to a decidedly different tactic. We're still going to be creative. We're still going to affix door-hangers to many of the homes surrounding Northpoint. And we're still going to urge people to be intentional about inviting friends and family. But this year we're going to do a better job of entreating God to do the sort of work that only He can do.
In other words, we're going to pray. Boldly. Purposefully. Desperately.
On Thursday, March 26, at 7:00 p.m., we're going to gather in Heritage Hall and collectively ask God to bring people into this building on Easter Sunday, and even more importantly, we're going to plead with Him to bring people to saving faith in His Beloved Son.
I'd love to have a couple hundred people (or more) carve out one hour to pray for the lost in this community. Sixty minutes. I'll make sure the event is well organized and starts (and ends) on time. I'm simply asking you to give one hour to joining us in calling out to God on behalf of this community.
As James reminds in his God-breathed letter that we've been studying as a church: "The prayer of a righteous person has great power as it is working" (James 5:16). Let's ask God to do a revival in Corona and Norco. Let's ask God to give life to the spiritually dead. Hope to the hopeless. Freedom to those imprisoned by sin. And let's expect God to "do immeasurably more than all we ask or imagine" (Ephesians 3:20).
For the Kingdom,
Pastor John
3.5.2015
When Women Unite
Hello Church Family,
I hope you've had a good week. I've been praying for you, that God would enable you (and all of us at Northpoint) to comprehend the breadth and length and height and depth of the love of God for us in Christ (Ephesians 3:18-19).
Tomorrow begins an exciting and busy weekend for our church. Along with celebrating the Lord's Table together on Sunday, and hearing testimonies from seven people who are getting baptized (which happens to be one of the most encouraging things we do as a church, in my estimation), we're also hosting a women's conference featuring renowned author and speaker, Elyse Fitzpatrick.
On Saturday, beginning at 9:00 a.m., Elyse will share how the good news of Jesus' life, death, and resurrection assures believers of the steadfast and immovable love of God—and how that practically helps and encourages women day-by-day and moment-by-moment.  At last report 480 women had registered, and more will undoubtedly show up at the door.  It's not too late, by the way, for you to attend. You can still register online by clicking here, or just show up on Saturday morning at 8:45 a.m., and there will be a spot for you.
In light of Elyse's visit to our church, I thought I would share some of my favorite quotes from the writings this grace-saturated theologian:
On moralism and parenting, from Give Them Grace:
"If our human obedience or morality isn't motivated by gratitude for God's grace, it is very dangerous. If not rooted in gratitude for God's love for us in Christ, morality is deadlier to the soul than immorality. Those who excel at "human obedience" [keeping a set of external rules] may not see their need for a Savior, their hearts hardened and unfazed by God's grace. Remember that it was the woman who knew she had been forgiven for much that loved much (Luke 7:47). Forgiveness for deep offenses breeds deep love. Forgiveness for perceived and reasonable slights breeds apathetic disdain. A society riddled with immorality will not be a pleasant place to live, but a society riddled with self-congratulatory morality will be satanic and resistant to grace—nice and tidy and loveless and, oh, so dead."
On modesty, from Revive Our Hearts (blog):
"Immodesty flows out of the heart of a show-off. Showing off is a fruit of pride and love of self. Immodesty demonstrates a cold unconcern for the church. The beauty of the gospel, however, is that while it convicts us that we're all unloving show-offs in some way, it also assures us that we've been loved and that we no longer need to show off to get other people's approval. The record of our Modest Redeemer is ours! Our identity isn't wrapped up in the approval, envy, or lust of others. Our identity is found in Christ's life, death, and resurrection. He loved us and refrained from showing off so we could be His. We can be freed from the need to prove that we've got a great body or wardrobe because we've been lavished with His love instead!"
On misplaced identity, from Because He Loves Me:
"This epidemic of 'Identity Amnesia' is seen in serious Christian books that focus on improving outer behaviors … or overcoming sin, without much reference to God's love for us or his ongoing work in us. It's seen in the hymns and choruses we sing in which we declare our determination to follow Christ without a mention of his determination to cause us to do so. It can be observed in the astounding absence of the gospel in sermons. … These calls to godly living are built like houses in the sky: fine looking edifices, but lacking the essential foundation."
The ladies of Northpoint are incredibly blessed to get a regular diet of outstanding biblical teaching from Marti Wiegman, our Director of Women's Ministries. She is fantastic! This weekend, they'll get to gather and hear from a different voice the same essential message: Jesus' work on the cross was enough. We can't add to it or take away from it. We just receive the benefits by faith.
I'm excited that the women of our church get to hear from Elyse, and I'll be praying that God does a mighty work in the hearts and lives of those who attend.
Pastor John
2.26.2015
God & Sex
Hello Church Family,
I hope you've been strengthened by the joy of the Lord this week.
A little over a year ago, I started writing this weekly article called Through A Glass Darkly (a title that comes from 1 Corinthians 13) as part of the all-church email in which this column is embedded. The purpose, as I stated in the very first entry, was to "communicate better about what's going on the life of our church." Thus I committed to providing something regularly on "vision, mission, community, and spiritual matters." And I have been grateful for the way it has been received.
With that in mind, I want to let you in on something the Lord's been stirring in my heart. I am thinking and praying about preaching a four-week series after Easter called God & Sex: A Biblical Exploration of the Divine Purpose Behind Human Sexuality. While I am, as you know, deeply committed to expositional preaching (that is, working through books of the Bible verse-by-verse), I also believe there are occasions in the life of the church where certain topics need be addressed with some urgency and laser-focus. And the issue of sexual ethics keeps coming to the forefront of my discussions. Consider this:
:: In the last month alone, I've had at least four conversations related to transgenders and how a Christian might respond in a loving and God-honoring way. Several people have asked me, "How should I refer to a person who was born a he but lives as a she?" Do we displease God when we call John by the name Joan? Or do we show love by honoring the person's request?
:: Just a few weeks ago, former pastor and provocateur Rob Bell (who ministered in Grand Rapids, Michigan in the late '90s, while I was there in seminary) was asked by Oprah Winfrey when the church was going to embrace same-sex "marriage." His response: "We're close. … Lots of people are already there … I think culture is already there, and the church will continue to be even more irrelevant when it quotes letters from 2,000 years ago as their best defense."
:: Recently, in my son's eighth-grade history class, students were asked by the teacher to choose a side of the room, either in favor of gay marriage or against. When a small handful of students took the side in support of traditional marriage (one woman and one man for life), they were derided to such an extent that all except three sheepishly migrated to the other side: my son and two others.
:: As of 3:00 p.m. this afternoon (Thursday), the movie Fifty Shades of Grey had grossed over $400 million worldwide. It may top the half-billion dollar mark. And many of the proceeds boosting that total came from professing Christians. I've neither read the book nor seen the movie, so I can't speak too knowledgeably about the film, but I do think we should be prepared with an answer to this question: should a movie about sexual bondage between two unmarried people attract the favorable interest of those who follow Christ?
These examples represent only a few of the questions I've been confronted with lately. And I'm sure that you've been asked plenty, as well.  This is an issue that cannot be avoided. Yet, "sadly," as one national columnist wrote recently, "many Christians have treated Christian sexual morality as something to be embarrassed about—to be shoved at the end of the conversation or minimized by reference to other good works. As if the formation of lifelong, loving relationships is somehow secondary to good deeds in soup kitchens or medical mission trips."
Please pray for me. Please ask God to give me wisdom in how I might shepherd this congregation through this controversial new frontier. And if you have an opinion on how necessary a sermon series might be, please send me an email.
For His Glory,
Pastor John    
2.19.2015
'Sorry' is Hardest Word
Dear Church Family,
What a beautiful week we've enjoyed. When I see the Facebook-plastered panoramic pictures of white-limbed trees and Midwestern whiteouts, I almost miss the snow. I did say, almost!
If you watched any college basketball this week you saw a beautiful example of conflict resolution. We hear so many ridiculous apologies in the political, sports, and entertainment worlds these days (along with the insincere ones we're all so inclined to utter), so those that appear genuine (and are consistent with scripture) are to be celebrated.
Case in point: After viciously elbowing Villanova's basketball player Ryan Arcidiacono in the face during a mad scramble for a loose ball, Seton Hall's Sterling Gibbs said almost immediately: "I'm sorry to my family, friends, fans, and team … and even more sorry to Ryan …  I let my emotions get the best of me and that wasn't acceptable at all … It really is weighing heavy on my heart … I hope you're alright and I will face any consequences coming."
A quick survey of the Scriptures reveals at least four elements evident in true repentance, elements decidedly contained in Gibbs's apology:
1. The uncoerced confession: "I'm sorry."
While everything in us (in our flesh) wants desperately to shift blame and make excuses for our failures, the quintessential declaration present in all true demonstrations of repentance is this: "I'm sorry; I was wrong." When James, the brother of Jesus instructs us to "confess our sins to one another" (James 5:16), this is precisely what he has in mind. Literally acknowledging with humility our shortcomings. And not our generic shortcomings—"I'm sorry that I'm such a lousy husband"—but specific grievances, "I'm sorry for responding impatiently to you when you asked for my help in the kitchen" (a purely hypothetical example that took me all day to dream up!).  Specific sins demand specific confession, without any trappings of equivocation. Notice in the aforementioned apology from Gibbs to Arcidiacono, the former makes no attempt to justify his behavior; he simply says, "I'm sorry … that wasn't acceptable at all."
2.  A hatred for our own sin.
The next element present in true repentance is a hatred over our own sin. After committing adultery and planning a murder scheme, King David grieves over his own actions, and says this to the Lord in Psalm 51: "My sin is every before me … I have done what is evil in your sight … cleanse me … let me hear joy and gladness, let the bones you have crushed rejoice." This is raw, weighty stuff. David is in real pain. Likewise, when we see ourselves, and our rebellion, in light of God's holiness, we become devastatingly aware of our own brokenness, sinfulness, and need for forgiveness. Repentance is a revulsion of the soul toward our own sin. I have no idea whether the basketball player in our case study is a Christian, but even he feels the burden of his offense: this is "weighing heavy on my heart," he says.
3.   A humble willingness to accept the consequences of my actions.
The most often overlooked (and controversial) aspect of forgiveness is the willingness on the part of the offender to accept the consequences of his or her actions. The person who is truly repentant is not angry over equitable repercussions. "This is unfair." "I don't deserve this." "You don't understand what I've been going through." These aren't statements that come from the mouth of the contrite. Instead, like Seton Hall's Gibbs, phrases like this flow from the repentant resemble this one: "I will face any consequences coming."
4.  A deliberate choice to no longer respond in the same way.  
Finally, the truly repentant resolves to do things differently next time. This may be the hardest part. Committing to change takes a work of God.  How often do we hear people brazenly profess, "If I had things to do over again, I wouldn't change anything." That's not the way the repentant person speaks.  Instead she says, "I wish I hadn't responded that way, and in the future I will …" Again, King David says, "purge me … renew my spirit … and my tongue will sing aloud of your righteousness." The very essence of repentance is a change in direction. The image is of a person walking confidently down a path, coming to an abrupt stop, making an about-face, and then proceeding in the opposite direction. Such is the case with biblical repentance: there's an intellectual, emotional, and spiritual re-direct.
Of course, here's the beauty in all this for the believer: when we confess our sin and repent—even though our standing with God doesn't change; that is forever secure because of Christ's finished work on the cross—our enjoyment of His communion is deeply enhanced. The same can be said of our relationships with one another: confession and repentance open the door to a sweetness of fellowship not present when conflict is unresolved.
May God help us to be the peacemakers He has called us to be!
Pastor John
2.12.2015
Songs of Meaning
Dear Church Family,
I can hardly wait to worship God with you on Sunday. On this coming Lord's Day, we're singing two songs that address one common theological theme: the victory over sin enjoyed by those who are in Christ.
One song, Rock of Ages, says so beautifully, "Let the water and the blood, from Thy wounded side which flowed, be of sin the double cure, save from wrath and make me pure."
Here's what that means: those who are alive in Christ, through faith in the gospel, have been freed from two things: one, the condemnation of sin. Sin does not determine our status before God; we are no longer under God's wrath. We have been bought with a price, redeemed by Christ's precious blood that "flowed from his wounded side." We have been forgiven and adopted into God's family, regardless of what we've done in the past or will do in the future. We've been declared righteous before God because of Christ.
We've also been liberated from the tyranny of sin. Hence the "double cure" that the blood of Jesus provides. Sin is no longer our master. The Apostle Paul says: "We know that our old self was crucified with him in order that the body of sin might be brought to nothing, so that we would no longer be enslaved to sin. For one who has died has been set free from sin" (Romans 6:3).
Of course, this doesn't mean that our battle against sin is over. Far from it. Sin no longer reigns in us (as master) but it does survive in us (as "the flesh"). In other words, as long as we remain in these bodies, the residue of indwelling sin will be present. Even after God saves us, there is no part of us that becomes totally sin-free: we remain sinful and imperfect. Every part of us is affected. Consequently, our struggle with sin remains.
Nevertheless, as biblical scholar Anthony Hoekema says: "To be sure, we cannot attain sinless perfection in this life. But our continuing imperfection does not give us an excuse for irresponsible living nor imply that we may just stop trying to do what is pleasing to God."
In fact, to struggle is a good thing. It is a sign of spiritual life! And the good news is: when we depend on Jesus to do what is pleasing to God, we are aided by the power of Christ, which is infinitely greater than the power of sin. As another song we're going to sing this week, Stronger, makes clear about Jesus: "You are stronger, You are stronger, Sin is broken, You have saved me, It is written, Christ is risen, Jesus You are Lord of all."
Even though we will still yield to temptation and give in to sin, because of this baggage of the flesh, at any moment we can cry out to God for the strength to resist temptation, and He answers through the Holy Spirit. We are now under grace, which means that not only do we need not fear death or God's wrath, but God Himself has come into our lives and promises to incline our hearts away from sin and toward righteousness as we plead with Him for His mercy.
We are completely free. From fear, guilt, shame and from the tyranny and condemnation of sin. There's a reason to sing!
See you on Sunday,
Pastor John
2.5.2015
When You Feel Most Alone
Hello Church Family,
I hope you're having a great week. I pray that you've been able to see God's grace in new and encouraging ways.
If you are reading through the Bible this year as part of a daily schedule, you've likely already encountered this phrase multiple times: "And God remembered." In Genesis 8 we're told that "God remembered Noah and all the beasts and all the cattle that were with him in the ark." A few chapters later, when God destroyed the cities of Sodom and Gomorrah because of their occupants' wholesale rebellion against Him, we're informed that "God remembered Abraham" (Genesis 19). Likewise, early in the book of Exodus, when the people of Israel were subjected to devastating slavery at the hands of the Egyptians, the narrator alerts us to the fact that "God remembered his covenant with Abraham, Isaac, and Jacob."
What are we to make of this proclamation? Did God space out for a while and forget His promises to his people?
The answer, of course, is no. When God is said to remember something, the author is not juxtaposing God's apparent sudden recall with a potential forgetfulness on His part, as though certain things get lost in God's mind and then abruptly resurface. Instead, the narrator is highlighting, in a way that resonates with us, God's tender and perfectly-timed actions on behalf of His (often faithless) children.
Think, for example, of how Noah must have felt after he'd been drifting on a raging sea for almost a year, following the onslaught of the world's greatest flood. Hopeless. Forsaken.  Resigned to a slow death. Nineteenth century scholar, R.S. Candlish summarizes the account like this: "Far down in the unfathomable depths below, lies a dead and buried world. Noah, shut up in his narrow prison, seems to be abandoned to his fate. He cannot help himself. And in this universal visitation of sin—this terrible reckoning with sinners—why should he obtain mercy? What is he, that when all else are taken, he should be left? May he not be righteously suffered to perish after all? Is he not a sinner, like the rest?"
Noah had undoubtedly thought, "This is the end for me. God is gone. I'm doomed." And then we're told, "But God remembered Noah."
Can you relate? Perhaps there was a time in your life when God's presence seemed so evident. It was undeniable. Maybe there was a turning point when you were delivered from a sickness, a relational struggle or the uncertainty of unemployment. Or all three. But then, things fell apart. A new illness seized your body, the conflict re-emerged, and yet another job was lost. Leaving you to wonder, What happened to God? Where is He?
Sadly, these thoughts inflict us more often than we would care to confess. And in those moments, just like Noah, or Abraham, or the Israelites, we tend to lose hope in God's promises.
The good news is that we may forget God, but He never forgets us. We may lose hope in Him, but He never loses hope in us. After all, He made us who we are. And it won't be our strength that carries us through to the end; it will be His. With great affection, God promises to keep us to Himself. How can we be sure? The cross reminds us that God is present, with His mercy and love, especially when it looks like He is not. On the cross God demonstrated in the most arresting way possible that He will spare no expense, so to speak, in attending to the needs of those He loves.
As you read this email, you may feel completely alone. Abandoned by God. But if you are in Christ, you can take great comfort in the fact that God has not forgotten you. And He never will. At just the right time, according to His infinite wisdom, He will act in a way that is for your good. He will remember you.
Pastor John
1.29.2015
What's So Great About Being a Pastor?
Hello Church Family,
I want you to know that I've been very specific in my prayers for you this week: I have repeatedly asked God to give you great joy in Him, the kind of "fullness of life" that Jesus says He came to make possible (John 10:10).
Several years ago a man asked me, "What's so great about being a pastor?" Let me give you some context. This man was inquiring because he was re-considering his calling. As a (remarkably gifted) professor in a seminary in Grand Rapids, Michigan, he had often wondered, and was, in fact, wondering again if he should pursue ministry in a local church as a vocational pastor. I was happy to offer my feedback. And just yesterday, I happened to stumble across the answer I gave him. I thought I would share it with you:
A friend of mine recently asked a twentysomething pastor the same question you've posed: What's so great about being a pastor? To which the young man said, "Definitely the flexibility of my schedule." What?!? That's the GREATEST thing? You can have flexibility driving an ice cream truck (not that there's anything wrong with that … and in your hometown you've only got three potential wage-earning months)! But anyway …
For me personally the difference (between life in the trenches and in the ivory tower; I'm using inflammatory language in jest), I think, lies in the depth (and length) of the relationships pastors are able to establish with their people. I've attended six universities (I should have more than a ThM at this point!) but I may only talk to two or three of my professors semi-regularly. The window of opportunity for influence that professors enjoy, generally speaking, seems to be brief. But as a pastor, I get the privilege (and burden, sometimes) of building into lives for years, even decades. (Plus, I get the unique joy of being invited into the most important times of a person's life: graduation, marriage, childbirth, promotions, terminations, anniversaries and even the death of a loved one.)
So, while I've flirted with going to the classroom (and had the pleasant occasion to teach classes and modules in various countries), I still prefer the daily grind of preaching and ministering to people in the milieu, so to speak. True life-change usually happens over extended time (unless God has more expeditious plans in mind). Relationships are the same way; they take time. As one of my mentors says to me on occasion: "You can't build a tree, you have to grow it." And it's in the relationships grown over time that God offers the richest blessings.
Years after I proffered that response, I feel precisely the same way—in fact even more strongly about the value of slow-built and long-standing relationships. And I want you to know how much delight I take in sharing with you not only the gospel, but my life (and the lives of those in my family), as we grow in Christ and strive to glorify and enjoy God together.
For your joy,
Pastor John
1.22.2015
This week, Pastor John hands over the TAGD keyboard to Pastor Brent Whitefield, Northpoint's Pastor of Missions and Outreach.
Missions and Outreach Update
The next two months promise to be exciting and productive ones for our mission and outreach efforts here at Northpoint. I thought that this would be a good time to give you an update, so that you can pray more specifically and get involved:
We have a small team led by Ray and Jill Roth traveling to Tuba City from February 6-8 to encourage our brothers and sisters on the Navajo reservation. The body there has seen both gains and setbacks in their efforts to be a light in a very dark place. Pray that the team will be a source of encouragement and a voice of wisdom to native American believers.
In early March, we will have two teams of four leaving for Ethiopia to minister with partners there. Pastor Scott Williams, Lee and Suzanne Graber, and Mike Russell will be training leaders in the TCCP program outside of Addis Ababa. Four others (Jane Gropp, Brandon Arnett, Bill Fresquez, and Tom Jefferson) will travel with Rick Eisemann and E3 Partners to take advantage of the recently opened door to do evangelism among unreached peoples in northern Ethiopia.
Our Carranza team will be in Mexico from March 20-22 and hopes to branch out to a new ministry site this year. More information and signups for that trip will be coming soon.
We have seen much fruit borne from the Mission Week back in October. Then, we had the opportunity to get to know Peter Morris and hear about his plans to minister in San Jose, Costa Rica as the city director for the ReachGlobal team there. We have begun financially supporting Peter and his wife Melanie as a church and they have nearly completed raising support in anticipation of getting to the field in late spring. You will be hearing more about Costa Rica in the future as we begin to explore other ways to partner with the ministry there.
Also at Mission Week, we became acquainted with the pioneering church planting efforts of Oscar Muriu and Nairobi Chapel in Kenya. They intend, by God's grace, to plant 300 churches over the next decade across the globe. They represent a great case study in how the energy of the modern mission movement is shifting to the global South. The way they do church planting constitutes a new and exciting model for partnership between churches in the First and Third worlds. This Sunday, Tim Douglass and I (Brent) will travel to Kenya to meet with church planting teams and see how we might partner with their work on the African continent and beyond. You will hear more about this strategic partnership in the months ahead.
After Kenya, I will travel on to northeast India where I will be joined by Craig Hawkins and Brad Glassick. Together we will continue teaching in the Training of Trainers (TOT) program. This time, in addition to the four-day conference for church planters, we will teach a two-day seminar for urban professionals who want to see greater Kingdom profit in their work. We have seen considerable fruit from this ministry since we launched it a little over a year ago. The goal of the program is multiplication of trained church leadership, and we have already seen the multiplication process in action. After the conferences, Craig and Brad will travel to a remote state in one of the most unreached places in India (which I will not name here, as it is not an open-access region), to visit one of the ministry sites and report on the replication of the TOT program there.
That is only a synopsis of some of the things that we are doing in the area of mission. In a later article, I will update you on what is happening in the realm of local outreach this year. A healthy church is one that is reaching out, near and far, to be a blessing to the nations, a light to those who languish in darkness, and an encouragement to the saints. Pray that we will continue to grow healthier in this work and that the Lord will grant us the privilege of seeing with our own eyes the fruit of our labors, for His glory.
Pastor Brent

1.15.2015
Does God Really Love Everyone?
It's becoming increasingly common for people to ask me, "Does God really love everyone?" How can it be possible, it's argued, for God to love an unrepentant and murderous criminal like Hitler or Jeffrey Dahmer? After all, some ask rhetorically, isn't there even a verse in the Bible somewhere that says that God hates not only evil deedsbut also the people who do them? (They're referring to Psalm 5:5.)
Occasionally, someone even takes a more personal slant and says, "My children have never been reconciled to God through faith in Jesus, and I always feel guilty about telling them that God loves them; should I?" Or, "Is it right for me to tell a stranger that God loves them? I don't know what God has in store for that person."
Well, the answer to the question, "Does God love everyone?" is: yes … but with a caveat. (You knew there couldn't be just a simple answer, right?)
Theologians talk about the love of God as being universal and particular. In one sense, every single created being experiences the love of God. Every living person enjoys breath, laughter, relationships, and the magnificent benefit of occupying an earth that offers sunshine, breath-taking scenery, and the beauty of changing seasons. Furthermore, every living person is extended the loving and bona fide offer to repent and be reconciled to God. These are evidences of God's universal love. "For God so loved the world that he gave his only Son," Jesus announces. That sounds pretty inclusive, doesn't it? The Psalmist echoes God's magnanimity when he states: "The Lord is good to all and his mercy is over all that he has made" (Ps. 145:9).
However, there are some that God loves in a unique way. He doesn't love these people more than everyone else, just differently. To some, God shows His love by convicting them of their sins, quickening their lifeless hearts, and bringing them to saving faith in Jesus. To some, God shows His love by miraculously transferring them from the kingdom of darkness to the kingdom of His beloved Son. The Apostle Paul says, "But God, being rich in mercy, because of the great love with which he loved us, even when we were dead in trespasses, made us alive together with Christ" (Eph. 2:4). The evangelist John instructs: "In this is love, not that we have loved God but that he loved us, and sent his Son to be the propitiation for our sins" (1 John 4:10). These are references to God's particular love.
Biblical scholar, J.I. Packer succinctly explains the difference this way: "First, God loves all in some ways (everyone whom he creates, sinners though they are, receives many undeserved good gifts in daily providence), and, second, God loves some in all ways (that is, in addition to the gifts of daily providence he brings them to faith, to new life, and to glory, according to his predestinating purpose)."
So here's what that means: first and foremost, you are loved by God. Regardless of where you are in life, or what you have done—even if you are not a follower of Jesus—you are the beneficiary of God's love. And if you are a child of God, if you have put your faith in Christ, you can rest in the fact that God has lavished His particular affection on you, a love that He has moved heaven and earth to display to you.
Second, this means that to your unbelieving neighbor who's struggling just to keep her life together, you need not have the slightest reservation about saying to her: "God loves you." And to that young son of yours who's going through a rebellious stage, you can still say definitively, "You are loved by God." And the prayer that accompanies that proclamation is that God would allow these hurting souls to realize God's universal love, and be so moved by His mercy that they run to Him in faith, and thereby bear witness to the fact that they have also been loved with God's particular love, the only hope of salvation.
In the love of God,
Pastor John
1.8.2015
A Time to Laugh
Hello Church Family,
I hope you've had a fruitful week. Did any of you resolve this New Year to laugh a little more?  The Bible says that one of God's gracious blessings is laughter. To a large crowd of troubled people, many dealing with debilitating spiritual and physical ailments, Jesus says in Luke 6:21: "Blessed are you who weep now, for you shall laugh." Laughter is presented by Jesus as the height of spiritual joy. Similarly, Solomon, among the wisest of all men, said just as there's a time to cry, there's also a time to laugh.
Laughter is good for the soul. In the words of the King James Bible, "A merry heart doeth good like a medicine" (Proverbs 17:22).
With that in mind, I offer today's entry. Dr. Michael Wittmer, a friend of mine who teaches historical theology and philosophy at the graduate school I attended, recently shared the most humorous errors that his students committed during their just-completed final exams. Dr. Wittmer says, "I love my students, and they're quite smart, but they write the dumbest things."  Below are some of his (and my) personal favorites (in bold), along with his commentary. I realize that this "theological humor" may not appeal to everyone, but it's good for a heart-edifying chuckle or two, even among the most serious-minded people.
"The Son is the Creator, El Salvador, restaurateur, the redeemer."
Nothing wrong with opening a restaurant, but I'm not sure it belongs in the same list with Creator and Redeemer.
"He wrote for a wider audience than Anselm—who wrote only for rational people."
Who did he write for, morons?
"God allows evil to exist although He can easily defeat goodness."
Sure, but why would he want to?
"Women are too qualified to hold church leadership positions."
Okay then. Reverse psychology much?
"The decorative cause of evil is not a creation of YHWH, but us."
So the cause of evil is … Martha Stewart?
"Before the tree, Adam enjoyed sex without knowing that Eve was naked."
Adam was one dumb guy.
"Barth didn't believe in original sin, which was transmitted by Adam and Eve to their posterior."
The student meant "posterity," but this does explain why Adam and Eve so desperately tried to cover their rears.
"Jesus will return in the clouds to remove the church from the earth."
This makes sense. A secret rapture would require Jesus to hide in the clouds. "Hey, isn't that cloud drifting a little too close? It might be Jesus, sneaking up on us!"
"Rogers has stumbled upon, what I believe to be, the side effects of the church's attempt to beat believers into submission."
Isn't the point behind a beating the beating itself? Does one really care about the side effects? I've never heard anyone say, "Too bad about those side effects, otherwise I would have really enjoyed that beating."
"God's existence is independent from himself."
Which would make him dependent. Some praise is so strong it's weak.
Well, like I said, it's not everyone's type of humor. Nevertheless, in the words of the Psalmist: "May your mouth be filled with laughter, your tongue with shouts of joy, so that you say among the nations, 'The Lord has done great things.'"
See you on Sunday,
Pastor John
1.1.2015
This week, Pastor John hands over the TAGD keyboard to Marti Wiegman, Northpoint's Director of Women's Ministries.
Good News for the New Year
Hello Church Family,
What is on your heart as you begin the new year: "I'm going to really, really try to be a better________________" or "Thank God for His great love for me"?
As I write this message, on the coffee table are a pile of Christmas cards and letters. The number seems fewer each year as more and more send their greetings and "year in review" by social media. It's great to catch up with friends and loved ones; but in some ways it can be a terrible burden, drawing us to pride or despair. People tend to post all the wonderful things they are doing; punctuated by smiling photos designed to document their perfect lives. Sometimes we read these and think, That's really great. Other times, if we are honest, we catch ourselves thinking, I'm not worth anything until I have a life that looks like theirs on Pinterest.
Then New Year's hits and we are drawn to be even more introspective—looking back, perhaps with regret at what we haven't accomplished, and looking forward to what we want to be and to do in the year ahead. We start writing lists, making promises, devising plans, all the while feeling inside that we just aren't making the grade. Deep down we are driven by a crushing sense that we can never try hard enough to be good enough.
The year has barely begun and we already feel exhausted and defeated!
If you are a believer, there is Good News! You are already loved, you are already accepted, you are already enough, because of what Christ has already done for you. There is nothing we need to do to somehow earn God's smile upon us; our faith in Christ and His righteousness alone is eternally sufficient. In Christ our lives become a celebration of who we are in Him, not a failed string of endless efforts to make ourselves of value on our own. In Christ, our goals and aspirations focus on knowing, worshiping, and serving our great God, not living up to some standard of this world. As we take our eyes off ourselves and fix our eyes on Christ we hear His good word: "Come to me, all who labor and are heavy laden, and I will give you rest" (Matthew 11:28).
I want to close with a word specifically for our ladies. This Good News of finding our fullness in Christ is so important, especially for those who are weary, wounded, or struggling. So many of us love the Lord yet can't seem to find the joy, peace, or freedom we hear so much about. Elyse Fitzpatrick, a leading Christian author and speaker, has written a book about this vital issue entitled, Good News for Weary Women: Escaping the Bondage of To-Do Lists, Steps, and Bad Advice. She will be the speaker at our upcoming women's conference, Saturday, March 7, from 9:00 a.m.-3:00 p.m. here at Northpoint. Watch for more information in the weeks ahead.
Serving Him together,
Marti Wiegman
12.25.2014
Merry Christmas
Hello Church Family,
Merry Christmas! On behalf of my fellow pastors and elders, I want to let you know how much of a privilege and honor it is to lead and serve such an amazing body of believers. In the words of the Apostle Paul, "We give thanks to God always for all of you." (1 Thes. 1:2)
I love this church. Simply put, I cannot imagine being anywhere else.
As I shared with you not long ago, I read an article recently that argued that people simply aren't coming to faith in long-established churches. Church planting, the author quipped, is the only way to reach a post-everything world. Well, I am absolutely in favor of church planting. In fact, I will be reading and praying in 2015 about how we as a church might consider such a strategy as part of our mission to make disciples who make disciples. But I cannot accept the aforementioned author's premise. God continues to provide too much evidence to the contrary.
Perhaps you remember the testimony of the Sell family, as they entered the waters of baptism only a few weeks ago. Ryan, a hard-working husband and father (and General Manager at Miguel's Jr. for you burrito lovers!), shared how God had brought him low, and helped Ryan to see that he was the "pilot of his own life." But it was through those dark times that God allowed Ryan to realize the emptiness and futility of putting one's hope in human strength. Through the sermon series on James and the consistent prayer of believing neighbors (members of Northpoint), God saved Ryan from his sin and self-reliance, and made him a son. And not only did God redeem Ryan, but God brought Ryan's wife, Jennifer, and daughter, Dakota, to saving faith as well, resembling one of the family-style conversions of the New Testament.
This is just one story. And there are plenty more. But I made a commitment, since this is Christmas Day, after all, to keep this entry short. That said, here is my prayer for you today: that God would give you the grace to see the beauty and sufficiency of Jesus, and that the Lover of your soul would increase your joy in Him, both for the holidays and beyond.
Can't wait to see what God does in 2015!
Pastor John 
Working It Out
Dear Church Family,
At the time of this writing, we're exactly one week from Christmas! I hope that you have plans to relax and enjoy some unhurried time with friends and family.
For most of us, our work dominates our thoughts and time each day; it is our most pressing and weightiest responsibility. For many, even Christians, it is how we measure our success in life and our greatest source of both comfort and anxiety. If we thrive at our vocation, we feel accomplished and worthy of respect and admiration; conversely, though, if we fail to meet the expectations at our job, we feel like failures and wonder (though never aloud) if we bring anything important to the table, as it were. Despite the prominence work plays in our self-assessment, we spend so little time reflecting on a theology of work. The Bible has a lot to say on the subject of work and its relationship to the other aspects of our lives, but often we don't think to bring scriptural wisdom to bear on the questions that we have about our pursuit of our individual callings. And our questions are many:
Does God care what we do for a living?
Are some callings more "spiritual" than others?
How should a Christian worker differ from his non-believing counterparts?
Is it okay to be "married to your work" or, conversely, to "live for the weekend?"
How many hours per week should a faithful Christian work? 40? 50? More?
We also think about where work fits in with the other priorities and obligations in life:
Where should our work rank in our list of priorities?
How do you achieve a balance between work, family and "spiritual" obligations?
Does it matter how we spend our free time?
Should Christians observe some kind of Sabbath?
Is the Christian concept of rest different from the world's concept?
And we wonder if and how we bring our faith commitments into the workplace:
Is the workplace an appropriate place for evangelism?
Is it important to "Christianize" our workspace?
What are some creative ways to be an effective witness at work?
As a leadership team at Northpoint, we would like to help you in reflecting on these questions. We are excited to announce a new seven-week elective series starting January 11 at 9:00 a.m., in Heritage Hall, called The Church at Work: Calling, Vocation, and the Kingdom of God.  (I know, I can't avoid the long titles …  but I tried!) In this course, Pastors Brent and Scott, and Tim East, one of our elders, will consider a biblical perspective on the above questions and many more. Regardless what kind of work you do, or even if you work in the home or are retired, there will be something in this study to challenge your thinking. I hope you're able to take part beginning January 11.
Peace,
Pastor John
12.11.2014
Making Hay While the Sun's Out
Hello Church Family,
The month of December is flying by, isn't it? I hope your holiday season is going well. I want you to know that I've been praying for you this week, that God would increase your joy in Him and give you peace amid the busyness of this time of year.
As you know, our mission as a church is to make disciples who make disciples. Put another way: we exist to glorify God by leading people into a growing relationship with Jesus. Certainly, there are many noble things we want to do (and are doing) as a church, such as feeding the poor, helping the homeless, assisting abortion-vulnerable women, rescuing abused children, and partnering with others to obliterate cancer—and these are all excellent endeavors—but none represents our ultimate priority.
Michael Horton, in his book The Great Commission, says: "There is no mandate for the church to develop a political, social, economic or cultural plan. … The church's mission is not even to reform the morals of society. Whatever effects the gospel has in the lives of its hearers and in the wider society in which it is heard, the Great Commission itself is a very specific mandate to get the Good News to everyone who lies in darkness."
But how do we go about spreading the Good News?
There are two main approaches to making disciples that churches seem to employ: attractional or missional. Churches that embrace the former tend to focus most of their attention on attracting unbelievers to church (hence the approach's name). So they invest their energy into direct mailings, big events, slickly-produced worship sets, and services designed for the non-Christian.
"On the other hand," says Brad Brisco, "missional churches see their primary function as one of actively moving into a community to embody and enflesh the word, deed, and life of Jesus into every nook and cranny." One person has described the two mindsets as "come and see" (attractional) versus "go and be" (missional).
While I'm not a big fan of labeling, it's fair to say that we are a missional church. We believe that the essence of biblical evangelism is not inviting people to church, but going to where unbelievers "happen to be" (Acts 17) and engaging their hearts and minds in loving and gospel-rich dialogue and action. This was the model of the disciples, the Apostle Paul, and even Jesus. After all, Jesus' entrance to this earth as a helpless baby was the most missional act in history. He didn't require the lost to come to Him; He came to us. I love the way author and scholar, Eugene Peterson, paraphrases John 1:14 in The Message: he says, "The Word became flesh and blood and moved into the neighborhood." Consequently, with Christ as our example, at Northpoint we gather to encourage, equip, instruct, build up and pray for one another and then scatter to serve, love and reach a dying world with incarnational grace.
Nevertheless, there are certain times of the year when inviting someone to a service is particularly effective. And we are in one of those seasons. For various reasons, people who would normally avoid the church at all costs, are willing (and sometimes even eager) to join in the celebration of Christmas.
That neighbor who casts incredulous glances at you when you go to church every Sunday may just be looking for a place to sing carols by candlelight this Christmas. That co-worker who already feels the weight of being separated from God may just be secretly longing for you to invite her to the Christmas Eve service. That adult child of yours who has rejected every overture in the past to talk about spiritual things may just be waiting for you to say, "Would you come to church with me this Sunday?"
So why not take advantage? Why not strike while the proverbial iron is hot? In the Resource Folder this Sunday will be Invite Cards. They represent an easy way to tell someone about our upcoming holiday schedule. Please pray that God would give you the courage and grace to extend an invitation to one (or several) of our services.
Let's take advantage of a time when people in the dark are willing to investigate the "true light" (John 1:9), through whom "the world was made through him, yet the world did not know him." (John 1:10)
Who knows what God may do!
Pastor John
12.4.2014