Senior High BIG Tuesday Christmas Party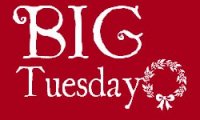 Join us on Tuesday, December 15th, from 7:00 to 9:00pm, for our December BIG Tuesday Christmas Party!
– White Elephant Gift Exchange- bring a quirky, random, funny, or cool gift…just don't spend more than $5.
– Ugly Christmas Sweater Party- we will give a prize to the person with the best Christmas sweater.
Invite Friends to join our community as we celebrate Christmas together!