Missions

Northpoint Church is again partnering with Olive Crest to deliver Thanksgiving Baskets to families in need within their (Olive Crest's) different areas of service. Olive Crest does amazing work for the Lord throughout Riverside and San Bernardino Counties. We are so excited to partner with them!
To make a Thanksgiving Basket you will need the following items:
• 1 bag of flour
• 1 bag of sugar
• 1 canister of salt and pepper
• 1 bottle of olive oil
• 1 box of mashed potatoes
• 2 cans of corn
• 2 cans of peas
• 2 cans of yams
• 1 box of hot roll mix
• 2 packets of brown gravy mix
• 1 cake mix or canned pumpkin
• 2 boxes of mac 'n' cheese
• 1 box of Stove Top Stuffing Mix
• 1 can of cranberry sauce
• 1 16"x13" turkey roasting tin (the tin is the "basket")
You are welcome to add anything else to the basket that you think a family would enjoy around Thanksgiving.
The baskets are due at Northpoint by Sunday, October 31. When you drop off your basket, please do not place items in the basket; bring the items in grocery bags separate from the basket.  Drop off baskets to the Church Office Monday through Thursday from 8:30 a.m. to 4:00 p.m.) or to the Foyer on Sundays. We are also collecting cash/check donations to buy grocery gift cards to put in each basket. If you gather any cash donations, please turn them in separate from the basket.
If you have any questions, please contact Colin Cordill at ccordill@northpointcorona.org or 951.734.1335.
Missions & Outreach Update
Northpoint is going to Cuba in 2022! We'll be going with Bruce Camp, a missionary with DualReach, whom we have long supported. Bruce will be with us at our upcoming Missions & Outreach Update Evening on Friday, October 22, at 6:30 p.m., to, among other things, share about the mission trip to Cuba. If you're interested in going to Cuba with us or would like to find out what else is happening with our Missions and Outreach endeavors, contact Colin Cordill at ccordill@northpointcorona.org
2021 Northpoint Missions Conference Recap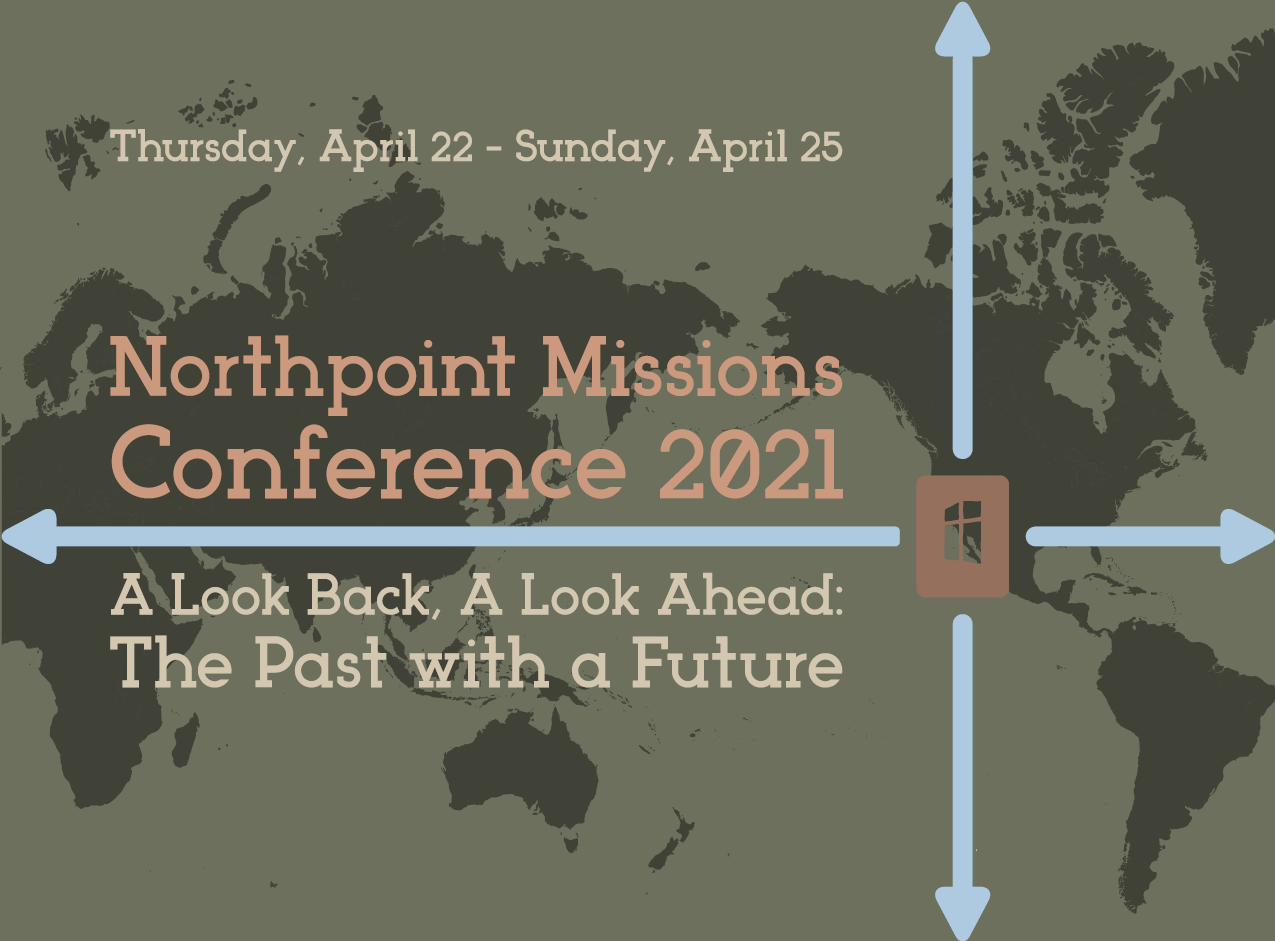 In 1975, five Corona families gathered together with the desire to plant a church to impact their community for Christ. 46 years later, Northpoint stands as a testimony to the Sovereign plan of God and what He can do with people following His will.
In April 2021, we celebrated our 2021 Northpoint Mission Conference by looking back at the Lord's faithfulness to be encouraged to move forward with confidence into the future through NP's local and global missions ministry. "A Look Back, A Look Ahead: The Past with a Future."
Here's a video that tells the story:
Missions

All people matter to God; therefore, they must matter to us. We at Northpoint are devoted to the good news of forgiveness through Jesus Christ, the only message of life for the world. We will take this message to those who need it regardless of where that may be. Our desire is that God makes us a church that is moved by the needs of people and motivated to respond with compassion and prizes God's glory more than anything this world has to offer. Each year, our congregation sends a number of people on short-term missions trips throughout the world and supports a number of full-time missionaries ministering around the globe.
Short-Term Mission Trips
Carranza, Mexico
Around Northpoint, everyone knows that Carranza is a "colonia" on the outskirts of Mexicali, Mexico. Carranza is the community that Mt. Sinai Baptist Church calls home.  Carranza is where Pastor Antonio Camarillo lives and serves Jesus.  As the pastor of Mt. Sinai Baptist Church he leads the church in making and nurturing disciples in Carranza.  Northpoint partners with Mt. Sinai Baptist church all year long, but twice a year we send a team from Northpoint to help in neighborhood evangelism, encourage the church family, and help church members build new relationships with the Carranza community.  Our goal in supporting the Mount Sinai Baptist Church is to help them become more effective gospel "lights" in their community. Our intent is never to bring down the "show" with us but to support them in their ministry to their local community. It generally involves serving alongside our Mexican brothers and sisters in Christ as we share testimonies, perform service projects, hold carnivals, and present the gospel in all types of venues. Pastor Antonio is also heavily involved in starting new Awana clubs throughout Mexicali, as well as assisting in church plants; we help him with both as needed.
Our next Carranza Mission Trip is March 13-15. The minimum age for this trip is ten years old (sixth graders and under must be accompanied by a parent). Those who have already gone to Carranza with us can still sign up online HERE, or in the Foyer THIS Sunday, March 1, or at the meeting for ALL team members happening THAT afternoon in the Youth Room, from 3:00 p.m.-5:00 p.m. The final, mandatory meeting for ALL team members is Sunday, March 8, in the Youth Room, from 3:00 p.m.-5:00 p.m.
The cost is $75.00 ($70.00 per person with two or more from same family) and covers five meals, gasoline, insurance, ministry resources, and supplies. You will need to bring extra money for two on-the-road meals.
The Carranza trip is a great opportunity to expand one's awareness of the church outside of Corona and to see how the global body of Christ works together.
All team members must have a valid passport. Get the process started now at the Corona Public Library or the Post Office on Grand Avenue.
Interested? Have questions? Contact Megan Cordill at mcordill@northpointcorona.org or 951.532.3891.
Mission Partners
Pastor Antonio Camarillo (Barnabas Association): Pastor and church planter in Mexicali, Mexico. Active in the Awana ministry
Bruce and Sue Camp: Global leadership development and training leaders in the Philippines and Pakistan.
Hector and Karen Cedillo: International Church Planting
Corona Life Services:  A 501c3 organization dedicated to saving the lives of unborn children by offering alternatives to abortion in Corona, California
Corona Norco Rescue Mission: Provides housing for the homeless in Corona, California.
Corona Norco Settlement House: Provides Emergency housing, hotel vouchers, and food in Corona, California
Daniel and Linda Holmquist (EFCA Reach Global): President of CAM and a Training of Teachers (ToT) partner in Northeast India
Steve and Karen Hydanus (Awana California GoldenWest): California
Don and Debi Isaacs (Awana California GoldenWest): California
Peter and Melanie Morris, (EFCA Reach Global): Costa Rica Peter shepherds and works alongside local partners mobilizing missionaries, equipping leaders, and bringing hope. Melanie serves with ServeLAC, working to equip ReachGlobal missionaries throughout Latin America and the Caribbean. 
Lloyd and Nancy Peckham: Bible translator. Teaches Linguistics at Biola
Doug and Cynthia Peters: Doug is an administrator with World Impact, serving in property/maintenance manager, church partnerships, and as a volunteer/group coordinator in Los Angeles. Cynthia is the West Region prayer coordinator
Los Angeles, CA
Steven Phillips (World Harvest/Serge): Church planter in Barcelona, Spain. Teaches at a Bible college
Stefanos and Manon Mihalios (EFCA Reach Global):  The couple develops well-trained national leaders in Greece. They are part of the faculty/staff at the Greek Bible College,  serving the Lord through teaching, administration, and spiritual formation.