2023 Northpoint Missions Conference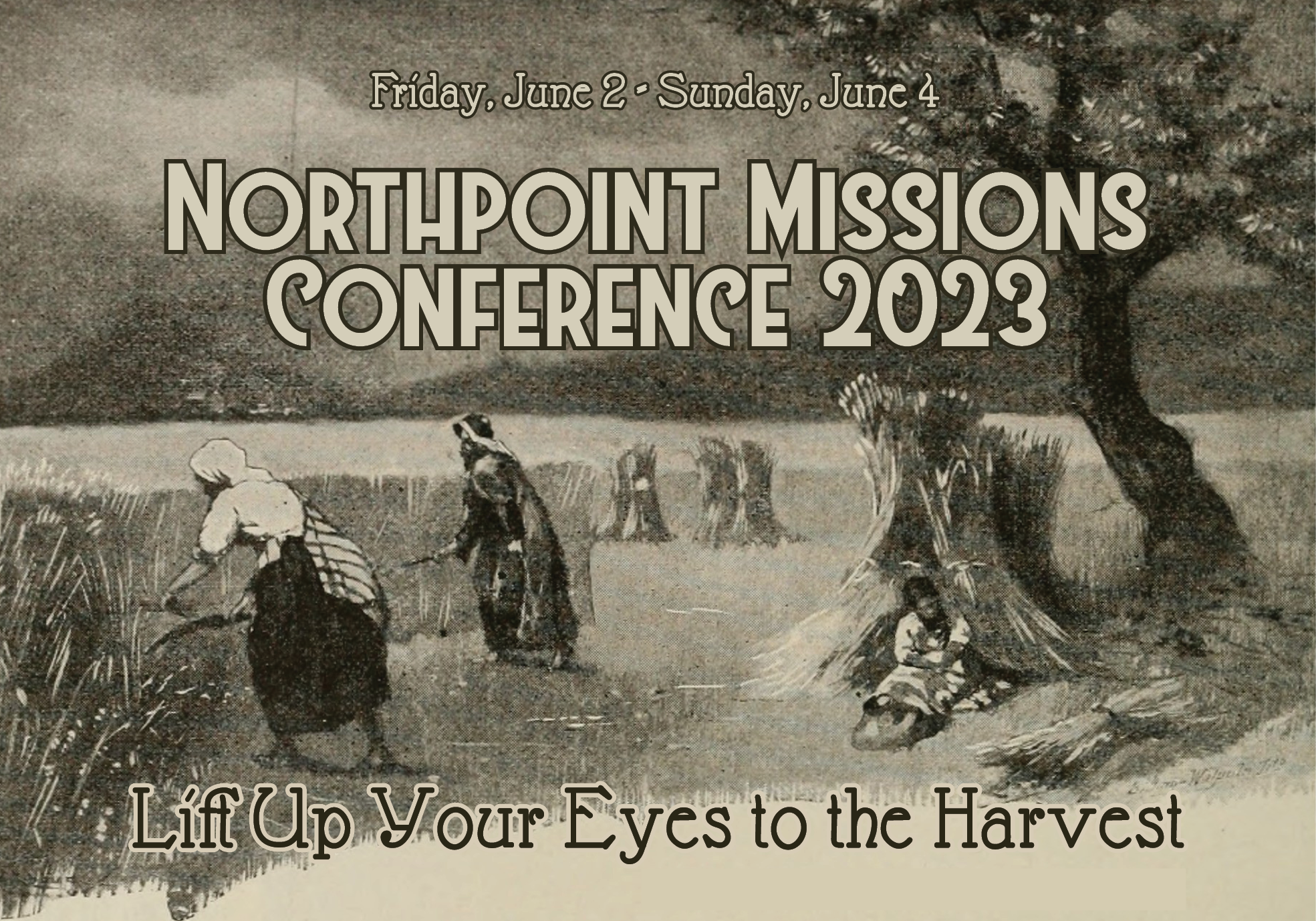 By Dr. Tamene Menna
Executive Pastor
Dear Church family,
A few months ago, I was struggling to come up with a theme for this year's Missions Conference. That changed while I was preparing for my opportunity to teach in our main service through John 4:1-42, and came across this in the text:
[34] Jesus said to them, "My food is to do the will of him who sent me and to accomplish his work. [35] Do you not say, 'There are yet four months, then comes the harvest'? Look, I tell you, lift up your eyes, and see that the fields are white for harvest. [36] Already the one who reaps is receiving wages and gathering fruit for eternal life, so that sower and reaper may rejoice together. [37] For here the saying holds true, 'One sows and another reaps.' [38] I sent you to reap that for which you did not labor. Others have labored, and you have entered into their labor." – John 4:34-38 (ESV)
I thought, "White for harvest?" Some commentators say that phrase refers to the sight of many Samaritans dressed in white clothes and walking toward Jesus through a field that was not yet ready for harvest. Given the context of the chapter, the Samaritans had just heard about Jesus from the woman who had encountered Him and His life-giving message at the well just hours before. And there they all were, coming to Jesus and the disciples, either already prepared for harvest or ready to be prepared.
We will unlikely ever have those ready for harvest so easily identified for us, but we know they are there. They are in the neighborhood surrounding Northpoint. They are in Corona, Riverside County, California, in the US, and worldwide. And they have been prepared by the Holy Spirit: they are either waiting to hear of the harvest or waiting to be harvested. But note that this harvesting that began with Jesus and his disciples continues through us, His commissioned followers today.
And so, our theme for our 2023 Mission Conference is this: Lift Up Your Eyes To The Harvest.
We are looking forward to our Annual Missions Conference here at Northpoint, which will be held over three days beginning June 2, 2023. This will be an exciting time for our church as we seek to learn about all that is happening in mission fields around the world and how we can continue to participate in God's great mission and be used by Him to advance His Kingdom.
During this conference, among other things, we will be encouraged to lift up our eyes and focus on the field of souls God has prepared. We'll also learn about what the Lord of the harvest is doing around the world and the biblical foundation of why we do what we do (the why of missions).
This year's guest speaker is Dr. Kevin Kompelien, President of EFCA (Evangelical Free Church of America). Other speakers include Pastor Rick Eisemann of Global Church Ministries (Special focus on the Tigray Region), Northpoint's own Craig Hawkins (Cambodia mission update), and Steve Smeltzer of EFCA's Crisis Response Ministry (Ukraine mission update).
Childcare will be provided on Friday and Saturday evenings for birth-three years old, as well as a Children's Missions Program for kids four years old-sixth grade.
So, Join us from June 2 to June 4, with events running Friday night through Sunday morning during our worship service! You will be encouraged by what the Lord of the Harvest is doing around the globe! It will be a wonderful time of songs, stories, sharing updates, and fellowship over meals. I look forward to seeing each of you there!
Register HERE!
Conference Schedule
Friday, June 2 + 6:00 p.m. to 8:00 p.m.
Celebration of local and global partnerships
Guest Speakers: Dan Holman, Paradise Crisis Response site leader; Craig Hawkins, NP Elder of Missions; Rick Eisemann, Global Church Ministries
Northpoint's Mission Conference opens as we celebrate and thank our local partners and our local mission partnership effort with ReachGlobal Crisis Response ministry in Paradise, CA.
Heritage Hall. Dinner will be served. Kids welcome! Childcare for nursery to sixth-grade with reservation.*
Saturday, June 3 + 6:00 p.m. to 8:00 p.m.
The biblical foundation of Why we do what we do (The "whys" of missions).
Guest Speakers: Dr. Kevin Kompelien, President of EFCA; Karen Roper, the City of Corona's Homeless Solutions Manager; & Steve Smeltzer, EFCA's Crisis Repose Ministry leader
Come and listen to Dr. Kevin Kompelien, who has a passion for mission and is committed to multiplying transformational churches among all people and raising up an entire generation of disciple-makers. We will also have an opportunity to hear an exciting update Karen Roper about the City of Corona's Homeless Solutions. And, Steve Smeltzer will be on hand to provide an update to our recent global mission partnership to train pastors and church leaders in Ukraine.
Heritage Hall. Dinner will be served. Kids welcome! Childcare for nursery to sixth-grade with reservation.*
Sunday, June 4 + 9:00 a.m. and 10:45 a.m. Worship Services
Speaker: Dr. Kevin Kompelien, President of EFCA
*Childcare: Reserve spots by emailing Analiese Alfonsi at aalfonsi@northpointcorona.org or calling her at 951.281.2812. Please provide your children's names and ages so we can plan ahead for them.
In His Service,
Tamene
Missions

All people matter to God; therefore, they must matter to us. We at Northpoint are devoted to the good news of forgiveness through Jesus Christ, the only message of life for the world. We will take this message to those who need it regardless of where that may be. Our desire is that God makes us a church that is moved by the needs of people and motivated to respond with compassion and prizes God's glory more than anything this world has to offer. Each year, our congregation sends a number of people on short-term missions trips throughout the world and supports a number of full-time missionaries ministering around the globe.
Short-Term Mission Trips
Carranza, Mexico
Around Northpoint, everyone knows that Carranza is a "colonia" on the outskirts of Mexicali, Mexico. Carranza is the community that Mt. Sinai Baptist Church calls home.  Carranza is where Pastor Antonio Camarillo lives and serves Jesus.  As the pastor of Mt. Sinai Baptist Church he leads the church in making and nurturing disciples in Carranza.  Northpoint partners with Mt. Sinai Baptist church all year long, but twice a year we send a team from Northpoint to help in neighborhood evangelism, encourage the church family, and help church members build new relationships with the Carranza community.  Our goal in supporting the Mount Sinai Baptist Church is to help them become more effective gospel "lights" in their community. Our intent is never to bring down the "show" with us but to support them in their ministry to their local community. It generally involves serving alongside our Mexican brothers and sisters in Christ as we share testimonies, perform service projects, hold carnivals, and present the gospel in all types of venues. Pastor Antonio is also heavily involved in starting new Awana clubs throughout Mexicali, as well as assisting in church plants; we help him with both as needed.
Mission Partners
Pastor Antonio Camarillo (Barnabas Association): Pastor and church planter in Mexicali, Mexico. Active in the Awana ministry
Bruce and Sue Camp: Global leadership development and training leaders in the Philippines and Pakistan.
Hector and Karen Cedillo: International Church Planting
Corona Life Services:  A 501c3 organization dedicated to saving the lives of unborn children by offering alternatives to abortion in Corona, California
Corona Norco Settlement House: Provides Emergency housing, hotel vouchers, and food in Corona, California
Steve and Karen Hydanus (Awana California GoldenWest): California
Don and Debi Isaacs (Awana California GoldenWest): California
Peter and Melanie Morris, (EFCA Reach Global): Costa Rica Peter shepherds and works alongside local partners mobilizing missionaries, equipping leaders, and bringing hope. Melanie serves with ServeLAC, working to equip ReachGlobal missionaries throughout Latin America and the Caribbean. 
Lloyd and Nancy Peckham: Bible translator. Teaches Linguistics at Biola
Doug and Cynthia Peters: Doug is an administrator with World Impact, serving in property/maintenance manager, church partnerships, and as a volunteer/group coordinator in Los Angeles. Cynthia is the West Region prayer coordinator
Los Angeles, CA
Steven Phillips (World Harvest/Serge): Church planter in Barcelona, Spain. Teaches at a Bible college
Stefanos and Manon Mihalios (EFCA Reach Global):  The couple develops well-trained national leaders in Greece. They are part of the faculty/staff at the Greek Bible College,  serving the Lord through teaching, administration, and spiritual formation.