2022 Northpoint Missions Conference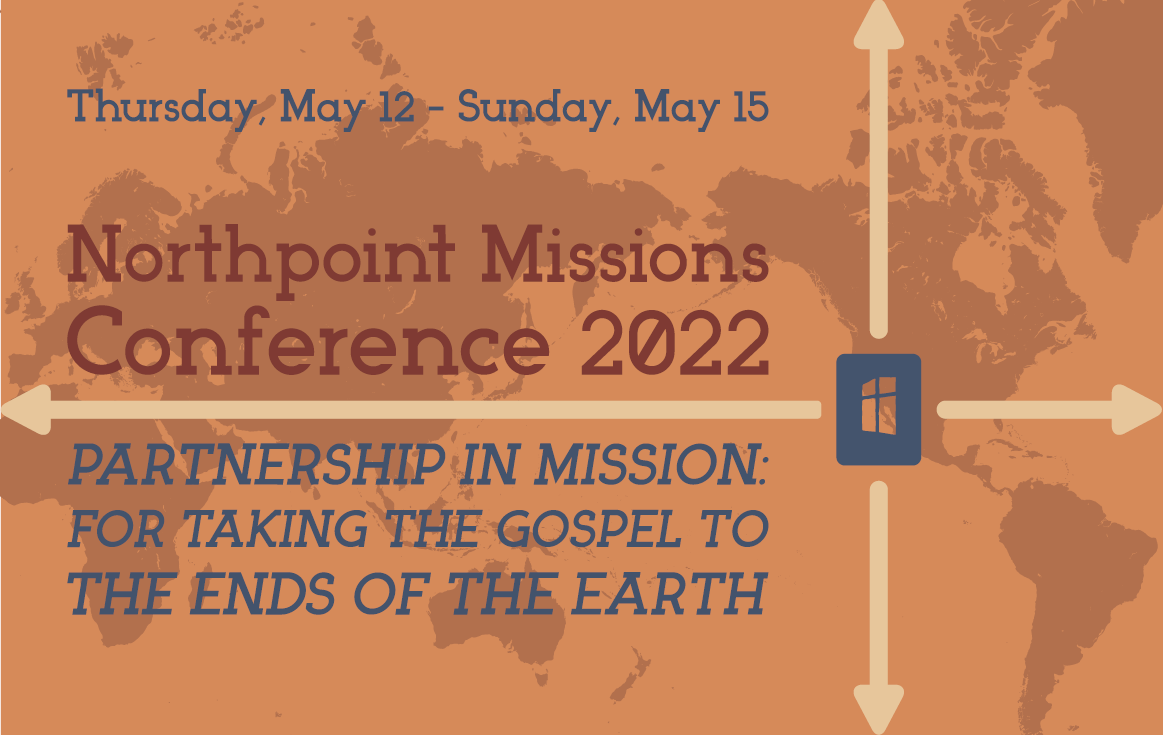 Northpoint's 2022 Missions Conference is happening THIS week, May 12-15. Our theme will be Partnership in Mission: For Taking the Gospel to the Ends of the Earth, or "የወንጌል ማሕበርተኛነት" (Yewengel Mahbertegnanet). Our main speakers will be Dr. Semeon Mulatu, author, Principal at Evangelical Theological College, Addis Ababa, Ethiopia, and Chairman of the Elders Board at Mekanissa Kale Heywot Church, and Dr. Tim Jacobson, an author who serves with MentorLink Canada.
Plan to join us when you can over the four days as we seek to learn about all that is happening in mission fields around the world and how we can continue to participate in God's great mission to advance His kingdom.
This Missions Conference will be a wonderful time of songs, stories, sharing updates, and fellowship over meals!
Need childcare? If so, please reserve a spot for any of the events by emailing Laura Flood at lfood@northpointcorona.org or calling her at 951.316.5855.
Sign up HERE to help us get a meal count.
Missions

All people matter to God; therefore, they must matter to us. We at Northpoint are devoted to the good news of forgiveness through Jesus Christ, the only message of life for the world. We will take this message to those who need it regardless of where that may be. Our desire is that God makes us a church that is moved by the needs of people and motivated to respond with compassion and prizes God's glory more than anything this world has to offer. Each year, our congregation sends a number of people on short-term missions trips throughout the world and supports a number of full-time missionaries ministering around the globe.
Short-Term Mission Trips
Carranza, Mexico
Around Northpoint, everyone knows that Carranza is a "colonia" on the outskirts of Mexicali, Mexico. Carranza is the community that Mt. Sinai Baptist Church calls home.  Carranza is where Pastor Antonio Camarillo lives and serves Jesus.  As the pastor of Mt. Sinai Baptist Church he leads the church in making and nurturing disciples in Carranza.  Northpoint partners with Mt. Sinai Baptist church all year long, but twice a year we send a team from Northpoint to help in neighborhood evangelism, encourage the church family, and help church members build new relationships with the Carranza community.  Our goal in supporting the Mount Sinai Baptist Church is to help them become more effective gospel "lights" in their community. Our intent is never to bring down the "show" with us but to support them in their ministry to their local community. It generally involves serving alongside our Mexican brothers and sisters in Christ as we share testimonies, perform service projects, hold carnivals, and present the gospel in all types of venues. Pastor Antonio is also heavily involved in starting new Awana clubs throughout Mexicali, as well as assisting in church plants; we help him with both as needed.
Mission Partners
Pastor Antonio Camarillo (Barnabas Association): Pastor and church planter in Mexicali, Mexico. Active in the Awana ministry
Bruce and Sue Camp: Global leadership development and training leaders in the Philippines and Pakistan.
Hector and Karen Cedillo: International Church Planting
Corona Life Services:  A 501c3 organization dedicated to saving the lives of unborn children by offering alternatives to abortion in Corona, California
Corona Norco Settlement House: Provides Emergency housing, hotel vouchers, and food in Corona, California
Steve and Karen Hydanus (Awana California GoldenWest): California
Don and Debi Isaacs (Awana California GoldenWest): California
Peter and Melanie Morris, (EFCA Reach Global): Costa Rica Peter shepherds and works alongside local partners mobilizing missionaries, equipping leaders, and bringing hope. Melanie serves with ServeLAC, working to equip ReachGlobal missionaries throughout Latin America and the Caribbean. 
Lloyd and Nancy Peckham: Bible translator. Teaches Linguistics at Biola
Doug and Cynthia Peters: Doug is an administrator with World Impact, serving in property/maintenance manager, church partnerships, and as a volunteer/group coordinator in Los Angeles. Cynthia is the West Region prayer coordinator
Los Angeles, CA
Steven Phillips (World Harvest/Serge): Church planter in Barcelona, Spain. Teaches at a Bible college
Stefanos and Manon Mihalios (EFCA Reach Global):  The couple develops well-trained national leaders in Greece. They are part of the faculty/staff at the Greek Bible College,  serving the Lord through teaching, administration, and spiritual formation.