ONLINE GIVING
As a part of our worship we are called to cheerfully, generously, and sacrificially give (2 Cor 9:7). Your faithful partnership in and support of the ministries at Northpoint Evangelical Free Church allows us to impact the lives of thousands, both locally and globally, for His Kingdom. Online Giving allows you to safely, securely, and efficiently steward your tithes. Whether a one-time gift or an automated recurring gift, you can manage this part of worship electronically. You can schedule your giving whenever you like, and you can cancel it at any time before it is processed. While you can view your electronic giving history online we will continue to mail official giving statements annually. We encourage you to explore tax-deductible Online Giving further and ensure it is the right avenue for you. Should you have any further questions, please phone our Executive Pastor, Tamene Menna, at 951.734.1335, or by email at tmenna@northpointcorona.org.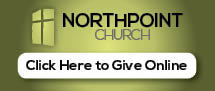 Should the button above ever be disabled, please copy and paste the following link into your browser to connect to our secure giving site: https://www.shelbygiving.com/app/giving/northpoint.
Note: If you give online through Northpoint's website, be sure to check your account periodically to ensure that the giving function is enabled. The site limits the number of consecutive giving opportunities, so you must occasionally reset giving.
Special Memorial Family Assistance Fund
Northpoint Church has set up a Special Memorial Fund for the families of those impacted by the loss of a loved one. Click HERE to connect to our secure giving site. The Memorial Fund is a ministry fund of Northpoint Evangelical Free Church, a 501(c)(3) nonprofit organization.
All funds designated and donated to this fund will go to defray the cost of medical bills, funeral and burial costs, and other financial impacts for the four families.
OTHER WAYS TO GIVE
In services on Sunday mornings
Drop a check into the Church Office
Mail a check to the Church: Northpoint Evangelical Free Church
988 West Ontario Avenue, Corona, CA 92882
NOTE ON CREDIT CARDS
Our Online Giving partner does accept credit cards, debit cards, and bank checks. A distinction should be made about the use of credit cards and going into debt. For some, managing finances with a credit card and paying that balance off every month is a prudent way to steward God's gifts. For others, the misuse of credit cards can lead to ongoing debt issues. We, therefore, strongly encourage you to avoid the use of a credit card and to adjust your lifestyle such that you can live within the means God has afforded you.
PRIVACY POLICY
Thank you for visiting our web site. This privacy policy tells you how we use personal information collected at this site. Please read this privacy policy before using the site or submitting any personal information. By using the site, you are accepting the practices described in this privacy policy. These practices may be changed, but any changes will be posted and changes will only apply to activities and information on a going forward, not retroactive basis. You are encouraged to review the privacy policy whenever you visit the site to make sure that you understand how any personal information you provide will be used.
Note: the privacy practices set forth in this privacy policy are for this web site only. If you link to other web sites, please review the privacy policies posted at those sites.
Collection of Information
We collect personally identifiable information, like names, postal addresses, email addresses, etc., when voluntarily submitted by our visitors. The information you provide is used to fulfill you specific request. This information is only used to fulfill your specific request, unless you give us permission to use it in another manner, for example to add you to one of our mailing lists.
Cookie/Tracking Technology
The Site may use cookie and tracking technology depending on the features offered. Cookie and tracking technology are useful for gathering information such as browser type and operating system, tracking the number of visitors to the Site, and understanding how visitors use the Site. Cookies can also help customize the Site for visitors. Personal information cannot be collected via cookies and other tracking technology, however, if you previously provided personally identifiable information, cookies may be tied to such information. Aggregate cookie and tracking information may be shared with third parties.
Distribution of Information
We may share information with governmental agencies or other companies assisting us in fraud prevention or investigation. We may do so when: (1) permitted or required by law; or, (2) trying to protect against or prevent actual or potential fraud or unauthorized transactions; or, (3) investigating fraud which has already taken place. The information is not provided to these companies for marketing purposes.
Commitment to Data Security
Your personally identifiable information is kept secure. Only authorized employees, agents and contractors (who have agreed to keep information secure and confidential) have access to this information. All emails and newsletters from this site allow you to opt out of further mailings.
Privacy Contact Information
If you have any questions, concerns, or comments about our privacy policy you may contact us using the information below:
By e‐mail: mail@northpointcorona.org
By Phone: 951.734.1335
We reserve the right to make changes to this policy. Any changes to this policy will be posted.