Sundays at Northpoint SM
We meet at 9am in Heritage Hall to fellowship with other students and hear a message from Taylor or one of our Pastoral Interns. Junior High and Senior High Meet together on Sundays.
Would you like more information?
Email Megan Cordill / mcordill@northpointcorona.org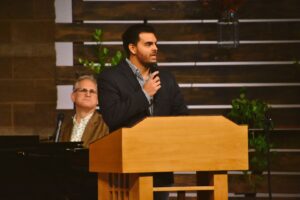 Midweek Meetings (Youth Group)
Senior High meets Tuesdays from 7-9pm in Heritage Hall
Junior High meets Thursdays from 6:30-8:30pm in our Youth Room (Upstairs)
Please wear a face mask when you attend youth group
A NOTE TO PARENTS FROM PASTOR TAYLOR
Dear Parents of SM,
We are excited to serve alongside you as you raise your children in the faith. We recognize that today our lives are incredibly fast-paced and the challenge of teaching our children the basics of the Christian faith is ever-growing. Technology, greater expectations at school, increasing demand for extra-curricular activities, and increasing social pressure to succeed is knocking on our front doors. We run at 100 percent every day and often find little time to be captured by the majesty of Jesus Christ. Yet, Jesus is the same yesterday, today, and forever. His glory will continue to extend into all the world even as our world changes. We want the next generation to recognize the person and work of Jesus Christ and embrace the majesty of our king as well. Therefore, SM exists to equip the next generation to display and showcase the majesty of Jesus Christ in all things for the joy of all peoples and nations.
In Him,
Taylor Mendoza
Pastor of Student Ministries
SM VALUES / FAITH. FUN. FELLOWSHIP.
The values of SM are threefold and they flow out of our understanding of the gospel. First, we value a faith that is joyful, growing, and missional. We are serious about the Christian life and want to help students understand the gospel of Jesus Christ, as well as equip them to live a gospel-centered life. Second, we value fun that is planned and sacrificial. We are intentional about games, events (6 per year), and hang-out time. We enjoy sacrificing our needs in order to make youth group fun for the students and not for ourselves, even though we will have fun anyway. Third, we value fellowship that is consistent, loving, and small. We strive to encourage all students and staff to attend regularly to foster the best possible relationships for discipleship. We exercise love in all relationships. And, we attempt to create small groups to best foster long-term discipleship and intimacy.
WHAT TO EXPECT
SENIOR HIGH  /  Tuesday Nights on campus  /  7:00 p.m. to 9:00 p.m. 
Please encourage your students to wear a mask while attending youth group.
Tuesday nights are all about discipleship. Our small groups are divided by age and gender and each small group has leaders dedicated to serving for a year and spending that time building disciple-making relationships with our students.
JUNIOR HIGH  /  Thursday Nights on campus  /  6:30 p.m. to 8:30 p.m. 
Thursday nights are a time of games and small group discipleship in Junior High ministry. We use this night to gather in groups to discuss and apply Sunday's teaching. Dedicated small group leaders will build relationships with students and guide them in thinking about living our what the Bible shows us.
For more information about Junior High, please contact our Student Ministry Assistant mcordill@northpointcorona.org