Gospel Vaccination is a Bad Thing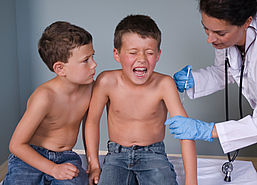 (Post by the inveritable Jay Hobbs)
"When Christ who is your life appears, then you also will appear with him in glory." (Colossians 3:4)
There's certain times when I notice a sort of Gospel vaccination in myself. It's like I've got just enough Gospel truth on my mind and in my heart to render the Gospel ineffective to change me.
Then a text like this bowls me over with the unsearchable depths of God's love for sinners.
The text says that we who have made Christ our life by faith will one day appear with Him in glory. That is incredible news, and it's much better than the watered-down version of the Gospel that I settle for so often.
It would be good enough news that the God of the Universe, for whom and by whom we have been made, takes pity on those who have rebelled against his kingdom and taken the life of His Only Begotten Son, but that's not the extent of God's love.
God's love consists of much more than pity, it's more like God inviting us to inherit all that is His by the blood of Christ.
Far from an isolated text throwing out a tentative truth, this text functions as one thread in broad biblical tapestry. Consider a few more passages that draw out God's inviting us to glory:
"Fear not, little flock, for it is my Father's good pleasure that you should inherit the kingdom." (Luke 12:32)

"The Spirit himself bears witness with our spirit that we are children of God, and if children, then heirs–heirs of God and fellow heirs with Christ…" (Romans 8:16-17)

"The glory that you have given me I have given to them, that they may be one even as we are one…" (John 17:22)

If this is too much for you to handle in one sitting (which it sure is for me), then think about this: Jesus is not ashamed to be called our brother. My brother, Jesus.
Our perfect High Priest and holder-together of all things visible and invisible delights to share His throne with us, His brothers and sisters.
God save us from that false humility that robs us of the joy of anticipating that Day when we will appear with Jesus in glory.