The NP All-church Assessment
8.9.2019
"For everything there is a season, and a time for every matter under heaven." – Ecclesiastes 3:1
Hello Church Family,
As the teacher said above in the book of Ecclesiastes, there are seasons of life, and we are about to step forward together into a new one in the life of our fellowship here at Northpoint.
We have started down the path to finding God's direction for our new lead pastor. This week is an important first step: the all-church assessment of our ministry—past, present, and future. Everyone who calls Northpoint their church home should participate, as this allows God to speak to us through His people. Every voice is important. While in the end, the answers and direction come from God, He has told us that it is wise to know the condition of our fields and flocks and to plan before starting a major project. God inspired Nehemiah with the great vision to rebuild the walls around Jerusalem, but the first thing he did was to examine their current condition.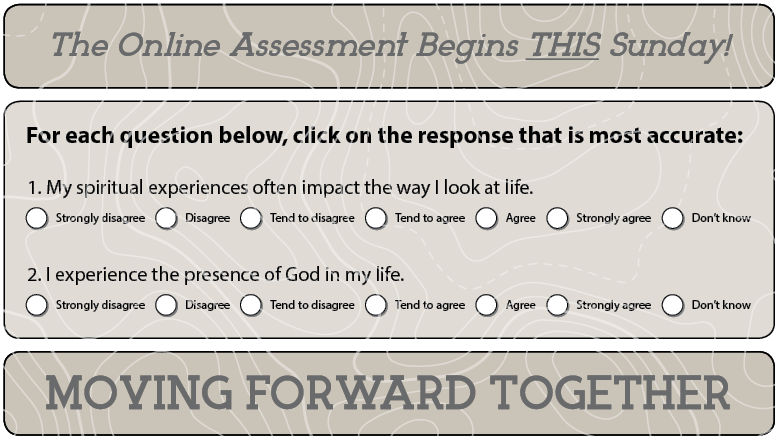 That's what we are going to do. Here are some key points to remember in the process:
1. While everyone can participate in taking the online assessment tool, there are just a few questions that apply to a "household" only, and those are completed by one member representing that home.
2. A link to the assessment will be available THIS Sunday, August 11, in the resource folder and in a special all-church email. Please set aside 20 to 25 minutes to pray and work through the online tool.
3. The assessment will also be available in a paper version at the Information Center in the Foyer on Sundays.
4. You will see the name "HCIC" on the survey; this is the firm that developed the questions, and nothing more.
5. Answer with how your heart is inclined to respond to the question, as if a friend were asking; don't fret over what the "right" answer may be.
6. Questions may seem open to interpretation; don't worry about it, answer based on how you understand it. If you're thinking that way, likely, others are too!
7. Some questions relate to "our current pastor"; answer based on the current leadership and pastoral team.
I know that sometimes it feels like we're always taking a survey: on the phone, after we buy something online, or down at the store. But this is much more important. This is the time for everyone to participate in the direction we think is best for the life of our church. It's very Biblical: leaders listen to and know the people God has entrusted to their care, and this is just one way to do that. There are going to be more opportunities and listening in the weeks and months ahead. Sharing our lives together isn't a one-time event, it's a daily process of prayer, seeking wisdom from the Scripture, and walking together in a life of faith. It's fellowship. It's community. It's loving each other. And it's listening. And that's what the all-church assessment is all about: listening and learning from each other.
We ask that He will give us the desire of our hearts and make our plans succeed.
The heart of man plans his way, but the LORD establishes his steps. – Proverbs 16:9
If you have any questions, please seek out one of the elders this Sunday, or contact us by email HERE.
In Him,
Tim East
Northpoint Elder