Northpoint VBS 2018

Okay, all you fruits in training (F.I.T.s), it's time to sharpen your shovels and pull on your gloves as we get ready to dig in and learn how the Holy Spirit grows the characteristics of Christ—the fruit of the Spirit—in our lives as we grow in him! Our Fruit of the Spirit VBS is the week of July 9-13. Invite your brothers and sisters, your friends, and your neighbors to join us for a fun time at Northpoint Farms. Click HERE to register kids online.
Volunteers (youth and adult) are still needed to help. Interested? Then please email Terilyn Brown at tbrown@northpointcorona.org.
For more information, please contact Andria Brucks at 951.734.1335.
Northpoint Winter Camp 2018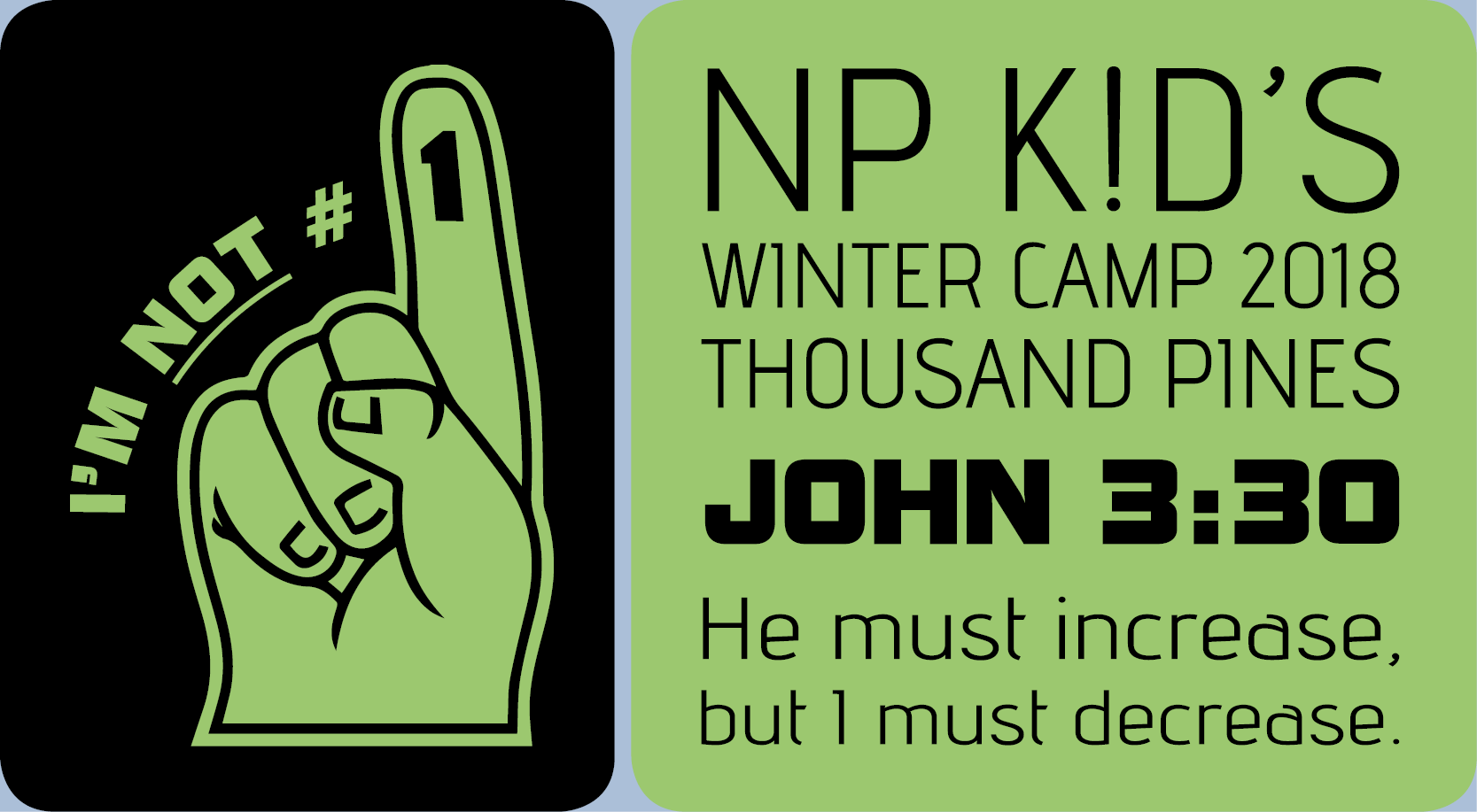 We think we're number one. We all do. It's all about me, we say to ourselves. It's about what makes me happy. It's all about what I can get. And why not, when the whole world tells us that we're right to think like that? But is that true? The Bible says no. The Bible says God's #1 and it's all about him. The Bible says we'll only be truly "happy" when God's first and we're second.
At camp, learned why, like it teaches in John 3:30, He [Jesus] must increase, but I must decrease. We learned why, when compared to God, we must say, "I'm NOT #1!"
Northpoint VBS 2017

Okay all you astronomers, we did it! We focused our telescopes on the marvels painted in the night sky by our amazing God at Northpoint's Galatic Starveyors VBS 2017. We discovered the wonder among all wonders: that the God who created everything there is—the knowable and the unknowable, the visible and the invisible—wants a personal relationship with us. Thank you for coming to our clubhouse to learn about the God who is over the moon in love with you.
Welcome!

It's our amazing privilege in the NP K!DS' ministries to joyfully support you, our NP parents, as you shepherd your kids to be complete in Christ! We do that by helping to build a biblical foundation, by helping to encourage a heart of worship, and by helping to develop a witness for Jesus Christ. We offer Sunday Morning Programs for kids birth to sixth grade; a Wednesday evening program, AWANA, those 3 years old to 6th grade. In addition to the weekly gatherings, we also take kids to Winter Camp in the San Bernardino mountains each January, and a Vacation Bible School during one week each summer. You'll find more for each program on this page.
For more information, please contact Northpoint's Children's Director, Terilyn Brown, at tbrown@northpointcorona.org, or 951.281.2827, or Andria Brucks at abrucks@northpointcorona.org, or 951.281.2812.
Sunday Mornings
Northpoint offers Sunday morning programs for children during both the 9:00 a.m. and 10:45 a.m. services. We break Sunday into two sections: Early Childhood and Elementary. Our Early Childhood program serves children birth to kindergarten, where we offer nursery care for children from birth to one-year-old, and Sunday school classes for children three years and above. The Elementary program is for kids grades one through six. Both sections use The Gospel Project for Kids.  With it, we go through the Bible every three years to impact the three stages of childhood development from two years old through sixth grade. Our curriculum covers many of the main Bible stories from the Old and New Testaments to demonstrate how each story points to Christ's redemptive work and our continued need for a Savior to redeem and restore us.
If would like to review our curriculum, please click here to watch a video by Pastor Matt Chandler from the Village Church, who does a superb job of explaining the importance of having a Christ-centered view of all of Scripture. To read more, please click here to open the "scope and sequence" of all the Bible lessons that will be taught through in three years. You can also contact Terilyn Brown at 951.281.28271 to schedule a "hands-on" review of the curriculum.
AWANA
AWANA stands for Approved Workmen Are Not Ashamed, which is a paraphrase of 2 Timothy 2:15.  AWANA seeks to help you in training your children to walk in God's pathways rather than those of the world. Our AWANA Clubs are part of a worldwide ministry, headquartered in Streamwood, Illinois.
For more, please check out the AWANA Blog to keep you up to date with all that is going on. Be sure to check the site often.
To register online, please click here. We accept online registrations throughout the year starting in mid-August.