Thanksgiving Basket Drive 2020

Northpoint Church is partnering with Olive Crest to deliver Thanksgiving Baskets to families in need within their (Olive Crest's) different areas of service. Olive Crest does amazing work for the Lord throughout Riverside and San Bernardino Counties. We are so excited to partner with them!
To make a Thanksgiving Basket you will need the following items:
• 1 bag of flour
• 1 bag of sugar
• 1 canister of Salt and Pepper
• 1 Bottle of Olive Oil
• 1 Box of Mashed Potatoes
• 2 Cans of Corn
• 2 Cans of Peas
• 2 Cans of Yams
• 1 Box of Hot Roll Mix
• 2 Packets of Brown Gravy Mix
• 1 Cake Mix or Canned Pumpkin
• 2 Boxes of Mac 'N' Cheese
• 1 Box of Stove Top Stuffing Mix
• 1 Can of Cranberry Sauce
• 1 16"x13" Turkey Roasting Tin (the tin is the "basket")
The baskets are due by Monday, November 16. You can bring in the items or packaged basket to the Church Office Monday through Thursday from 8:30 a.m. to 4:00 p.m.) or on Sundays. You are welcome to add anything else to the basket that you think a family would enjoy around Thanksgiving. We are also collecting cash/check donations to buy grocery gift cards to put in each basket. If you gather any cash donations, please turn them in separate from the basket.
If you have any questions, please contact Colin Cordill at ccordill@northpointcorona.org or 951.734.1335.
2020 Drive for Life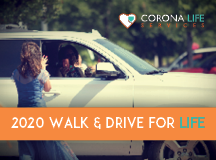 On Saturday, October 3, we gathered in the Northpoint parking lot, decorated our cars, and prepared for the Corona Life Services' Annual Drive for Life! Then, we had a great time of community and fellowship as we joined with other like-minded Christians in support of a wonderful organization focused on protecting the lives of the unborn and supporting women and families as they navigate the difficulties of unplanned pregnancies.
If you have any questions, please contact Colin Cordill at ccordill@northpointcorona.org.
Local Outreach

Outreach at Northpoint is broadly defined this way: connecting people with people, bringing the appropriate resources together with specific community needs. As a Christ-following community, we are privileged to be the hands and feet of the One who loves us and desires all men to know and experience the love of God.
So how do we get involved in and around Corona? Well, Northpoint financially supports several community organizations here in Corona. We also enjoy an active partnership with these organizations by promoting, contributing and participating in their specific community events. Specifically, Northpoint's main events happening once a year are Walk for Life (see below), Empty Bowls, and Christmas in Corona. Ongoing ministries include Settlement House and Corona Life Services.
A long-running Northpoint ministry is our ESL (English as a Second Language) program. ESL begins Wednesday, September 25, from 6:30 p.m.-8:15 p.m., in the Heritage Hall Foyer.
An NP favorite outreach opportunity is Walk for Life. WFL raises awareness and funds for the important life-giving work of Corona Life Services. The 21st Annual Walk for Life happens Saturday, October 5, at 9:00 a.m. (Register/check in at 8:00 a.m., Walk at 9:00 a.m.), at Lee V. Pollard High School! Sign up for the NP team THIS Sunday, September 22, in the Foyer, or by clicking here.
We encourage our people to volunteer and serve in any way they can. A double blessing is generated for both the giver and the receiver when we employ the many and varied gifts that God has given to our congregation. Can we help find a place for you to plug into the community?
We are always seeking opportunities for Northpointers to be salt and light in our community. Do you have a new idea or are you already involved with an organization in the community that you think we should be too? We would love to hear from you!
Contact us at outreach@northpointcorona.org.