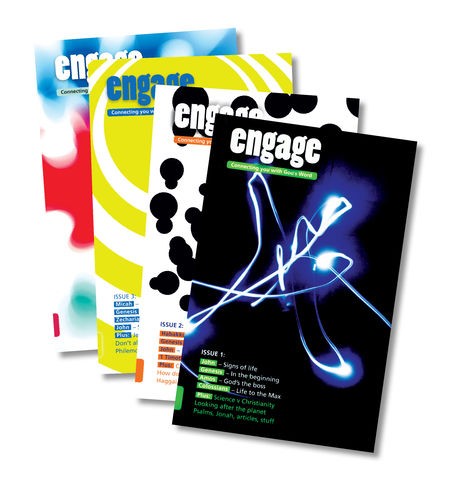 I'm excited to tell you about something new we are doing in our Sr. High community that I think will make a huge impact on our lives.  God transforms and changes us through His Spirit working through His Word.  For us to be transformed and for our hearts to be changed, we need to come under the powerful influence of His Holy Word.  In it, God gives us all that we need to live a life of godliness.  It is how God reveals Himself to us through His amazing story so that we can grow in our love for Him and live as a part of the story He is writing.
However, most students will tell us that one of their biggest struggles is consistently pursuing God through His Word.  They desire to pursue God in His Word, but they struggle with actually putting that desire into action.  Perhaps this is you…I know it's me sometimes.
In order to help you be faithful pursuers of God through His Word, we are putting out the 2010 Engage Project.  We are encouraging all of you to subscribe to "Engage", a daily Bible-reading guide.  Engage is not a shallow, "give you a nice thought for the day" kind of devotional…as are many devotionals for high school students.  It is a guide that will really help you get into the meat of God's Word.  It gives you a passage to read each day, questions that help you think through the text, and questions to help you apply it to your own life…all in a way that is both clear and relevant.
We have been passing out samplers of the Engage Bible Study Guide for the last few weeks.  If you haven't received one or you would like to look at one, here is a link to the sampler:  http://www.thegoodbook.co.uk/productfiles/engsam-Read%20a%20sample%20online.pdf
The Benefits:
It takes you through the entire Bible in 5 years!  You will study the whole Bible on your own.
It will teach you how to read the Bible for yourselves.
It helps you learn how to apply God's Word to your own life.
It also has supplemental sections that help you think through specific issues relevant to your own life.
It's only $24 for a one-year subscription…what a great investment!
Please consider subscribing to this!  If you do not have the money available to do this, please let us know and we will see how we can help.  We really just want to see you grow in great ways this year through the power of God's Word.
What students are saying about Engage…
'Engage made deep Biblical truths simple and easy to understand'
– Chris, 19
'Engage is short, sweet and straight to the point'
– Ceri, 14
'Engage encouraged me to read every verse, helping them to stick and sink in more. They're quick and to the point, allowing you to explore the core message.'
– Rupert, 16
'It makes you think and helped me with things I wasn't sure about.'
– Jessica, 15
'It shows how the Bible relates to you, making me want to read the Bible more.'
– Abigail, 14
"How do I sign up?"
To sign up, you can bring $24 to one of our gatherings or you can stop by the Church Campus during the week.  We will then register everyone for this and have the Bible Study guide sent directly to your home for the next year.  You will then be able to renew this subscription year by year.
Sign-ups will end on Sunday, February 7th.  Sign-up soon!  I think this will be one of the best investments you ever made in your life.
For His Kingdom,
Ken