Rebuilding at Northpoint
Our Town Hall Meeting and All-church Dinner ended with a sweet time of fellowship this past Sunday evening, and our time together may have been a turning point for our fellowship here at Northpoint. We have been through a lot of changes in the past few months, and we have some challenges to face as we move forward, but by God's grace and sustaining hand, we are moving forward to "Restore, Rediscover, and Rebuild" our body here at Northpoint Church.We have so much to be thankful for: a strong church family, many effective ministries, and a great staff serving the church, and God will build on this foundation.
Speaking for the leadership team at the meeting, we realized that over the past year we often fell short of who we needed to be—knowing that there is no effort that isn't accompanied by errors and shortcomings—but in our failures are lessons God desires us to learn. And after praying for guidance, here's what we think He's teaching us:
1. Clarity – Going forward, we plan to make our direction and expectations clear from the start. Of course, there will be corrections and adjustments along the way, but it's always best to have clarity and unity.
2. Communicate – We're going to improve our communication: more often, more focused on listening, dialogue and discussion. We're going to going to listen more and seek out as many viewpoints as possible.
3. Relationships – We recognize how important it is to build and maintain relationships, with our staff, with our leaders, with our congregation—and with each other.
4. Expand – We're going to expand leadership and bring in more voices: we'll grow the size of the Elder Board, we'd like to add to the pastoral staff, and engage the ministry directors more often to sit at the table and work with the elders on the direction of the church.
5. Labor at the Task – We're all going to work very hard, and this is a call to all of us, everyone who attends Northpoint. This is a call to labor at the ministry, to love, to support, and to encourage one another.
Restore, Rediscover and Rebuild
Over the next two or three months, you're going to see gradual changes here, but we're going to start on restoring our relationships before we move outward to other goals. The pictures and graphics below chart our course together for the months ahead: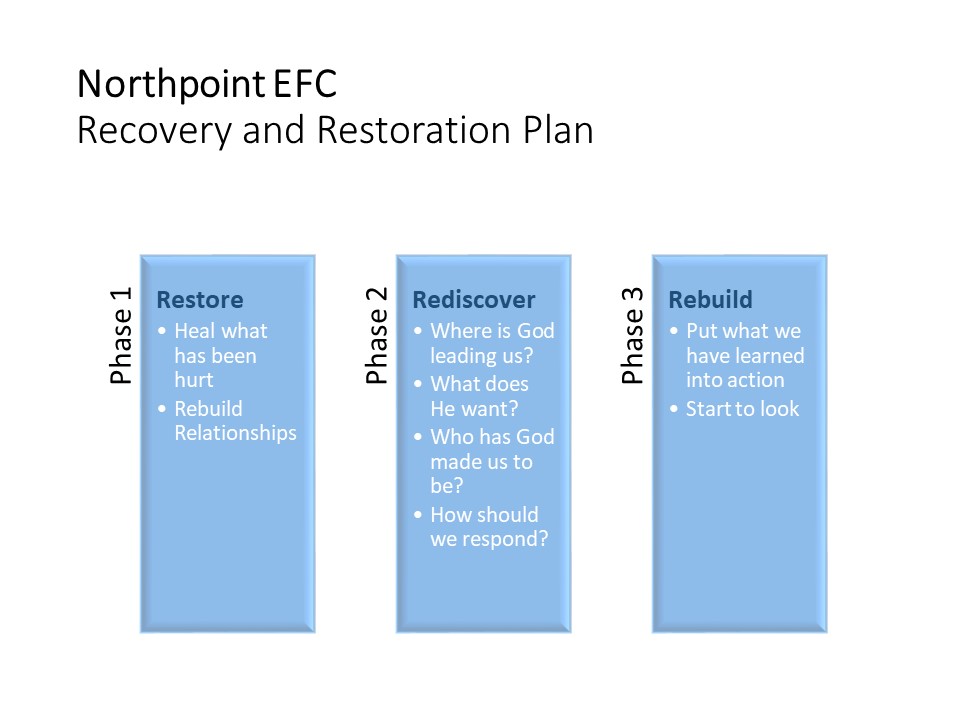 Each phase has important goals and they build on each other: as we gradually complete one, we'll be ready for the next. And as you can see, everyone at Northpoint has a part to play in finding God's will for our congregation. Please be in prayer about your part as we grow forward together.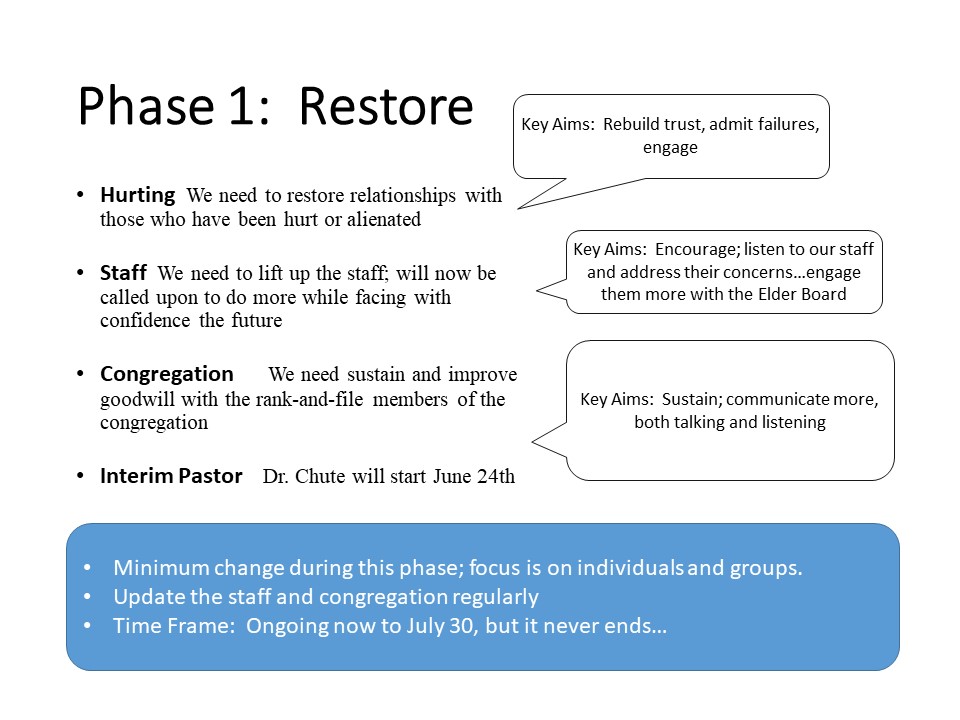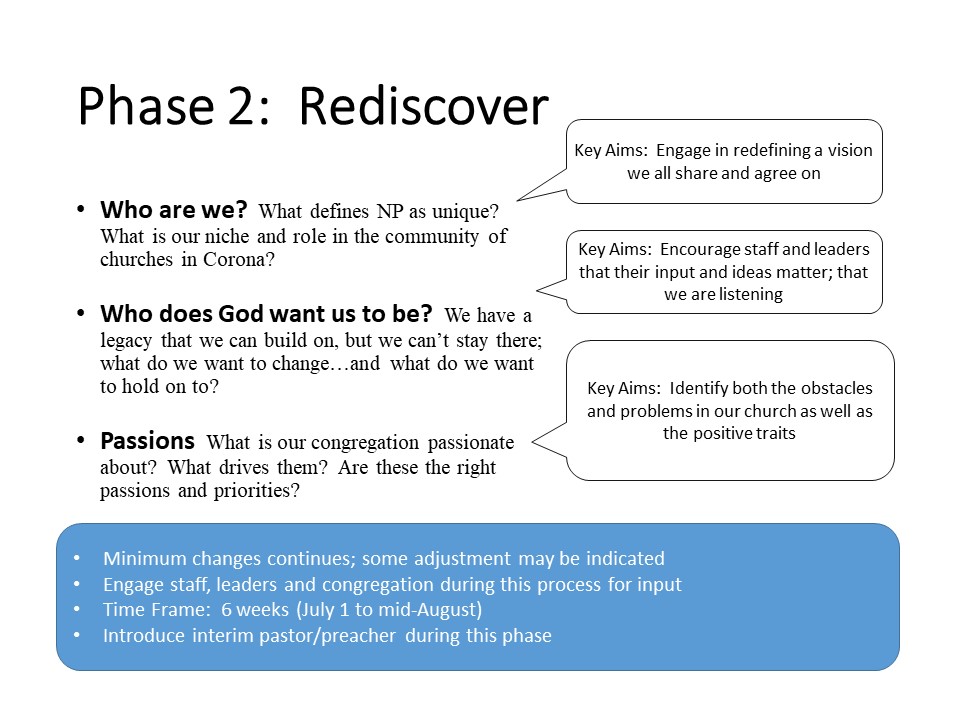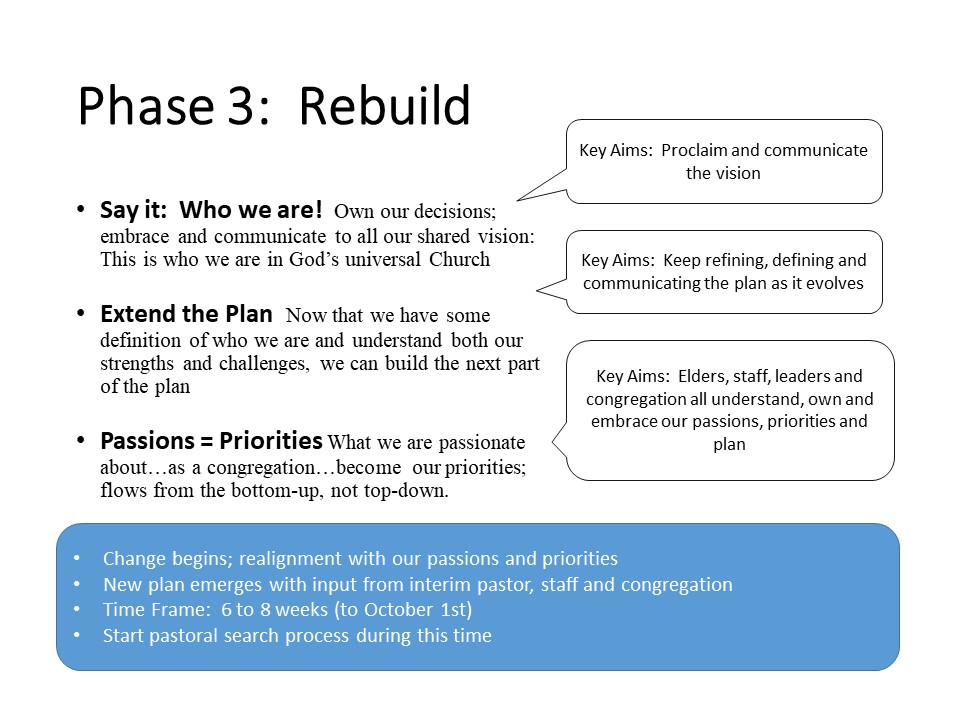 In Him,
Tim East, Elder
On Behalf of the Elders