COMPASSION KITS FOR THE HOMELESS DRIVE
COMPASSION KITS FOR THE HOMELESS DRIVE

Northpoint Church is partnering with the city of Corona to reach out to the homeless population in our community this Christmas Season. Between the pandemic and the general rise of homeless people in Corona, the city of Corona is working with the CityNet, a non-profit organization, to rehabilitate the homeless population through practical and medical outreaches. Northpoint will be coming alongside the city of Corona through the assembly of two different types of kits: a Hygiene Kit and a Move-In Kit. We are hoping to raise over 150 total kits during the month of December! You can donate a whole kit or parts of a kit.
The Hygiene Kit:
• (Held within a Ziploc or reusable bag)
• Travel-size shampoo
• Travel-size conditioner
• Travel-size deodorant
• Chapstick
• Bar of soap
• Shaving cream
• Razor
• 1 pair of socks
• Underwear (medium or large)
• 1 Bottle of water
• 1 note of compassion*
• (For Female Specific kits, pads are preferred)
The Move-In Kit:
• (Held within a laundry basket)
• 1 Queen-size sheet set and pillow covers
• 1-2 Pillows
• 4 Towels
• 1 Full-size bottle of shampoo
• 1 Full-size bottle of conditioner
• 1 Pack of paper towels
• 1 Pack of toilet paper
• 1 Broom and dustpan
• 1 Toilet bowl cleaner or multi-purpose cleaner
• 1 Bottle of dish soap
• 1 sponge
• 1 Container of disinfecting wipes
• 1 Note of compassion*
*A "Note of Compassion" can be included in each kit and we are excited for the opportunity to write to each recipient. Much like the cards we recently wrote to police officers and firefighters, it would be great to write Bible verses, words of encouragement, reminders of God's love, and a reassurance that the people at Northpoint are ready to be the hands and feet of Jesus.
Frequently Asked Questions:
Q: Do I need to provide a complete kit?
A: No, you can donate whatever you would like in any quantity. There will be baskets in Heritage Hall for you to drop off partial kit items.
Q: What do I put the kits in?
A: The Hygiene kits can go into a Ziploc or reusable bag. The Move-in kits can go into the laundry basket. The complete baskets can go into Heritage Hall on the tables provided and marked.
Q: Can I give money instead of putting together a kit?
A: Yes. If you give a check or cash, please make sure to note that it is connected to the Homeless Outreach. You can also give online to the Samaritan Fund; if you do this, please email Colin Cordill at ccordill@northpointcorona.org letting us know that your gift is specifically for the Homeless Outreach.
Note: If you are only giving money, please also write a note of compassion for the recipients of the kit!
Q: I can't give anything at this time, but I still want to be involved; what can I do?
A: There are two ways you can still be a part of this outreach opportunity! First, you can write notes of compassion for the recipients of the kit. We would love to provide two cards per kit if possible! Second, we will be assembling the kits the week of Christmas and will need plenty of help organizing, packing, and delivering the kits. If you are interested in helping out, you can contact Colin Cordill at ccordill@northpointcorona.org or call the church office at 951.734.1335.
If you have any other questions, please do not hesitate to contact Colin Cordill at ccordill@northpointcorona.org or call the Church Office at 951.734.1335.
2020 Drive for Life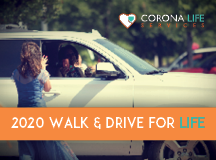 On Saturday, October 3, we gathered in the Northpoint parking lot, decorated our cars, and prepared for the Corona Life Services' Annual Drive for Life! Then, we had a great time of community and fellowship as we joined with other like-minded Christians in support of a wonderful organization focused on protecting the lives of the unborn and supporting women and families as they navigate the difficulties of unplanned pregnancies.
If you have any questions, please contact Colin Cordill at ccordill@northpointcorona.org.
Local Outreach

Outreach at Northpoint is broadly defined this way: connecting people with people, bringing the appropriate resources together with specific community needs. As a Christ-following community, we are privileged to be the hands and feet of the One who loves us and desires all men to know and experience the love of God.
So how do we get involved in and around Corona? Well, Northpoint financially supports several community organizations here in Corona. We also enjoy an active partnership with these organizations by promoting, contributing and participating in their specific community events. Specifically, Northpoint's main events happening once a year are Walk for Life (see below), Empty Bowls, and Christmas in Corona. Ongoing ministries include Settlement House and Corona Life Services.
A long-running Northpoint ministry is our ESL (English as a Second Language) program. ESL begins Wednesday, September 25, from 6:30 p.m.-8:15 p.m., in the Heritage Hall Foyer.
An NP favorite outreach opportunity is Walk for Life. WFL raises awareness and funds for the important life-giving work of Corona Life Services. The 21st Annual Walk for Life happens Saturday, October 5, at 9:00 a.m. (Register/check in at 8:00 a.m., Walk at 9:00 a.m.), at Lee V. Pollard High School! Sign up for the NP team THIS Sunday, September 22, in the Foyer, or by clicking here.
We encourage our people to volunteer and serve in any way they can. A double blessing is generated for both the giver and the receiver when we employ the many and varied gifts that God has given to our congregation. Can we help find a place for you to plug into the community?
We are always seeking opportunities for Northpointers to be salt and light in our community. Do you have a new idea or are you already involved with an organization in the community that you think we should be too? We would love to hear from you!
Contact us at outreach@northpointcorona.org.